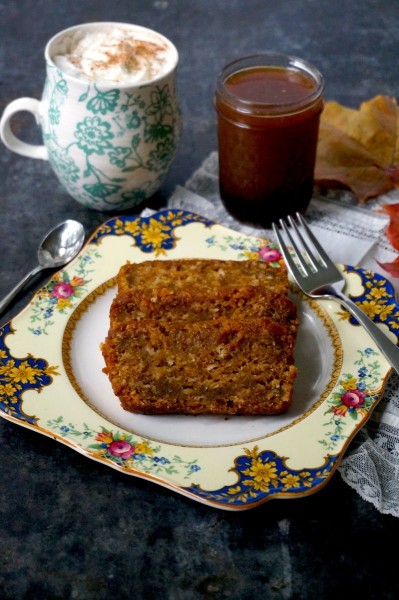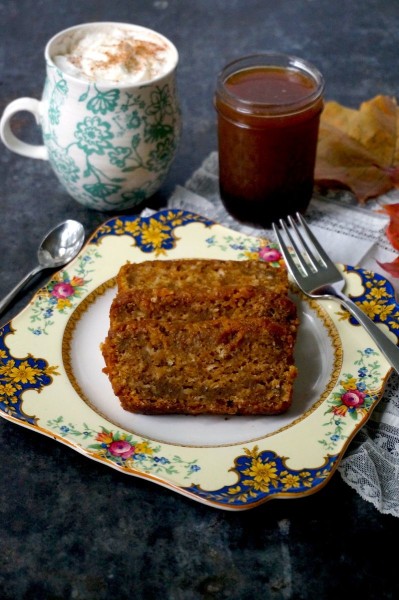 In mid-summer, a smattering of squash leaves unfurled in my section of my apartment building's backyard garden.  I hadn't planted them and didn't know what kind of squash would appear later in the season, but you can't miss it when a squash is growing—those large, floppy leaves with their scratchy stems and prickly underbellies—so I decided to let the garden surprise me.  Such surprises are one of the many perks of composting.  Had the fellow tenants eaten acorn squash, or butternut, or pat-a-pan?  Had I eaten all of the zucchini I had bought in the spring and early summer, or had there been some leftovers to compost?
A month or two later, I found out that, like Cinderella after midnight, the "mystery squash" turned into a pumpkin.  As I checked on the pumpkin over the next few weeks, the trees in the backyard yellowed and dropped their leaves, and I began to crave pumpkin quite madly.  It just doesn't feel like fall unless I've eaten something with pumpkin in it, or at least treated myself to a pumpkin latte.
This fall, I discovered several new pumpkin recipes.  I couldn't bring myself to puree our one volunteer pumpkin from the garden for these recipes, but they were delicious none the less.
First, I discovered that it is not too hard to make pumpkin lattes at home.   The spices are really what make this taste like pumpkin pie.  You can use ginger instead of cardamom (they are from the same family), but if you can find cardamom, its sweet, exotic flavor will infuse each sip.
But then again, I've had a special bond with cardamom ever since I went to a Lebanese grocery store to seek it out.  I found some on the shelf, but it was in a large bag, as big as a typical bag of dried black beans.  Since it would take me forty years to use that much cardamom, I took the sack of cardamom up to the register and asked if the store sold the spice in smaller quantities.  "Yes," said a man who was standing behind the cashier, "we do."  He took out a long knife, cut open the bag, poured about a quarter cup of the spice into a bag, and handed it to me.  That memory comes back to me whenever I open the crinkly produce bag that holds the small seeds, grind them in my pepper mill (one of these days, I'll get a real spice grinder), and begin to mix a spiced latte, like this one:
Print
Pumpkin-Spice Maple Latte Syrup
Author:
Category:

Beverage

Cuisine:

Traditional
1/3 cup

pumpkin purée, juice of butternut squash or cooked butternut squash purée.

2 cups

water

2 teaspoon

vanilla

2 teaspoon

ground cinnamon

1 teaspoon

ground nutmeg

1/4 teaspoon

ground cloves

1/4 teaspoon

cardamom (or ginger)

1 cup

maple syrup (reserved for the LAST step)
Instructions
Bring water, spices and pumpkin puree to a boil; simmer for 30 minutes until cooked down.
Run through a cheesecloth to remove excess chunks of spices. You should be left with about a cup of liquid. If you have less than this, measure the amount left so that you can use equal parts maple syrup.
Transfer mixture to a glass pint jar, add maple syrup and stir until mixed. If you prefer to go totally sugar-free, you can omit the maple syrup, or add your preferred sweetener to your coffee separately.
Add 1 to 2 tablespoons of this mixture per cup of coffee or latte. Top with steamed milk or whipped cream and sprinkle with nutmeg.
The pumpkin-spice mix can be stored for up to 3 weeks in the refrigerator. If you don't think you'll use it in three weeks, it may be a good idea to not mix in the maple syrup so you can use the precious maple syrup for other recipes!
* * *
I discovered my next recipe one fall afternoon.  It was a snack to go with the pumpkin latte: pumpkin apple bread.  It had a good apple flavor and was delicious with cream cheese.  I tried to use my own homemade applesauce in the recipe, but this made the bread very heavy and moist, so I recommend either making extra sure that any excess liquid has simmered off the homemade applesauce, or purchasing your favorite applesauce variety.
Print
Pumpkin Apple Bread
3 cups

sugar

1 cup

applesauce

4

eggs (or if you want to go vegan, substitute 1/4 cup applesauce for each egg and omit the water)

2 cups

flour

1 1/2 cups

old fashioned oats

2 teaspoon

baking soda

1 1/2 teaspoons

salt

1 teaspoons

ground cinnamon

1 teaspoon

ground nutmeg

2/3 cup

water

2 cups

neck pumpkin puree (or regular pumpkin puree)
Instructions
In a large bowl, mix sugar and applesauce; add eggs and beat well. Set aside.
In another large bowl, combine flour, oats, baking soda, salt and spices. Slowly add to sugar mixture, alternating between adding water and flour mixture.
Beat in pumpkin and spoon batter into greased loaf pans: two 9x5x3 inch pans or three 8x4x2 inch pans.
Bake at 350˚F for 50-55 minutes
* * *
If you are like me, you may find that snacks and sips of latte are not enough to satisfy the autumnal need for pumpkin.  In that case, I offer a recipe that brings pumpkin to the dinner table: pumpkin sausage pasta.  The recipe comes originally from Simply in Season, and the sage in this dish really complements the pumpkin.
Whether pumpkin becomes the main course with this pasta, or blends into your coffee, or turns into the perfect snack, it is always a delicious way to celebrate the harvest.