Last summer, Brian Licitra of Morgantown showed the audience at a Weaver's Orchard cooking class how to make perfect pizza dough, while Rachel VanDuzer of Rachel's Farm Table made bruschetta. They combined the two recipes for an unforgettably delicious, crusty pizza with spicy tomato topping. Since that time, Rachel has had lots of practice working with Brian's recipe and has found it's a crowd pleaser every time.
Rachel often uses a variation of the pizza recipe to make focaccia with distinctive toppings. Traditional focaccia is Italian flatbread baked with herbs and olive oil. But on Tuesday, July 21, Rachel demonstrated ways to use focaccia dough to create a pizza-like dish with a thick crust that is wonderfully crispy on the bottom. Brandon Hertzler, who taught the class along with her, has also learned from Brian and experimented with pizza-making on his own. Rachel and Brandon showed the audience different stages of dough-making, and created two focaccia pizzas. They topped the first one with classic Italian toppings–tomatoes, herbs and parmesan—a savory treat. They topped the second with peaches and ricotta. It was delightfully sweet–the perfect dessert for a pizza gathering, or a tasty addition to a brunch menu.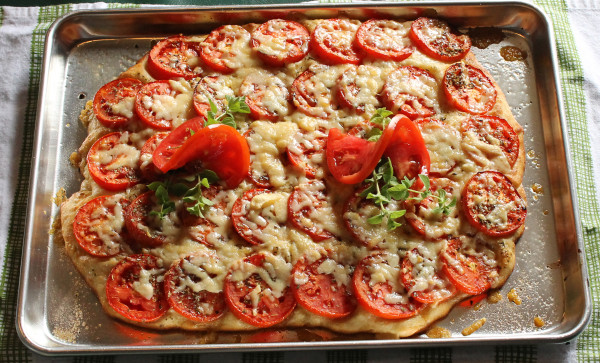 This recipe takes a little time, but it's well worth it. You'll need to make the "poolish" (wet dough) the night before serving it. The flour-yeast mixture ferments overnight, giving it a rich flavor. Try Rachel and Brandon's recipes below and use their toppings, or be adventurous and try some of your own.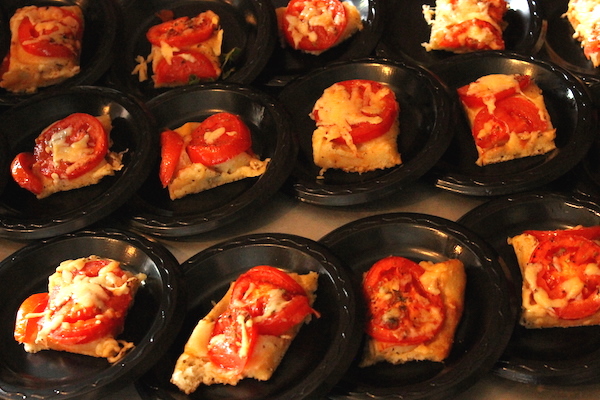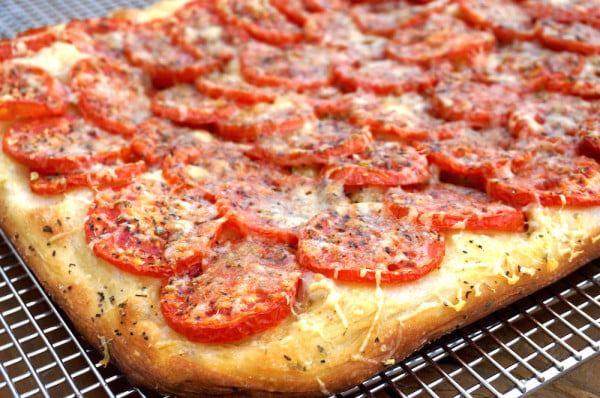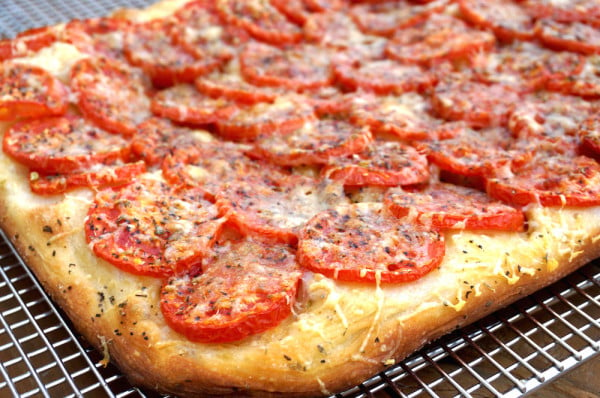 Print
Focaccia Pizza Recipes
From Brian Licitra, presented by Rachel VanDuzer & Brandon Hertzler
Step

1

: Overnight Poolish:

250 grams

(

1 2/3 cups

) flour

250 grams

(

1 cup

plus

2 tablespoons

) water at 80 degrees
.8 grams (1/4 teaspoon) instant yeast
Step 2: Final Dough:

250 grams

(

1 2/3 cups

) flour

125 grams

(

1/2 cup

plus

2 tablespoons

) very warm water (around 105 degrees)

10 grams

(

1 ½

heaping teaspoons) salt
Toppings:
Tomato Parmesan Focaccia

7

–

9

plum tomatoes
A very generous amount of salt
A generous amount of oregano and black pepper

1

block Parmesan cheese
Peach, Ricotta & Balsamic Focaccia

1 ½ cups

ricotta cheese

6

–

8

ripe peaches
Balsamic vinegar glaze
Several handfuls basil leaves
Instructions
MAKING THE POOLISH:
The night before you plan to bake the focaccia, make your "poolish." In a large mixing bowl, mix together the flour, yeast and water. It will be a very wet mixture. Cover it with plastic wrap or a tea towel and set it aside at room temperature overnight.
MAKING THE DOUGH:
The following morning (12-14 hours later), check your poolish mixture. It should be very bubbly and have bubbles that come to the surface and pop every few seconds.
Next, mix together the flour and salt. Measure out the very warm (105-degree) water.
Pour the water around the edge of the poolish to loosen the mixture from the side of the bowl. Add the flour and salt mixture and combine by hand until the mixture resembles dough. Note that it will not be the same consistency as traditional pizza dough – it will be much more wet.
Cover the mixture and leave it out at room temperature for 6-8 hours more. Either allow the dough to proof in a mixing bowl, or directly on your oiled baking pan
BAKING THE FOCACCIA: Preheat oven to 500 degrees
Choose a cookie sheet with at least a ½ inch rim. Generously coat the cookie sheets with olive oil. Stretch the dough evenly onto the cookie sheet. See specific instructions for your toppings
For Tomato Focaccia:
Brush or drizzle the top of your focaccia lightly with olive oil.
Add tomatoes, salt (you'll want more than you think you'll need), pepper and oregano.
Bake approximately 10 minutes, then add cheese and bake 5-10 minutes more until the dough is cooked through and toppings are golden brown. Garnish with fresh herbs, slice and enjoy!
For Peach Focaccia:
Bake crust plain for 5 minutes.
Remove from oven, spread ricotta cheese on it, top with peaches (tightly packed onto dough) and then return to oven for 10-15 minutes longer.
Once it's nearly ready, drizzle with balsamic glaze and cover with basil. Return to oven for one minute longer to allow basil to wilt.
To find Brian's thin crust pizza recipe and watch last year's video, go to http://www.weaversorchard.com/bruschetta-artisan-pizza/