This past Tuesday morning, July 14th, Phoebe Canakis unleashed her fiercest cooking skills on curious class attendants, using blueberry recipes. While apricots and sugar plums are also in season with peaches soon on the way, blueberries are still at their sweet and blueberry best. It was a hazy summer day when people gathered in the barn behind Weaver's Orchard Farm Market to see what their great friend Phoebe–her Canakis Curls made bold by a passing rain shower and framing her beautiful face–had to say about blueberries.
Phoebe, a regular contributor to the Weaver's Orchard Cooking Class Series, is also a writer (Susquehanna Style, Berks County Living), blogger (Phoebe's Pure Food), podcaster and much, much more.
"Blueberries are one of my favorite foods. It's a superfood. They're easy to eat," she said, explaining that there may be other superfoods people don't enjoy eating as much, such as kale or flax seeds.  But, says Phoebe, "everybody loves blueberries!"
Of course Phoebe is always thinking outside the box, and Tuesday's recipes are no exception. Who knew blueberries, when prepared a certain way, add a sweet accompaniment to beef or cheese, a sauce for white fish, or a dressing for vegetables and salads? Blueberries, it seems, are not just for desserts.
Phoebe began with Blueberry Butter, which is creamy and not like a jam. It may accompany scones or biscuits, but it may also be used as a basting sauce for roasted vegetables–fennel maybe–or meat, such as pork.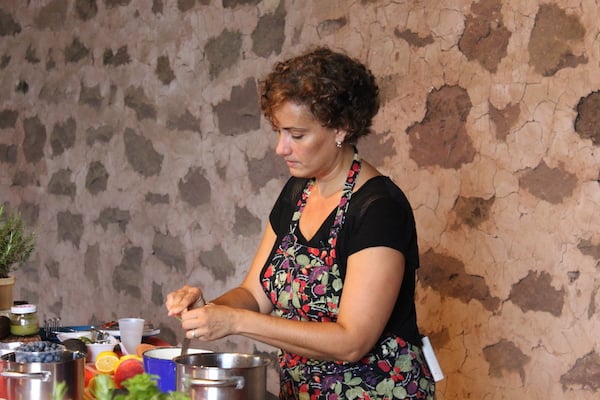 Print
Blueberry Butter
Fruit butter can be prepared in a slow cooker or on the stovetop. Phoebe prefers the stovetop, even on a hot day, because she can cook it to the consistency that she prefers. Add flavors and spices that you prefer too! For example, if you prefer not to use any refined sugar, substitute the sugar with 3/4 cup grape juice and add it in Step 1.
Author:
Yield:

2 1/2 cups

1

x
Category:

vegan, gluten free
8 cups

(

2 quarts

) fresh or frozen blueberries

1/3 cup

sugar in the raw (or sugar of your choice)

1 tablespoon

fresh lemon juice

1 teaspoon

grated lemon peel

1/2

vanilla bean seeded (optional)
Cinnamon, cardamon or orange seasoning (optional and to taste)
Instructions
Puree the blueberries in a blender until smooth. Add the puree to a large saucepan and bring to a gentle boil.
Reduce to simmer, cook uncovered and stirring often for 1 to 1 1/2 hours. Begin to test the texture after the first hour by putting a teaspoon on a cooled plate. Cook until desired texture is reached.
Add the sugar, lemon juice, grated lemon peel and vanilla bean seeds, stirring until combined.
Allow to cool.
Notes
For Slow Cooker Preparation: Cook the blueberry puree, covered and on the low setting for 5 hours. Stir the puree every hour. Prop the lid open using a large serving spoon for one remaining hour. Add the sugar, lemon juice, grated lemon peel and vanilla. Allow to cool.
Keep the butter refrigerated for 1 week or freeze.
The class tasted the Blueberry Butter topping a tiny lemon square, and the combination was smashing! And though the sample was sweet, Phoebe likes blueberries with herbs, something many of us might not consider.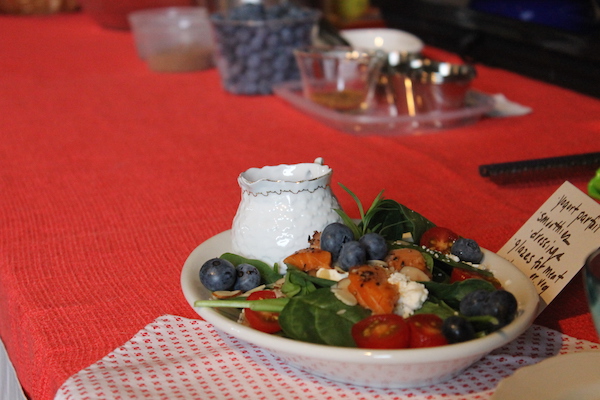 "Speaking of herbs and blueberries and what pairs well with them, I like rosemary, thyme and citrus," she said. "So lemon, lime or even grapefruit."
She grows herbs in pots and keeps them outside. It's an inexpensive way to keep fresh herbs for your cooking.
"Essentially anything coming up in the herb garden at the same time as the blueberries works perfectly," she said.
Phoebe suggests that her next recipe, Blueberry Chutney, which showcases blueberries with herbs, is great at the holidays as a hostess gift. Freeze it, and it will keep through fall and winter holidays. It complements a cheese plate (soft cheeses are best) or roasted pork or chicken.
"If you are a little daring in the kitchen, add a bit of olive oil, orange juice and a bit more vinegar to make a dressing for steamed vegetables or a chilled salad," Phoebe said.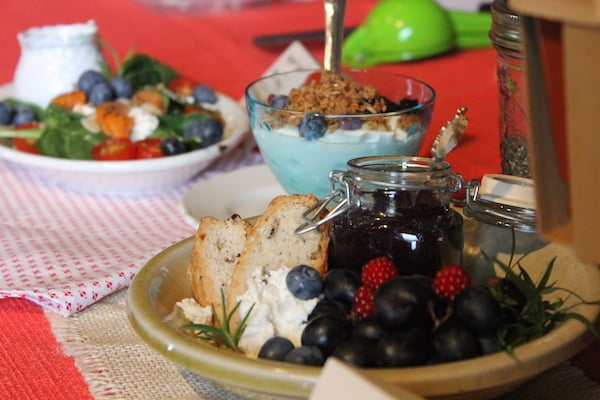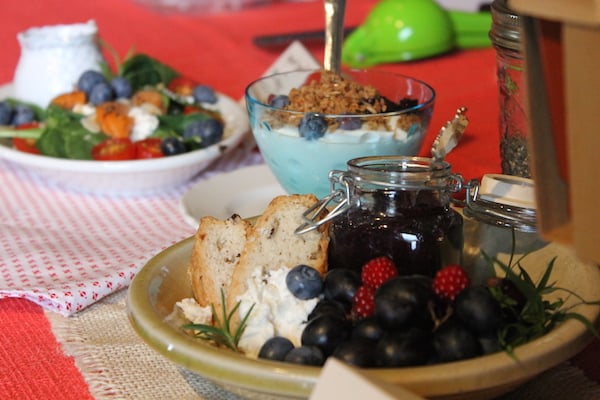 Print
Blueberry Chutney
Author:
Yield:

1 1/2 cups

1

x
1 tablespoon

olive oil

1/3 cup

chopped sweet onion

1 teaspoon

dried thyme

1/4 teaspoon

ground cinnamon

1/8 teaspoon

crushed dried rosemary

1/8 teaspoon

ground cardamom

1/8 teaspoon

sea salt
pinch cayenne or red pepper flakes

2 cups

blueberries, fresh or frozen

2 teaspoons

arrowroot powder or corn starch

1 tablespoon

sugar (sugar in the raw, honey or agave)

1 tablespoon

balsamic vinegar

1 teaspoon

fresh lemon juice

1/4 teaspoon

grated lemon peel
Instructions
In a 1-quart saucepan simmer the onion in the olive oil over medium-low heat until tender.
Add the thyme, cinnamon, rosemary, cardamom, salt and pepper to the tender onions. Cook for 1 minute.
Add the blueberries and arrowroot to the spices and increase the heat to medium. Stir and cook until the berries begin to simmer/low boil and release their liquid.
Reduce heat to simmer; add the sugar and balsamic to the blueberries and simmer. Use a spoon or potato masher to break some of the berries. Simmer for 8 minutes.
Add the lemon juice and peel to the berries. Remove from heat and allow to cool.
Notes
An optional addition is fresh, grated ginger.
Keep refrigerated for 1 week or freeze.
Samples of chutney came alongside a pretzel and a dollop of herbed cream cheese.
For the chutney, cooks may use fresh or frozen blueberries. To freeze berries, simply wash and dry the berries, spread them on wax paper on a cookie/baking sheet, freeze them for a few hours, and then dump them into a plastic baggie for further freezer storage.
Just as interesting and surprising is the use of chia seeds in Phoebe's Quick Blueberry Chia Jam, an easy freezer jam with no canning required! Blueberries are not naturally high in pectin, so the chia seeds serve as a thickener here.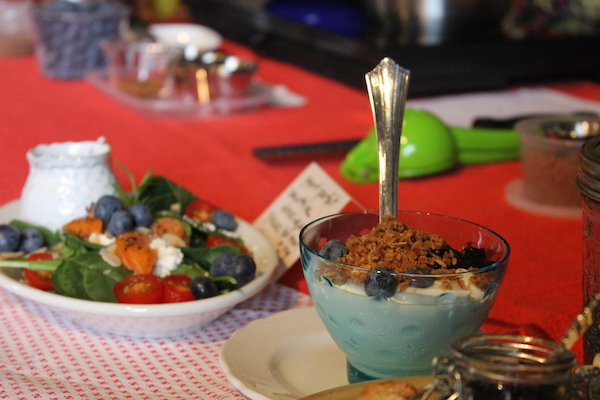 Print
Quick Blueberry Chia Jam
Author:
Yield:

2 cups

(

16 ounces

)

1

x
Cuisine:

vegan, gluten free
4 cups

fresh or frozen blueberries

1/3 cup

sugar in the raw

1/4 cup

chia seeds

1 teaspoon

fresh lemon juice

1 teaspoon

grated lemon peel
Instructions
In a medium saucepan simmer the berries until they begin to release their juices.
Add sugar and simmer for 8 minutes, breaking the berries with a spoon or potato masher.
Remove from heat. Add the chia seeds, lemon juice and peel. Allow to cool.
Notes
If you are not into vegan eats, substitute the non-dairy milk with milk and the coconut oil with butter.
In addition to enjoying this by the taco-chip scoopful, which is what the class did, the salsa is excellent with grilled meats or as a salad topper.
Finally, the class was treated to a special Weaver's Orchard giveaway, two cookbooks: Savoring the Seasons at Weaver's Orchard first edition (featuring 8 blueberry recipes), and Savoring the Seasons at Weaver's Orchard second edition (featuring 14 blueberry recipes). The books went to two lucky class participants correctly guessing how many blueberry recipes were included in each book. Each is available for purchase online and/or in the market.
Phoebe Canakis's recipes are featured in both cookbooks, and you may find out all about Phoebe at PhoebesPureFood.com.
SaveSave