For me, one silver lining to this pandemic shutdown is the return of a communal midday meal. My familial pandemic pod includes–in addition to me–my husband and my 24-year-old daughter, who moved home just as stay-at-home orders commenced. Both my husband and daughter can work from home, while I am furloughed from my job as a swim instructor.
During this "new normal," we took to heart advice we heard about keeping to routines and staying busy. Shower every morning as before. Get dressed. Make your bed. These were the suggestions we heard. Whereas our old routines were fragmented, each man for himself, depending on the day's activities, we now keep a similar rhythm.
What's old is new again! After all, sitting down together for lunch feels very old fashioned. Maybe it's just me. Along these lines, I came across an old recipe for my mother-in-law's famous strawberry pie. (Famous in the family, anyway). Since it is strawberry season, I made it new and I made it for our lunchtime dessert!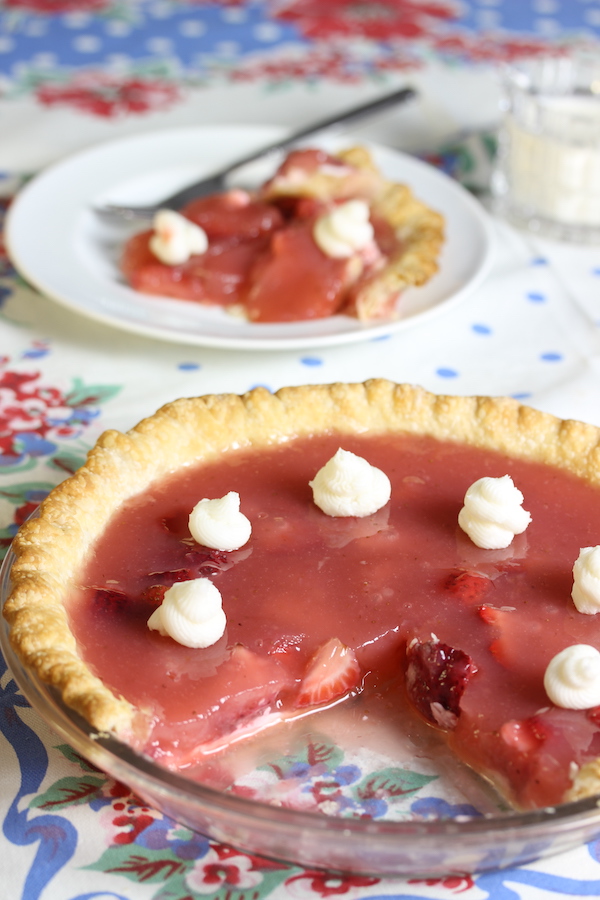 Note: I used Tofutti brand vegan cream cheese so that my pie would be vegan, but you may use whatever cream cheese you like.
Print
Strawberry Pie
Author:
Category:

Dessert
2 quarts

strawberries

1

baked pie crust

3 ounces

cream cheese (use regular or vegan cream cheese)

1 cup

granulated sugar

3 tablespoons

corn starch
Instructions
Wash, drain and hull 2 quarts strawberries.
Spread 3 ounces of cream cheese over bottom of cooled, baked pie shell.
Put half the berries in the pie shell.
Mash and strain remaining berries until juice is extracted. If necessary, add a little water to make a total of 1 1/2 cup juice.
Bring juice to a boil and gradually stir in a mixture of 1 cup sugar and 3 tablespoons cornstarch.
Cook over low heat, stirring constantly until boiling. Boil for 1 minute. Cool.
Pour sauce over berries in the pie shell. Chill about 2 hours.