Whenever I come up with a new recipe, my subconscious is often preoccupied, fixated on the fruit at hand. While lesson planning, I find myself sifting through a mental catalogue of things I've seen on TV, mused over in a magazine, or dared to concoct in real life. I mull over countless ideas, combinations, and often blurt things out mid-conversation with my wife long before settling on a specific direction. That was true for this Pear Gingerbread Cake.
The original inspiration for this cake came from trying to reimagine a pineapple upside cake. While the bones were there, I had to abandon a lot of what is characteristic of this classic: bright citrus from pineapple and the way in which the rather simple cake acts as a vehicle for sugar and syrup.
The way the simple pear embraces the changing seasons makes it the dark horse of the fall harvest.
It, like no other, embraces the rhythms of Autumn through various varieties, shapes, textures and colors on a scale often reserved for apples.
This underutilized showstopper would make a perfect crown for my mental reimagining of the pineapple upside down cake.
To enhance the cake and move it into autumn, warm spices of cinnamon, nutmeg, and clove blend beautifully with the sharpness of fresh and ground ginger, the unctuous flavor of molasses, and a delicate hint of maple syrup.
Coming off my euphoric high of marrying something old with something new is always exciting and propels me into the unknown.
I'm no professional baker at all, but I think the flavor and texture is spot on!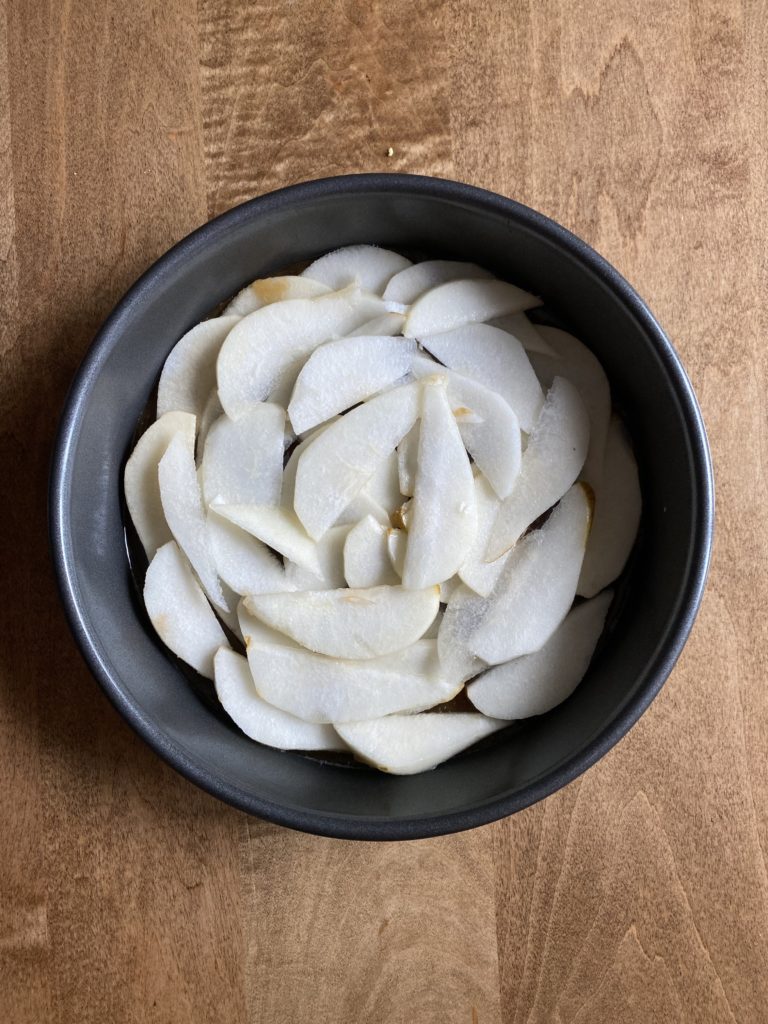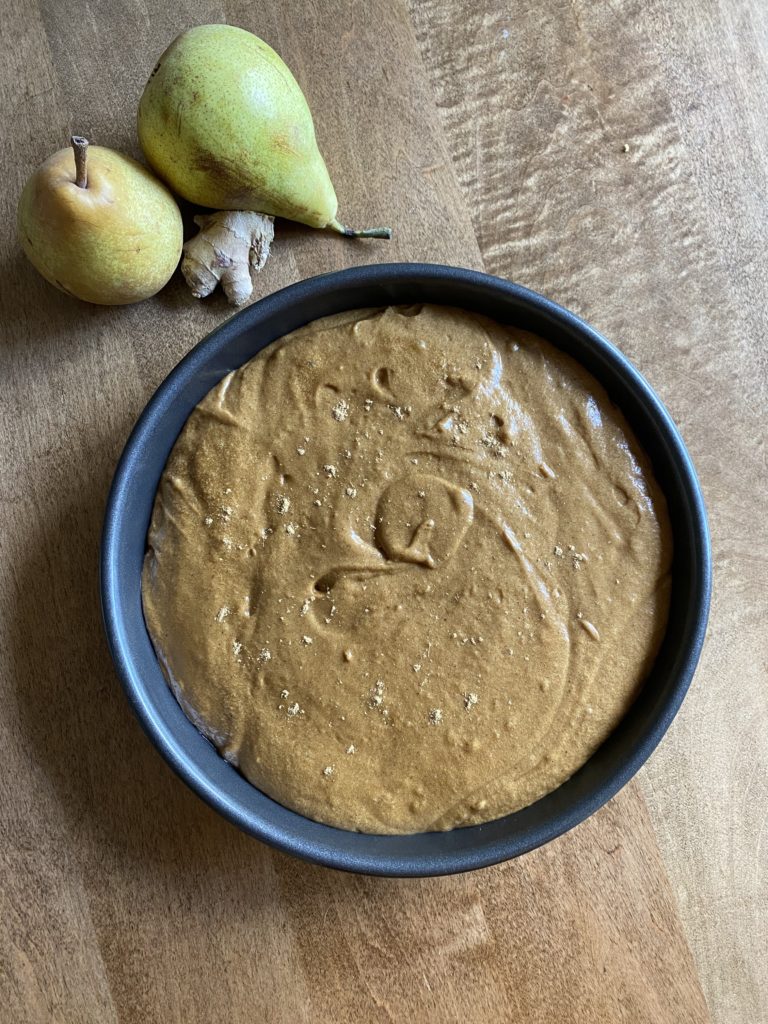 Print
Pear Gingerbread Cake
Pear Gingerbread Cake Author: Weaver's Orchard Cook time: 35 mins Total time: 35 mins Serves: 6-8 servings
Pear Top:

3 Tbsp

. melted butter

1/3

c. packed browned sugar

2 Tbsp

. maple syrup

2

medium pears, peeled and sliced thinly
Cake:

1/4

c. half and half

1/4

c. whole or

2

% milk

2 Tbsp

. apple cider vinegar

1

large egg

1/2

c. brown sugar

1/3

c. molasses

1/4

c. butter, melted

1 1/4

c. flour

3 tsp

. cinnamon

1

–

1 1/4

tsp. baking soda

2 tsp

. ground ginger

1/2 tsp

. freshly grated ginger

1/2 tsp

. ground clove

1/4 tsp

. nutmeg

1/4 tsp

. salt
Spiced Whipped Cream (Optional)

1

c. heavy whipping cream

1/2 tsp

. vanilla extract

2 1/2 Tbsp

. powdered sugar

1/4 tsp

. ground cinnamon
pinch of nutmeg
pinch of ginger
Instructions
Preheat oven to 350. In a small saucepan, melt butter over medium heat until it begins to brown. Stir in maple syrup, as you see butter browning, for 1 minute and turn off heat. Add in brown sugar and stir until dissolved using plastic or silicone whisk/spatula.
Arrange sliced pears into the bottom of a 9″ pan that has been greased. Note: the way you arrange your pears will be seen at the top of your cake. Try something fun like a flower, or spiral pattern. There shouldn't be too many extra pears, so feel free to discard excess pear slices, eat them, or dice them up and add into cake batter.
For the cake; mix milk and vinegar and let sit for 5-10 minutes to create a simple buttermilk.
In a large bowl, beat egg and mix in brown sugar, molasses, melted butter, and milk mixture until well blended and smooth. In another bowl, whisk dry ingredients: flour, cinnamon, baking soda, ginger, salt, clove, and nutmeg. Slowly add molasses mixture into dry ingredients. Carefully spoon over pears.
Bake for 25-35 minutes until a toothpick comes out clean.
If making whipped cream topping, combine ingredients in bowl and whip together using a stand or hand mixer. Keep ingredients as cold as possible prior to mixing cream and you may even want to consider sticking the bowl in the freezer 5 minutes or so prior to serving the cake. Allow the cake to cool for 10 minutes and then flip upside down onto your serving platter. If serving with whipped cream, dollop, pipe or place on the side however you would like and enjoy.
---
Other pear recipes you'll love!
5 Pear Recipes to Make During Pear Season