Poire Belle Hélène [Poached Pears with Chocolate Sauce and Vanilla Ice Cream] with Nadia Hassani from Deep Focus on Vimeo.
When Weaver's Orchard invited me to do another cooking class this summer, I suggested pears. I must admit I have not been a pear lover all my life. Only after I moved to the United States and tasted juicy orchard-fresh Bartlett pears did I start to appreciate pears and use them in cooking and baking.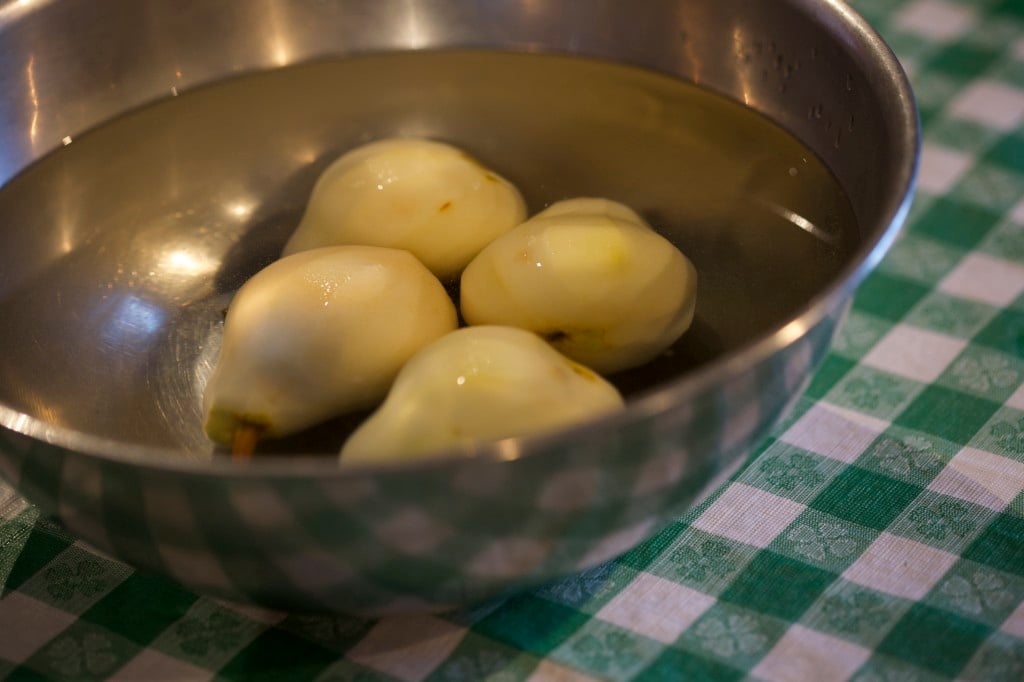 My eyes were opened further to pears in 2005 when I read a fascinating article in The New Yorker entitled "Renaissance Pears," about lost pear varieties in Tuscany, Italy, and an agronomist who has made it her mission to locate the often only surviving pear tree of an otherwise vanished variety. I learned that pear trees can live for more than 250 years, only exceeded by olive trees. At one time there were 150 different pear varieties in Italy, recorded in a painting by Bartolomeo Bimbi (1648–1723), a Florentine painter supported by the Medici family.
In the 20th century, pears, just like apples and other fruits and vegetables, suffered from a tremendous loss of varieties. Often the choices for shoppers were narrowed down to just a couple of commercially viable varieties that are the most suitable for shipping and long-term storage. Flavor was secondary. But thanks to the trend in recent years to bring back heirloom varieties, and the cross-breeding of new hybrid varieties – which is not to be confused with genetically modified organisms (GMOs), where the hereditary material, the DNA, has been altered using genetic engineering techniques – there are several varieties of pears to choose from today, including the smallest and sweetest of all commercially available pears, Seckel; Red and Green Bartlett; Red and Green Anjou; Harrow's Sweet, Asian Pears; and Bosc.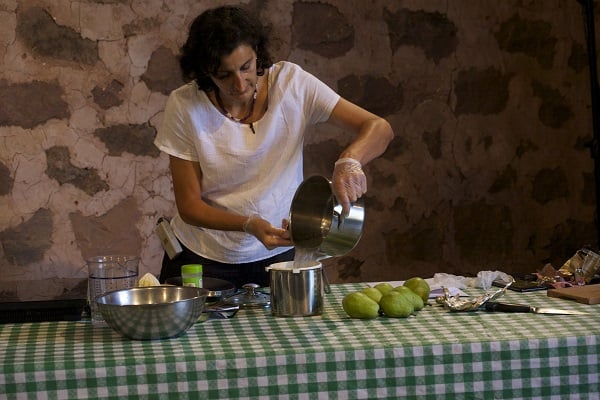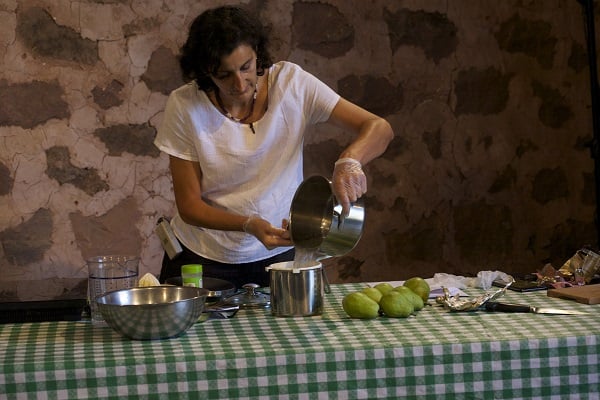 In French and Italian cuisine, pears are mainly used in cakes and desserts. On the other hand, in traditional German and Eastern Europe cuisines pears are often pickled or incorporated into sweet-and-savory main dishes. This can be explained by the colder climate in those countries, where preserving was often the only way to enjoy fruit during the long harsh winters.
For the class at Weaver's Orchard, I decided to demonstrate how to prepare Poire Belle Hélène, the French classic dessert because I find it one of the easiest and a most delicious desserts with pears.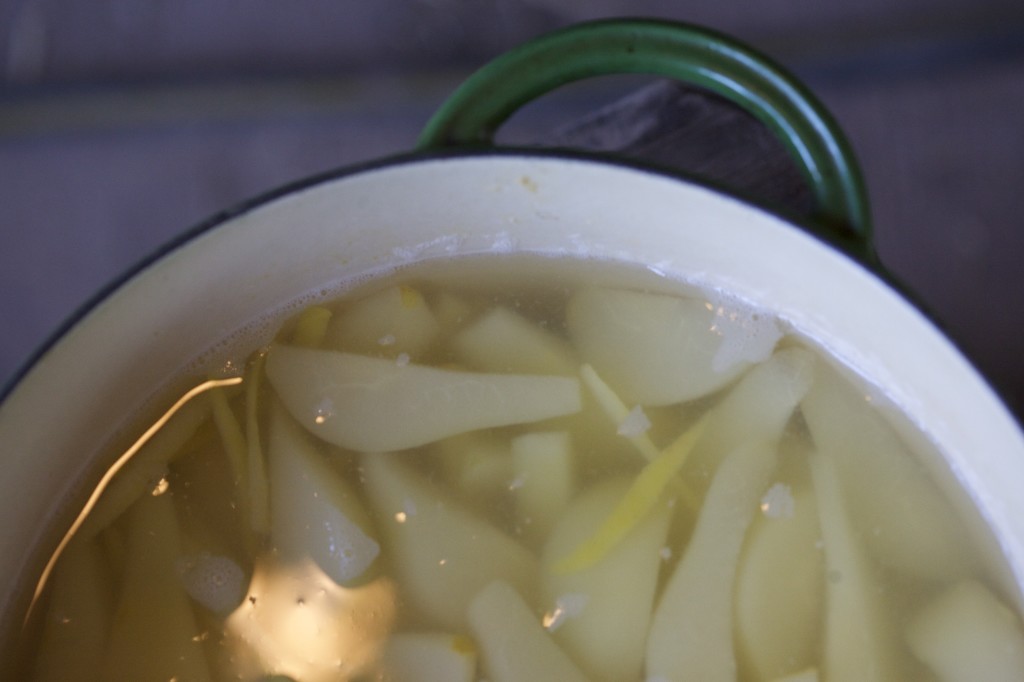 There are different ways to prepare it. My personal take is a simplified and slimmed down version. I think pears should be the stars in this recipe, and the ice-cream and the chocolate sauce have only supporting roles. I do not add any sugar or spices to the poaching liquid – pears of good quality do not need it. Unlike many recipes that use heavy cream for the sauce, I add some of the poaching liquid to the melted chocolate. It is less rich that way and you get even more pear taste.
Poire Belle Hélène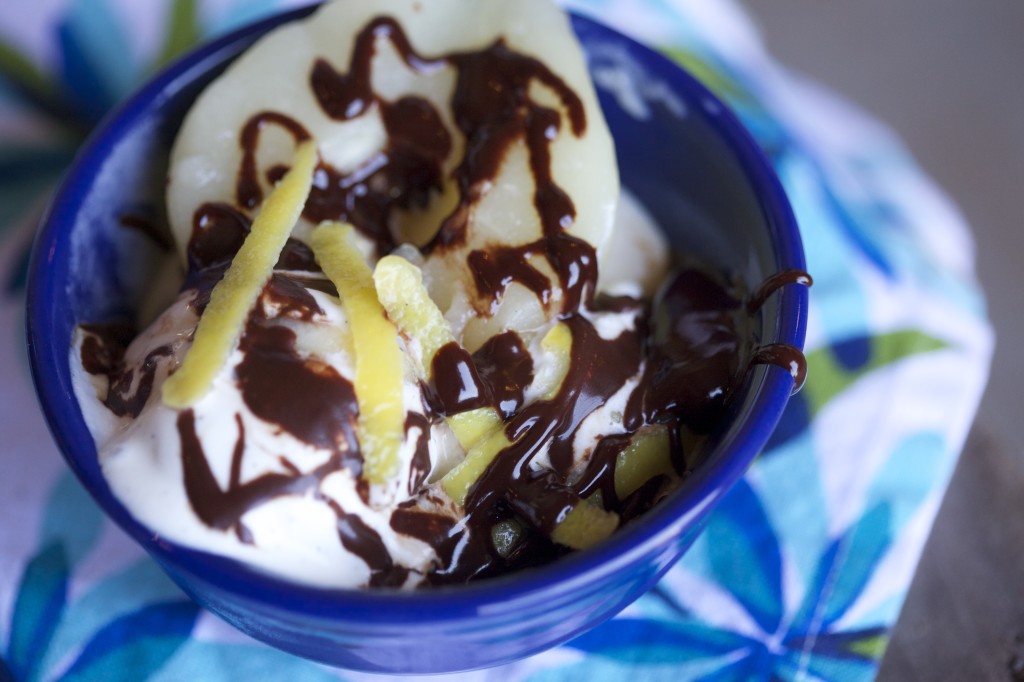 Print
Poire Belle Hélène
If you do not poach the pears immediately after peeling them, they should be fully immersed in cold water acidulated with a couple of tablespoons of lemon juice or a couple of teaspoons of citric acid powder per quart of water to prevent them from turning brown, which happens rapidly. Discard that water and use fresh water and only lemon juice, not citric acid, for poaching the pears.
4

firm medium-size pears (Bartlett or other dessert variety)
Juice and zest of 1 organic lemon

4

scoops vanilla ice-cream, more to taste

4 ounces

semi-sweet chocolate
Instructions
Peel the pears. Halve and core them and put them in a heavy non-reactive saucepan, best if large enough to fit the pears in one single layer. Add just enough water to cover and the lemon juice and zest. Cover the pan and bring to a boil, then reduce the heat and simmer until the pears are soft enough to pierce easily with a knife, 15 to 20 minutes depending on the size and softness of the pears. Transfer the pears with a slotted spoon to a bowl and let cool. Strain the cooking liquid and reserve.
Melt the chocolate over very low heat. Add a few tablespoons of the cooking liquid and stir until smooth. The amount of cooking liquid depends on how thick you would like the sauce.
Put one scoop vanilla ice-cream or more to taste into each dessert bowl. Top with two pear halves and spoon some of the warm chocolate sauce over it.