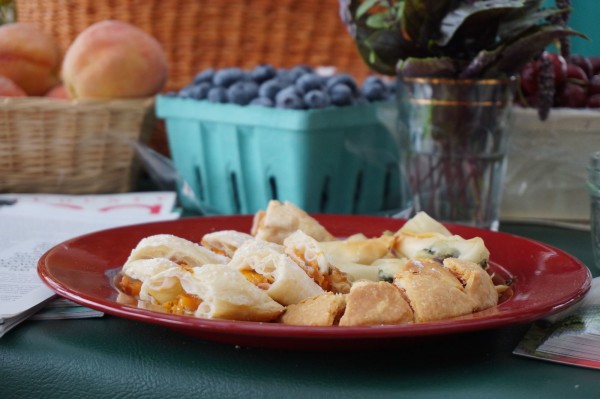 For the second time this summer we had the privilege of learning just a bit more about some simple yet gourmet food pairings from Phoebe Canakis of Phoebe's Pure Food during her July 24th class on turnovers and hand pies. If a simple apple cinnamon fruit turnover is what comes to mind when you think of this tasty treat, think again. The possibilities for pie fillings are endless and Phoebe sure wowed us with her combinations!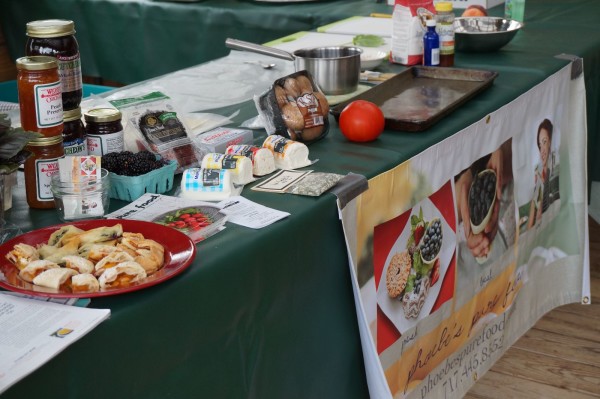 She brought three different kinds of dough to work with: a cream cheese crust, puff pastry and filo dough. Then for fillings, both sweet and savory combinations pleased our palates. Phoebe welcome the children present to take part in the process of filling and folding the turnovers. Combinations for the turnovers included basil-peach-rose, blueberry-cream cheese- orange marmelade, and spanakopita, a spinach and feta turnover with filo dough. For the complete list of recipes, visit Phoebe's blog article about it.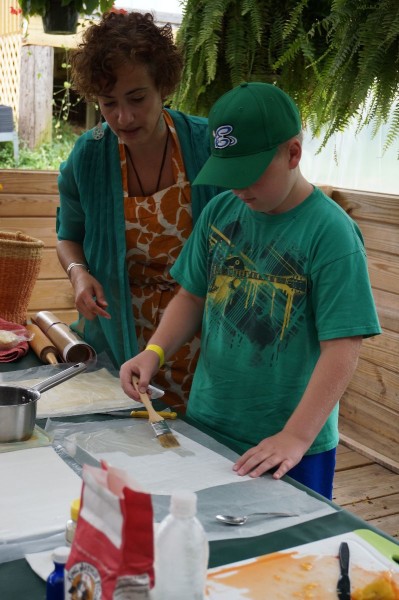 Many people wanted Phoebe to do a class on fruit and herb infused beverages as she had done last year, but due to time constraints this year we had to forgo the class. However, she graciously gave a handout for many recipes and directed us to her blog to view those same recipes. Find the recipe for herbal infusions here, and the recipe for strawberry lemon-verbena rose petal syrup here. And if you can't get enough of Phoebe's recipes, then purchase her e-zine, Phoebe's Pure Food Magazine for recipes from farms and contributors all across southeastern Pennsylvania.
Comments