"Did you use up the mushrooms in your omelet this morning?" I asked my husband. "No,I don't think so," he replied. From that conversation, I determined that I must have mushrooms in my refrigerator still, so I decided not to buy any more before dinner. I had thawed some chicken and planned to whip up some honey mustard sauce and then bake the chicken with mushrooms, onions and Swiss cheese. Well, my husband was right. He didn't use up the mushrooms. I did. I had cooked them earlier that week but still somehow pictured them sitting at the edge of the top shelf of my fridge, waiting to be used. So, I had to think quick about what I'd make for dinner now. I chopped the chicken and threw it in a frying pan with some taco seasoning and a single green pepper. For a minute, I had thought that these fajitas had "saved" the night. We sat down and began to eat, and I quickly realized that there was not much substance to what we were eating.
Usually my fajitas are about 2/3 vegetables (peppers, onions & tomatoes or salsa), with a side of black beans and other toppings. When I have the time to plan out meals, I always try to stretch out the meat as much as possible and pack in other nutrients from vegetables, beans and grains.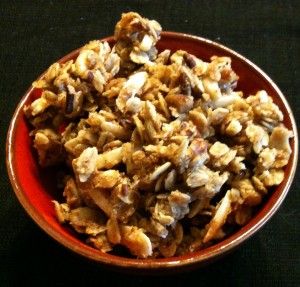 I've been cooking and buying the household groceries for about five years now. For about two of those years, I cooked for family – anywhere from 2 to 4 to 15 of us on a regular basis. That definitely doesn't make grocery budgeting or planning very easy! I'm back to cooking for just two now and planning is definitely my best tool for keeping on-budget when buying groceries. Here are a few things that have helped me budget:
Plan meals early in the week if possible. First check what perishable items you have that you need to use up and plan around those items. If you need to buy fresh herbs for one meal, try to find another meal where you can use up the fresh herbs.
Freeze leftovers. If you have leftovers that no one will eat before they go bad, freeze them when possible.
Stick to a list, and buy what you use. I do best shopping at a place with consistent low prices and a consistent inventory like Weaver's Orchard or Wegman's. I love getting a deal, but have to be careful to pass it up if it's not something I'll use regularly (like the 3 jars of mayonnaise I bought last year).
Buy only what you can eat. I tend to get "first time farmer's market syndrome," where I buy one of just about everything each vendor has the first time I visit a farmer's market. This was especially bad when I visited about 5 farmers markets in a 1-week period while on vacation this summer! Farmer's markets are still one of my favorite places to shop as long as I plan what I'm going to buy ahead of time.
Start from scratch. Some of the things I make from scratch regularly are salad dressings, marinades/sauces, granola and fruit juice. I try to buy the raw ingredients when they are on sale, but also realize that even if I'm not saving money, I am able to select higher quality ingredients and skip many unnecessary preservatives.
Don't scrimp on the things that matter. Produce: I always buy local produce first. Locally grown produce is fresher than imported produce, so it is at the peak of it's nutritional quality. Local, small-scale farms are typically very concerned about the health of their families and communities and limit the use of pesticides whenever possible. When produce is grown on a smaller scale with more variety, it is less susceptible to insects and disease that often plague "monocultures" (farms with only one or two crops over many acres of land). I like how one of my favorite authors, Michael Pollan put it: "When the choice comes down to industrial organic or local, I opt for the local, because it supports much more than good agricultural practice. It also tends to support polyculture, since local farms are usually diversified, and it helps to stop suburban sprawl by keeping small farms in business." Vegetables: New dietary recommendations are encouraging us to eat 50% fruits and vegetables. Look for ways you can add vegetables into meals that you wouldn't normally add them to. I always saute some broccoli and add it to tortellini in pesto sauce, add spinach to manicotti and add peppers to spaghetti sauce. These vegetables are also less perishable than some salad greens, so I don't have as much waste. Fruit: Pick your own fruit in season and freeze it. Studies show that frozen produce still retains much of its nutritional value. Meats, Eggs & Dairy: I always buy meat, dairy & egg products from free-range animals. Weaver's carries many delicious free-range meats.Products from animals that graze on pasture have much lower levels of fat and are higher in vitamins. My husband gets an allergic reaction when eating most conventional meat and dairy products, so we buy local and free-range whenever possible.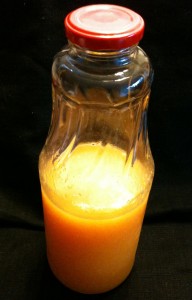 Keep track of where your money is going. Even if you know how much your total grocery budget is, I have found it to be helpful to know how much of my grocery spending goes toward different categories.
For a few months in a row, I tracked how much we spent on "fresh" foods (meat, dairy, produce), canned/prepared foods, cleaning supplies, toiletries, bottled water, lunches, etc. I was able to make some changes to our diet as a result. For example, I realized we each drank a glass of orange juice every day, which cost us about $40-$45 per month. I was also concerned that we weren't getting as much nutrition from pasteurized orange juice, so now I ask Dwayne, our farm market manager to order me a box of oranges every few weeks. We squeeze our own juice every morning and spend the same or less than I did on store-bought juice.
Cook meals that can be re-created into other meals. This saves time for another meal down the road and also allows me to use up free-range meats that come in large packages. Below are some of my favorite multi-meal dishes:
Multi-Meal Dishes
Chicken & Mexican Food
Day 1: Whole Slow-Cooked Chicken
Print
Grocery Budgeting Tips, Part 2: From the Kitchen of Rachel VanDuzer
1

whole chicken
Coarse sea salt
Freshly cracked black pepper
Minced garlic

1/4 cup

olive oil

1/2 cup

water
Instructions
Season a whole chicken with coarse sea salt, freshly cracked black pepper and garlic.
Add olive oil and water to a crock pot and slow-cook for 4 hours on high.
Serve with baked or roasted potatoes and steamed, in-season vegetables.
Day 2:Chicken Tortilla Soup
Print
Chicken Tortilla Soup
Author:
Category:

Main Dish
1 Tbsp

. olive oil

3 tsp

minced garlic

2

(10 oz) cans MSG-free chicken broth

1 Tbsp

. lime juice

2 tsp

. chili powder

2 tsp

. cumin

1 tsp

. oregano

¼ tsp

. cayenne pepper

2

(16 oz) jars mild salsa

1 cup

corn

1

(14 oz) can black beans, rinsed & drained

2 cups

slow cooked, shredded chicken
Salt & pepper to taste
Cheddar cheese, shredded

1/4 cup

cilantro, chopped

5

scallions, chopped
Sour cream
Tortilla chips, crushed
Instructions
Saute garlic in oil in a medium size pot. Stir in salsa, broth & lime juice, chili powder, cumin, oregano, cayenne. Bring to boil & simmer for 5-10 minutes. Add corn, beans, & chicken. Simmer for 10 minutes. Ladle soup into individual serving bowls & garnish with grated cheese, cilantro, chopped green onion, or crushed tortilla chips.
Day 3: Chicken Enchiladas
Print
Chicken Enchiladas
Tortilla soup
Tortillas

1

jar salsa
Cheddar cheese, shredded
Instructions
Take any leftover soup and ladle it into tortillas. Roll tortillas up and place them in a 9×13 pan. Cover with salsa and cheddar cheese. Bake at 350 for 30 minutes. (If you don't want to eat them right away, freeze prior to baking.)
Ground Beef & Italian Meals
Day 1: Ground Beef Spaghetti
Print
Ground Beef Spaghetti
1/4

olive oil

2

cloves garlic

1

lb ground beef (to serve

2

people)

1/2

red onion

2

red peppers

1/4 cup

parsley

3

jars tomato sauce

1/2

box of spaghetti
Instructions
Add oil, garlic and beef to a saucepan. Stir until nearly browned. Add onions and peppers, stir until beef is brown and onions & peppers are soft. Add parsley and tomato sauce. Cook pasta according to package directions, drain and serve with spaghetti sauce.
Day 2: Lasagna
Make lasagna according to your favorite recipe, using remaining spaghetti sauce.
Other Ground Beef Recipes:
Day 1: Tacos
Print
Tacos
1

lb ground beef

1 tsp

. chili powder

2 tsp

. cumin powder

2

cloves garlic, minced
Salt & freshly ground black pepper to taste

1/4

of a red onion1 green pepper

1

jar salsa1 can black beans
Instructions
Brown beef with garlic, chili powder, cumin, salt and pepper. Add onion and pepper, cook until tender. Add salsa and black beans, stir just until heated. Serve with your favorite taco toppings.
Day 2: Chili
Print
Chili
Leftover tacos

1

can of kidney beans

2

more tsp. of chili powder

1/4

chopped jalapeno pepper

1

can of stewed tomatoes

1/2 cup

water

1/4 cup

cooked bulgar (cracked) wheat
Instructions
Simmer 10-15 minutes and serve.