When you think about cooking with apples, what kinds of recipes spring to mind? Maybe your grandmother's apple pie recipe, or that apple crisp you always whip up in the fall? Or perhaps the applesauce that makes your kitchen smell like cinnamon?
Those classics are comfort food at their best, flavors we never tire of. But these great recipes are just the beginning. Why not serve an apple cheddar quiche at your next brunch, for instance? Or make whole wheat flatbread with apples, walnuts and Gorgonzola cheese for dinner? Or pack some homemade Apple-Cran Granola Bars for your kids' lunches?
"Apples are sometimes under-appreciated and under-utilized," says Julie Bancroft, Executive Director of the Pennsylvania Apple Marketing Program. But with so many varieties and flavor profiles to choose from, this versatile fruit can be incorporated into recipes for any occasion.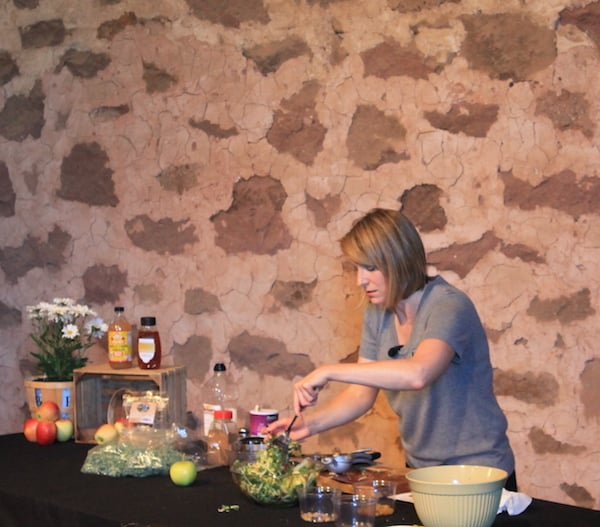 At the final Weaver's Orchard cooking class of the summer this past Tuesday, August 25, Bancroft demonstrated a fresh salad that strikes all the right notes of sweet, crisp and savory.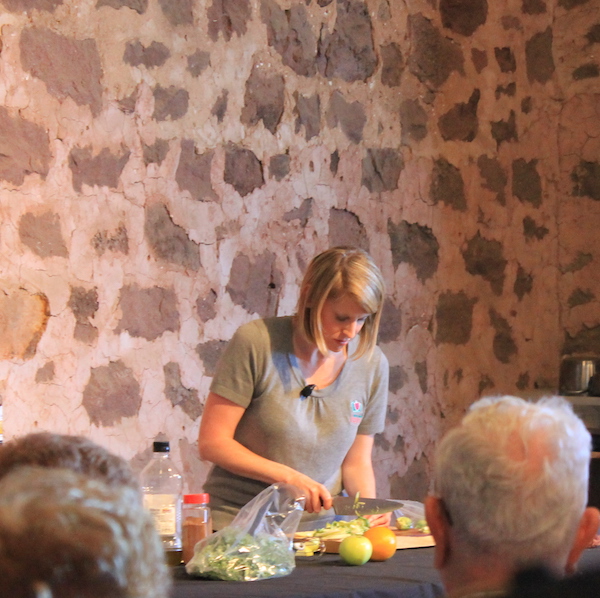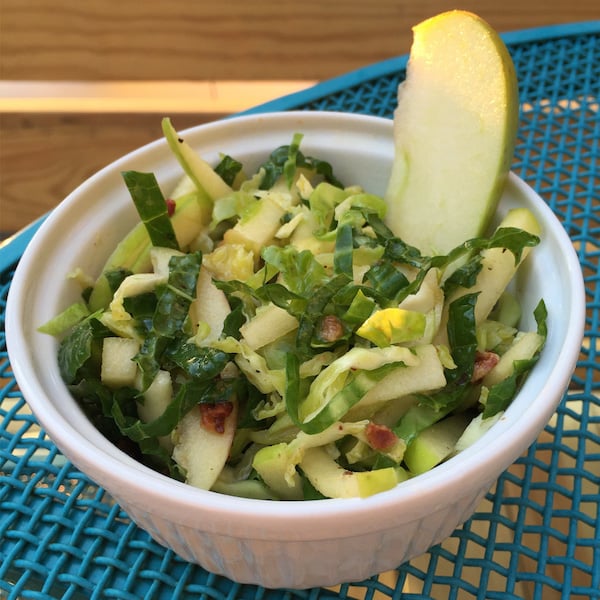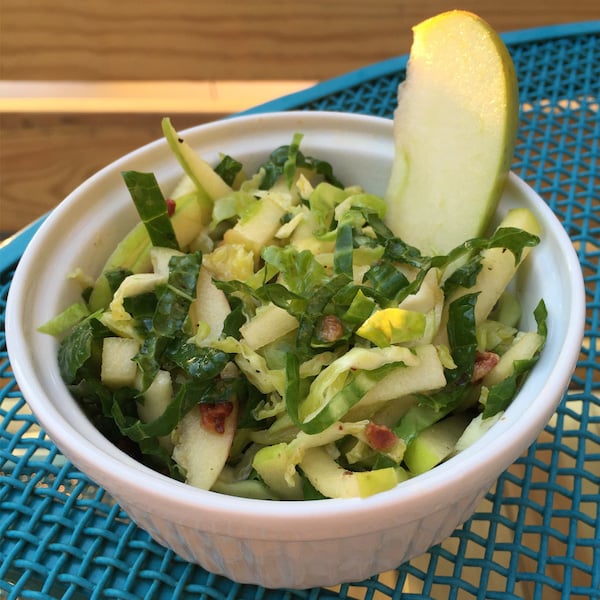 Print
Green Machine: Apple, Kale and Brussels Salad with Citrus Vinaigrette
This green salad is packed with nutrients and a hearty crunch. The sweet-tart flavor of the apples pairs nicely with the green vegetables. Pistachios and crumbled bacon add savory saltiness and extra protein.
Notes: Crispin apples, also known as Mutsu, work well for this salad due to their low browning qualities and mild flavor. Other mild green PA apples like Golden Delicious and Ginger Gold would also work well. This salad can be made ahead, just reserve the bacon, raisins, pistachios and vinaigrette and toss in when ready to serve.
SALAD INGREDIENTS:
3 cups

(or

12

medium to large) Brussels sprouts

1 ½ cups

Tuscan kale (ribs removed), sliced into ¼" ribbons

2 ½ cups

Pennsylvania-grown Crispin apples cut into matchsticks

½ tsp

. sea salt

¼ tsp

. ground nutmeg
Fresh ground pepper to taste

3

slices bacon, cooked and crumbled

2 Tbsp

. golden raisins

2 Tbsp

. pistachios (shelled)
CITRUS VINAIGRETTE INGREDIENTS:

1/3 cup

orange juice – fresh squeezed or store-bought

1 ½ Tbsp

. apple cider vinegar

3 Tbsp

. extra virgin olive oil

1 tsp

. honey
Instructions
Thinly slice (about 1/8" thick) Brussels sprouts and place in large bowl. Remove tough ribs from Tuscan kale and cut into thin ribbons (about ¼"); combine with Brussels sprouts. Slice apples into thin slices (about ¼" thick) and then cut into ¼" thick matchsticks; toss with vegetables.
Add salt, nutmeg and fresh cracked pepper to vegetables and toss thoroughly. Add golden raisins, pistachios and crumbled bacon, and toss together.
For Dressing:
Combine orange juice, apple cider vinegar, olive oil and honey together in a small bowl and whisk thoroughly. Pour dressing over prepared salad and stir well to incorporate. Serve immediately and enjoy!
Local Apples – A Healthy Choice
Whenever people add more apples to their diet, that's going to be a positive thing for them, says Julie, because of all the health benefits apples provide. Apples can help people manage their weight, support their immune systems, boost their brain function and strengthen their bones.
Local apples are especially healthy because they are so fresh. Even though apples tend to stay fresh longer than more delicate produce like sweet corn, especially when the fruit is kept in temperature-controlled storage, the nutritional quality does diminish over time. Also, says Julie, the less the fruit is transported and handled, the greater the integrity of its appearance, texture and nutrition. All the more reason to pick your own fruit straight from the tree or get it directly from your local farmer!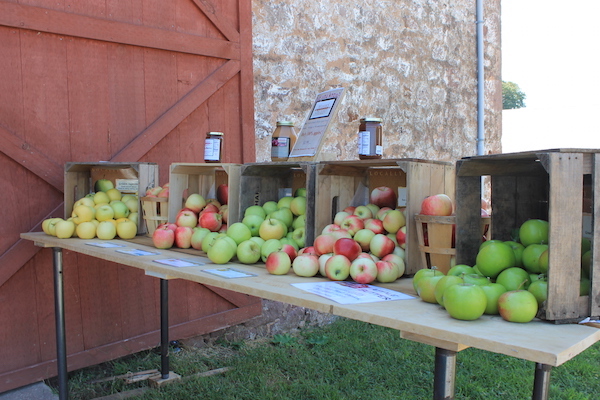 A Healthy Local Economy
Personal health is not the only benefit local apples bring. This fruit is also good for the health of the local economy, says Julie. Harvesting fruit requires substantial labor (as shown in this PA Apples YouTube video). Julie emphasizes that it is not a mechanized process. People are out in the orchard, hand-harvesting each piece of fruit.
Growing the rootstock that local orchards plant also supports local nurseries. Weaver's, for instance, receives many of its young plants from Adams County Nursery in Aspers, PA.
Processing apples into products like cider and applesauce also creates jobs, and so does providing wholesale apples and running a bustling farm market.
Grown with Your Health in Mind
At Tuesday's class, Julie welcomed attendees' questions about apples, and most of all, attendees wanted to know whether Weaver's apples are grown using organic or conventional farming practices.
The great thing about using Weaver's as your source for apples is that you can ask the farmer! Ed Weaver, president of Weaver's Orchard, had stopped by the cooking class and was able to provide in-depth answers about the farming practices he uses. Weaver's, like many orchards on the East Coast, uses Integrated Pest Management practices, which limit the use of pesticides. Weaver's monitors each crop carefully in order to make informed decisions about how to control insects or diseases, and living at the orchard and needing to work with the crops every day leads Weaver's to adopt practices that are good for the fruit, the land and the community.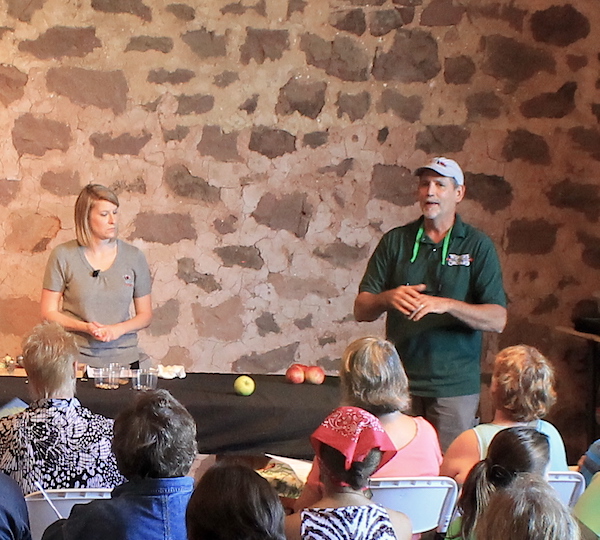 And even though the organic label is comforting, organic farms are able to use over 100 types of chemicals to spray their crops. While organic farming uses many of the same concepts as IPM, organic farmers are limited to using only organic chemicals.
Healthy & Stunning
As Julie prepared the "Green Machine" Apple Salad, she noted that the apples she was using resist browning. Several kinds of apples naturally resist browning, making them a stunning option for salads because their flesh stays crisp and white.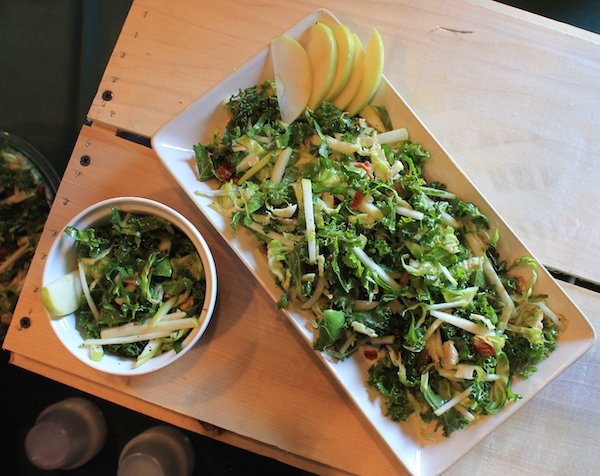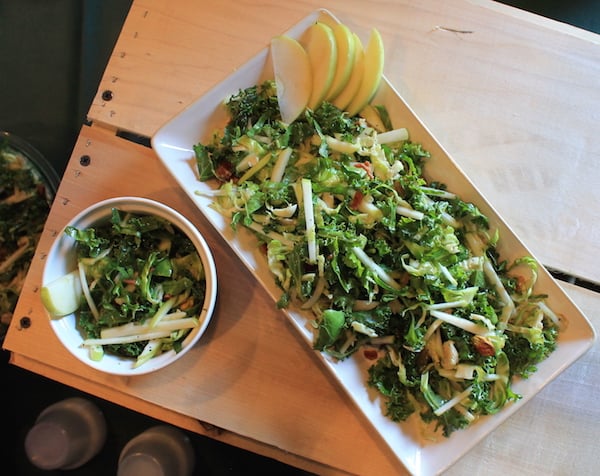 Weaver's grows several varieties that resist browning:  Cortland (developed in the 1890s and related to the MacIntosh), Crispin (also known as Mutsu), Cameo (which a Washington farmer stumbled across in the 1980s), and Autumn Crisp (our best non-browning apple–and it will be available in the market on Saturday!).
During the class, participants had a chance to sample the salad, and before and after the class, they also had the chance to try seven other varieties that are available in the farm market at Weaver's right now, including Star Gala and Honeycrisp.