British flapjacks are a gluten-free oat bar (much like a granola bar) traditionally made with just oats, fresh or dried fruit, butter, brown sugar and syrup (golden or maple). This recipe calls for oats, nuts, dried apples and cranberries, applesauce and maple syrup. Find the recipe below!
This past summer, my husband and I along with our two-year-old son were able to make our dream of vacationing on the Scottish Isles an affordable reality. We booked far in advance and rented a simple "moving" van with zero frills. We put a mattress in the back and packed some camping gear like a stove and cooking utensils, sleeping bags, etc. in our checked baggage. For around $20 per day for our transportation and lodging, we couldn't ask for a better way to explore the Scottish highlands and islands at our own pace.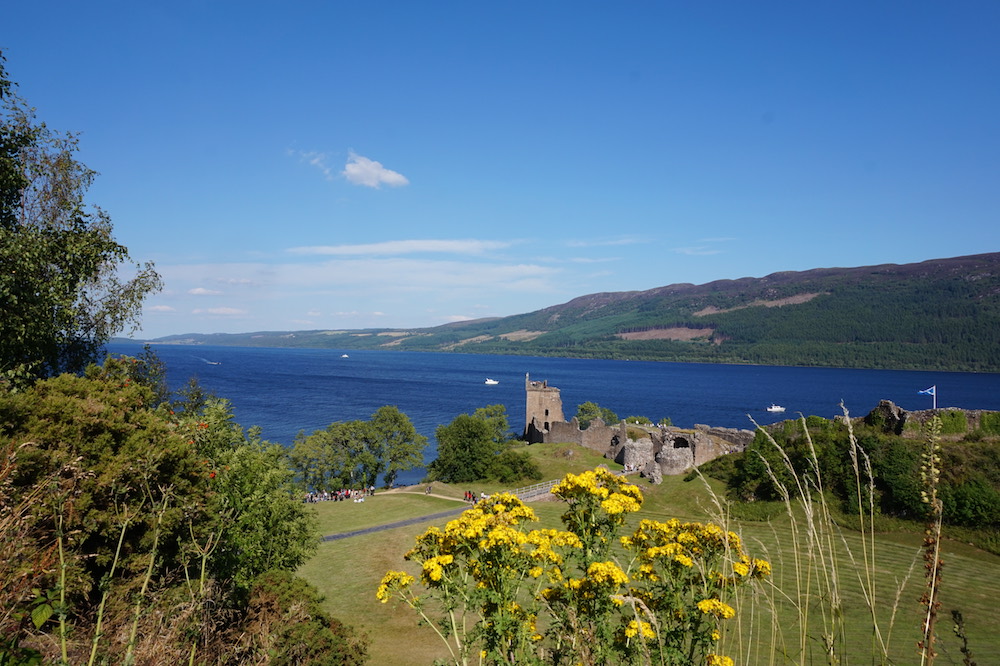 One of the things I love about traveling is getting to experience new foods, and then reminiscing about our travels as I try to re-create those foods at home. So let's reminisce about these amazing flapjacks.
Transport yourself to the Isle of Harris in the Outer Hebrides, off the northwest coast of Scotland. In order to get there, we had to drive 4-5 hours north of Edinburgh, through the Scottish highlands, past Loch Ness and countless gorgeous castles and castle ruins. (No, we didn't see Nessie!)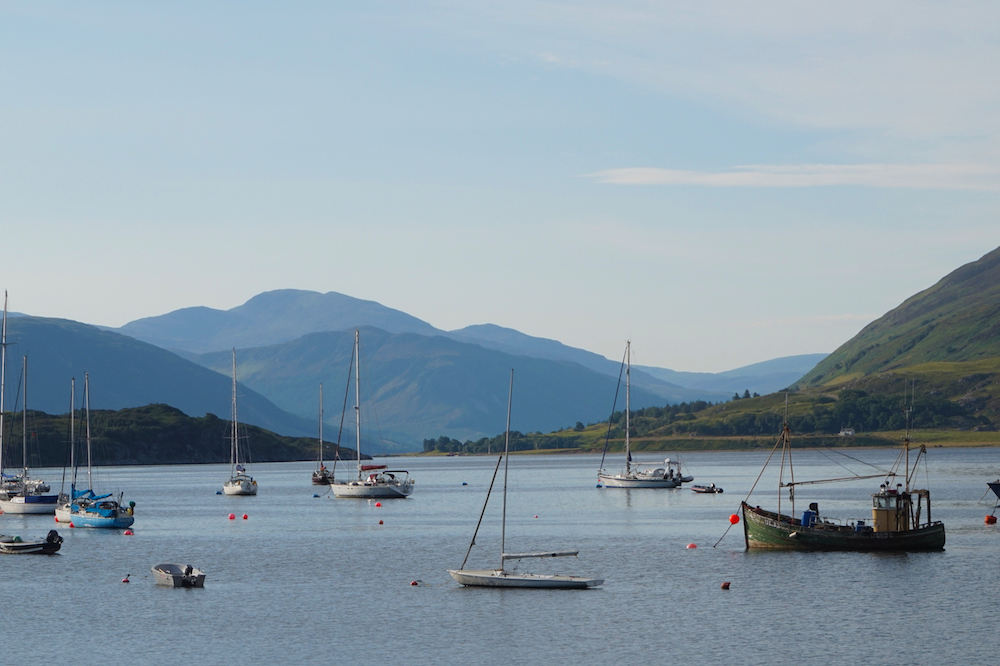 From the incredibly mountainous northwest coast, we took a ferry out to the Isle of Lewis, which is home to numerous ancient relics including the Callenish Standing Stones dating back 5,000 years and giant chess men carved in the 12th century, as well as beautiful sandy beaches.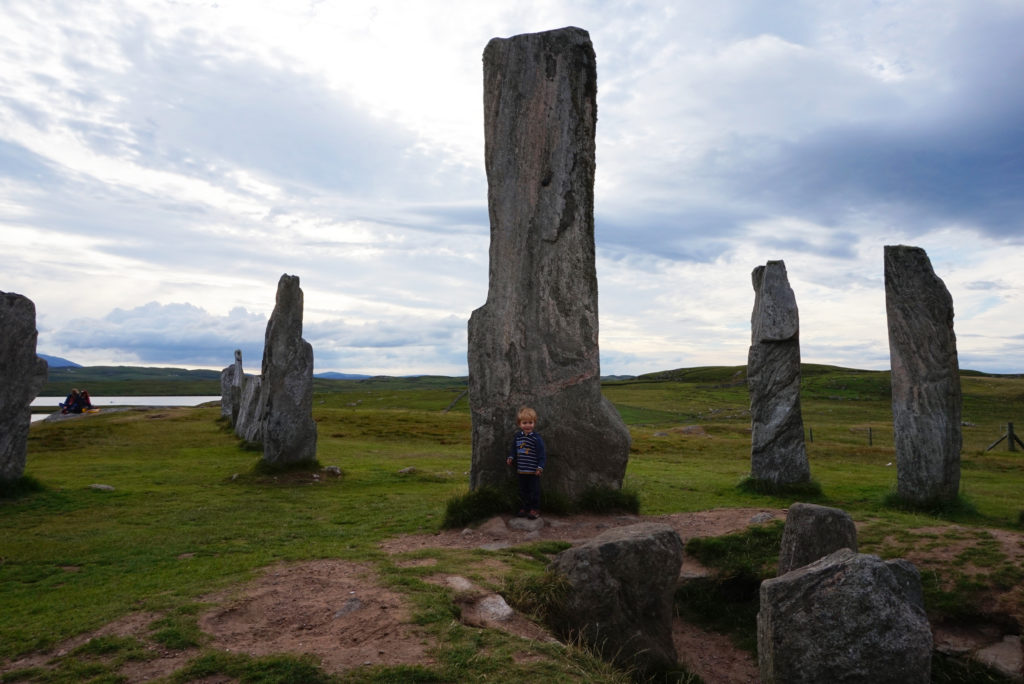 On the ferry ride there, Minke Whales bounded out of the water in front of us. (My son is now incredibly fond of a stuffed whale his cousin made for him when he was born!) We spent a day on the Isle of Lewis before heading further south to the Isle of Harris.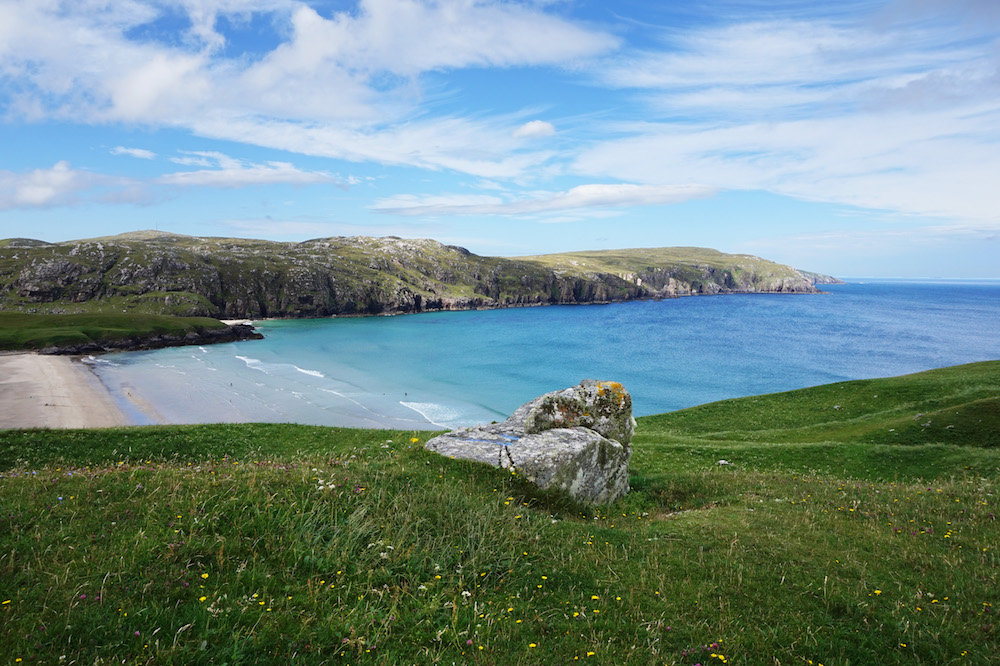 On Harris, we found an amazing spot to camp for the night. It was just steps away from a beach where views of mountains were visible across the sea. There was a little indoor picnic area with bathrooms and showers — we thought it would be a nice spot "just in case" the weather turned bad.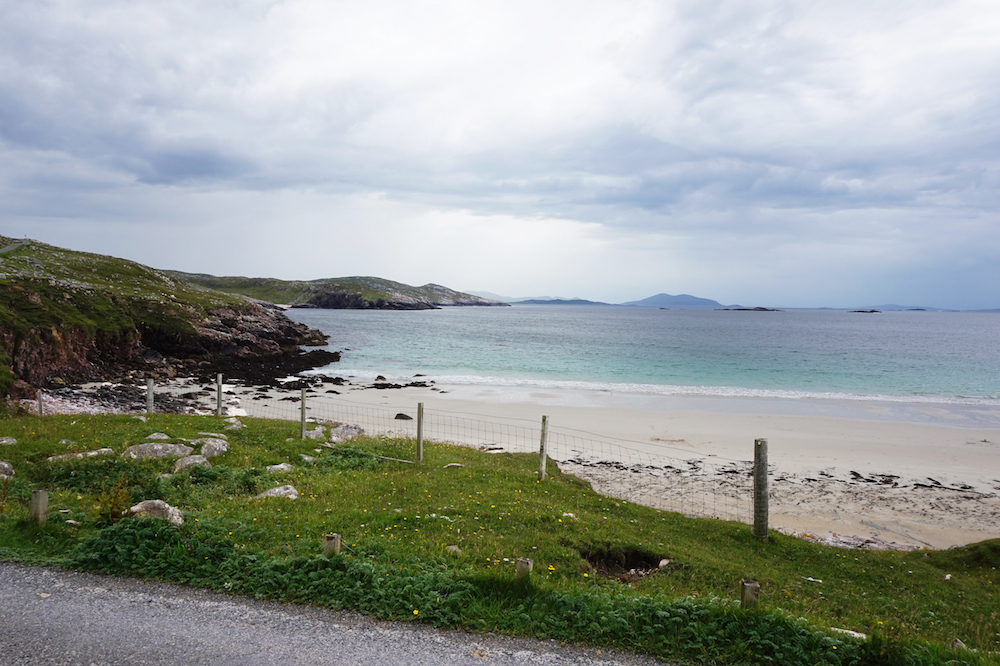 We enjoyed good weather the rest of the afternoon/evening, and went to sleep without a care in the world. When we woke up in the morning, our van was swaying in 35 mile-per-hour winds and "horizontal rain." The sea was raging and we worried about whether our ferry would run later that day!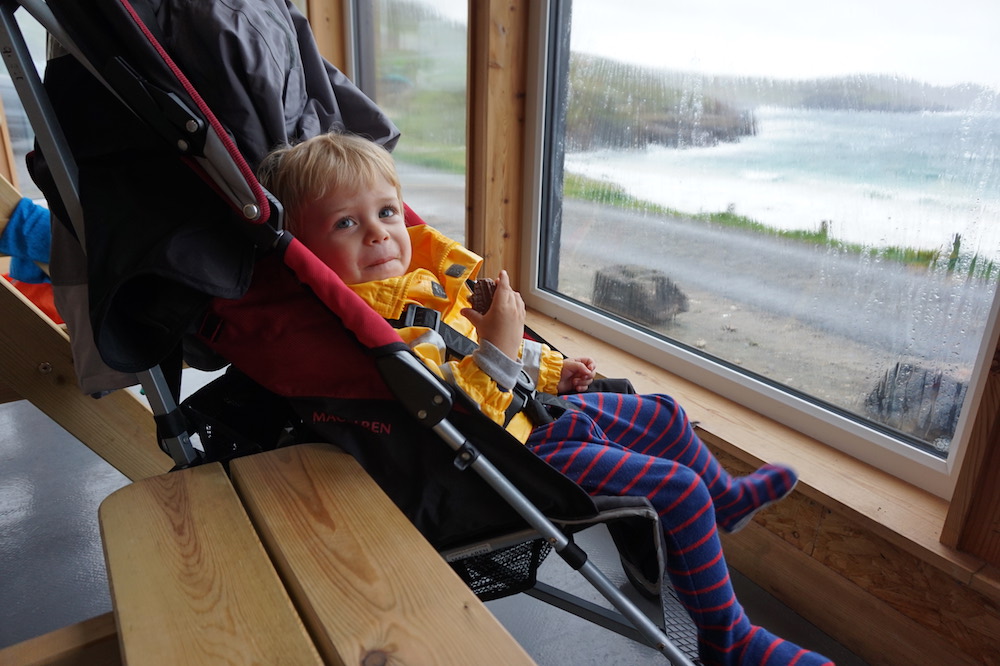 We soon learned why an indoor picnic area was needed in Scotland! The building even had sliding doors to protect it from high winds. We ate our breakfast and drank our coffee while we chatted with the other travelers. We were quite thankful for the van to sleep in and the cozy spot where we could watch the storm at a safe distance. Some of the other campers were not so lucky–they were in tents and came by bike!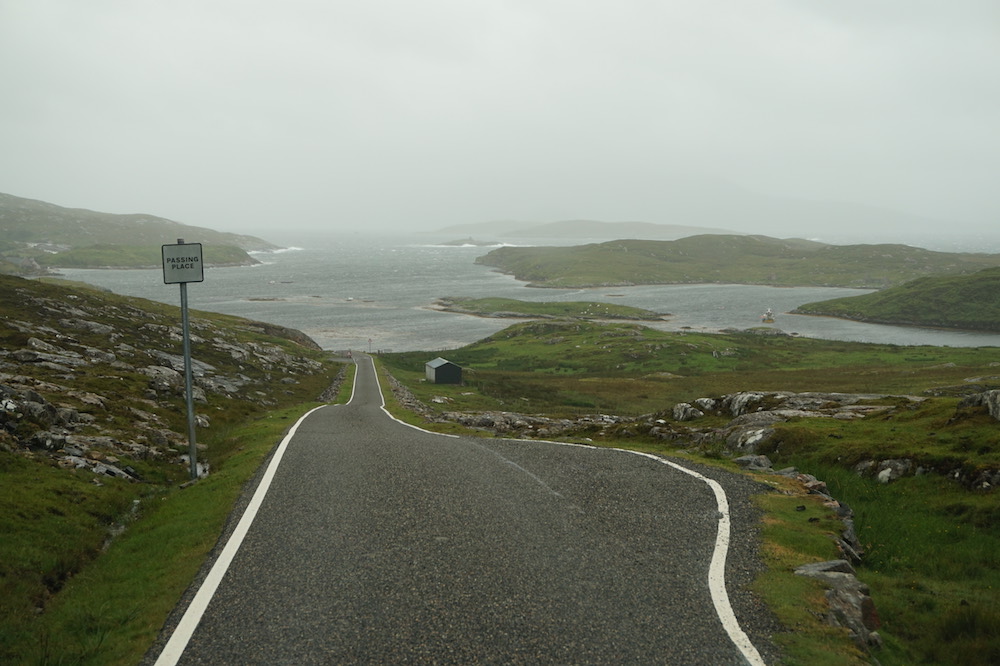 After enjoying the shelter of this perfect spot, we headed into town where our ferry was to take us to the next isle. We were quite relieved that the seas had calmed enough for the boats to run.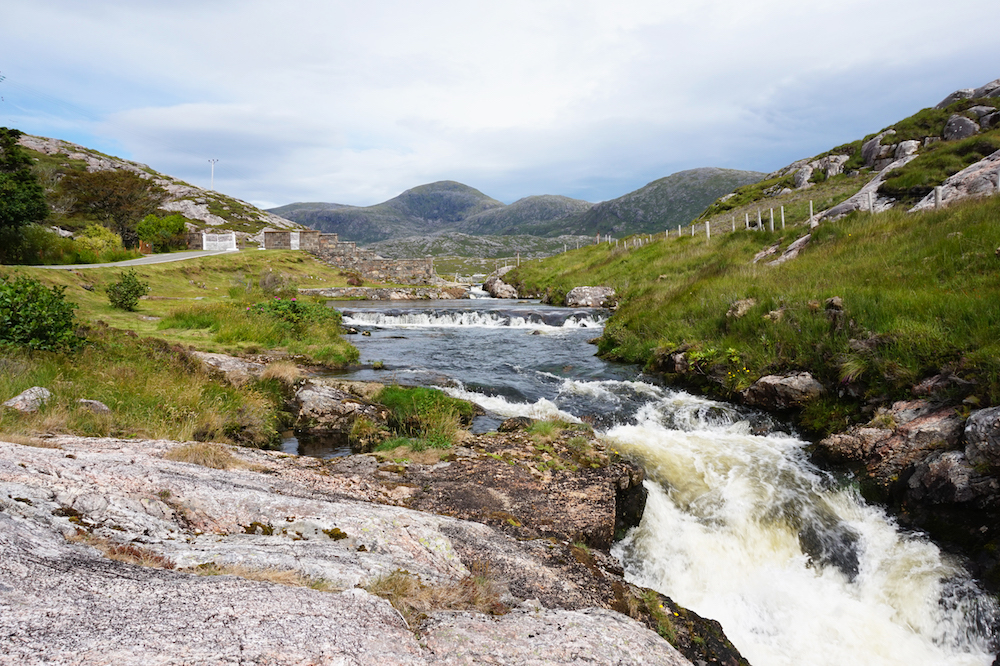 While we waited to board the ferry, we walked around the town and found a cute restaurant (one of the only ones open on a Sunday). I got a cup of tea to go and ordered an oat bar, which I was informed was a flapjack. It paired deliciously with the cup of tea and kept me full for hours since flapjacks are loaded with oats, nuts and fruit — definitely a much-needed snack since it was several hours until we could find a place to order fish and chips to go for dinner.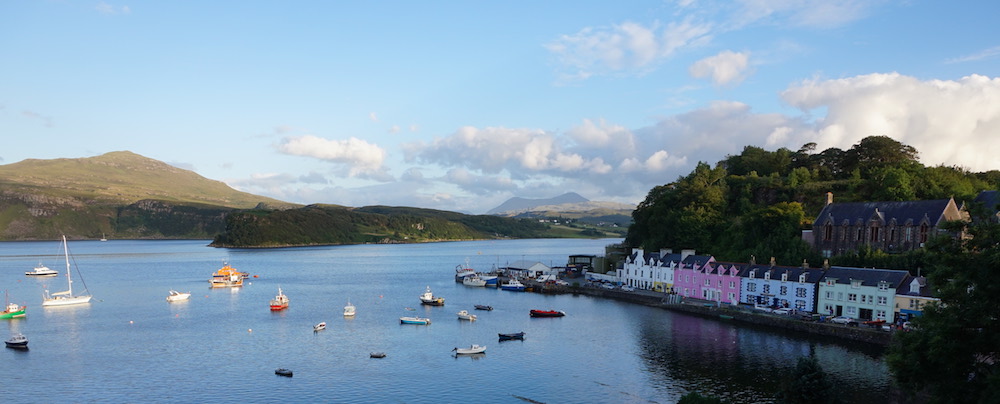 The recipe below is inspired by this one, but has some fall-themed changes as well as some adjustments to reduce the amount of sugar without sacrificing flavor. I love that it uses many of the same ingredients as my favorite granola recipe, thus making it a perfect make-ahead breakfast recipe too. It's so easy too since it doesn't require eggs or even baking soda. Just be sure you are expecting something along the lines of a granola bar vs. a cookie, as this recipe is not overly sweet. I highly recommend serving it warm — so if there's leftovers, pop it in the microwave for a few seconds, perhaps with a few drops of water or butter so it doesn't dry out.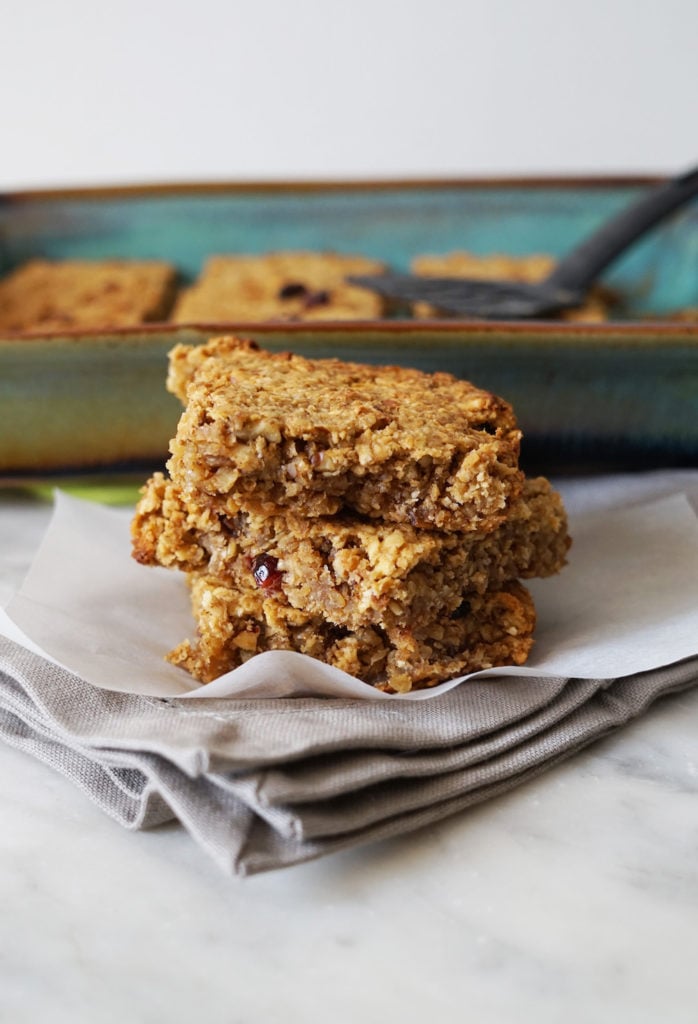 Print
British Apple Cranberry Flapjacks
British flapjacks are a gluten-free oat bar traditionally made with just oats, fresh or dried fruit, butter, brown sugar and syrup (golden or maple). This recipe can be made with gluten-free oats, nuts, dried apples and cranberries, applesauce and maple syrup.
Author:
Prep Time:

10 mins

Cook Time:

20 mins

Total Time:

30 mins

Yield:

12

servings

1

x
Category:

Breakfast, snack, baked goods

Cuisine:

British
3 cups

oats (gluten-free oats if desired)

1/2 tsp

. cinnamon

1/2 cup

dried apple slices

1/2 cup

dried cranberries

1/2 cup

pecans

1 tsp

. vanilla

1/2 cup

butter

3/4 cup

applesauce

1/4 cup

maple syrup

1/2 cup

brown or maple sugar, firmly packed
Instructions
Preheat the oven to 350.
Place the oats and cinnamon in a large mixing bowl.
Add the apple slices and cranberries to a food processor and pulse until they are finely chopped. Add the pecans and pulse everything until it is all in fine pieces.
Mix the nuts and apples into the oat mixture.
Melt the butter in the microwave or on the stove top. Then in a medium mixing bowl, mix the melted butter, vanilla, applesauce, maple syrup and sugar. Stir until the sugar is no longer lumpy.
Add the butter mixture to the oat mixture and mix until well-coated.
Spread in a casserole dish (approximately 9inx13in) and bake 20-25 minutes at 350. Makes 12 servings.
Store leftovers in an air-tight container and re-heat before serving, perhaps with a little bit of butter to keep it from drying out upon reheating.