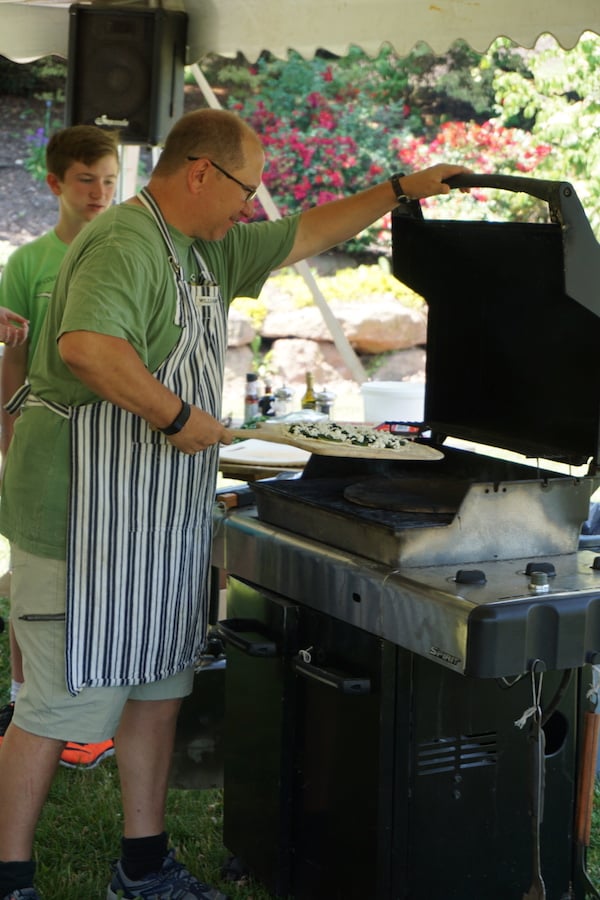 Print
Healthy Flatbread Recipe
In a Cuisinart standing mixer:
3 cups

whole wheat flour

1 teaspoon

salt

1 teaspoon

sugar
One half-packet yeast

4 tablespoons

olive oil
Place following ingredients to food processor (blend and add to above ingredients)

1/8 cup

oatmeal

1/8 cup

flax seed

1/8 cup

wheat germ

1 teaspoon

fresh rosemary leaves (or add powdered garlic, sage, thyme… whatever makes you happy)
Instructions
Preheat Grill to 450 with pizza stone.
Using mixing paddle, add 1 cup flour, and ground ingredients into bowl; add salt, pinch of sugar, yeast and 4 tablespoons oil; then slowly add 1 1/2 cups water, mix for 8 minutes at medium speed.
Remove mixing paddle and add bread dough paddle. Slowly add 2 cups flour and mix until dough is pliable about 6 minutes. Add more water or flour to create desired consistency.
Cover bowl for 45-60 minutes.
Form dough into golf ball size balls and roll on floured surface to thin consistency
Grilling
Carefully place flat bread onto stone, grill about 2 minutes per side.
Remove, cool and enjoy
Print
Flatbread Pizzas on the Grill
2¼ teaspoons

yeast or

one

package yeast

1⅓ cups

warm water (110-115°F)

3½ cups

unbleached all purpose flour, plus more as needed

2 tablespoons

olive oil

¾ teaspoon

salt

1 tablespoon

sugar
Ingredients to add to the dough:
a) Minced garlic
b) Thyme, oregano, basil, rosemary/ whatever your choice fresh or powdered
c) Liquid smoke – one drop- be careful!
Instructions
Pizza Dough:
In a large mixing bowl or the bowl of your stand mixer fitted with a mixer attachment, combine the yeast and warm water. Stir it around and let sit for 5 minutes or until the yeast is foamy and dissolved. Add flour, olive oil, salt, and sugar. Add a, b, or c (your choice – be creative, take chances)
Once all of the ingredients are mixed, knead for 7 minutes by hand or with your dough hook on low-medium speed. If your dough is too wet, add up to ¼ cup more flour. After kneading, your dough should be smooth and elastic. Poke it with your finger – if it slowly bounces back, your dough is ready to rise. If not, keep kneading.
Shape the dough into a ball and place in a large mixing bowl that has been coated lightly with olive oil. Turn it over to coat all sides. Cover tightly with plastic wrap and allow to rise in a warm environment (about 75-80°F) for about 1 – 1½ hours.
Punch the dough down to release the air.
Divide the dough into two. Roll each half into a ball and let rest in two separate greased bowls, lightly covered for 15 minutes.
After 15 minutes, flatten each ball of dough, one at a time on a lightly floured surface or silicone baking mat. You could also do this directly on your cornmeal lined pizza pan. Flatten into a 12-inch round circle, flattening and stretching the dough. If using a pizza stone, place the dough directly on baker's peels dusted with cornmeal.
Grill pizza 5-10 minutes until cheese melts and crust is crispy
Remove from heat, rest 5 minutes and slice
Pizza Stone (for wood flavor add one chunk of wood to gas grill)
Place cold pizza stone on cold grill
Turn grill on low for 5 minutes
Increase heat to medium for 5 minutes
Goal is to get grill to 500
Preparing the Pizza:
Use a liberal amount of cornmeal on pizza peel
Prepare pizza (see toppings recipes below for:
A) Goat cheese spinach
B) Teriyaki chicken and smoked gouda
C) Mozzarella, Basil vinaigrette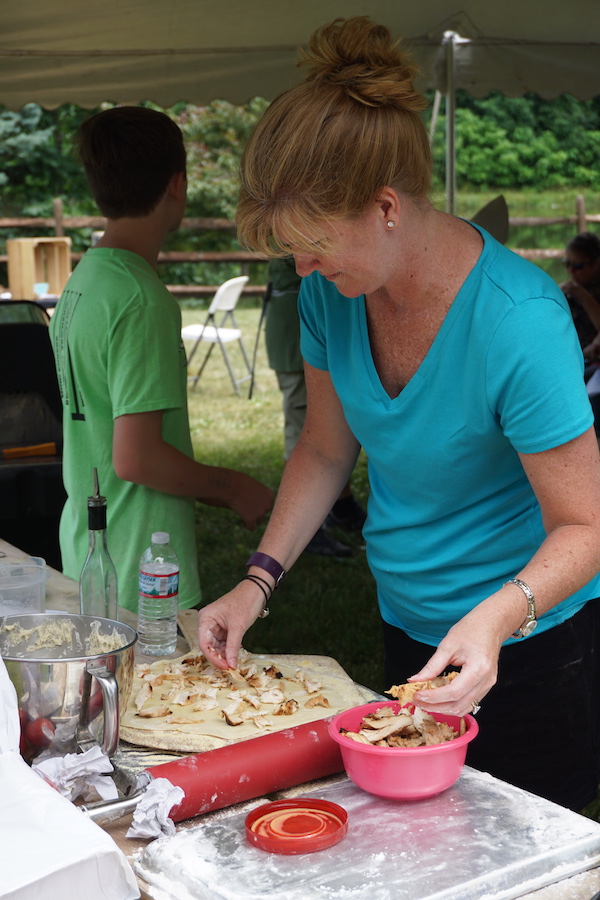 Print
Jane's / Mama's Rustic old school sauce
1/2 cup

chopped yellow onion
Two cloves garlic, pressed

1

can peeled tomato

¼ cup

diced green pepper

3 tablespoons

basil

2 tablespoons

tomato paste

4 tablespoons

sugar

1 cup

chicken stock. divided
Salt and pepper to taste
Instructions
Add olive oil to heated pan.
Add onions, green pepper and garlic with ½ cup of chicken stock and sauté 10 minutes until soft.
Add tomato paste and one can of peeled tomatoes, press tomatoes until broken. Simmer 5 minutes.
Add sugar and ½ cup of chicken stock, stir and bring to boil.
Add basil and remove from heat, stir and wait 30 minutes before serving.
Set aside to cool and add to pizza or store for later.
Print
Goat cheese and spinach
One bag of fresh spinach

Two tablespoons

olive oil

8 oz

goat cheese or crumbled goat cheese
Salt
Pepper
One shallot
One clove garlic

½ teaspoon

smoked paprika

½ cup

chicken stock
Instructions
Add olive oil to medium heated pan
Sauté onion and garlic for 5 minutes or until soft
Add full bag of spinach and ½ cup of chicken stock
Cook until reduced
Add salt pepper to taste
Add smoked paprika and stir
Set aside to cool and add to pizza or store for later.
Print
Teriyaki chicken and smoked Gouda with vinaigrette
Two chicken breasts

½ cup

teriyaki sauce

1

table spoon olive oil

½ teaspoon

onion powder

½ teaspoon

salt

¼

pepper

8 ounces

smoked gouda
Fresh Vinaigrette

1 tablespoon

fresh lemon juice

1 teaspoon

Dijon mustard

1 tablespoon

white wine vinegar

1

garlic clove, finely minced

1/2 cup

extra-virgin olive oil
Sea salt to taste
Freshly ground black pepper to taste
Instructions
Place chicken breast in large plastic bag and pound until uniform width
Remove chicken from bag and add to large sealed bag
Add first 5 ingredients to bag mix bag and let marinate for 1 hour or over night
Shred smoked Gouda
Grilled chicken
Remove chicken from bag
Pre heat grill to 450
Grill chicken 6 minutes per side until cooked to correct doneness (internal temp of 165)
Remove from heat and rest 5-8 minutes
Slice chicken and set aside to add to pizza
Fresh Vinaigrette:
Add all above ingredients to bowl mix well, set aside to drizzle over pizza to taste before grilling and add extra after removing from grill or to taste.
Print
Mozzarella Basil
3

fresh tomatoes
One clove garlic, crushed

3 tablespoons

finely chopped basil

½ cup

olive oil
White balsamic vinegar

2 tablespoons

shallots

3 tablespoons

Dijon mustard
Salt pepper to taste

8 ounces

fresh mozzarella
Instructions
Dice tomatoes
Crush garlic
Chop basil
Finely chop shallots
Add all ingredients to bowl and mix well
Cut mozzarella thin and add to top of pizza, garnish with fresh basil