"Do you have any allergies?"
It's the question you know you have to ask any guests before they come over, but sometimes, when the answer is yes, it's tough to come up with recipes that work well for everyone while accommodating allergies. I often see it as a challenge and try to rise to the task, though at times it can be hard to meet everyone's needs.
Sometimes the simplest answer is this: If it's supposed to have gluten-flour, find a different recipe unless you are really experienced in using gluten-free flour substitutes. Fruit crisps with gluten-free oats and no flour can be a great alternative to cakes or pies.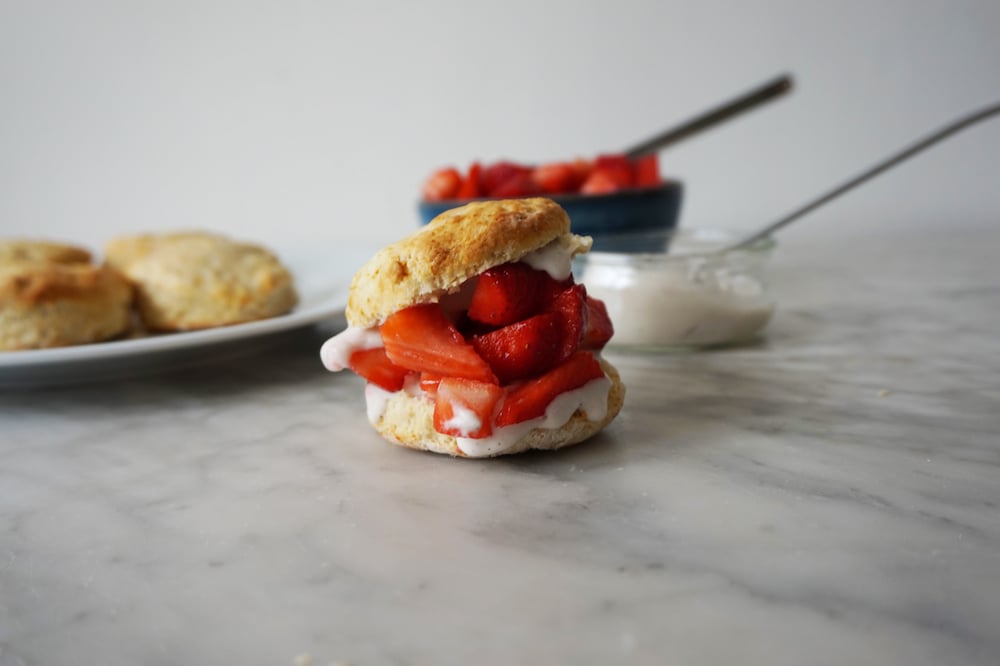 But when it comes to dairy, often non-dairy milks make a fine substitute in baking, as was the case in this recipe for Dairy-Free Strawberry Shortcake. I first made it a few years ago when a friend came over whose daughter had a dairy allergy. Dairy allergies are common among children and nursing mothers, so it's a great recipe to keep on hand. It even calls for a dairy-free whipped cream using coconut milk. It's truly delicious!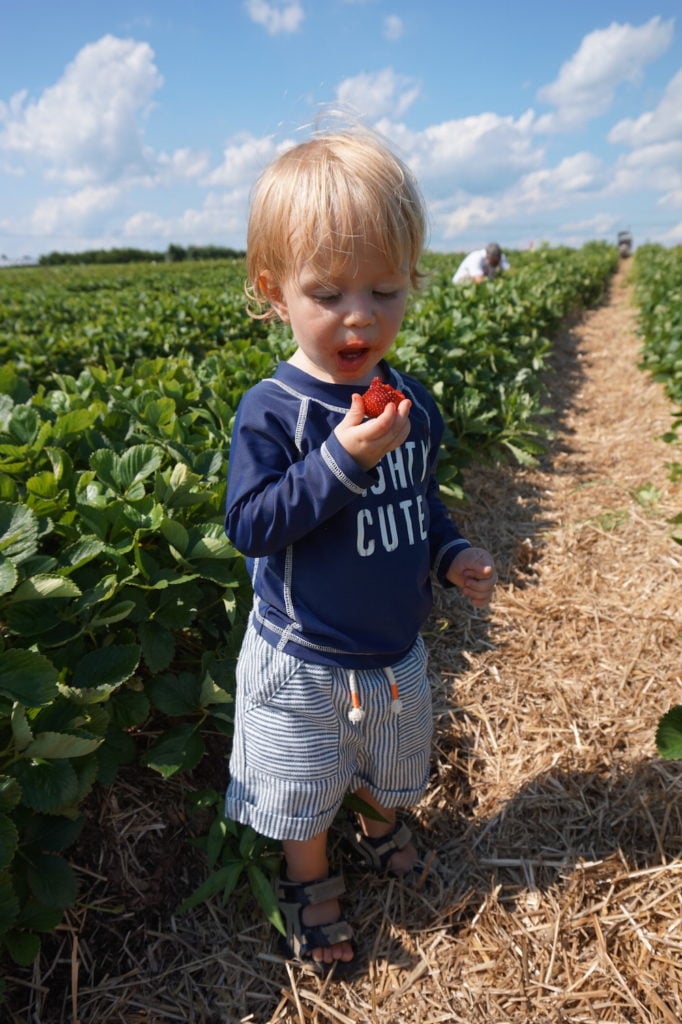 Strawberry season is the perfect time to enjoy copious amounts of strawberry shortcake, and if there's someone in your life who is on a dairy-free diet, there's no reason they have to be left out! While our own strawberries are still a few weeks away, the closer we get to our own strawberry season, the more it's possible to find ripe strawberries growing somewhat close by.  Right now we've been enjoying strawberries from the Carolinas. Soon they'll keep moving up the coast until our own strawberries are in season.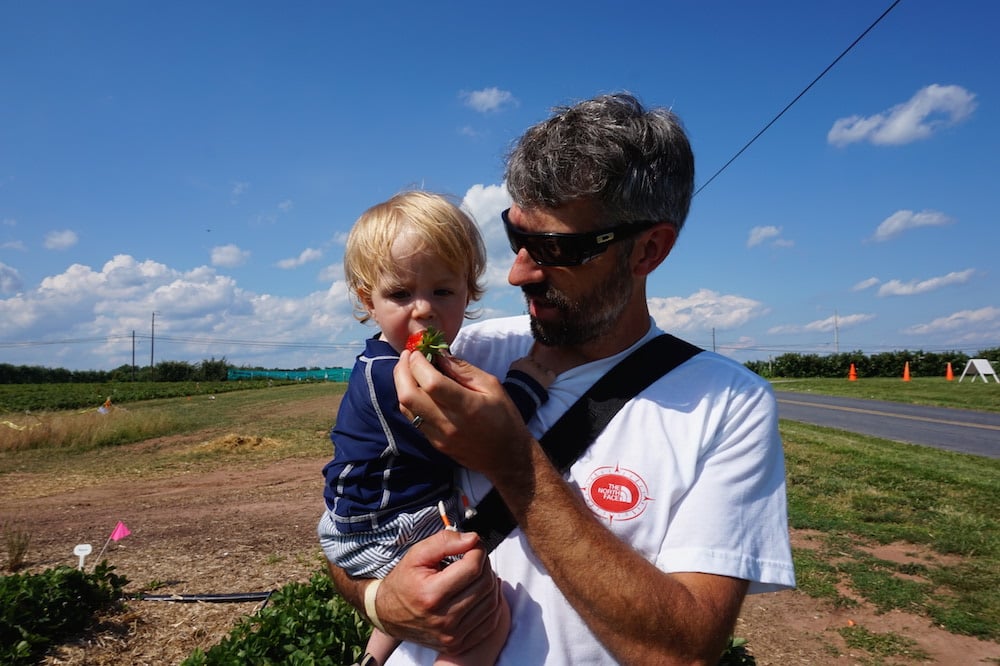 I remember one summer, when I was a teenager working in pick-your-own, a few of us couldn't resist the temptation of the strawberry shortcakes sold right out in pick-your-own. On our lunch break, a few of us picked a quart of strawberries and we purchased that delicious shortcake and ate it over our lunch break with our freshly picked berries! There isn't much that's better than sun-kissed strawberries still warm and juicy from the field. So make plans to come out this strawberry season to stock up on fresh berries and make this Dairy-Free Strawberry Shortcake recipe. We expect picking to start the first week in June and look forward to seeing you then! Check our pick-your-own strawberries page for details and pricing, coming soon.
Check out our YouTube Channel and don't forget to subscribe so that you never miss a recipe or update!
Print
Dairy-Free Strawberry Shortcake
Dairy-Free Strawberry Shortcake Author: Weaver's Orchard Dairy-Free Strawberry Shortcake Author: Weaver's Orchard Dairy-Free Strawberry Shortcake Author: Weaver's Orchard Prep time: 20 mins Cook time: 11 mins Total time: 31 mins Serves: 8-10
2 Cups

flour

1 Tablespoon

baking powder

1 Teaspoon

salt

1/4 Cup

coconut oil

3/4 Cup

coconut milk (for drinking, not the canned kind) + more to brush on top

2 Tablespoons

honey

1 quart

strawberries
Coconut Whipped Cream:

1

Can (14 ounces) full-fat coconut cream, refrigerated for at least 24 hours and any excess liquid drained off after 24 hours

3 Tablespoons

maple sugar

1/2 teaspoon

vanilla extract or

1/4 teaspoon

vanilla bean powder
Instructions
Preheat oven to 425
Chill the bowl of your mixer or food processor.
In a large mixing bowl, mix flour, baking powder and salt together to form self-rising flour.
Cut flour and coconut oil together with a whisk, fork or pastry blender until mixture resembles course crumbs.
Add honey and coconut milk.
Stir dough just until combined.
Knead dough a few times, being careful not to over-work.
Turn dough out on a floured surface and press out to 3/4 in thickness with your hands.
Cut into circles using a biscuit cutter, cookie cutter or anything round — the rim of a canning jar or a juice glass works fine!
Transfer biscuits to a parchment-lined baking sheet.
Brush with coconut milk.
Bake 8-11 minutes on the center rack until lightly browned on the top. Watch carefully as the honey can cause them to burn if left in too long.
Cool shortcakes 5 minutes.
While the shortcakes are baking, make the whipped cream.
Pour off all excess liquid from the coconut cream and dump the remaining cream into the bowl of a food processor or mixer. Add sugar and vanilla. Whip until stiff peaks form (or close to it). If the coconut cream hasn't been refrigerated for 24 hours it will not be as thick, but it will still be tasty!
Cut shortcakes in half and serve with sliced strawberries and whipped coconut cream. Enjoy!