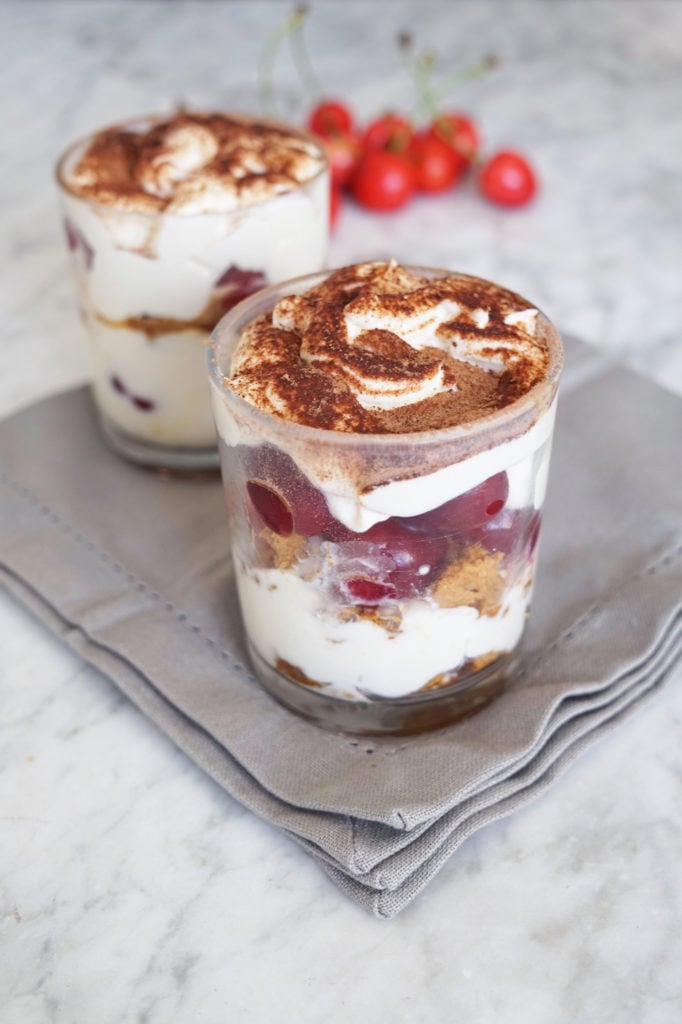 When cherry season rolls around, I can't help but stock my freezer with delicious hand-picked cherries to enjoy all year long. I'll use them in recipes like this simple cherry sorbet, or mixed with raspberries or strawberries in a berry pie, or in one of my favorite French desserts, clafoutis – which I wrote about on this blog a few years ago.
Speaking of France, I came across a recipe I just had to try from a French food blogger I follow on Instagram. Her recipes always look absolutely delicious, and this one had me literally buying the ingredients to make it the day I saw the picture! Since the recipe was written in French with ingredients that were available in France that we can't find here, I modified the recipe quite a bit, translated it into English and shared my own take on it below, but you can find her original recipe here and browse her blog for more inspiration.
Print
Cherry Mascarpone "Tiramisu"
Cherry Mascarpone "Tiramisu" Author: Weaver's Orchard Cherry Mascarpone "Tiramisu" Author: Weaver's Orchard Serves: 4
1 cup

heavy cream

1/3 cup

sugar

1 tsp

. vanilla extract or

1/2 tsp

. powdered vanilla beans

1 1/2 cups

Mascarpone cheese

1 1/2 cups

sweet cherries (fresh or frozen), pitted

6

amaretto biscottis, ginger snaps, cinnamon graham crackers, or Lotus Biscoff cookie, crumbled

3/4 cup

strong decaf coffee, cooled
Shaved dark chocolate or cocoa powder
Instructions
Add cold heavy cream, sugar and vanilla to a stand mixer or food processor. Beat until stiff peaks form. Add the mascarpone and mix until well combined and no longer lumpy.
Crush the cookies, and arrange half of them in 4 small glass jars or juice glasses.
Spoon some decaf coffee on top of them.
Add a layer of the mascarpone mixture.
Next, add a layer of cherries. Repeat one more time with remaining ingredients, finishing with the mascarpone mixture.
Dust some cocoa powder or shaved chocolate on top. Garnish with a few remaining cherries.
Serve and enjoy!
It was a big hit among the whole family, especially with my 2-year-old son (for whose sake I omitted ingredients like coffee, alcohol and raw eggs, which are often called for in tiramisu recipes).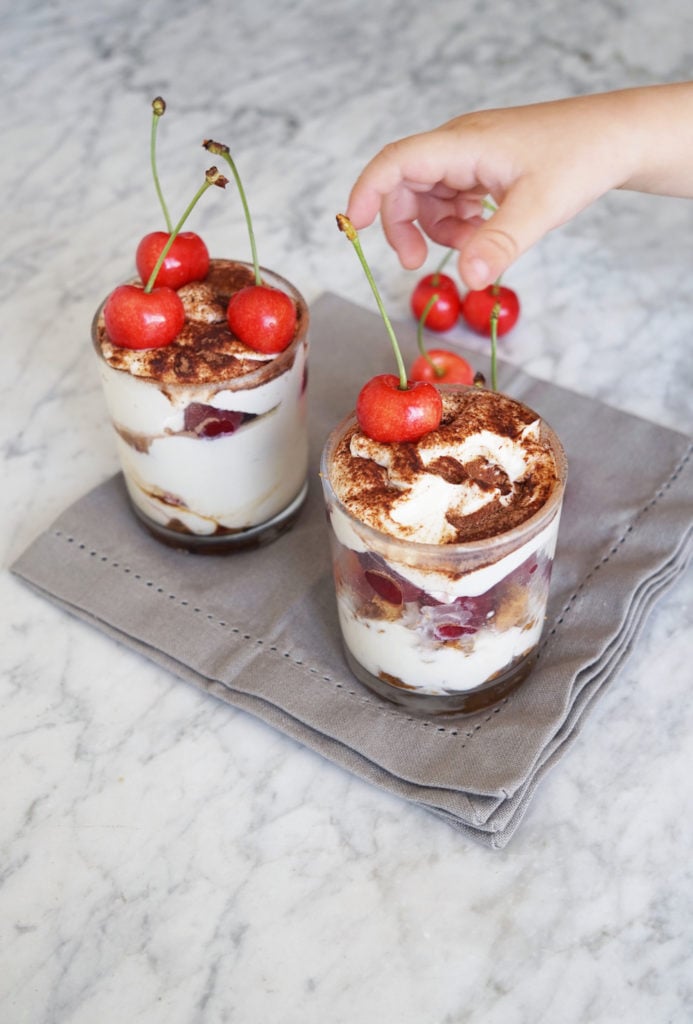 Also, if you're wondering why the cherries look a little pale – it's true, I picked these cherries a little before peak season just so I could have the recipe photo. I assure you that the cherries we're picking now are DARK, SWEET and INCREDIBLE!
Right now (6/27/18) is PEAK time for cherry picking at Weaver's Orchard. The best picking on both dark and yellow sweet cherries will be now through most of next week. Tart cherries will be great through at least July 4th. In addition to cherries, we also have excellent picking on red raspberries and good picking on black raspberries. We also have good picking on blueberries, which will peak around mid-July and be available for most of the month of July. Be sure to check the website or call before you come out to make sure you get the most up-to-date information.