Dark, sweet cherries are nature's candy. They're juicy and satisfying, and they come in the most appealing package. A bowl of cherries on the kitchen table is just irresistible. And not only that, cherries have some amazing health benefits. They contain boron, which promotes bone health and helps maintain calcium balance. Sweet cherries are rich in beta carotene, vitamin C, anthocyanins (shown to protect the heart and surrounding tissues), as well as antioxidants, which may prevent the onset of several chronic diseases.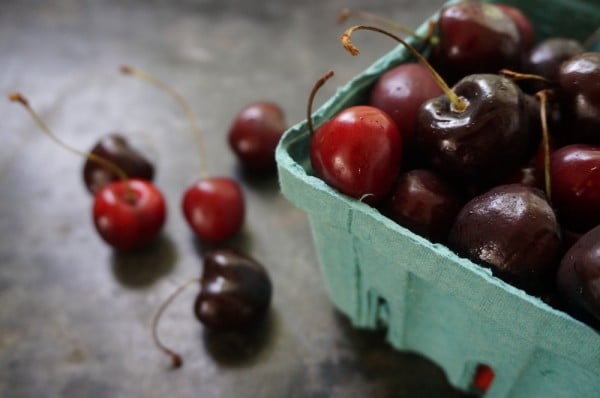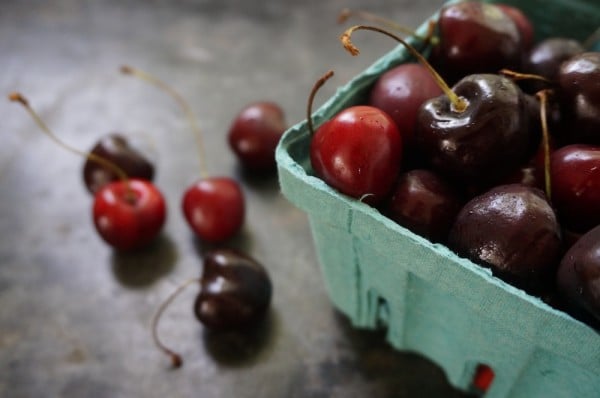 Sweet cherries (the riper the better) pack almost three times as many anthocyanins as tart cherries—mostly in the skins. Sweet cherries are also a good source of potassium, which naturally reduces blood pressure. But tart cherries have benefits of their own. They contain melatonin, which can help you get a good night's sleep. And they've been shown to reduce inflammation, which causes aches and pains, as well as many other health problems. Many people swear by tart cherry juice as a natural anti-inflammatory remedy, especially for joint pain and muscle aches.
When shopping for sweet, dark cherries, choose plump, shiny ones with green stems. Avoid ones that are soft or have brown spots on them. Remember they do not continue to ripen after they're picked—so choose dark red cherries. At home, don't place them in the sun or in a warm area. It's best to refrigerate them (although I do love the way they look in a bowl on the table!).
Rainier cherries are a cross between Bing and Van cherries. They originated in Prosser, Washington at the Washington State University Research Station in 1952. The researchers were surprised to discover that combining these two red cherries produced an incredibly sweet, golden cherry with a red blush. They were also one or two sizes larger than dark sweet cherries. Researchers named them after Mount Rainier, the highest peak in Washington.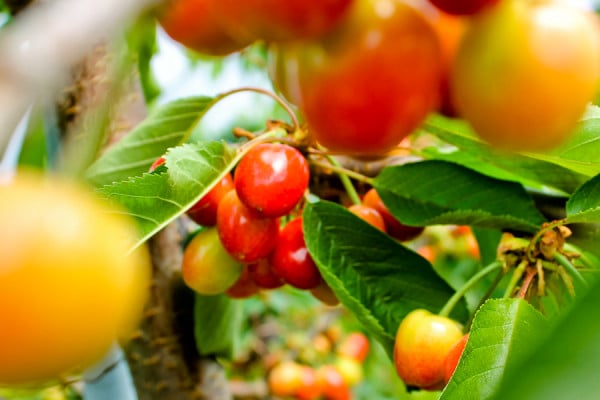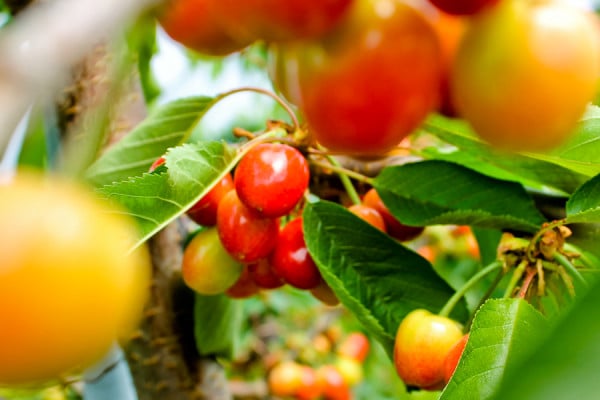 Light brown spots on a Rainier cherry do not mean they're spoiling—instead, the brown spots are extra sweet sugar spots.
To freeze any kind of cherries, wash and pit them so you can easily use them for recipes. Rinse them, let them dry, then spread them on a tray and put them in the freezer for a few hours. When they're firmly frozen, pour them into freezer bags and press out as much air as possible.
Cooking with cherries requires pitting them, and that can be time consuming. A cherry pitter might be a worthwhile investment if you plan to use a lot of cherries.
If you don't have a pitter, you can cut the cherries in half with a paring knife and use the point to scoop out the pit. Or you can make your own pitter by opening up a paper clip. Remove the stem, stick the smaller rounded end of the clip into the top of the cherry, and pull out the pit. (See a demonstration on YouTube by searching for "Four Ways to Pit a Cherry" from Whole Foods Market.)
In my house, it's difficult to save enough sweet cherries for anything but eating—but I recently tried a recipe for cherry sorbet that might motivate me to keep some around.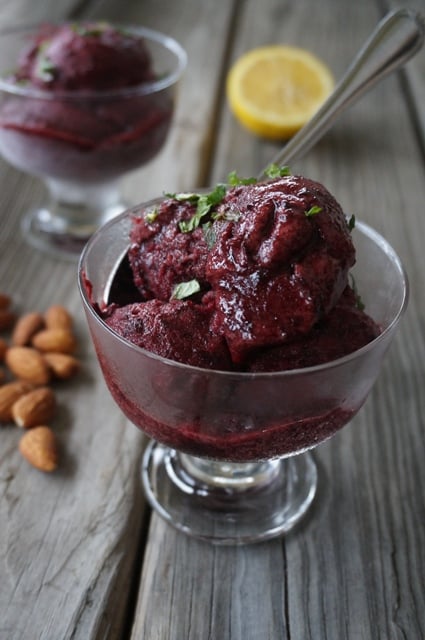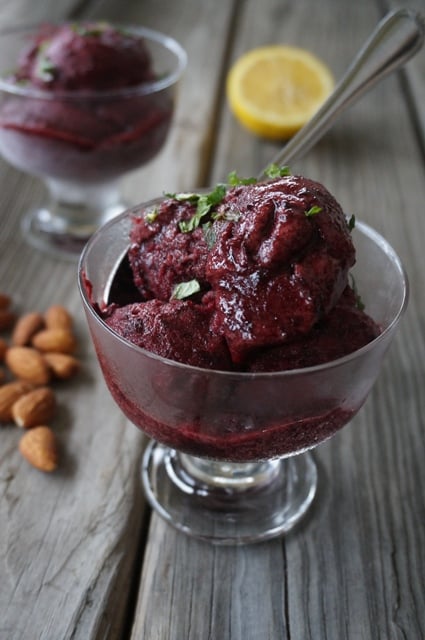 Print
Sweet Cherry Sorbet
2

pounds of sweet, dark cherries (about

7 cups

—frozen berries work too!)

1 cup

water

3/4 cup

plus 2 tablespoons granulated sugar

1 teaspoon

freshly squeezed lemon juice

1/8 teaspoon

almond extract
Instructions
Remove stems and pits from cherries. In a non-aluminum 4 quart pot, mix water, sugar and lemon juice. Stir over medium heat till smooth. Stir in cherries. Simmer for 10-15 minutes until cherries are softened. Remove from heat and cool to room temperature. Add extract (ONLY 1/8 teaspoon or the flavor will be too strong).
Puree mixture in a blender until smooth. Chill in refrigerator for at least 8-10 hours. Then follow the instructions for your ice cream freezer to make a smooth and mouth-watering sorbet!
Print
Cherry Cobbler
4 cups

fresh tart cherries, pitted

1 cup

water

½ teaspoon

almond extract

¾

–

1

cup sugar

3 tablespoons

tapioca (or cornstarch)

1 cup

flour

2 tablespoons

sugar

1 ½ teaspoons

baking powder

¼ teaspoon

salt

¾ cup

butter

1

slightly beaten egg

¼ cup

milk
Instructions
Combine cherries, water, almond extract and sugar. Combine flour, sugar, baking powder and salt. Cut butter into dry ingredients. Add beaten egg, mixed with milk. Knead 8-10 strokes, adding a little flour. Roll or pat half-inch thick. Cut into 8-10 biscuit‑sized circles.
Boil fruit mixture.
Stir in 2 tablespoons butter.
Pour into two-quart casserole. Arrange biscuits on top. Bake at 400˚F for 25-30 minutes. Serve with whipped cream or ice cream. Yum!