If you ask my wife, she'd be sure to say that our kitchen gets pretty crazy in the summer. The abundance of homegrown fruits and vegetables from the orchard at my fingertips and the hot, humid Pennsylvania summer days tend to fuel some culinary creativity. With all of the splendor at my fingertips, I find myself getting through some of my shifts thinking up what I could do that is new or different from normal. 
My wife Amanda and I had plans to attend a dinner party and the hosts love Weaver's Orchard, so naturally what we contribute to the meal is almost always inspired by the farm market. A friend who was also attending is allergic to a whole host of foods. She is a Navy veteran and nuclear engineer, and could take just about anyone in feats of strength or battles of wits. So, to see this truly amazing individual have to bring her own food to a dinner party always bums me out. I was determined to make something that was flavorful, fresh and something everyone would like to eat.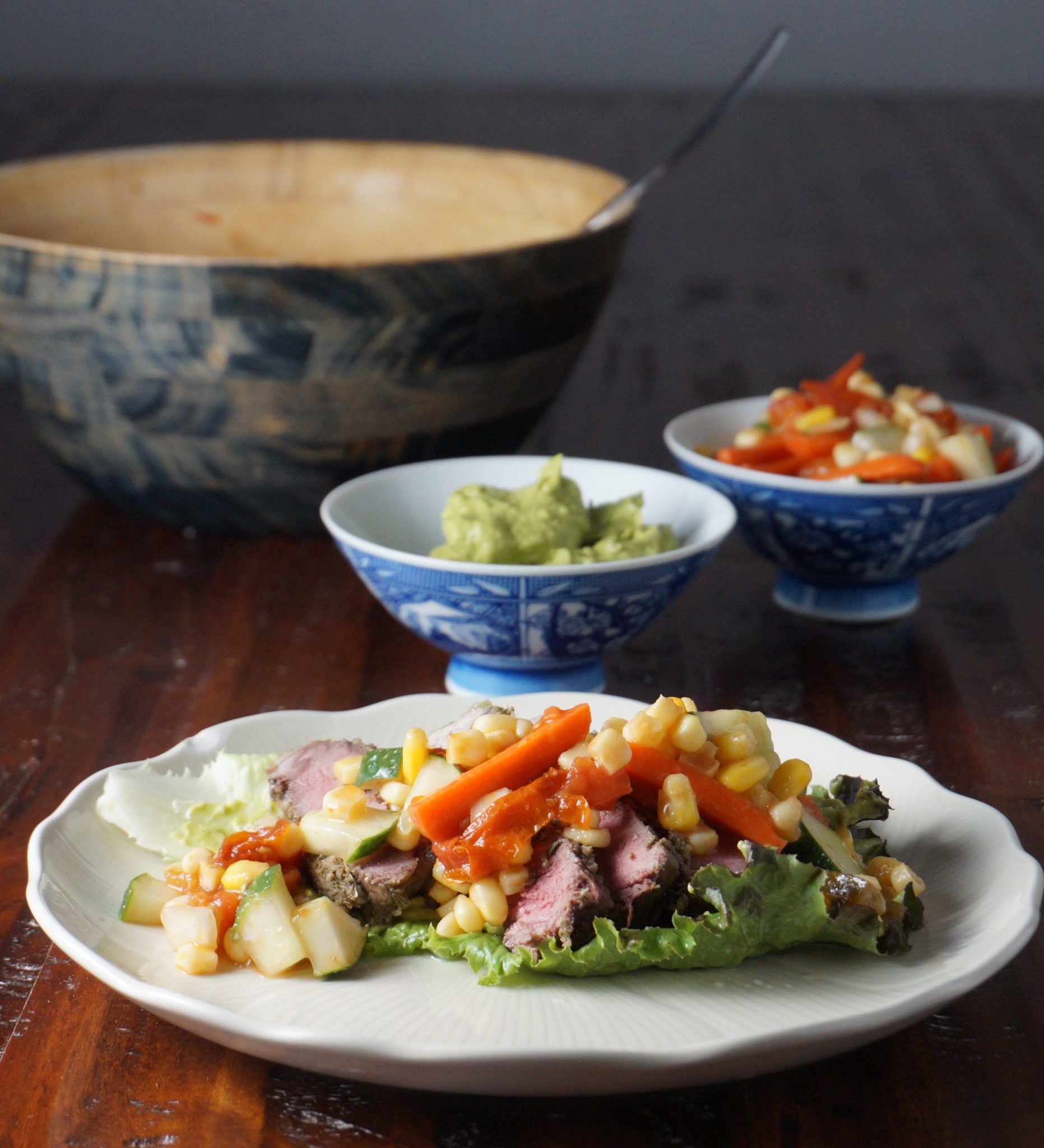 What I came up with were herb-infused Beef Tenderloin Lettuce Wraps with a Roasted Summer Vegetable Salsa and Avocado Aioli. This recipe is gluten-free, free of refined sugar, lactose-free (I used goat cheese), and nut-free to accommodate our friend's dietary needs. Now, if lettuce wraps aren't your thing, or you fear you may get a little bit of a pushback from your family and guests, let me persuade you to encourage them to go for something new and exciting. Having them do the final assembly of the lettuce wraps can be a great way to give them a sense of ownership. And their tastebuds and palate will thank you!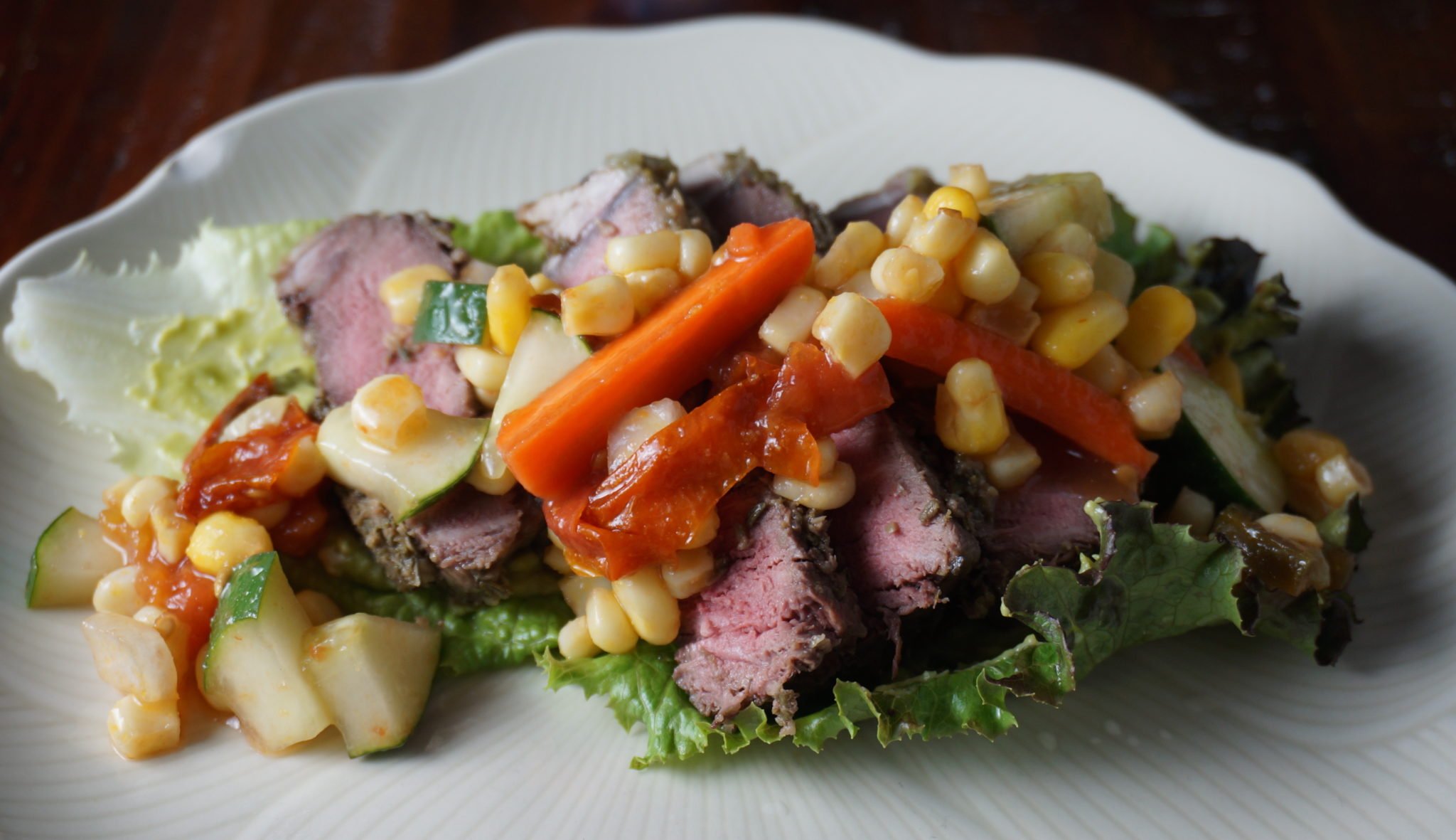 Print
Beef Tenderloin Lettuce Wrap with Summer Vegetable Salsa and Avocado Aioli
For the Beef:
1 ½

to

2

lbs. Grass Fed Beef Tenderloin, Strip Steak, or any other whole cut you are comfortable with.

6

cloves of Garlic

1

small Shallott

1

handful of fresh Sage, Thyme, Rosemary, and Oregano (each)

¼

to

⅓

cup of Olive Oil
For the Aioli:
3

Ripe Avocados
Cayenne Pepper to taste
Sea Salt and Black Pepper to taste

2oz

. Goat Cheese (Plain or Herb)
For the Summer Vegetable Garnish:
½

Sweet Onion Finely Diced

2 Tbsp

. Apple Cider Vinegar

2

Ears of Roasted Sweet Corn

½

to

1

Cucumber Diced

1 Pint

of Roasted Tomatoes

1 Cup

Carrots Fine Julienne Cut

1

Jalapeno Pepper Diced

1 Tbsp

. Local Honey

1 tsp

. of Balsamic Vinegar
Instructions
Preparing the Beef:
You'll want to do this the night before or the morning of.
For some guidance or a visual tutorial, head over to More Meals, Less Time.
Remove meat from its packaging and dry with a paper towel.
Generously apply Salt and Pepper to all sides of the meat.
Combine 8 cloves of Garlic, Fresh Herbs, and the Shallot in a food processor or blender. Pulse while slowly adding Olive Oil. The result should be a paste, not a puree.
Fully coat the beef in the herb paste
Place on a rimmed baking pan and bake at 450 for 15 minutes
After 15 minutes reduce heat to 325 for an additional 25-30 minutes. If using thinner cuts of meat or smaller quantities, adjust cooking times to not overcook.
Your beef is complete when it reaches in internal temperature of 125 for Rare, 130 for Medium Rare or 134 Medium.
When cooking is complete, remove from oven and let rest for 10 minutes. Wrap tightly in plastic wrap to seal in juices and leave in the refrigerator until you are ready to slice.
Making the Summer Vegetable Salsa:
You'll want to do this the night before or the morning of to allow flavors to develop.
Prepare all vegetables as described above.
Corn and tomatoes can be roasted in the oven, on the grill, or left raw depending on your preference.
Combine the Honey, Balsamic Vinegar, and Apple Cider in a large bowl. Whisk together.
Combine all the remaining vegetables into a bowl and toss until evenly coated.
Place back in the fridge overnight or until ready to use.
Making the Aioli:
Remove skins and pits from the Avocados
Combine and Blend Avocados, Goat Cheese, and Seasonings using an immersion blender or food processor. The end result should be uniform and creamy.
Assembling the Lettuce Wrap:
Remove the beef from the plastic wrap. Slice thinly and arrange out on a decorative platter. Save any of the juices from cutting and pour over thinly sliced beef.
Take one leaf of Butterhead and into it spread a dollop of the Avocado Aioli.
Layer in 2-4 slices of beef
Top with a pile of the Summer Vegetable Garnish
Finish with a small spoonful of the Avocado Aioli, some freshly ground Sea Salt and Blakc Pepper, and Bleu Cheese (optional).