In our house, we have a meal that I refer to simply as, "skillet dish." Skillet dish is often the meal we have on Sunday afternoons when we come home from church and need some food that can be assembled quickly. I love this meal because it's so versatile. The basic components of "skillet dish" are:
Potatoes (any kind, including sweet potatoes)
Onions
Other veggies like peppers, zucchini or cauliflower
Cooked sausage or ham
Greens such as kale or spinach
Cheese (any kind you like. Well, blue cheese might be weird, but if you really love a good Gorgonzola, it might be okay…)
Eggs (fry them or scramble them)
If you have some or all of these ingredients on hand (and, of course, a skillet!) you can just fry the ingredients, starting with the potatoes and onions, which take the longest to cook. I often bake the potatoes beforehand so that they will fry up crisply. If I can plan my week right, I will serve baked potatoes earlier in the week and make extra to reserve for this dish.
This week, since it is now fall and the heart of apple season in Pennsylvania, I modified my recipe to incorporate apples and sweet potatoes. I love when I can use apples in baked goods, but I also enjoy using them in savory dishes (like this salad and this main dish). Apples and sweet potatoes are a classic savory combination. In fact, a couple of years ago I discovered a delicious apple and sweet potato side dish in a cookbook from 1911!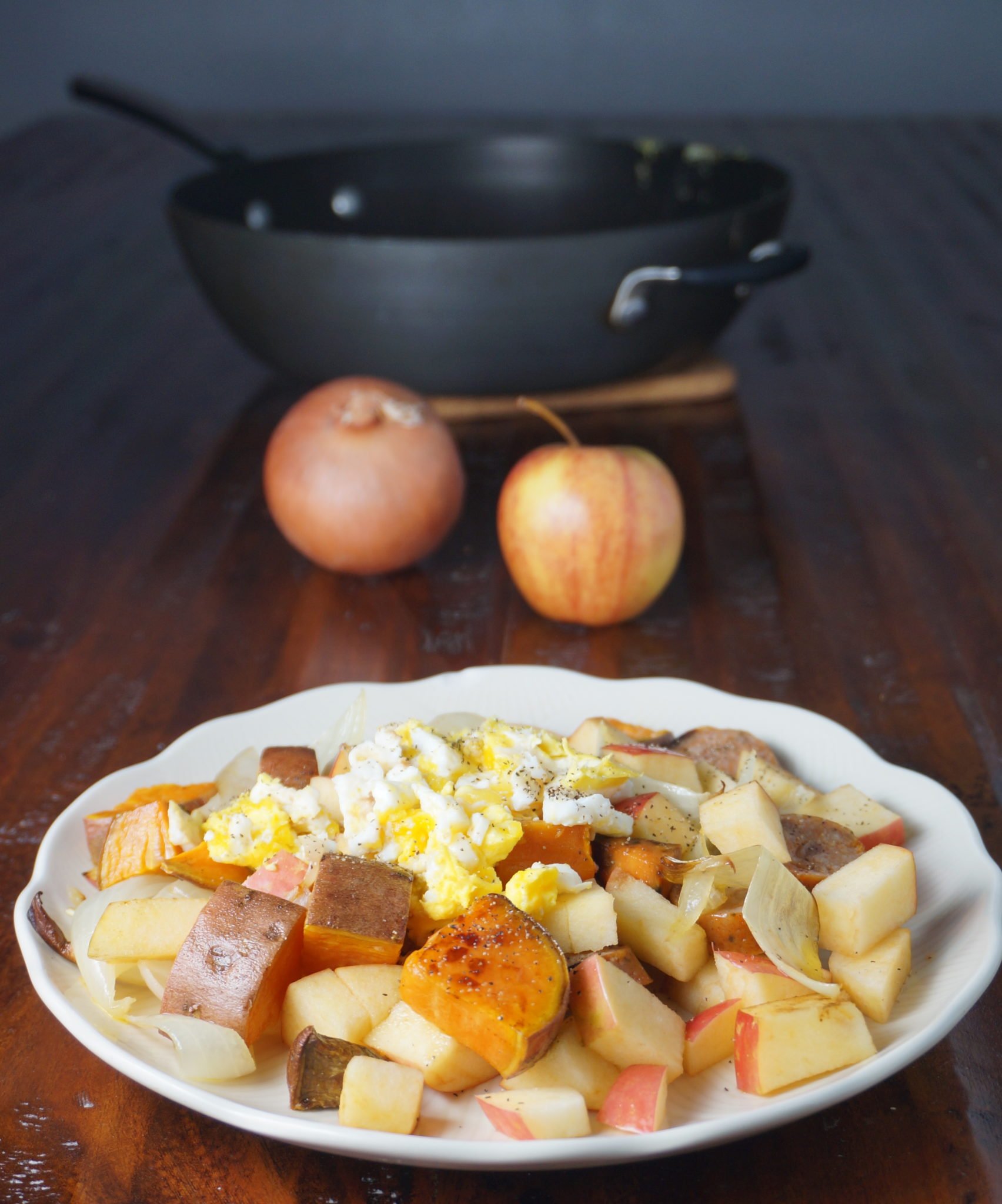 Print
Apple and Sweet Potato Skillet Dish
Apple and Sweet Potato Skillet Dish Author: Weaver's Orchard
1

sweet potato, chopped

1/2

a yellow onion, chopped

2

fully cooked chicken sausages with apple, chopped

1

sweet apple (such as Fuji, Honeycrisp, Autumn Crisp or Golden Delicious), chopped

2

eggs
Instructions
Roast the potato and onion at 400F for 30-40 minutes or until nicely browned and cooked through.
Fry the sausages in a large skillet.
Add roasted potato and onion.
Fry the eggs in a corner of the skillet.
Mix all together or serve eggs on top.