Well, it happened again. Summer break turned into school year, a time when kids everywhere put down their video game controllers, picked up their backpacks and asked the age-old question:
"Why are there dirty socks and old banana peels in my backpack?!"
It's time to clean up our act! And what's true for the backpack is also true for the diet. We need something healthy, something that allows peak performance in the classroom.
When I was young, I had a daily summer pool allowance of forty-two cents. This was enough snack bar money to buy myself a hamburger and a lemon-lime soda for lunch as well as two pretzel sticks and an ice cream cone for an afternoon snack.
You will no doubt ask yourself two things about this story. One is, "Are you kidding us with the forty-two cents?" (Answer: No. Prepare the geriatric ward.) And two, "Where did you get your fruits and vegetables?" (Answer: I didn't. I was on the low-fruits-and-vegetable plan.)
One late summer day I learned the lesson every eight or nine-year-old girl learns at one time or another. After ordering our afternoon cones, a group of us ice cream eating girls trooped over to the playground to sit on the swings, which was our habit. Most days, girls ruled the playground. The boys were busy with other activities and otherwise avoiding girls as much as possible. This day, however, Peter White was on the swings. He was a couple years older, maybe ten years old.
He looked at me and asked, "How does your ice cream smell?"
At which point I lowered my nose to my ice cream.
You guess what happened next, and I never fell for that one again. (OK, well maybe only a couple times.)
So you see as a treat it's fine, but daily ice cream isn't always all the fun it's cracked up to be. The time comes when we want to know better and to do better. You might think the moral of this story is: Don't let Peter White smash your ice cream in your face. But the real moral of this story is: As summer turns into school year, we learn that healthier choices are better. (Not to mention less embarrassing.)
I'm a firm believer that apples are not just for the teacher, so here are five healthy after-school snacks using apples.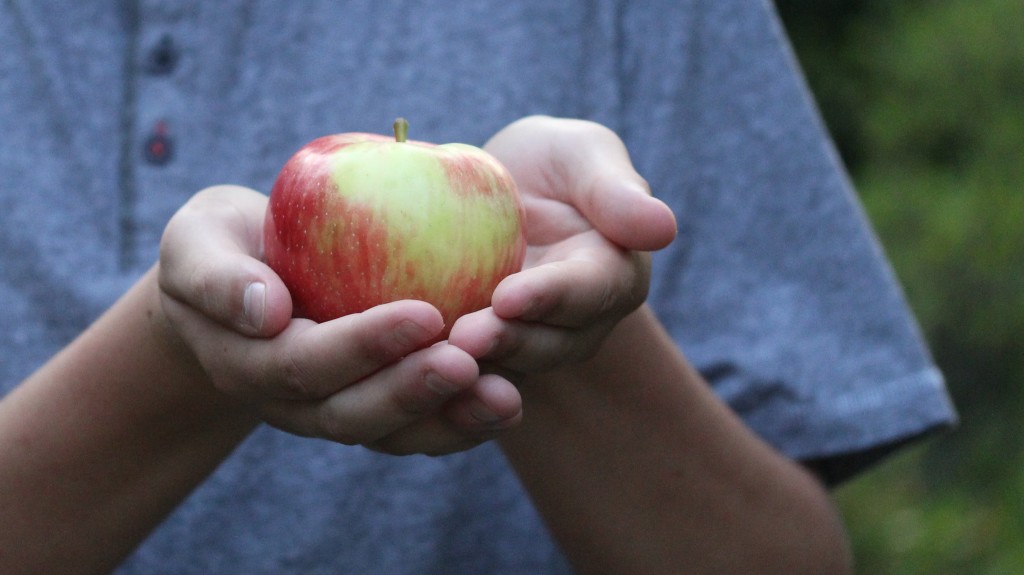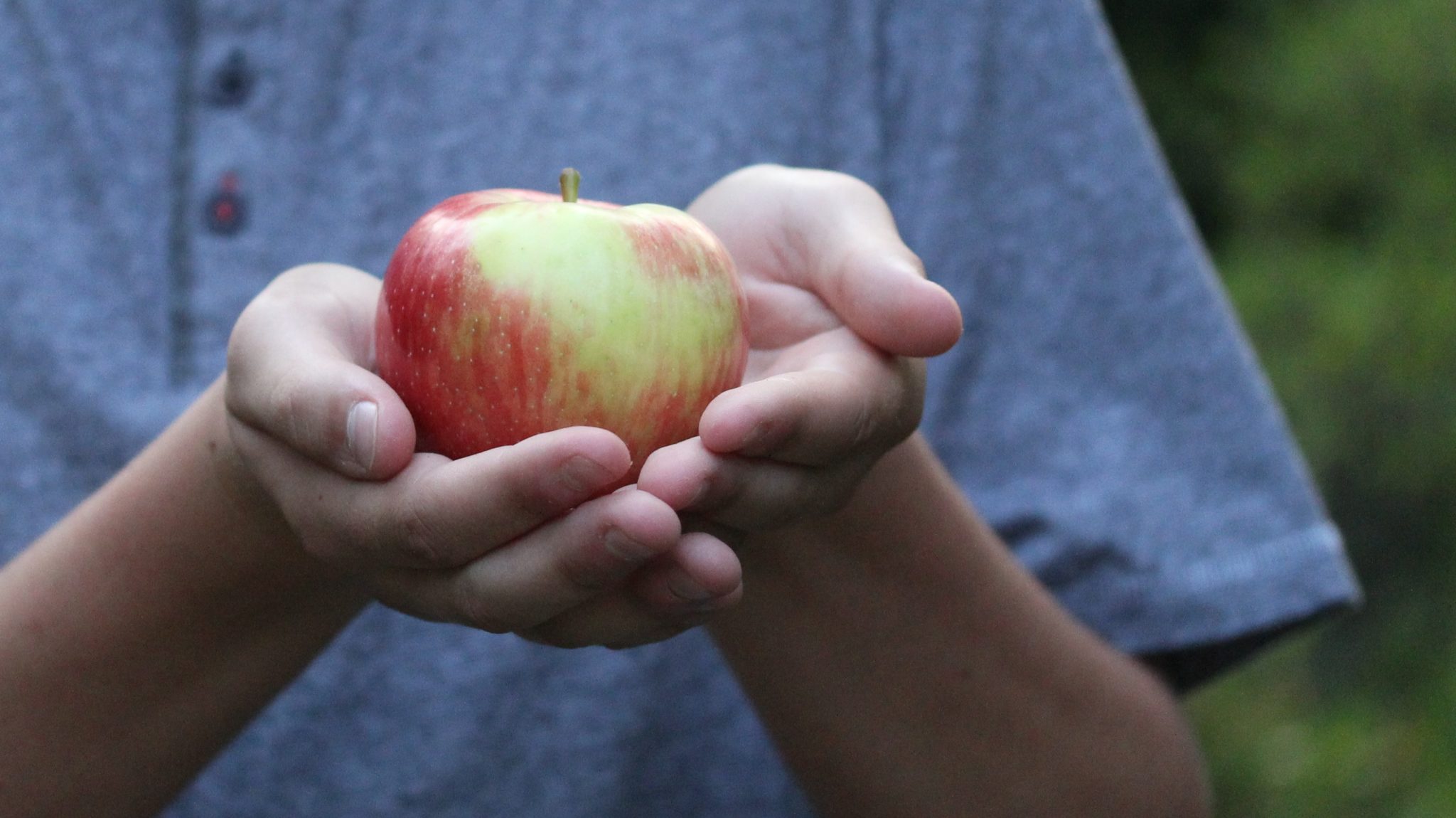 1. Homemade Applesauce
When my kids were little, my mother-in-law used to make them homemade applesauce. I was impressed! They loved it! I recently asked my sisters-in-law whether they had their mother's old recipe somewhere. "What recipe?" they said. It's so simple, just cook a few apples with a little water and some cinnamon. Add sugar if you like, but it's entirely optional.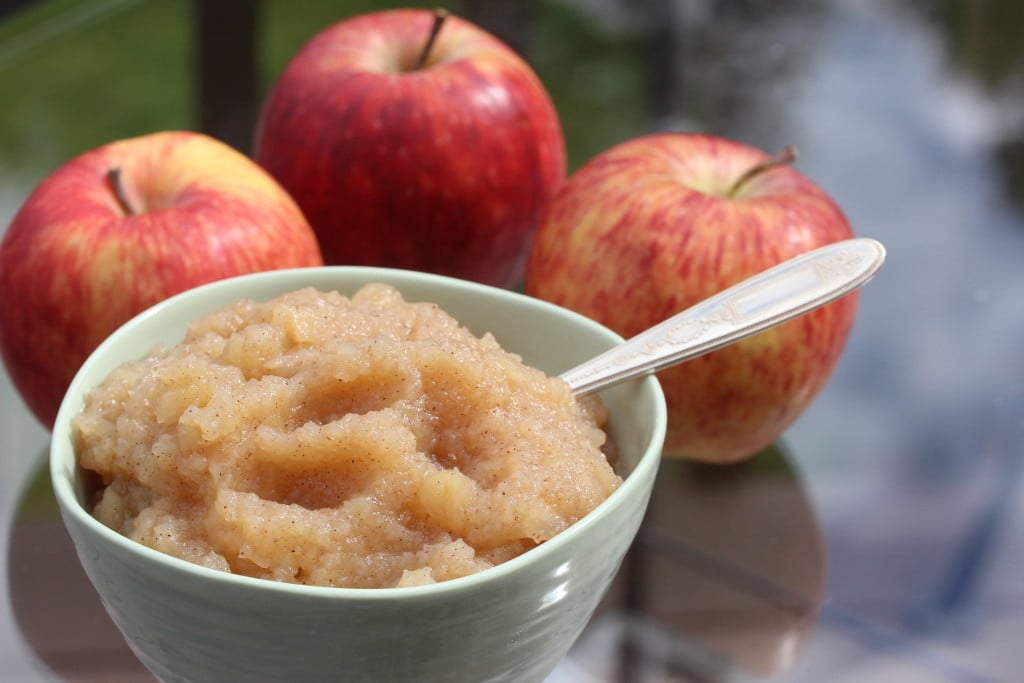 Print
Homemade Applesauce
4

apples, peeled cored and chopped

¾ cup

water

¼ cup

granulated sugar

½ teaspoon

ground cinnamon
Instructions
In a medium saucepan, combine apples, water, sugar, and cinnamon. Cook over medium heat for about 20 minutes or until apples are soft, stirring occasionally. Mash the mixture with a fork or potato masher. For a smoother texture, run the cooled mixture through a food processor or high-speed blender.
Notes
You may omit the sugar if you like.
Or, if you're feeling sluggish, go to Weaver's Orchard Market and pick up one of these: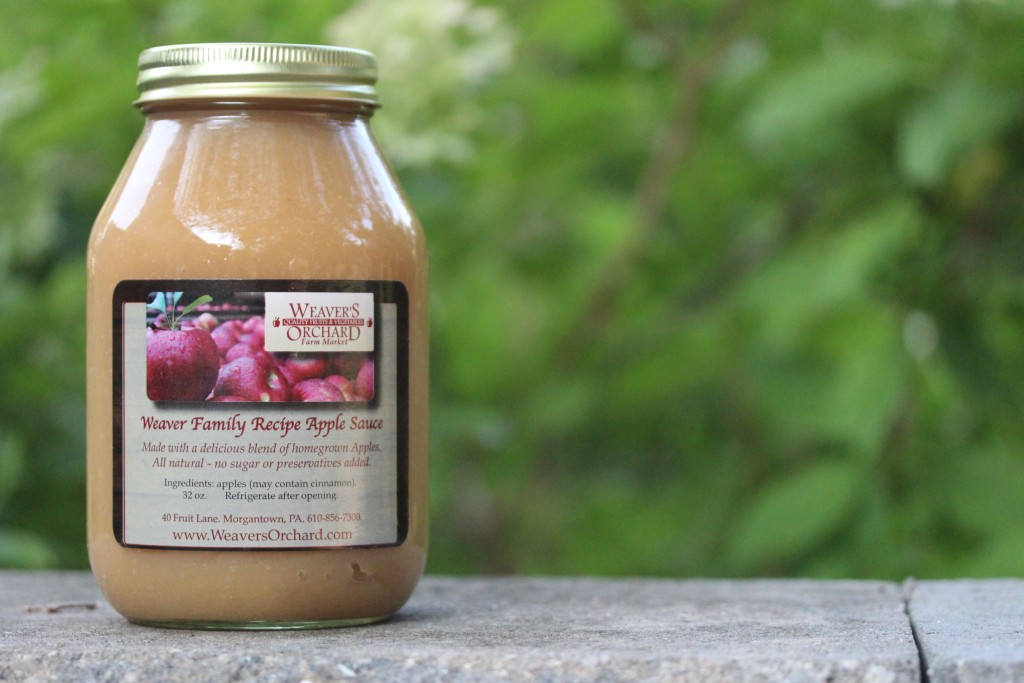 No work AND no added sugar or preservatives!
2. Vegan Autumn Applesauce Cookies
Some people like crispy cookies. Some people like chewy cookies. I like those too, but I also like these applesauce cookies for their cake-like texture. Soft and delicious! The recipe makes good use of–you guessed it–applesauce!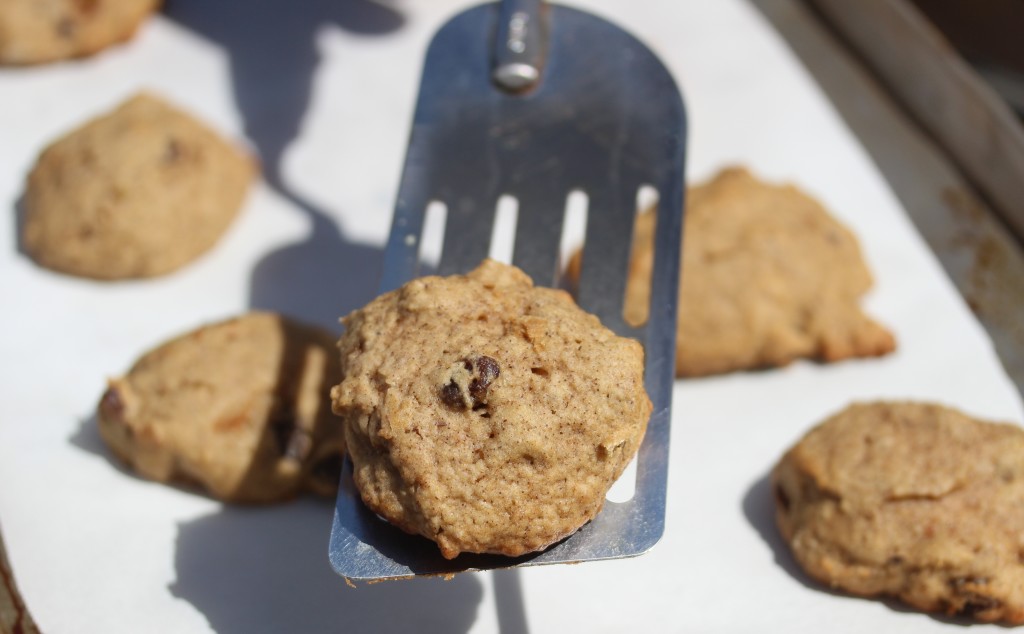 Print
Vegan Autumn Applesauce Cookies
Author:
Yield:

4

Dozen Cookies

1

x
½ cup

vegan margarine, softened (or if you are not vegan, butter)

¾ cup

sugar

¼ cup

brown sugar, lightly packed
Egg replacement equal to 1 egg (or if you are not vegan, 1 egg)

1 ¼ cups

applesauce

2 2/3 cups

flour

¼ teaspoon

salt

1 teaspoon

baking soda

2 teaspoons

cinnamon

1 teaspoon

cloves

¼ teaspoon

ground ginger

¼ teaspoon

cardamom

¼ teaspoon

allspice

¾ cup

raisins

¾ cup

walnuts, chopped
Instructions
Preheat oven to 400 degrees.
Cream margarine, sugar and brown sugar together in a large bowl. Stir in egg replacement and applesauce.
In a separate bowl, mix flour, salt, baking soda and all spices. Gradually combine the flour mixture with the wet ingredients. Stir in raisins and walnuts.
Drop by tablespoon onto ungreased cookie sheet. Bake for 11-13 minutes.
Remove from baking sheet to cool.
3. Apple Cinnamon Granola Bars
These bars are packed with fortification, and make a good option when the kids go straight from school to after-school athletics. They are quite crumbly, so take care to follow the cutting instructions. If you do encounter crumbles, save them in a baggie! They are wonderful on top of hot oatmeal in the morning. You may try peanut butter instead of the cashew butter.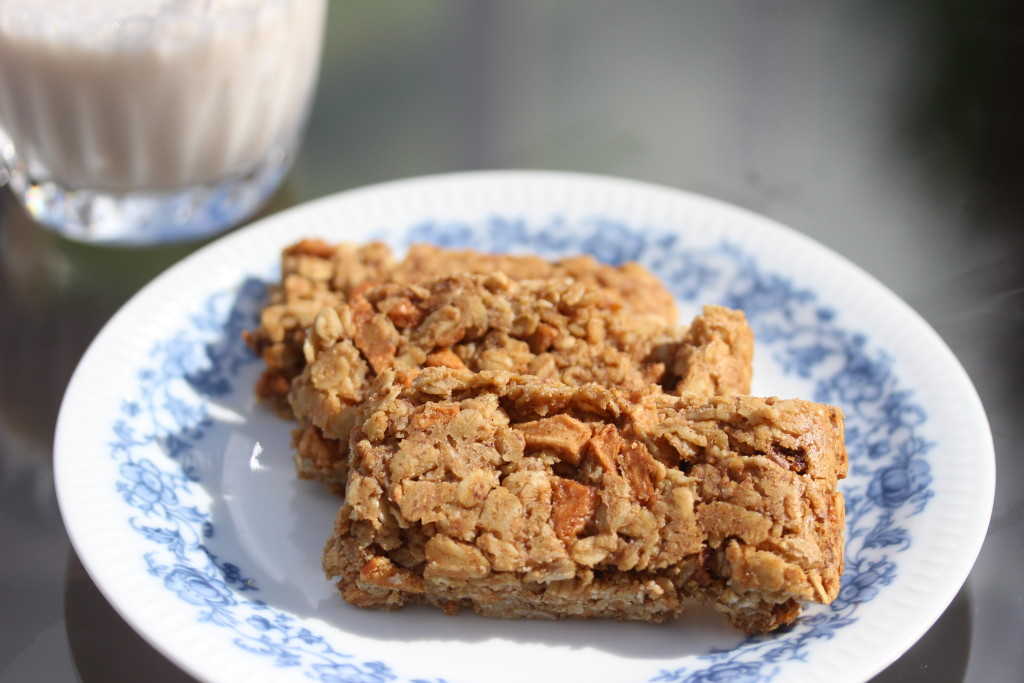 Print
Apple Cinnamon Granola Bars
½ cup

cashew butter

¼ cup

100% pure maple syrup

¼ cup

brown rice syrup

1 teaspoon

pure vanilla extract

2 cups

whole rolled oats (not quick cooking or instant)

1 cup

finely chopped dried apples

½ teaspoon

salt

1 teaspoon

ground cinnamon
Instructions
Preheat the oven to 350 degrees. Line an 8×8-inch baking pan with a 10-inch square of parchment paper.
In a small saucepan, mix together the cashew butter, maple syrup and brown rice syrup. Gently heat mixture over low heat, whisking with a fork, just until it is warm enough for the ingredients to incorporate and become smooth.
Remove the mixture from the heat. Let it cool so that it is still warm but not hot. Mix in the vanilla and then add the oats, apples, salt and cinnamon. Mix very well.
Wet your hands and press the mixture into the pan. Bake for 18 minutes or until the sides of the bars are lightly browned.
Remove the pan from the oven and let cool for about 10 minutes. Remove the bars from the pan by lifting up the corners of the parchment paper. Transfer to a cooling rack to cool completely (with the parchment underneath).
Use an 8-inch knife to slice the bars into eight rectangles. Press down firmly in one motion to slice rather than making a sawing motion, which may cause the bars to crumble. Slice once down the middle and then 3 times across the other way.
Store bars in a tightly sealed container at room temperature.
4. Gluten-Free Apple-Carrot Snack Cake
Some people just can't tolerate gluten. Luckily, with many gluten-free flours showing up on store shelves, baked goods are not out of the question. This recipe calls for xanthan gum, which may be new to a few bakers but which many gluten-free bakers have on hand. This ingredient, the consistency of corn starch, is used most often as a thickening agent, but it stands in for gluten in this cake. Xanthan gum mimics the moist, stretchy quality gluten normally provides for bread and baked goods.
If you prefer not to buy xanthan gum, then look for an all-purpose, gluten-free flour in the grocery store. Check the ingredients and see if xanthan gum is listed. If so, buy it! Substitute 1 1/2 cups of the all-purpose, gluten-free flour for the sorghum and the tapioca flours and omit the added 3/4 teaspoon xanthan gum. The apples, carrots, coconut milk and oil keep things from being dry and crummy, a common problem for gluten-free baked goods.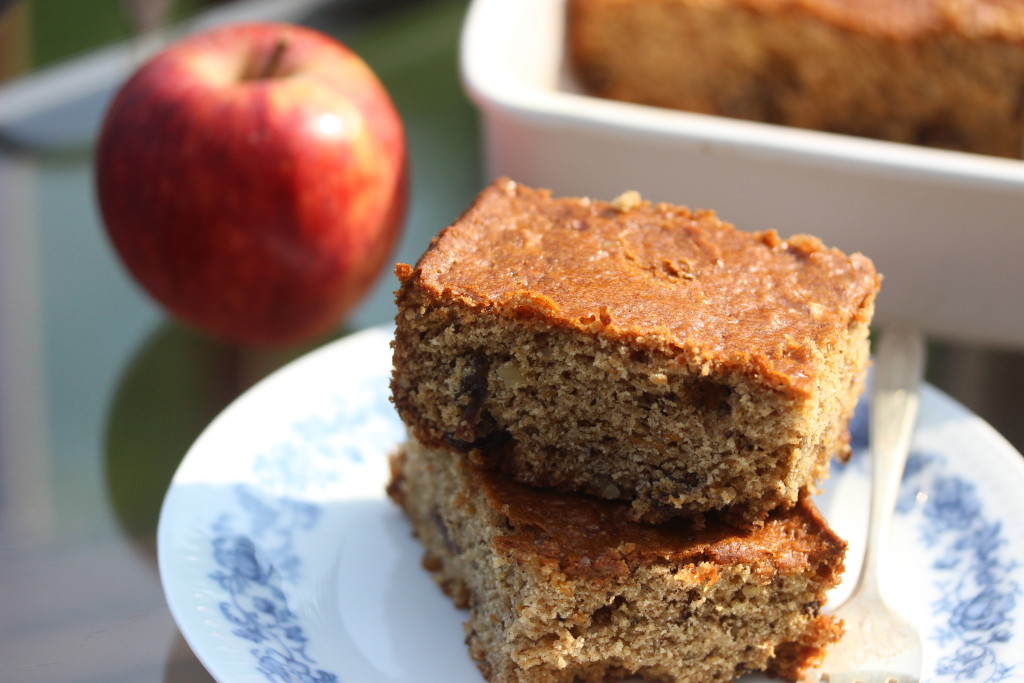 Print
Gluten-Free Apple-Carrot Snack Cake
Author:
Yield:

9

Servings

1

x
1 cup

sorghum flour

½ cup

tapioca flour

2 teaspoons

baking powder

½ teaspoon

baking soda

¾ teaspoon

xanthan gum

½ teaspoon

salt

1 ½ teaspoons

cinnamon

¼ teaspoon

nutmeg

¼ teaspoon

cloves

½ cup

sugar

½ cup

brown sugar

1/3 cup

canola oil

1 teaspoon

white or apple-cider vinegar
Egg replacement equal to 2 eggs, prepared (or one egg if you are not vegan)

¼ cup

coconut milk

2 teaspoons

lemon zest, chopped

½ cup

apple, grated

½ cup

carrot, grated

½ cup

raisins

½ cup

walnuts, chopped
Instructions
Preheat oven to 350 degrees. Grease an 8-inch-square baking pan.
In a large bowl, whisk to combine the sorghum flour, tapioca flour, baking powder, baking soda, xanthan gum, salt, cinnamon, nutmeg, cloves, sugar and brown sugar.
With an electric mixer on medium speed, beat the oil, vinegar, egg replacement (or egg), coconut milk and lemon zest into the flour mixture for about 2 minutes, or until well blended. Blot apple and carrot shreds with paper towels to remove excess moisture. Use a fork to separate shreds and stir into batter. Stir in raisins and walnuts.
Pour batter into the loaf pan. Bake for 50 minutes or until a toothpick comes out clean when inserted into the center. Cool in pan for 10 minutes. Transfer to a wire rack.
Notes
You may use light coconut milk instead of full-fat coconut milk if you like, and you may substitute applesauce for the shredded apple.
5. Eat an Apple!
This recipe is the best. Pick up one apple. Add one kid. Easy!