Valentine's Day–like Halloween and Easter–is a candy holiday. As a kid, I always looked forward to these holidays with greed, imagining the vast piles of candy I would acquire.
But when I was in about fifth grade, my mother pulled the most ingenious switch. She managed to make us look forward to a different kind of gift on Valentine's Day. Every Valentine's Day, she gave my siblings and me a book–and always one that she knew we wanted.
Suddenly, the few words stamped on chalky-sweet conversation hearts were eclipsed by the thousands of words and the long-lasting joy of imagination that these books promised.
Her ingenious switch shows that you can shift kids' focus away from candy, even on their much-anticipated "candy holidays."
Try these five ideas to get started!
It's easy to make fruit leather at home and then use cookie cutters to craft them into heart shapes or other fun shapes! You can make fruit leather in a food dehydrator, if you have one. It takes 5-8 hours, so starting it in the morning is the best bet for preparing for an after-school activity. If you don't have a food dehydrator, it's easy to make fruit leather in the oven, but it does take about 18 hours to dry since the oven temperature will be so low. Once it's dry, the fruit leather roll ups last about a month, stored in an air-tight container at room temperature.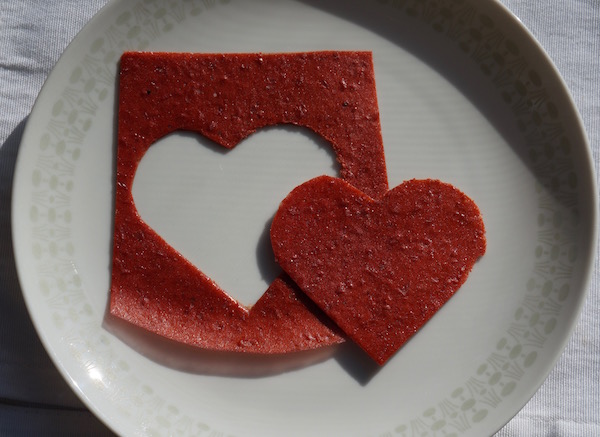 This recipe originally used apricots, but it also recommends applesauce as an easy alternative. If you've canned applesauce after pick-your-own this fall, you're well on your way to a fun activity the kids can help with! And of course, apples are fresh all winter, so you can still pick them up and even take advantage of Weaver's apple of the week specials!
Just be sure to run "chunky" varieties of applesauce through a food processor or blender to puree. I used crabapple applesauce I'd canned this fall to make the heart-shaped fruit leather pictured above. Looks like strawberry, tastes like apple!
2. Fruit Hearts (or even veggie hearts!)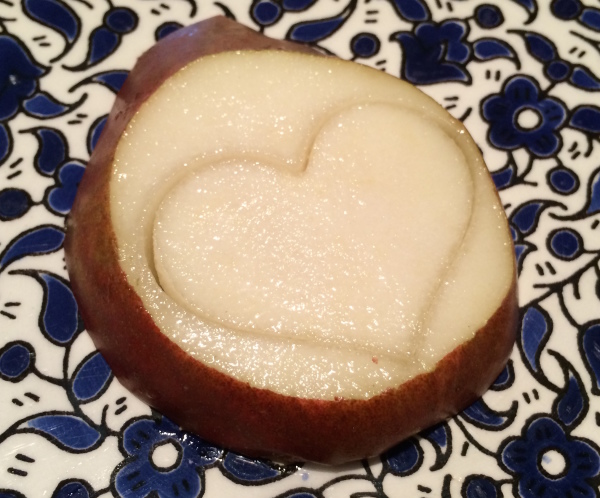 Part of what's fun about candy is the way it's shaped. Peanut butter cups just wouldn't be as appealing without the cupcake-like ridges, and without their valentine shape, conversation hearts would be so, well, heartless.
This Valentine's, you can make fruits and veggies come in fun shapes and sizes. Grab an apple, slice it into round pieces, and let your kids make heart-shaped apples!
Avocado is also easy to slice into rounds and then cut into heart shapes, and one of my friends recently hosted a kids' Valentine's party with veggies cut into heart shapes!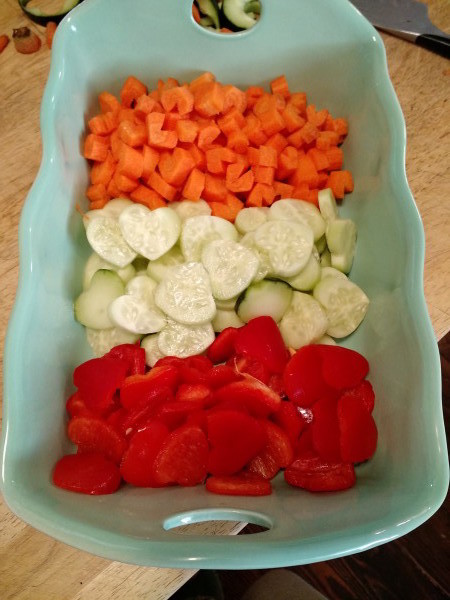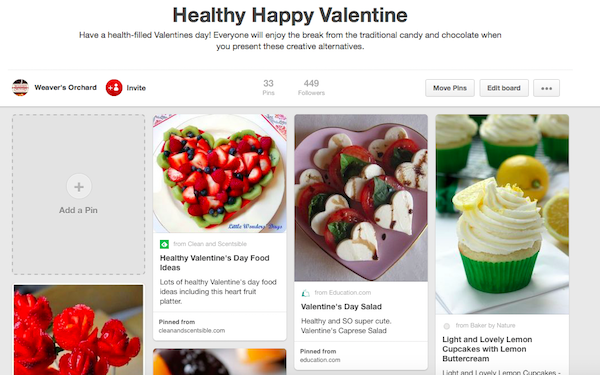 It's easy to arrange fruit in a seasonal pattern! We recommend using citrus and pomegranates, which are at their peak in the winter time, to recreate this healthy idea we found for our "Healthy Happy Valentine's" Pinterest board.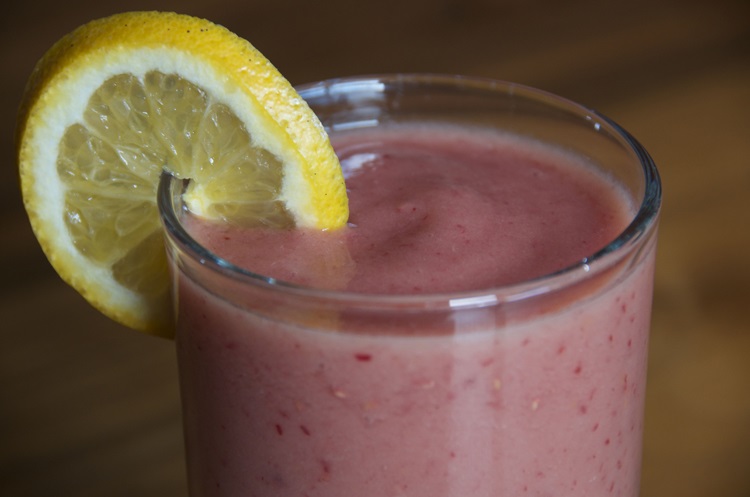 Valentine's is a day for all things pink, so grab some frozen strawberries, sweet cherries or red raspberries and pop them in the blender along with one frozen banana to treat your kids to this Valentine-friendly and healthy treat.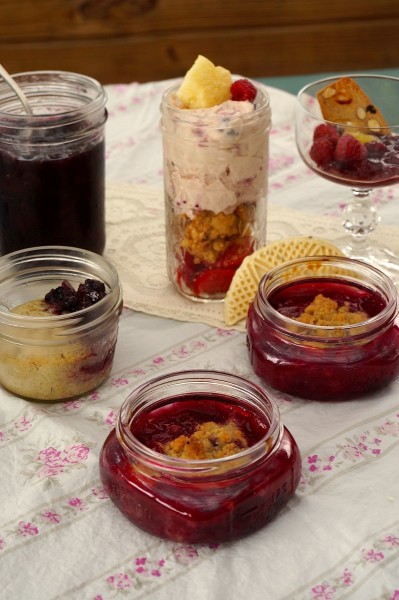 Satisfy the kids' sweet-tooth with something you've made yourself: their own personal-sized pies in jars!
When you make baked goods yourself, you can control the fruit-to-sugar ratio. For apple pies, you can reduce the sugar content if you add frozen apple juice or cider! And by making pies in jars, you get to reduce the amount of crust and maximize the fruit content.
Phoebe Canakis of Phoebe's Pure Food recommends:
Simmering the fruit filling.
Using a topping rather than a crust, or cutting out dough in fun shapes and placing the dough on top of the pie filling
Baking at 375°F for just 7 minutes.
Lastly, if you can use healthy ideas like this to make sure the kiddos are not focused (like I was) on the sheer amount of candy they can amass, that makes it easier to give them reasonable portions of special treats.
They'll love our homemade fudge, made with real butter.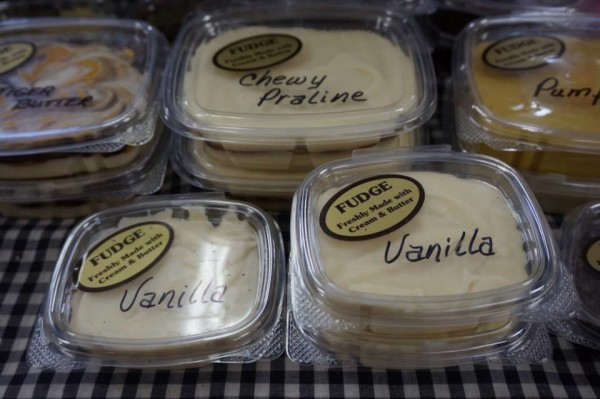 And the high quality chocolate made here in Berks County at Billy's Candies: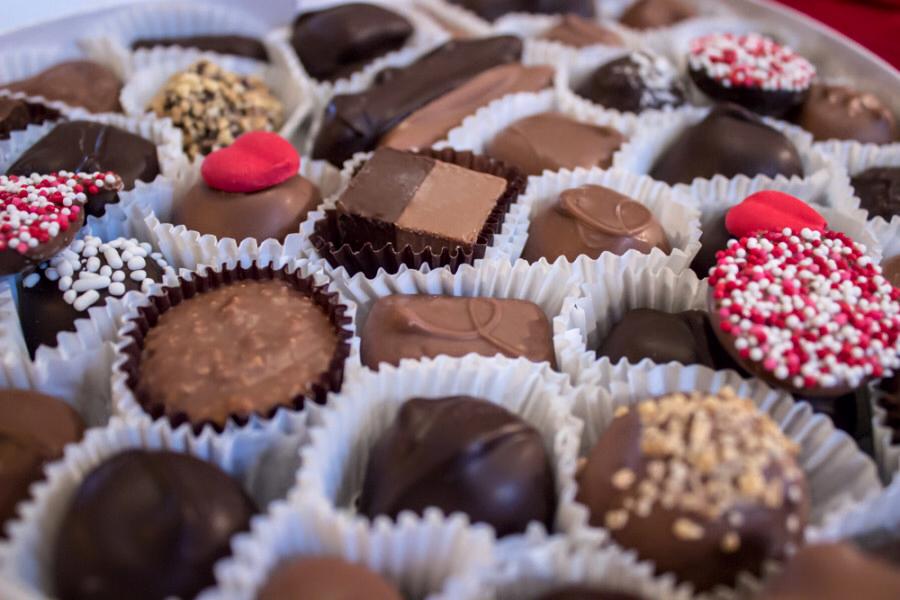 Billy's candies are 100% preservative free and made using the same recipes that have been handed down since the 1930s!