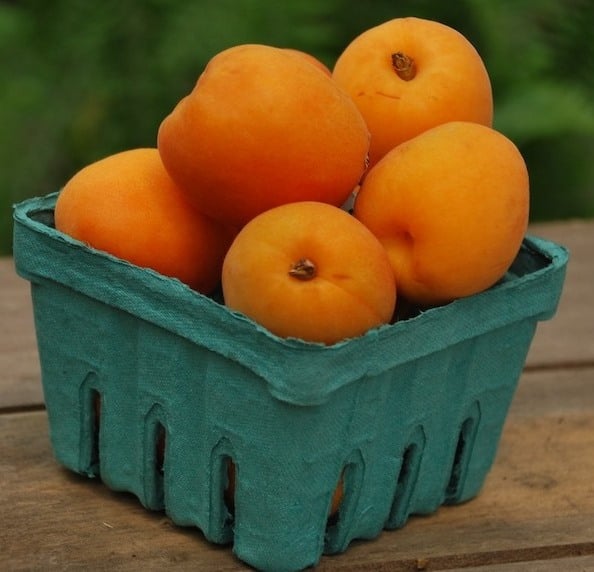 Apricots are almost a forgotten fruit. The webite California Fresh Apricots comments that there's "a notable lack of publicity and education [about apricots] compared to many other fruits." I agree. I remember my mother giving us canned apricots, and sometimes dried apricots, but I never tasted a fresh one until I was an adult. It turns out that, like every fruit eaten in season, apricots are delicious and packed with nutrition. If you haven't tasted a fresh one, don't miss out on this treat! In this area of Pennsylvania, apricots ripen around the fourth of July.
Apricots are one of the few fruits high in iron. They're also a premium source of beta-carotene, as well as vitamin C, vitamin A, copper, lycopene and fiber. Apricots can aid digestion, not only because they're high in fiber, but because eating one produces an alkaline reaction in the digestive system. And their unique blend of antioxidants may help fight heart disease, cancer and stroke, according to the California Fresh Apricots website.
How can you tell if an apricot is ripe? Look for plump apricots with an orange-yellow or orange color. They are fully ripe when soft and juicy. If they're ripe when you buy them, keep them from over-ripening by storing them in the refrigerator. Many fruits do not ripen after they're picked. But apricots do—well, unless they're green. If the ones you purchase are not quite ready to eat, just place them in a paper bag for one to two days.
Freezing apricots is simple. Just wash them, cut them in half and place them on a baking sheet. Put them in the freezer until frozen – then pour the halves into a resealable freezer bag and press out all the air.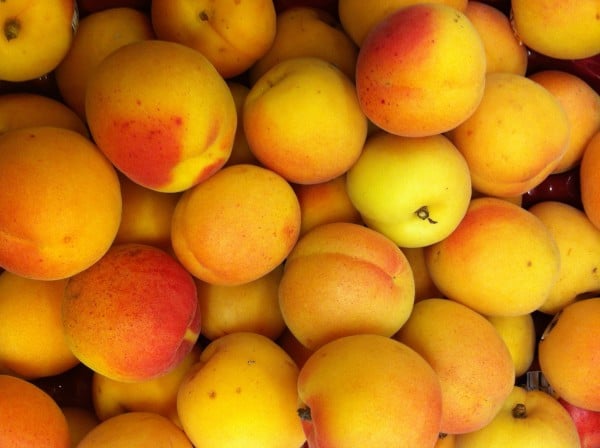 Apricot Leather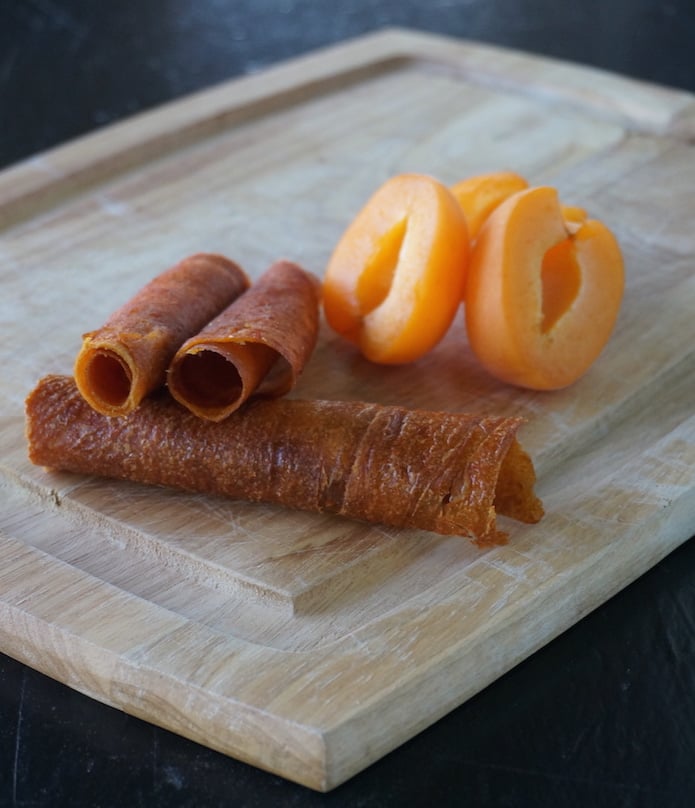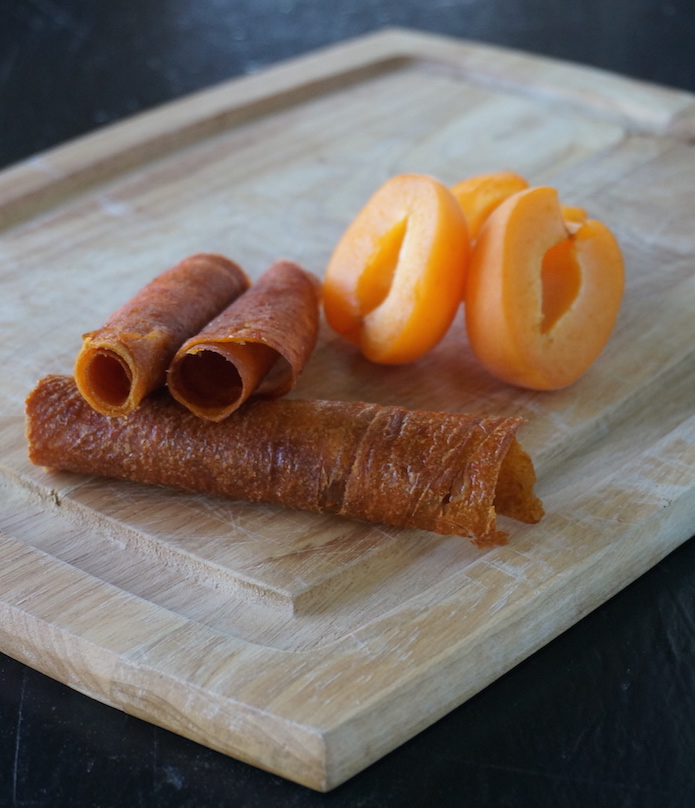 When my children were little, we moved into a house with an apricot tree in the back yard. We had a bumper crop of apricots one summer, and I had no idea what to do with them all. So I decided to make fruit leather. My children loved fruit roll-ups. And since my Mother's Day present was a food dehydrator, I thought we'd try making our own.
Feeling a little like the Ingalls family, the kids and I went out back, picked off all the ripe apricots and dropped them into a basket. Then we chopped them, pureed them and spread the thick liquid onto a tray. After that, we popped it in our dehydrator and waited for several hours, our stomachs growling while the sweet scent filled the air. Ma would have done this process a little differently, of course, but we still felt pioneerish, making our own fruit snacks. And ours were much tastier, less expensive, and more nutritious than store-bought roll-ups. You don't need a dehydrator to do this, by the way. A warm oven will work, too. It just takes longer.
Fruit leather is wonderful for lots of reasons. First of all, it satisfies the sweet tooth, but contains no refined sugar. Plus, it's easy to make, and you can use fruit that's a little overripe. You can combine different fruits, or even use applesauce (either add it to pureed fruit to make a larger quantity, or use it by itself to make apple leather). And when you bite into that sweet, chewy goodness, you'll feel like you've stepped into a Little House book, especially if you make it from fruit you picked yourself!
Print
Fruit Leather
Makes a 13 x 15-inch sheet of fruit leather.
2 cups

ripe or overripe fruit, washed, peeled (at least for tougher peels), and cut into chunks.

2 teaspoons

lemon juice
Applesauce (optional)
Materials

13

x 15-inch cookie sheet with an edge
Plastic wrap
Instructions
Preheat oven to 140˚F.
Puree the fruit chunks till smooth. Add lemon juice (prevents light-colored fruit from darkening).
Add applesauce if you need to make it smoother and more liquid. Applesauce also decreases tartness and makes the leather more pliable. (You can make leather with applesauce alone, if you want to try this and don't have ripe fruit available.)
Test for dryness by touching the center. If it's ready, your finger will leave NOT an indentation. Peel the warm, dried fruit from the plastic, allow it to cool, then rewrap it in plastic.
To make this even more fun for children, get out the cookie cutters and let them cut out their own shapes.
If by any chance you have leftovers, roll and wrap in plastic. It will keep up to a month at room temperature, or up to a year in the freezer if tightly wrapped.
Oven directions: Line cookie sheet with plastic wrap and smooth out the wrinkles (don't use aluminum foil or waxed paper). Spread the puree evenly, about 1/8 inch thick. Place the cookie sheet in 140˚F oven for about 18 hours.
Food dehydrator directions: A food dehydrator should come with a tray for making leather. But if it doesn't, you can line your trays with plastic wrap. Fruit leather dried in a dehydrator takes 6-8 hours.
Apricots are also delicious in savory suppertime recipes, like this one.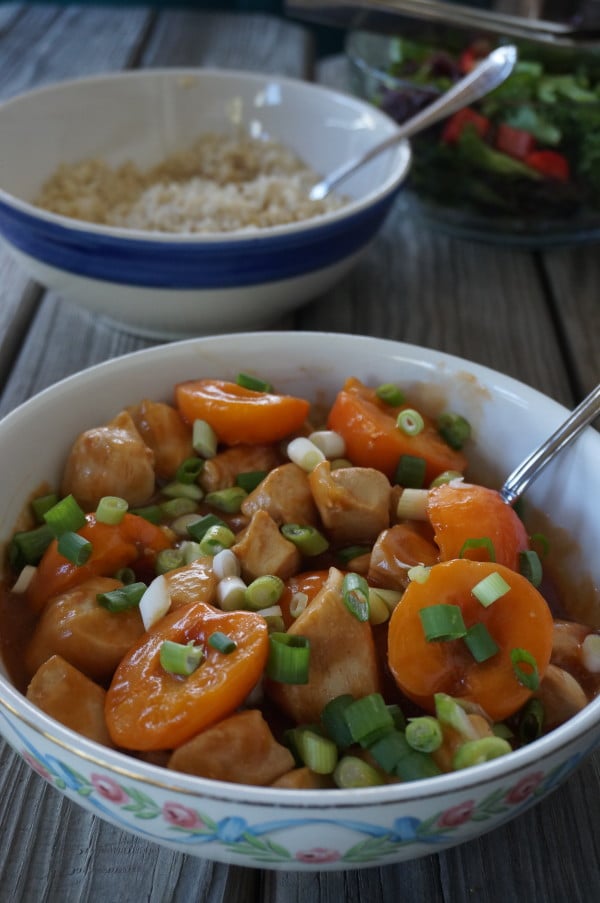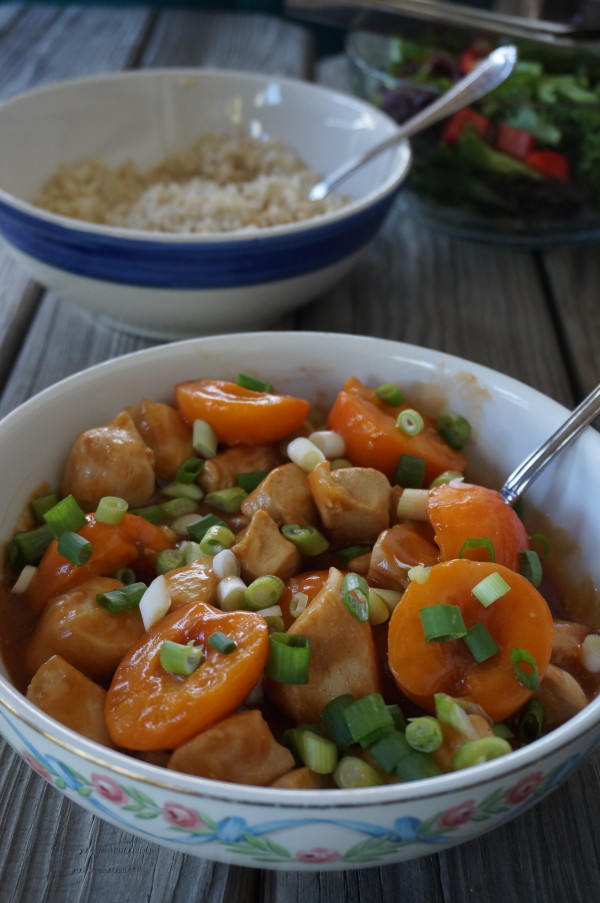 Print
Chinese Apricot Chicken
4

boneless chicken breasts, cut into

2

-inch pieces

½ cup

water

½ cup

rice wine vinegar

½ cup

sugar

3 tablespoons

soy sauce

3 tablespoons

ketchup

2 tablespoons

orange juice

2 tablespoons

cornstarch

2 tablespoons

peanut oil

6

fresh apricots, halved

3

green onions, cut into

2

inch pieces
Instructions
Mix together water, vinegar, sugar, soy sauce, ketchup, orange juice and cornstarch for sauce and set aside.
Heat oil in a wok. Over high heat, stir-fry chicken about 10 minutes until tender and slightly browned.
Add apricots to the wok. Stir-fry about a minute.
Add sauce and cook, stirring, until the sauce thickens. Sprinkle green onions on top just before serving.