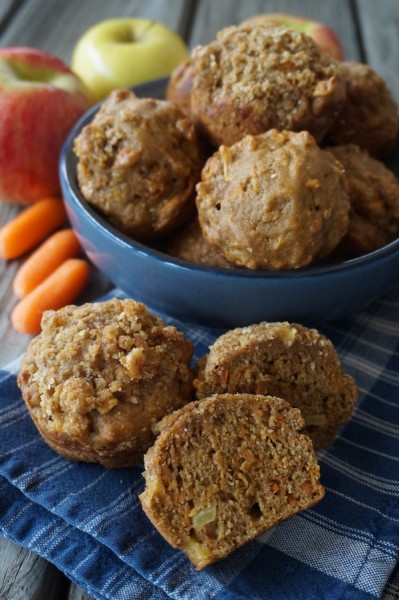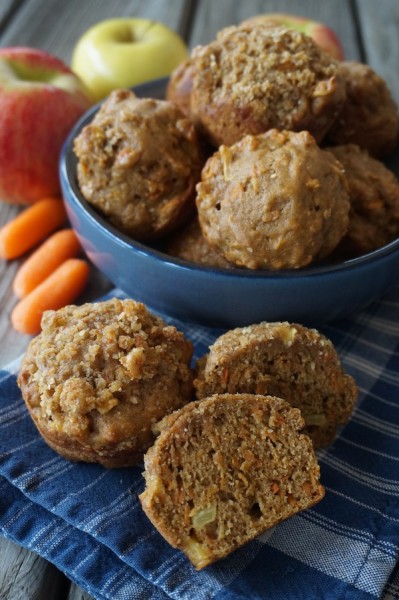 Are you looking for a quick and wholesome breakfast treat to grab when you're pressed for time? Try this make-ahead muffin recipe. Serve it with a fresh smoothie, and you'll be off to a great start.
I just perfected this recipe – tweaking it to my liking of course. Yes, it does have sugar and butter in it, but it's fairly healthy because it also calls for 2 cups of carrots and 2 whole apples, as well as walnuts, wheat germ and whole wheat flour.  I experimented with some fat free recipes, but the muffins were too dry. The need to spread butter or jam on the muffins when it came time to eat them seemed to cancel out the "low calorie" advantage. I also tried substituting honey and brown sugar for white sugar, but those turned out dense and heavy. So this recipe was my favorite.
These muffins are moist, light and sweet, and they fill the house with the aroma of cinnamon as they bake!  Make them when you have time, and then freeze the extras in zip lock bags.  Warm one up any time you need a quick breakfast on-the-go!

Apple-Carrot Spice Muffins
Ingredients
1 cup whole-wheat flour
1 cup all-purpose flour
¾ cup sugar
1½ tsp ground cinnamon
1 teaspoon baking powder
1 teaspoon baking soda
¼ teaspoon salt
3 large eggs
½ cup apple butter
⅓ cup coconut oil (or canola oil)
1 tablespoon vanilla extract
2 cups grated carrots (4 medium)
2 small apples, peeled and finely chopped
2 tablespoons butter
2 tablespoons brown sugar
¼ cup chopped pecans (or walnuts)
¼ cup toasted wheat germ
Instructions
Preheat oven to 375°F.
Mix together in a large bowl all-purpose and whole wheat flours, sugar, cinnamon, baking powder, baking soda and salt.
In another medium or large bowl, whisk together eggs, apple butter, oil and vanilla extract
Stir in grated carrots and apples.
Make a well in dry ingredients and stir in the wet ingredients until just combined. (The batter will be very stiff.) Coat 18 muffin cups with cooking spray. Spoon the batter into prepared muffin cups, filling them about three-fourths full. Combine topping mixture in a small bowl; sprinkle over the muffin tops.
Topping:
Melt butter in a microwaveable bowl and mix in brown sugar walnuts or pecans and toasted wheat germ.
Bake muffins about 20-25 minutes, until the tops turn golden brown and spring back when touched lightly. Cool for 5 minutes in pans, then loosen edges and turn muffins out onto a wire rack to cool.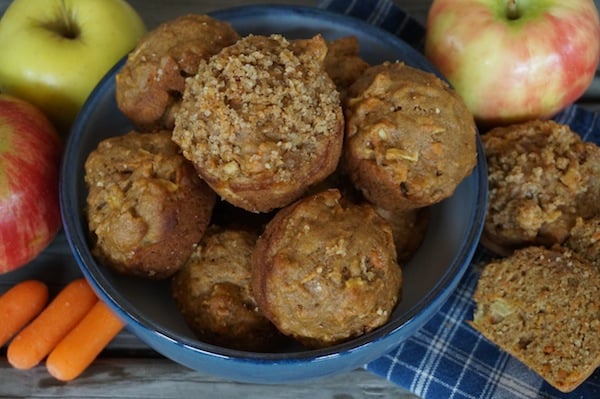 To complete your breakfast, get out the blender and try this smoothie.  It's delicious, nutritious and filling –and no, you can't taste the spinach!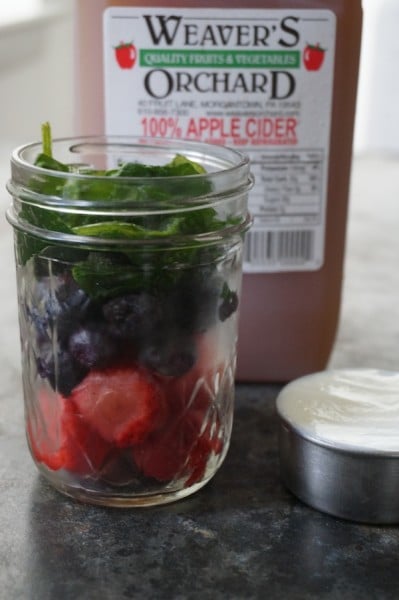 Superfood Smoothie
Recipe type:
Breakfast, Beverage
Ingredients
¼ cup frozen strawberries
¼ cup frozen blueberries
¼ cup frozen spinach
¼ cup plain yogurt (Greek, plain or Kefir depending on your preference
About ¼-1/2 cup apple cider
Instructions
Add strawberries, blueberries and spinach to a ½ pint mason jar or 8 oz juice glass. Fill glass ¾ of the rest of way with apple cider. Add mixture and yogurt to a blender and blend until smooth. Enjoy!
Editor's note: It's easy to freeze your own fruit from Weaver's Orchard and freeze spinach in a zip-lock bag if you can't use it right away.