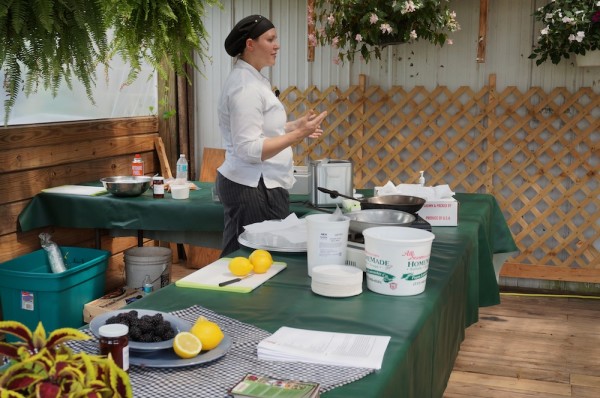 Chef Crystal Barto of Emily's Restaurant in Mohnton shared a wealth of knowledge with attendees of the July 31 cooking class on berry sorbets and various other berry-inspired treats. The focus of her class was ways to use our homegrown blackberries, which are just coming into season now. Crystal began the class by blending, straining and combining a few simple ingredients: blackberries, sugar, lemon juice and water for the sorbet. Her appliances of choice included a household quality Ninja blender and a Cuisinart Ice Cream Maker. When asked about her appliances, Crystal replied: "both of these items are household grade. There's no need to go with higher grade appliances than these for household quantities."
As the Cuisinart went to work making the sorbet, Crystal demonstrated two other berry recipes: parfaits and blackberry compote. The parfait was no ordinary yogurt concoction. Instead it included Crystal's homemade lemon custard, fresh blackberries, homemade whipped cream and crushed vanilla wafers. Many of the children present willingly helped Crystal crush the cookies and assemble the parfaits while she whisked up the whipped cream. The samples were just as good as they looked and the recipes went home with all attendees. Plus, she shared them with us below: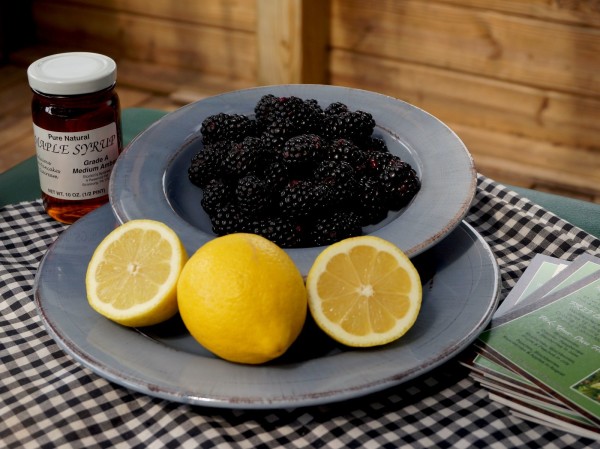 Print
Berry Parfaits
Author:
Category:

Dessert

Cuisine:

Traditional
CRUMBS:

24

vanilla wafers

1/2

stick unsalted butter, melted

1/8 teaspoon

salt
CUSTARD:

3

large egg yolks

3/4 cup

granulated sugar

2 tablespoons

cornstarch

1/8 teaspoon

salt

1/2 cup

water

1/4 cup

whole milk

1 1/2 teaspoons

grated lemon zest

1/4 cup

fresh lemon juice

1 tablespoon

unsalted butter
For the topping:

1/2 cup

chilled heavy cream

2 tablespoons

confectioners' sugar, for dusting
FOR THE ASSEMBLY:

1 cup

fresh or thawed frozen blueberries, strawberries, blackberries or raspberries
Instructions
Make the topping: Beat cream and confectioners' sugar with an electric mixer until it just holds stiff peaks.
Make the crumbs: Preheat oven to 350˚F with rack in middle. Coarsely crush vanilla wafers between sheets of plastic wrap with a rolling pin or bottom of a heavy skillet, then stir together with butter and salt in a bowl. Spread mixture on a baking sheet and toast in oven until lightly browned, about 5 minutes. Cool on sheet, then break up with a fork.
Make the custard: Stir together yolks in a small bowl. Whisk together sugar, cornstarch and salt in a small heavy saucepan. Slowly whisk in water and milk, then whisk until smooth. Bring to a boil over medium heat, whisking frequently as mixture begins to thicken. Remove from heat and gradually whisk about 1/2 cup milk mixture into yolks, then whisk yolk mixture into pan. Add lemon zest and juice and simmer, whisking constantly, 3 minutes. Remove from heat and whisk in butter until incorporated. Transfer custard to a metal bowl, then set bowl in a larger bowl of ice water and stir custard until cooled to room temperature. Cover surface with wax paper to prevent a skin from forming.
Assemble parfaits: Reserve 2 teaspoons crumbs and 4 raspberries for garnishing all parfaits. Assemble one parfait in layers using a total of 1/4 cup plus 1 tablespoon custard, 1/4 cup berries, a rounded 1/4 cup crumbs and one fourth of whipped cream. Assemble 3 more parfaits, then top with reserved crumbs and berries. Serve parfaits at room temperature or chilled.
Make ahead: Assembled parfaits may be made 3 hours ahead and kept refrigerated, uncovered.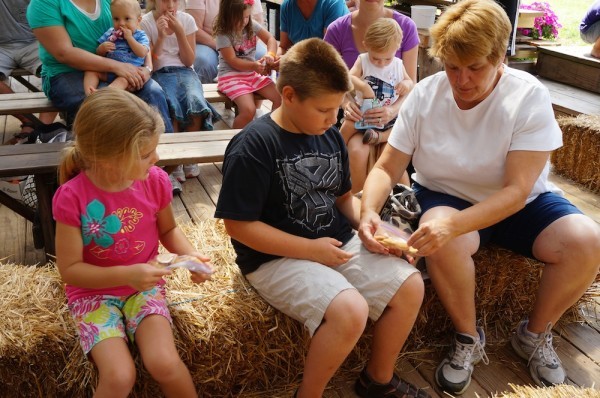 Next, she moved on to the compote, a fruit reduction that can be even further cooked down and canned as jam. Her compote included simply blackberries, maple syrup and cinnamon. As the compote cooked down, she impressed the audience with her pancake-making abilities. She skillfully fit approximately 5-6 miniature, fluffy pancakes in a standard size frying pan. When asked the secret to her pancake success, she said "I use my grandmother's recipe. It calls for vinegar along with the baking soda to help create the bubbling reaction." (Think, elementary school volcano science experiment!) "Grandma's pancakes were always a favorite when we visited," Crystal reminisced. The taste of the pancakes with the compote was just as enjoyable as watching Chef Crystal prepare them.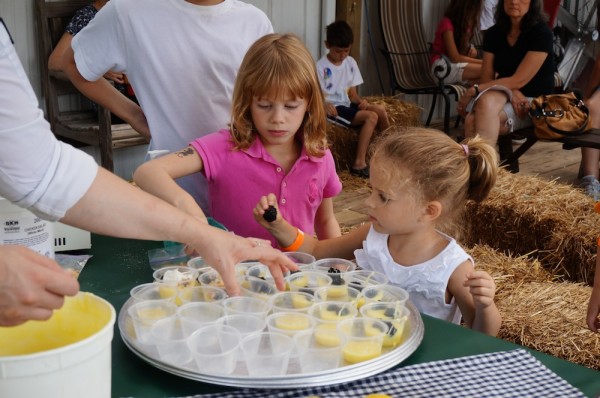 Print
Berry Compote
2 cups

blueberries, strawberries, blackberries or raspberries

2 tablespoons

maple syrup, or to taste

1 teaspoon

ground cinnamon
Instructions
Place berries, maple syrup and 1 teaspoon cinnamon in a small heavy saucepan.
Bring to a simmer over medium heat and cook, stirring occasionally, until the berries are mostly broken down, 3 to 5 minutes.
Remove from heat and cover to keep warm. Use to top pancakes, ice cream or pound cake.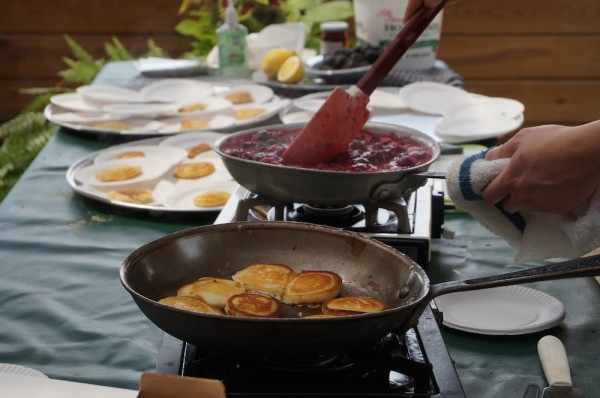 By the time the other recipes had been made and sampled, it was time to try the berry sorbet, another crowd-pleaser. Sorbets aren't uncommon at Emily's restaurant, especially when it comes to the farm-to-table dinners we host with them. Last fall's farm-to-table menu included a kiwiberry sorbet – perhaps dinner guests at this September's farm-to-table affair will get a taste of Crystal's delicious sorbet. Save the date for this event, coming up on a Monday, September 9th. More information and the mouth-watering menu can be found right here.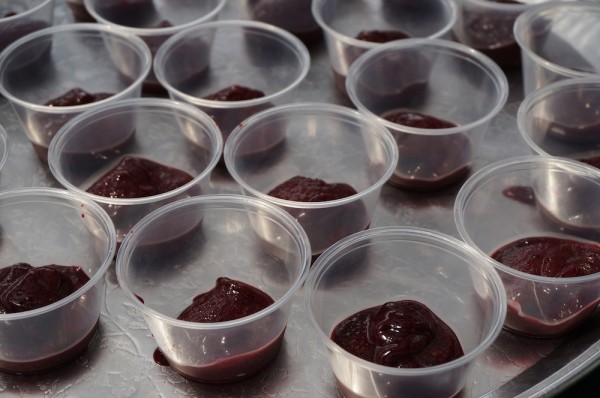 Print
Berry Sorbet
4

pound fresh berries

½ cup

lemon juice

1 cup

water

2 cups

sugar
Instructions
Place berries in a food processor and blend until raspberries begin to smooth out. Add in remaining ingredients and pulse for one more minute until all ingredients are combined.
Place a cheese cloth or fine mesh strainer over a large bowl and scrape berry mixture into the bowl. For this next step I recommend gloves unless you want your hands to be a lovely shade of reddish-purple. Pull the ends of the cheesecloth together, twist, and begin to squeeze the liquid. Continue until you feel like you only have seeds left.
Cover bowl with plastic wrap and chill in the refrigerator for 2-3 hours. Once chilled, pour into ice cream maker and freeze according to your ice cream maker's directions.