The thing about puppies is, for them, life is new. And apparently, when life is new, it's extremely exciting. When you wake up in the morning, it's exciting! When you go outside, it's
exciting! When you find your squeaky ball, it's exciting!
I have both a puppy and a very old dog. The combination is interesting. When I reach down to pat the puppy, he is pure wiggles. I don't even know what I'm petting, it's just puppy in motion.
When I reach down to pat my old dog, she looks up at me slowly with sweet eyes. I can take her whole head in my hands and have a real conversation with her while I pet.
This reminds me of greens. (You didn't see that coming, did you?)
The best place to find interesting greens is at your local farm market. The best time to find them is when they're in season. Luckily for all of us, this is prime greens season. It's exciting!
What you need is an old, reliable recipe to showcase your greens, no matter which greens you find at the market.
I made this spicy skillet kale using curly kale, but you may substitute other hearty greens such as dinosaur kale, Swiss chard, beet greens or mustard greens. Go ahead and use spinach or arugula, but keep in mind these tender greens will shrink and cook down.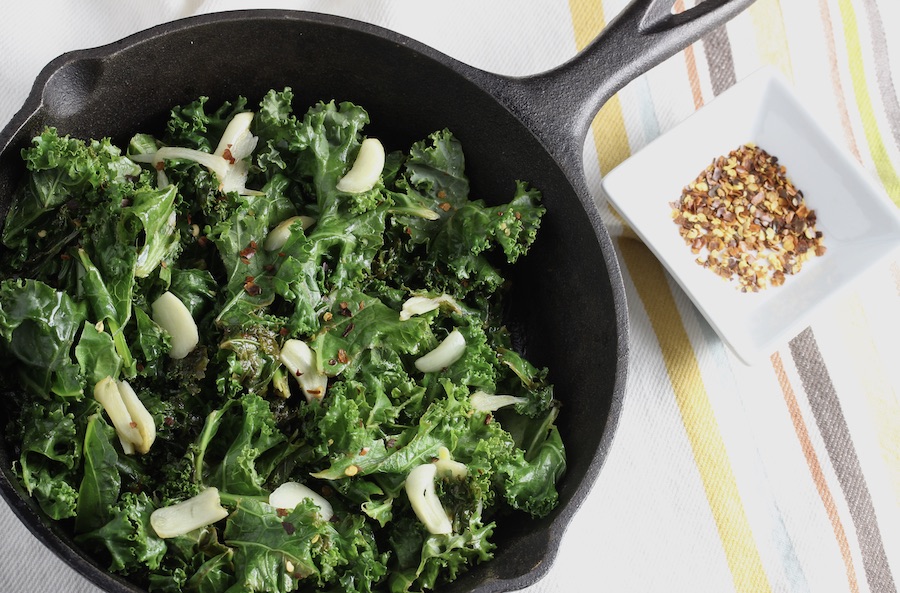 Spicy Skillet Kale
Serves 4
Ingredients
2 large bunches kale of any variety
1 tablespoon olive oil
4 cloves garlic, thinly sliced
Generous pinch red pepper flakes
1/2 teaspoon salt
1/4 teaspoon freshly ground black pepper
Juice of 1 lemon
Instructions
Tear kale leaves into bite-sized pieces, removing them from their stems. Discard the stems. Rinse kale leaves, but do not dry them.
Heat the oil in a large pan over medium heat until shimmering. Add the garlic and red pepper flakes and cook until fragrant, about 1 minute. Do not let the garlic brown.
Add the kale a few handfuls at a time, stirring after each addition until it begins to wilt. Once all the kale is added, stir in the salt and pepper.
Continue cooking, stirring occasionally, until the kale is just tender, about 3 additional minutes. Remove from the heat, stir in the lemon juice, and serve.