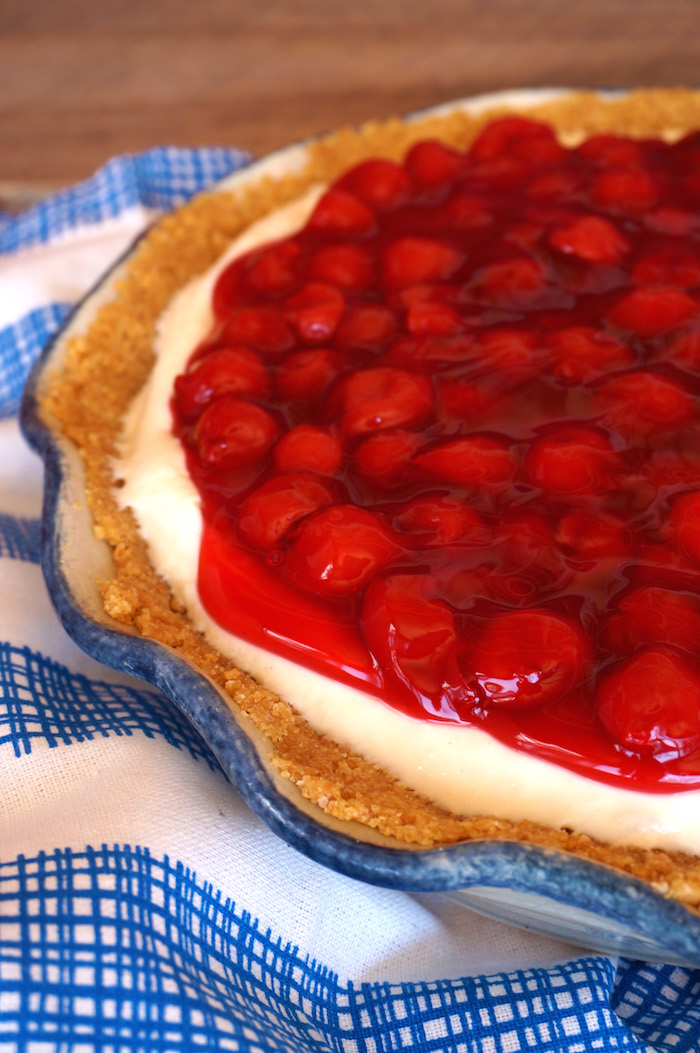 I pulled out my old recipe box from the pantry the other day.  The wooden box was a shower gift from my husband's Grandma Ruth. When I opened the box more than thirty years ago, I found a treasure hidden inside—several of Grandma Ruth's favorite recipes, typed on decorative 3 by 5 cards. Typed.  Right on the cards. The old fashioned way. Grandma Ruth was a seasoned secretary and a top notch typist.
At the time, I didn't realize this box truly was a treasure chest. When I opened it last week and read the recipes from Grandma Ruth, I was captivated by memories of that gracious, hospitable woman. Even in her 80's she was beautiful, her snowy hair always stylish and her eyes always sparkling with warmth and love for everyone in the family–including me, the newest member.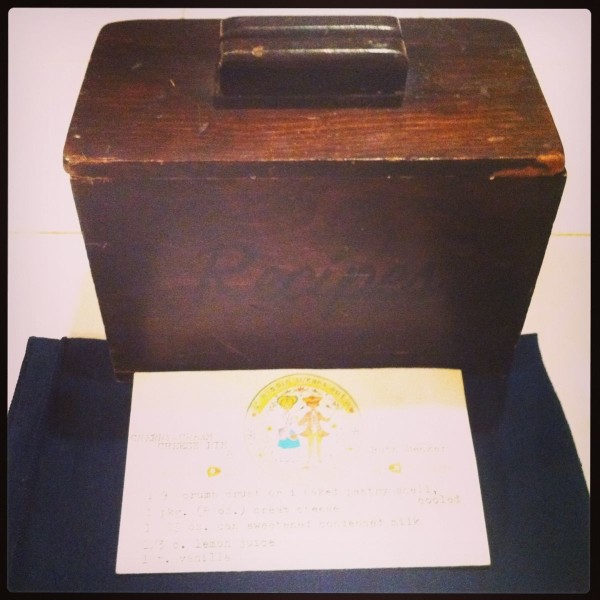 The box is overflowing with recipes I've gathered for almost four decades. It's more than a collection of instructions for making great dishes; it's a collection of treasured memories.  Most of the cards were hand written, some by me and some by the cooks who passed the recipes on. As I looked at each card, I thought about these cooks, dear friends and family members.  I remembered the meal that prompted me to ask for a recipe. I remembered the conversations we had during the meal, and thought about the paths we each have taken since that time.
Until I looked through the cards in that box, I didn't realize that a shared recipe is a gift that can last a lifetime. My recipe box is like a scrapbook.  Each card is a snapshot of the person who gave it to me. Each one conjures up warm memories of a special occasion, friendship and sweet fellowship.
So, I thought I would share one of Grandma Ruth's recipes, along with a few others you might want to try. And if you find one you like, pass it along. And then some day, someone will pull out the recipe card, think about you, and remember the occasion when you shared it!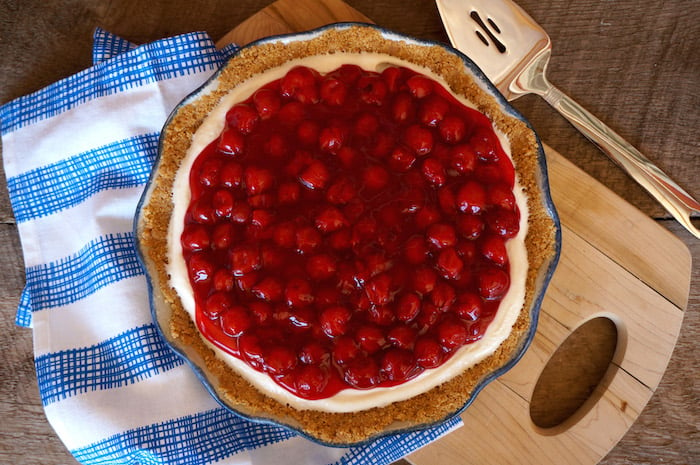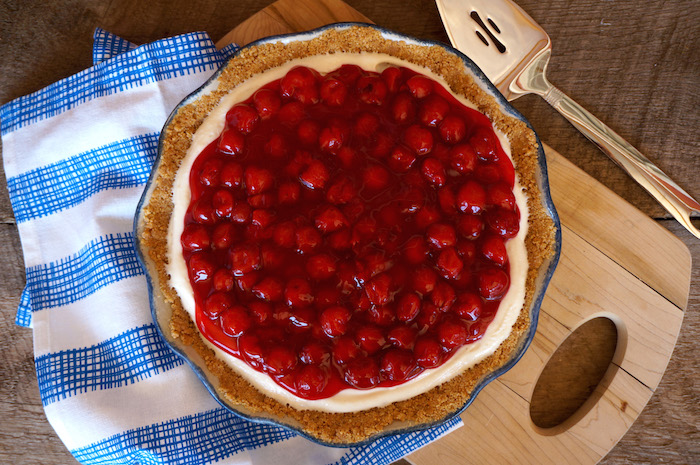 Print
Grandma Ruth's Cherry Cream Cheese Pie
If you make this in the summer, Weaver's cherries and fresh lemon will make it even more delicious!
Ingredients:

1

9-inch crumb crust or

1

baked pastry shell, cooled

1

8-ounce package cream cheese

1

15-ounce can sweetened condensed milk

1/3 cup

lemon juice

1 teaspoon

vanilla

3 cups

prepared cherry pie filling (recipe available in our cookbook)
Instructions
Soften cream cheese and whip until fluffy. Gradually add condensed milk while beating. Add lemon juice and vanilla. Blend well. Pour into crust. Chill 2-3 hours. Top with cherry pie filling. Chill.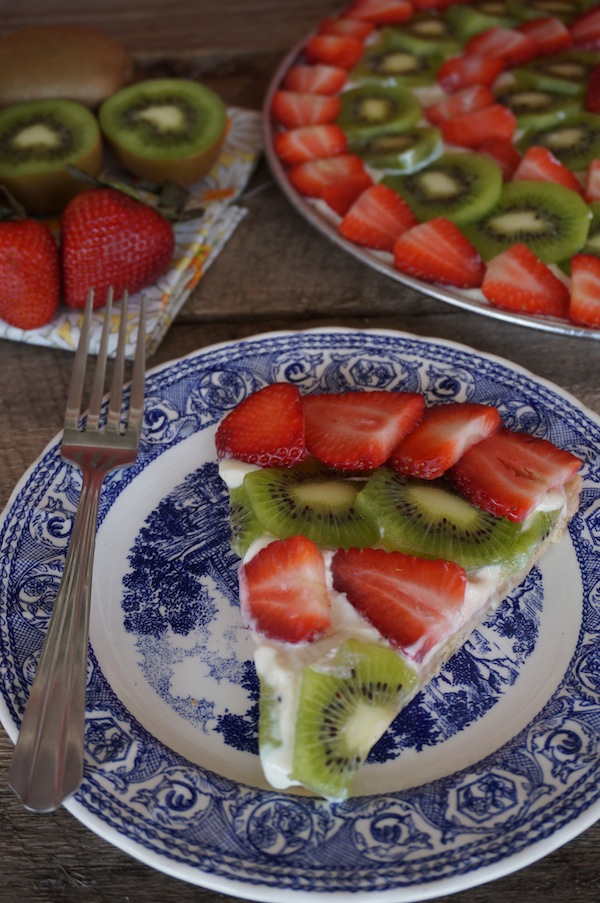 Print
Sonja's Kiwi-Berry Cream Pie
For Bible study one night, my friend Sonja made this fruit pizza. This dessert is always as hit. It has an exquisite taste and appearance, and is easy to make.
1

can sweetened condensed milk

½ cup

sour cream

¼ cup

lemon juice

1 teaspoon

vanilla

½ cup

softened butter

¼ cup

+

1 teaspoon

brown sugar

1 cup

unsifted flour

¼ cup

quick oats

¼ cup

ground walnuts
Topping:
Sliced kiwis (or kiwi berries!) and other berries.
Instructions
Mix and chill condensed milk, sour cream, lemon juice and vanilla.
To make the crust, beat butter and brown sugar until fluffy. Mix in flour, quick oats and ground walnuts until a soft dough forms.
Oil a 12-inch pizza pan and press dough onto it. Prick. Bake 10-12 minutes at 375˚F.  Cool.  Pour cream mixture on top and garnish with kiwis and other sliced fruit or berries.
Print
Becky's Oreo Ice Cream Dessert
My friend Becky made this one year for her son's birthday party. It became a family favorite, and would be delicious with Nelson's Dutch Farms Ice Cream, available at Weaver's.
11 oz

oreos, crushed

1/3

c. melted butter

1 gallon

mint chip ice cream.
Topping: (Make this when ice cream has hardened again)
One square unsweetened chocolate

2/3 cup

granulated sugar

1

small can evaporated milk

½

stick butter
Nuts or colored sprinkles
Instructions
Mix Oreos and melted butter. Spread in 9 x 13 pan and refrigerate till set. Soften the ice cream.Spread over oreo crust. Put in freezer till hard.
For topping, melt chocolate and butter. Add sugar and milk. Bring mixture to a boil. Boil 3 minutes. Cool several minutes and pour onto ice cream. Sprinkle with nuts or sprinkles. Return dessert to freezer.