Saying goodbye to summer is hard. The longer daylight hours, the warm weather, the outdoor activities, they all make life better. I must admit, though, a few things about summer leave something to be desired. Virus variants aside, I will not miss yard work, hot weather and humidity, with the last on the list being my least favorite.
Each summer morning, I fix myself up before taking my dogs for a walk. It's almost always the first thing I do after waking up. Before I make my appearance on the streets of my neighborhood, I brush my hair into presentable shape. Sometimes I wonder why, though. I leave the house looking OK, but during my walk my hair takes on the summer humidity. By the time I return home it completely flips out, and not in a cute Mary Tyler Moore way.
Listen, if you can't understand the Mary Tyler Moore reference, then congratulations for being young. You still have so much to learn. Another thing you can learn has to do with tarts. Today's recipe offers many fall parings in the best way. Apples and cheese? Check! Cheese and herbs? Check! Apples and pastry? Check! Let's put it together in this rustic savory tart.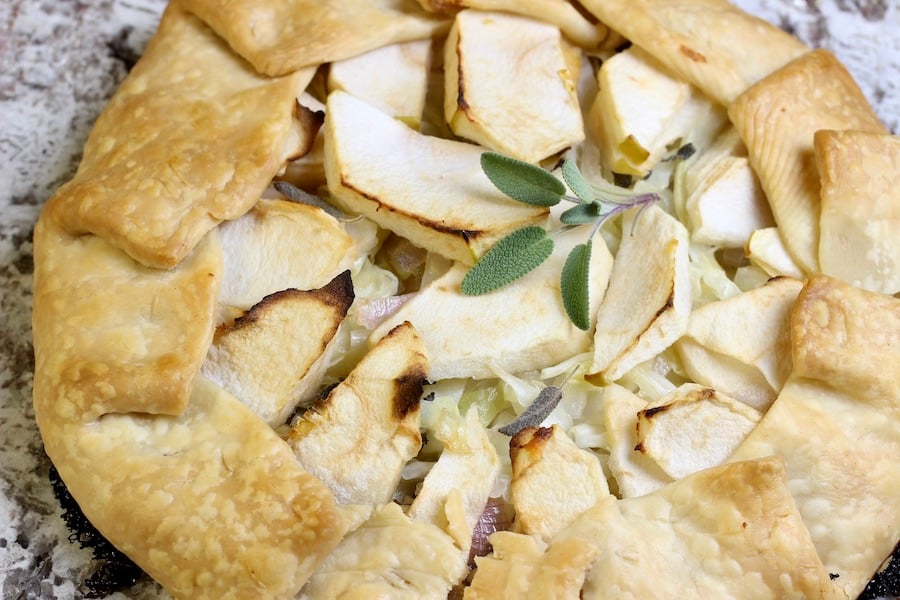 To make things easy, use a store-bought pie crust, the kind you can find near the crescent rolls in the grocery store rather than the pre-molded to a tin pan kind that you find in the freezer section. The "rustic" in the recipe refers to the fact that the folds on this creation can be a little messy. There's nothing fancy about the preparation, you don't require skills, just do your best. The result will be fancy anyway!
Check out the cheese case at Weaver's Orchard Farm Market. There are a number of good choices for this recipe there, although I tested mine using the Di Bruno Brothers Smoked Mozzarella. I also tested a vegan version of this recipe as outlined below. I loved both!
With a tart, you can take a nothing day, and suddenly make it all seem worthwhile, just like Mary Tyler Moore.
Print
Rustic Apple Cabbage and Onion Tart
Author:
Prep Time:

20 mins

Cook Time:

40 mins

Total Time:

1 hour
For the filling:
1 tablespoon

olive oil

1 tablespoon

butter (I used Earth Balance Vegan Buttery Spread)

1

medium onion, thinly sliced

3 cups

cabbage, thinly sliced

1

apple, cored and peeled, thinly sliced (I used a Smokehouse apple)

¾ teaspoon

salt
For the tart assembly:
1

prepared pie crust, thawed

1 teaspoon

lightly chopped fresh sage (substitute fresh oregano, thyme or rosemary)

1 cup

grated smoked mozzarella or cheese substitute (See note)
Note:You may substitute almost any kind of cheese. Weaver's Orchard Farm Market carries a smoked gouda that would work well here. However, Swiss cheese would also be delicious. I whipped up a little vegan cheese for my tart, because I wanted to test a vegan version of the tart too.
Instructions
Preheat the oven to 400 degrees. Position a rack in the middle of the oven.
To make the filling: In a medium skillet, heat the olive oil and the butter over medium-low heat. Add the onion and the salt and cook until translucent, about 3- 4 minutes. Raise the heat to medium and add the cabbage, cooking everything until the cabbage is wilted, about 5 minutes.
All the onion/cabbage mixture to cool for a few minutes.
To assemble the tart: Line a baking sheet with parchment or silicone mat. Unroll the pie crust onto the baking sheet. Sprinkle or spread half the cheese onto the crust, allowing a two-inch margin or border around the whole edge. Cover that with half the onion/cabbage mixture. Sprinkle with half the sage. Repeat that, for another layer. Arrange the apple slices on top. Pleat and fold the edges of the pie crust dough up and over the outer edge of the filling all the way around the tart.
Bake until golden all over, about 38 to 40 minutes. Let cool about 5 minutes before slicing and serving.
For the vegan cheese sauce, if desired:
Print
Vegan Cheese Sauce
Author:
Cook Time:

5 mins

Total Time:

5 mins
1/2 cup

water

1 tablespoon

apple cider vinegar

1 tablespoon

tahini paste

1 tablespoon

nutritional yeast

1 tablespoon

old fashioned oats

2 teaspoons

cornstarch

1 teaspoon

onion powder

½ teaspoon

garlic powder
Dash of salt
Instructions
Here's how to make vegan cheese sauce: In a small saucepan, simply whisk together the following ingredients over medium-low heat until thickened. Do not turn away from the stove. It will thicken and come together very quickly!