Local food writer and all-around talented cook Phoebe Canakis was at it again, teaching a Tuesday cooking class at the orchard. Weaver's Orchard's Brandon Hertzler, newly married and fresh from his honeymoon, introduced Phoebe and served as her able helper. They made pesto, and not just any old basil pesto, but three recipes that danced freely outside the box using alternative herbs including arugula, Thai basil and tarragon. Instead of the usual pine nuts, Phoebe chose recipes calling for nuts such as walnuts, almonds and cashews.
Formally, pesto is defined as a thick, ground herbal preparation used in sauce.
"This leaves room to play," said Phoebe.
The traditional preparation uses a mix of basil, pine nuts and cheese, but Phoebe explained that different regions of Italy where pesto originated, use different ingredients depending on availability. For example, some regions use tomatoes as a base. Arugula pesto, her first recipe, is an American variation.
No matter what the recipe, Phoebe reminded the class to save batches of pesto in the freezer in order to have it on hand.
"Because you know what happens in the winter," she said, "You're all bundled up in your sweaters, and you have an excuse to eat pizza, and you have an excuse to eat pasta with hot toppings. But then you go to the grocery store and you see those waxy tomatoes! You're just craving that taste of summer!"
Phoebe finds it easiest to freeze pesto, placing small batches into sandwich bags, rolling them tightly into logs. Batches can be stored and used over the winter months. Pesto may be stored in the refrigerator, but it should be eaten within ten days.
Three recipes to pull from your freezer when you crave that taste of summer:
Arugula Pesto
Thai Basil Pesto
Tarragon Pesto
Arugula Pesto
The following photo shows two preparations for arugula pesto, the darker green pesto using a few softened sun-dried tomatoes, and the brighter green pesto without sun-dried tomatoes.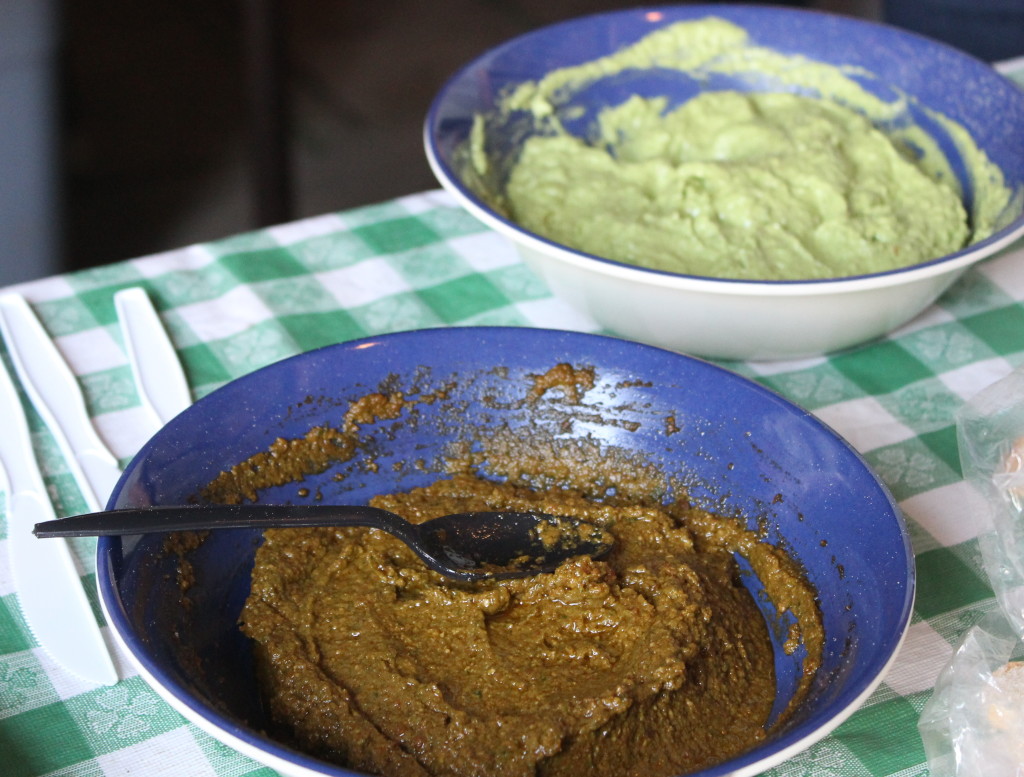 Print
Arugula Pesto
Author:
Yield:

8 Ounces

1

x
4 cups

fresh arugula

1 cup

fresh basil leaves

1/4 cup

almonds, pine nuts or walnuts

1/4 cup

grated parmesan cheese or sunflower seeds

1/4 cup

extra virgin olive oil

3

–

4

tablespoons fresh lemon juice

1

clove (1 teaspoon) garlic, peeled
Powdered cayenne pepper to taste
Salt to taste
Instructions
Puree in food processor or blender until smooth. Add more olive oil, non-dairy or dairy milk for a creamier texture.
Optional sun-dried tomato: Add 1/4 – 1/2 cup softened, sun-dried tomatoes to the puree. Soften by soaking in white wine or water. Add a pinch of dried oregano, if you desire.
Phoebe told the class that basil from the grocery store, the variety found in bags with intact roots, may be planted in the herb garden or pots at home. Even if the leaves are harvested, the plant may still come back in the garden producing more leaves.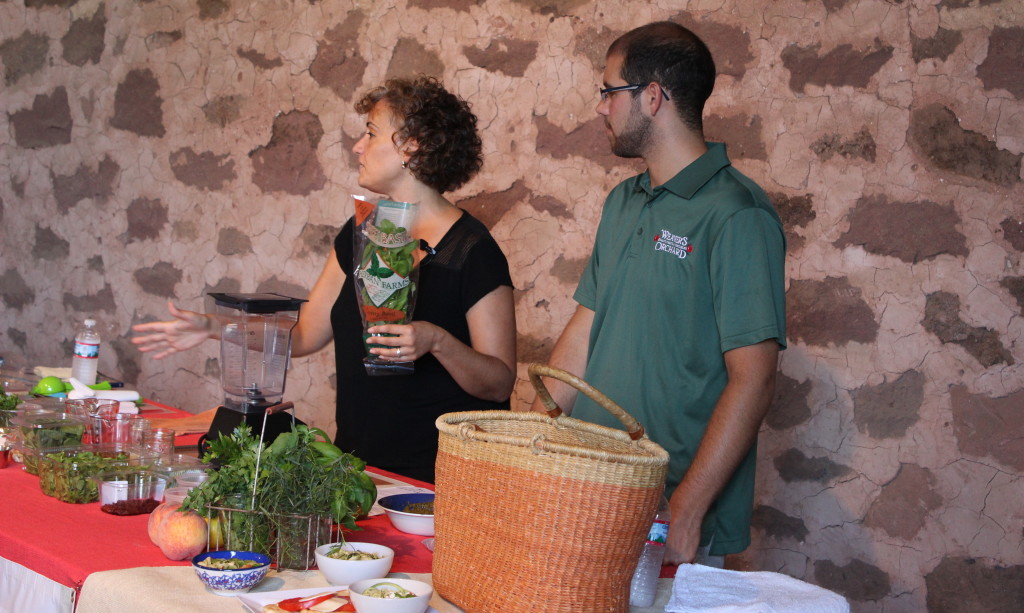 All ingredients for the arugula pesto may be placed directly into a high-speed blender or food processor. No cooking necessary!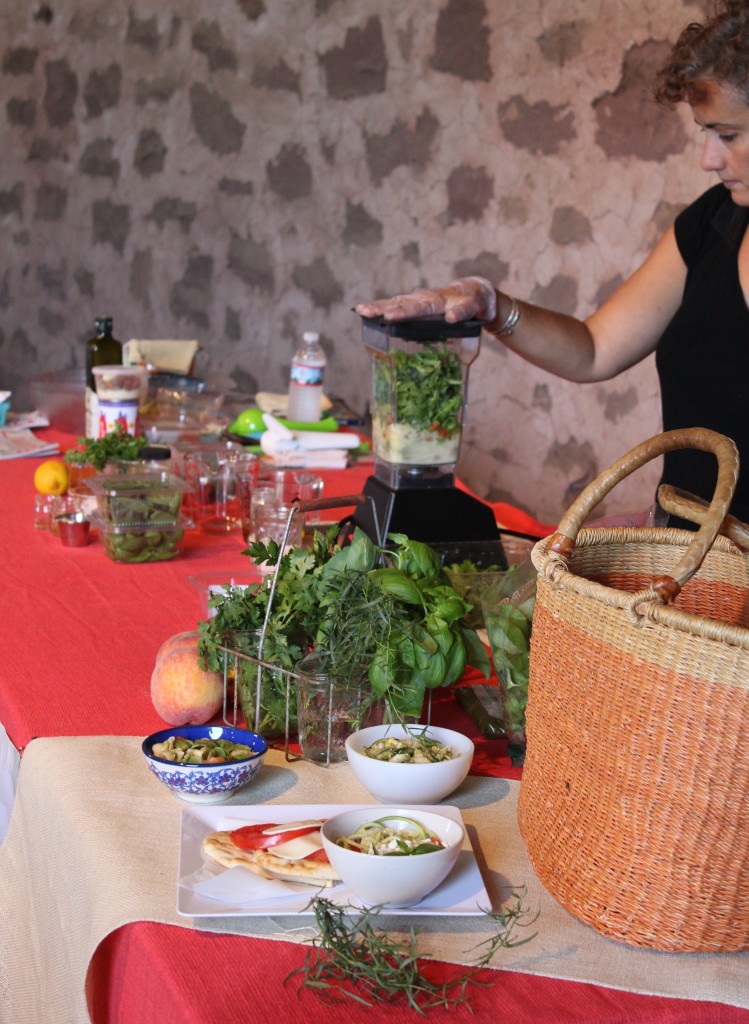 This arugula pesto makes an excellent sandwich spread for grilled cheese using Swiss cheese with tomato slices on fresh bread. It works well as a spread for naan–an Indian flatbread–served with tomato slices. Phoebe also likes to use it as a salad dressing for white beans. Simply combine three cups of white beans, two tablespoons of slivered almonds, one cup chopped zucchini or corn kernels, one-quarter cup sun-dried tomatoes and a pinch of oregano. Dress the salad with the arugula pesto to taste.
The class tasted arugula pesto on thick slices of bread.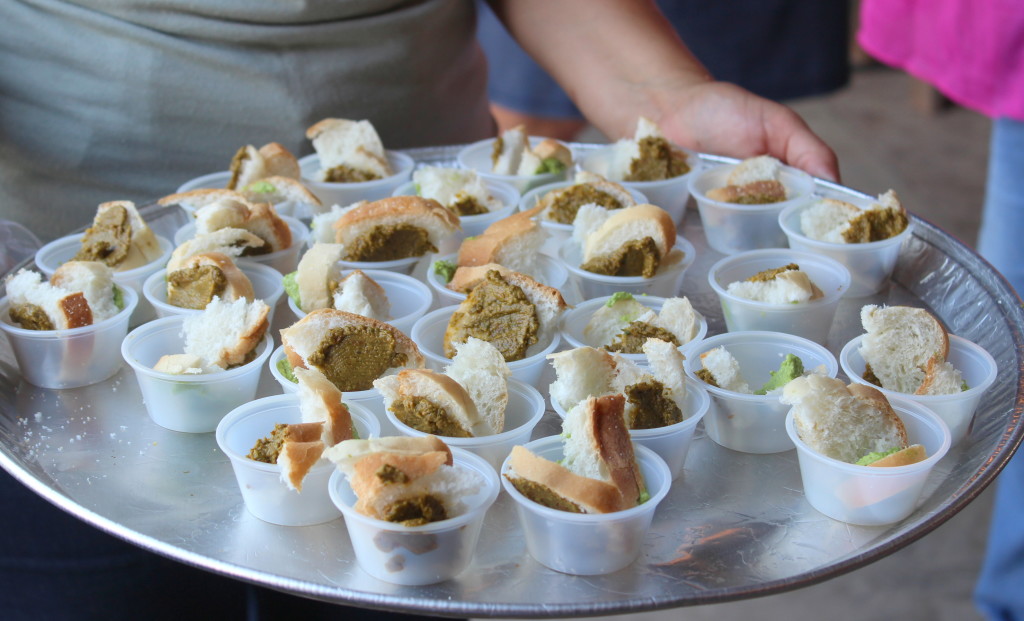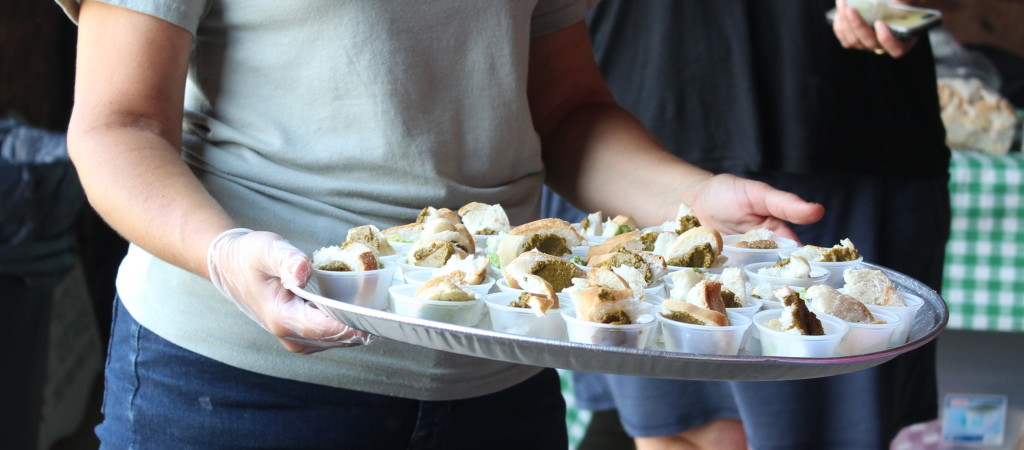 Thai Pesto
According to Phoebe, Thai pesto is nice chilled, or as an ingredient in a coconut curry soup. It also adds interest to a carrot-ginger soup. The fresh ginger and (optional) jalapeño add zest and spice! The class enjoyed the pesto over a pasta and zucchini spirals with cherry tomatoes.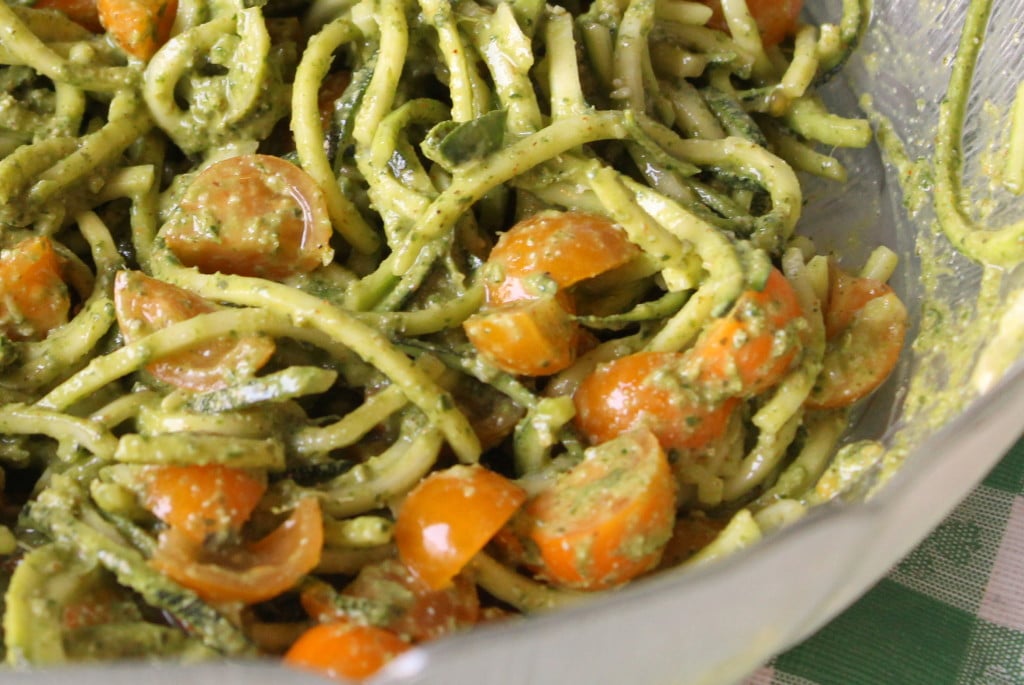 Print
Thai Pesto
Author:
Yield:

8 Ounces

1

x
1 cup

fresh basil

1 cup

fresh cilantro

1/2 cup

raw spinach

1/4 cup

raw cashews

2 tablespoons

raw and organic coconut oil
Grated peel of 1 lime

2 tablespoons

fresh lime juice

1 1/2 teaspoons

rice wine vinegar

2 teaspoons

fresh ginger, peeled (approximately

2

inches)

1

–

2

teaspoons curry powder

1/4 teaspoon

salt
Jalapeño or hot sauce, to taste
Instructions
Puree in food processor or blender until smooth. Add more olive oil, non-dairy or dairy milk for a creamier texture.
Lime zest and juice are essential to the Thai basil pesto.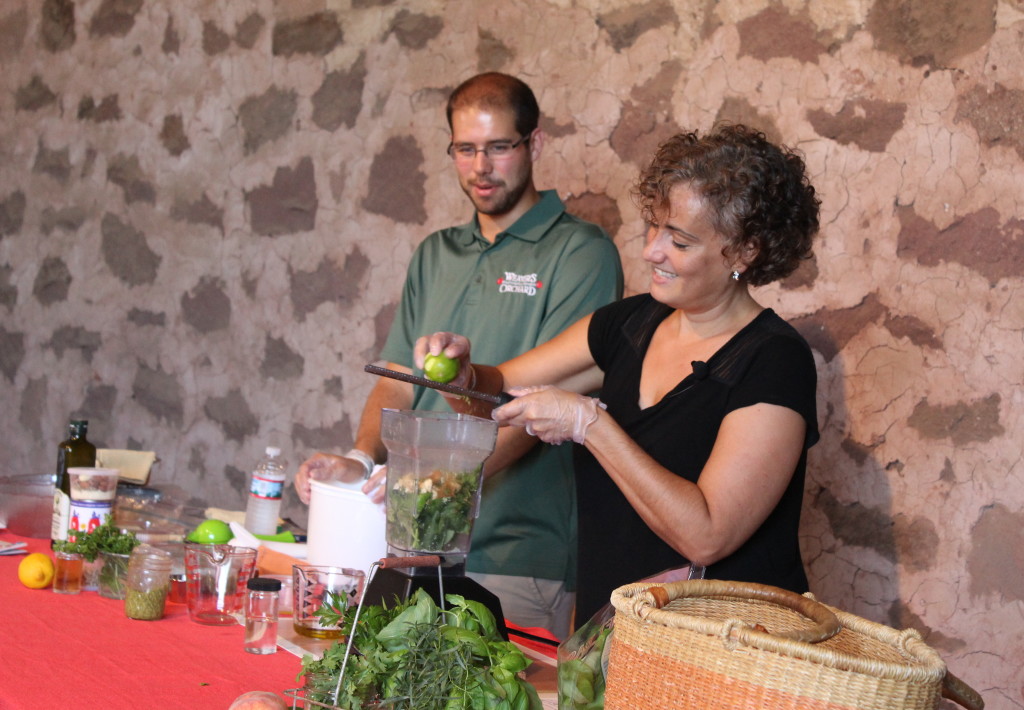 Phoebe likes to use raw, organic coconut oil, often substituting it for olive oil in different recipes, though she uses all oils sparingly to avoid unnecessary calories. The coconut oil adds especially great flavor to the Thai pesto. Shown here, coconut oil appears as a clear liquid in the hot weather, but on the cool pantry shelf or in the refrigerator, it will appear as a solid. The Weaver's Orchard market carries a good quality raw, organic coconut oil.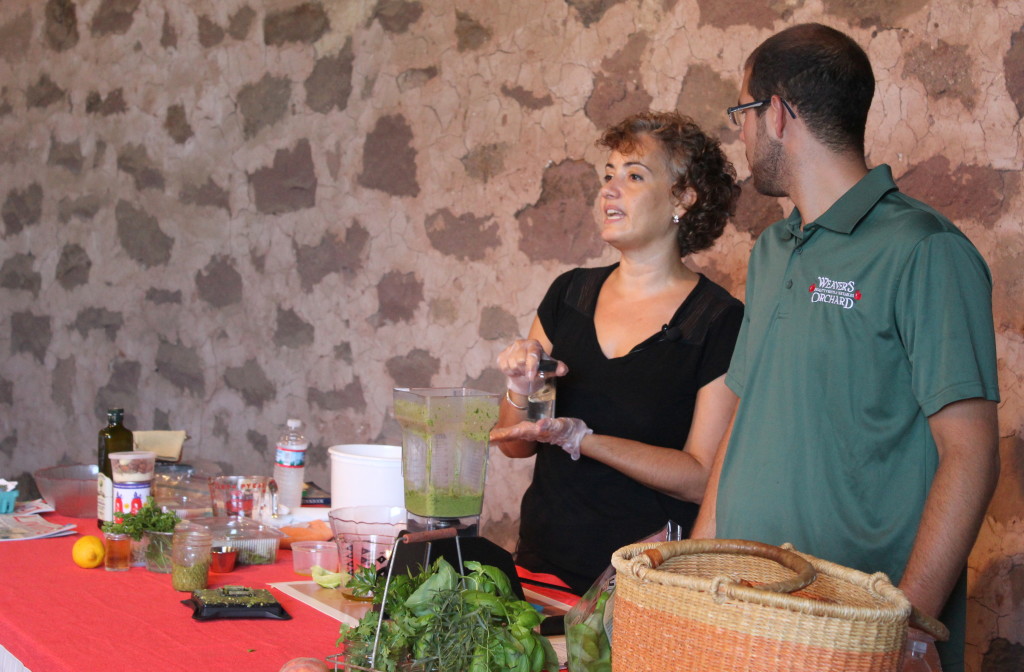 Thai pesto may be served atop hot jasmine rice, chilled rice or pasta salad. In addition to carrot-ginger soup, it works very well in a creamy coconut harira soup or as a coating for roasted or steamed vegetables. It is delicious on baked white fish or chicken.
Tarragon Pesto
If all that Thai basil and arugula pesto does not satisfy, then tarragon pesto might just do the trick!
Tarragon pesto is perfect for cooked vegetables, as a base for vinaigrette, a sandwich spread or tossed into a chilled potato, pasta or rice salad. Phoebe suggests topping two eight-ounce haddock pieces with a tablespoon of tarragon pesto and feta cheese to taste. Roast it all on the top shelf of a 450 degree oven for about fifteen minutes.
Print
Tarragon Pesto
Author:
Yield: Approximately

4 Ounces

1

x
1/2 cup

fresh tarragon

1/2 cup

fresh parsley

1/4 cup

fresh basil leaves

1/4 cup

walnuts

2 tablespoons

white wine

1 teaspoon

grated lemon peel

3 tablespoons

fresh lemon juice

1/8 teaspoon

ground pepper

1/4 teaspoon

paprika

1/4 teaspoon

salt
Instructions
Puree in food processor or blender until smooth. Add olive oil, non-dairy or dairy milk for a creamier texture.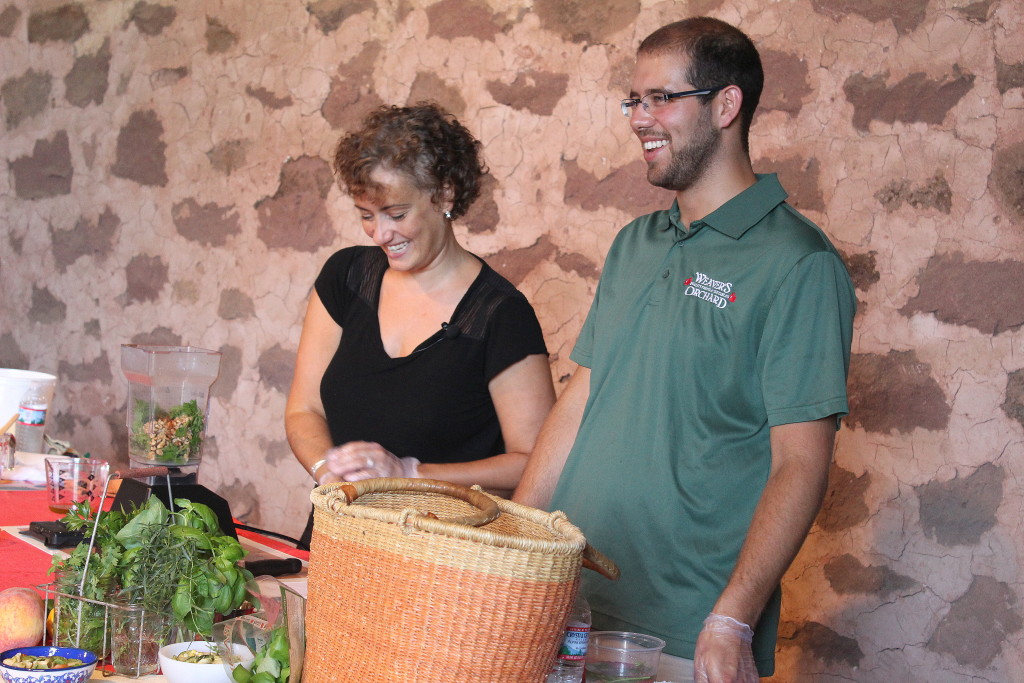 If life gives you lemons, use them for tarragon pesto!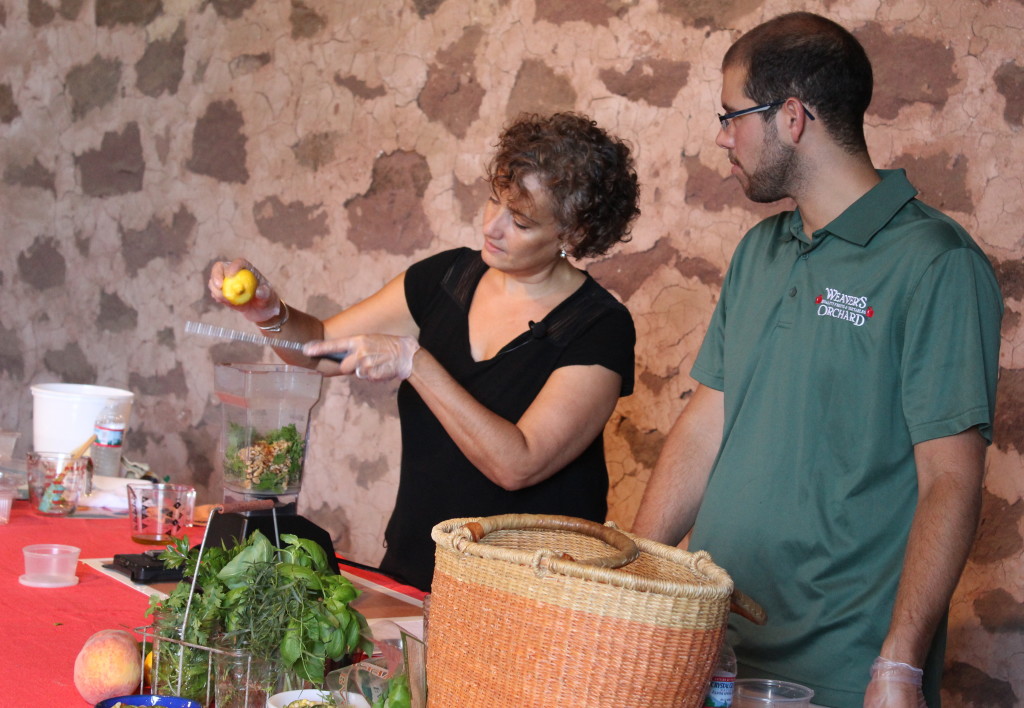 The class tested the tarragon pesto tossed with white beans and chopped sun-dried tomatoes.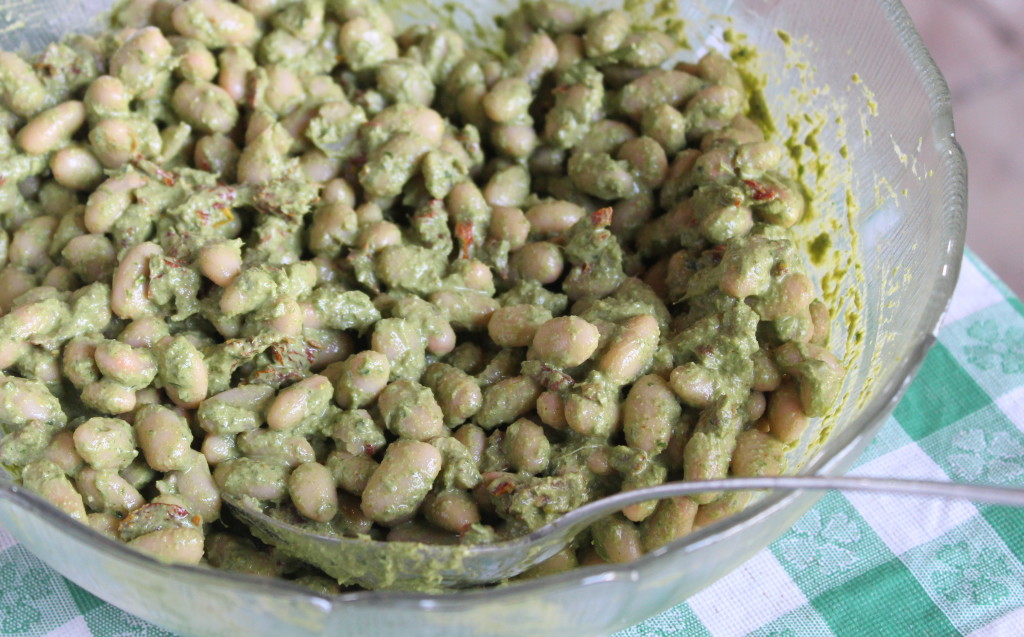 Finally, as if Phoebe's cooking talents were not enough, she offered a surprise giveaway.
"It's my birthday next week, and I keep giving away stuff on my Facebook page," she said.
Her gift was a cookbook called "Still Life With Menu Cookbook," by author and illustrator Mollie Katzen.
Not sure how to choose an audience winner, Phoebe paused. Someone suggested, "I know! I know! We can guess your age!" The class quickly joined in, shouting numbers.
Phoebe cheerfully played along, although her age is not divulged here. It is enough to say she is a young thing, and we all wish her a very happy birthday! The correct guesser and cookbook winner was Kim McKeon.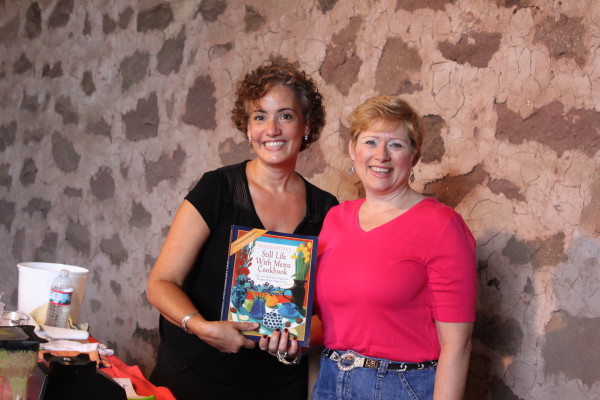 Ed Weaver joined the class to congratulate Brandon on his recent marriage. The Weaver's Orchard family was clearly happy to have him back.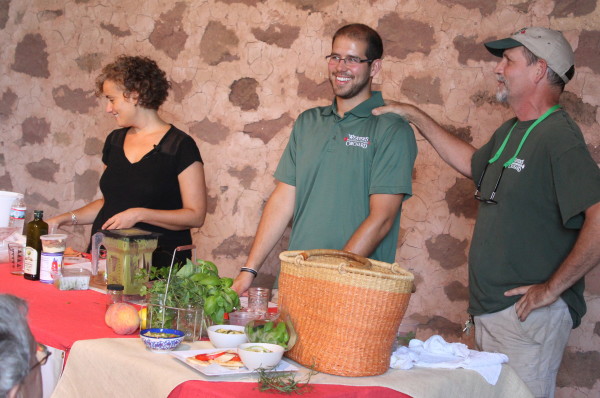 Ed reminded the class of upcoming events including:
Next week's cooking class with Julie Bancroft, executive director of the Pennsylvania Apple Marketing Program. She will share apple recipes to use apples all season, and the class will feature applesauce and apple butter tastings.
Read 'n' Pick Storytime on Wednesday, August 19th, featuring blackberry/raspberry picking and Monday, August 24 and Wednesday 26th, featuring Gala apple picking. Story time sessions are at 9:45 and 10:30 a.m.
Picking will be ready next week for Zephyr Nectarines. As pick-your-own-peach season winds down, apple season kicks into gear. Right now three varieties are ready: Sansa (a great eating apple), Dandee Red and Gingergold (wonderful for eating, baking and sauce).
Fall Family Fun Days, Saturdays mid-September to the end of October. Enjoy food, hay rides, pick-your-own fruit and kids' activities, including face painting, obstacle courses and a clown. A Family Fun Day will also be held on Columbus Day Monday.