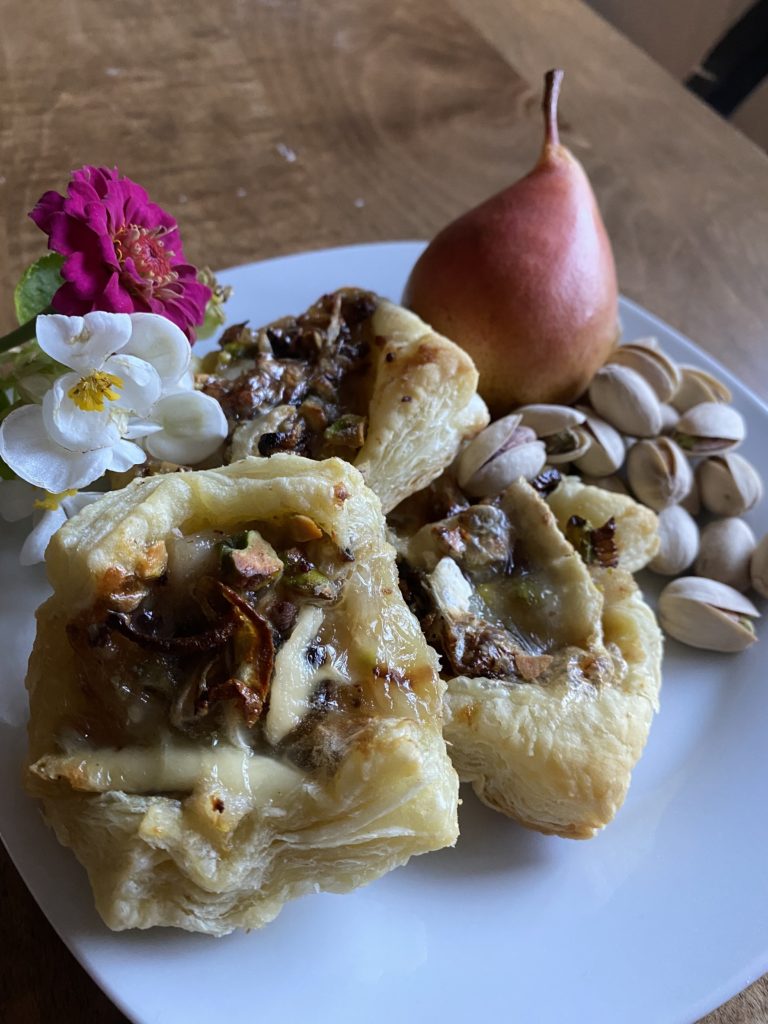 To treat one's self is to "do something good and pleasurable for yourself, but not something necessary." These savory pear chutney and Brie puff pastry bites permit just that.
In the Covid era we've all sacrificed and had to bid the more indulgent, glamorous events we had on our calendars farewell, in exchange for this new normal. Balancing work with home life and the dozens of other things that now all take place in our homes is a daily acrobatic endeavor.
This recipe will give you the excuse to make a Tuesday a little fancier, or allow you to wow the members of your Covid Crew with a little something fancier!
The sweet jammy pear chutney blends with the salty, creamy texture of molten brie and the bright kick of apple cider vinegar and ground mustard. Topped with crispy shallots and baked atop buttery puff pastry, this experiment is sure to please.
Print
Savory Pear Chutney and Brie Puff Pastry
3

Pears – Peeled and cubed

⅓

c. Shallots – thinly sliced

3 Tbsp

. Olive Oil

1 tsp

. Brown Sugar

1 ½ Tbsp

. Stone Ground Mustard

1 Tbsp

. Butter or Olive Oil

2 Tbsp

. Maple Syrup

⅓ tsp

. Bacon or Duck fat – optional

⅓

–

½

c. Pistachios – salted and diced
Pinch of salt
Cornstarch or Flour to thicken if needed
Brie – 1 8oz. wheel cut into triangle wedges – rind removed if desired
Puff pastry – 1 sheet frozen
Instructions
*Begin to thaw the frozen puff pastry as per directions.
Caramelized Shallots
Heat olive oil in a medium skillet over low heat.
Add shallots to pan and cook for 4-5 minutes, stirring occasionally until they begin to soften.
Sprinkle brown sugar over shallots and cook for 15 minutes or until golden, stirring occasionally, remove from heat when caramelized. Be careful not to burn. As they cook, shallots will crisp up.
Pear Chutney
Using an apple slicer, cut and cube peeled pears, remove centers.
Remove salted pistachios from their shells and discard skins. Dice/rough cut and set aside.
Add olive oil/butter to a medium saucepan over medium low heat.
Add pears, and maple syrup to saucepan once fat is heated. Cook over medium low heat for 5-7 minutes stirring occasionally. You want the pears to release some of their juices and begin to soften.
Add in a pinch of salt, stone ground mustard, and animal fat (for greater umami) cooking for another few minutes.
If there is a lot of liquid, ladle off about ¼ cup of liquid and create a slurry with cornstarch or flour. Mix thoroughly and return slurry to saucepan. Increase heat to get a simmer for 1 minute to thicken. Remove from heat and set aside.
Assembly
Preheat your oven according to puff pastry directions.
Carefully lay out puff pastry on a lightly floured work surface. Using a pizza cutter, cut into 9 evenly sized square.
Once pear chutney has cooled and is stable, dollop a spoonful amount in the center of the puff pastry square. Sprinkle some diced pistachios on top, and finish with a wedge of brie cheese.
Gently fold the pastry edges up to make a small dish to the best you can, this will help in the cooking process and will prevent spillage. Brush a simple salted egg wash over edge of exposed pastry.
Cook for 10-15 minutes, or until pastry is golden brown.
---
Here are some other pear recipes you'll love!