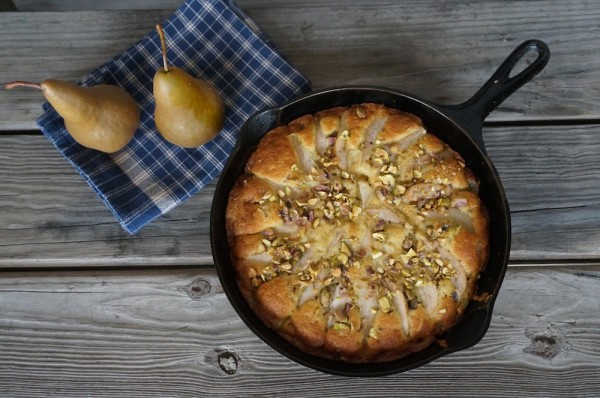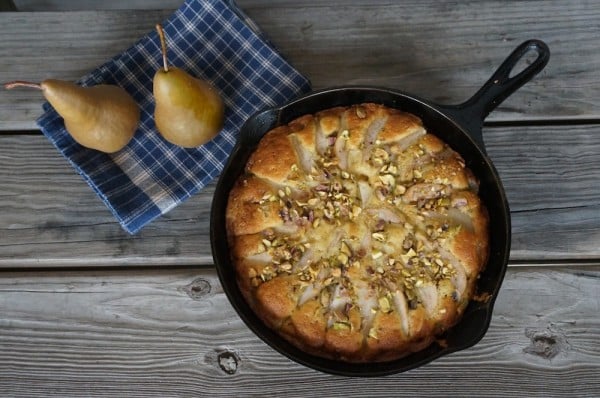 When it comes to fall fruit, apples get all the glory. I guess they deserve it in many ways. They're versatile, tasty, and long lasting. Plus, they come in lots of varieties—each one colorful enough to add to a centerpiece.
But even though we love our apples, there's another fall fruit that's bursting with flavor and nutrients: the humble pear. An apple a day may keep the doctor away, but some recent studies tout amazing benefits from eating pears.
According to the website, The World's Healthiest Foods,  new research has shown that pear skin contains phytonutrients including antioxidant, anti-inflammatory flavonoids, and potentially anti-cancer phytonutrients like cinnamic acids. Certain flavonoids in pears also help lower the risk of Type 2 diabetes.
That alone is enough to whet my appetite for any pear, but there are several varieties to choose from—each a little different, all delicious. Having tried every kind available at Weavers, I can't decide on a favorite!  But each one I sampled was perfectly ripe, because "checked the neck", as described below.
Asian pears are the oldest know cultivated pear, but they may be a new variety to you. They are round and firm, like apples, and have rough, yellow or yellow-brown skin. A perfectly ripe Asian pear should have a sweet, strong aroma and be very firm. Avoid ones that are soft, wrinkled or bruised. A ripe Asian pear is a treat—crisp, honey-sweet, and bursting with juice. They are a delicious addition to salads and make perfect snacks. (Available NOW)
Bartlett pears were the only ones I knew about when I was growing up. Apparently, I'm not alone. If you mention "pear" to someone, they most likely will envision the shape and taste of a Bartlett pear. Bartletts are flavorful and juicy, but bruise easily when ripe. If you buy them green, they will ripen at home. Just keep them at room temperature, then refrigerate when they're ripe. (Finished for the season). 
Red Bartletts differ only slightly in flavor, but some people (like me) prefer them—maybe just because they're not the "ordinary" pear I grew up with. (Finished for the season)
Anjou pears are more egg-shaped than pear shaped. Green anjous change color only slightly when they ripen. Unlike Bartletts, a fully ripened Anjou is bright green. To test for ripeness, check the neck. Press your thumb near the stem of the pear. It should give a little. Pears ripen from the inside out.  Since the neck is the narrowest part, it will indicate when the pear is ripe. If you wait until the bottom half of the pear is soft, the inside will be over-ripe. (Available NOW)
Red Anjous are shaped just like green ones, but have dark red skin. Use the thumb test to "check the neck" and determine whether the fruit is ripe. If they're not ripe when you buy them, let them sit at room temperature for a few days.  A Red Anjou has a mild, sweet flavor, smooth texture and succulent juices. It's one of the best tasting pears of the season! (Coming SOON)
Bosc pears have a rough textured, yellow-brown skin and elongated neck.  They are excellent for eating, if you prefer a crisp pear. Not only does their firm flesh make them a perfect choice for baking, but strong spices like cinnamon, clove or nutmeg will not overpower their mild flavor. To check for ripeness, "check the neck", but keep in mind that Bosc pears will not be as soft as some varieties. As with other pears, ripen them at room temperature and then refrigerate them. (Available NOW)
Seckel pears, the smallest commercially grown pear, may be the only true American variety. While European immigrants intentionally planted other varieties, the origin of Seckels is uncertain. They were discovered just outside of Philadelphia in the 1800's. Whatever their origin, they are so sweet, they're often called "sugar pears". Their compact size makes them perfect snacks for children, and they add color and interest to fall fruit baskets. Their olive colored skin sometimes has a dark red blush. They may even be red all over. Check the neck to pick the perfect Seckel pear! (Available NOW)
Harrow Sweet pears are a hybrid variety developed in Ontario as a fire blight-resistant alternative to the Bartlett.  Their white flesh is sweet, flavorful and juicy. Though they ripen a little later than Bartletts, they  are similar in size. Look for yellow skin, sometimes with a red blush and some russetting. If the neck does not yield to gentle pressure when you buy them, let them ripen on the counter at room temperature. (Available NOW)
Find out more from our source: USA Pears.
Mom's Skillet Pear Cake
For this rich and tasty cake, I use Bosc pears because they retain their shape and texture better than some other varieties. I make it in my mother's cast iron skillet, which she passed on to me when she purchased new lightweight cookware. Just bringing out that heavy old pan conjures up all kinds of memories. She used it for everything, from bacon and eggs to baking cakes. You can bake this in any pan, but the cast iron skillet gives it a warm, homey look on a chilly fall day.
Print
Mom's Skillet Pear Cake
¼ cup

butter

1 cup

sugar

2

eggs

1 teaspoon

vanilla

1 teaspoon

grated orange peel

1 ¼ cup

flour

1 teaspoon

baking powder

1 teaspoon

baking soda

¼ teaspoon

salt

1 teaspoon

ginger

2 cups

peeled, finely chopped Bosc pears

2

peeled, thinly sliced Bosc pears

1/3 cup

chopped pecans or pistachios
Instructions
Preheat oven to 350˚F. Butter the inside of an 8 or 9 inch cast iron skillet.
Cream butter and sugar.
Beat eggs, vanilla and grated orange peel until light and fluffy.
In separate bowl, mix flour, baking powder, baking soda, salt and ginger.
Mix dry ingredients with creamed mixture. Beat till just blended. Batter will be very stiff. Add chopped pears to batter. Mix well and spoon into skillet. Spread evenly and top with sliced Bosc pears and pecans. Bake at 350˚F for 35 minutes. Serve warm with ice cream.
* * *
Pear Crisp
When we moved into our house, we were blessed with several kinds of pear trees. Our girls loved to pick pears, but the Bartletts were so abundant, we couldn't eat them all. So one day we substituted pears in an Apple Crisp recipe. The results were delicious. Today I made Pear Crisp with Bartlett pears and Wildwood Apple or Peach Crisp Mix. (available at Weaver's) It was quick, easy and flavorful—and wonderful served warm, with ice cream.