Cobblers are a staple of late summer baking. They come together quickly without much fuss, are versatile and can easily exchange various types and combinations of fruit. The "rules" of this dessert however have come into question for me lately. While doing a shift in Pick Your Own at Weaver's Orchard, my coworker and I were discussing the merits of a true cobbler. We came to the conclusion that a proper cobbler should have a cobbled top. That is, islands of a biscuit type dough floating amongst piping lava hot fruit filling.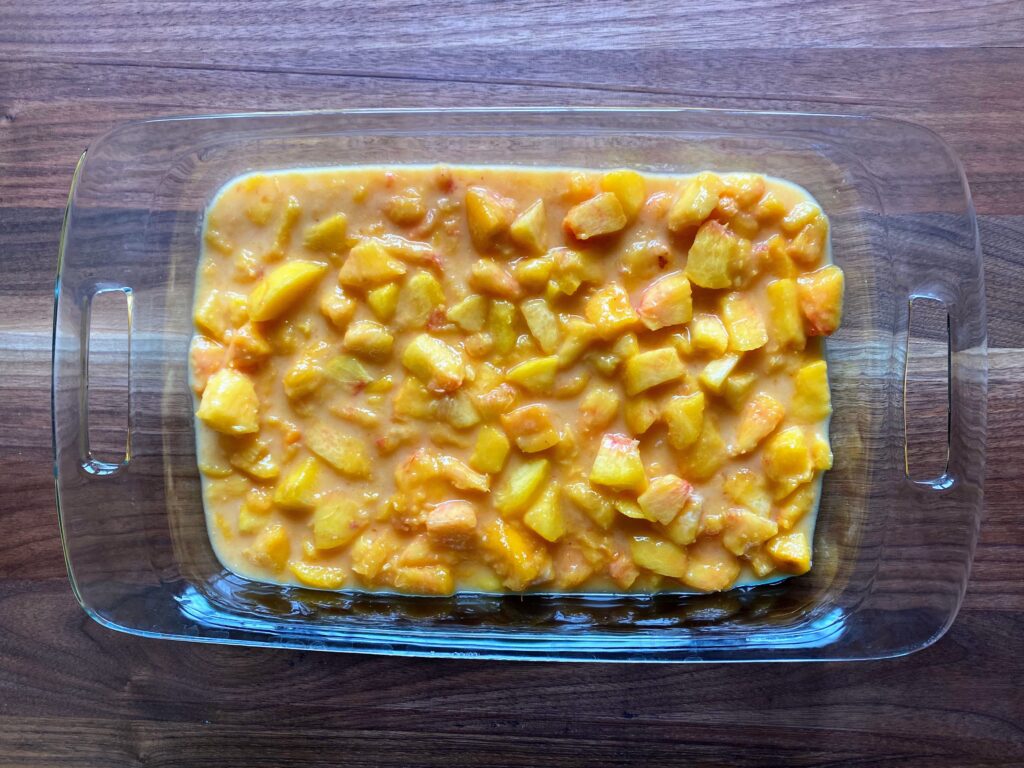 Desserts that have a homogeneous top across the entire fruit layer, simply cannot be considered a cobbler. As the name suggests, a cobbler must appear, well cobbled. It should appear similar to an old cobblestone street, which interestingly enough may be why as far back as the 1850's these desserts have found their name origin.
If you've ever made cobblers, with either a proper topping or not, you may have run into a frustrating issue, somewhat raw dough in the pastry topping. For something that is so easy, it is a disappointment when this happens. Well, the reason I call this a Peach Cobbler 2.0 is because I've discovered a few tips to help mitigate and avoid raw or under-cooked pastry: using pectin to thicken the fruit mixture and adding a scone topping instead of a batter topping.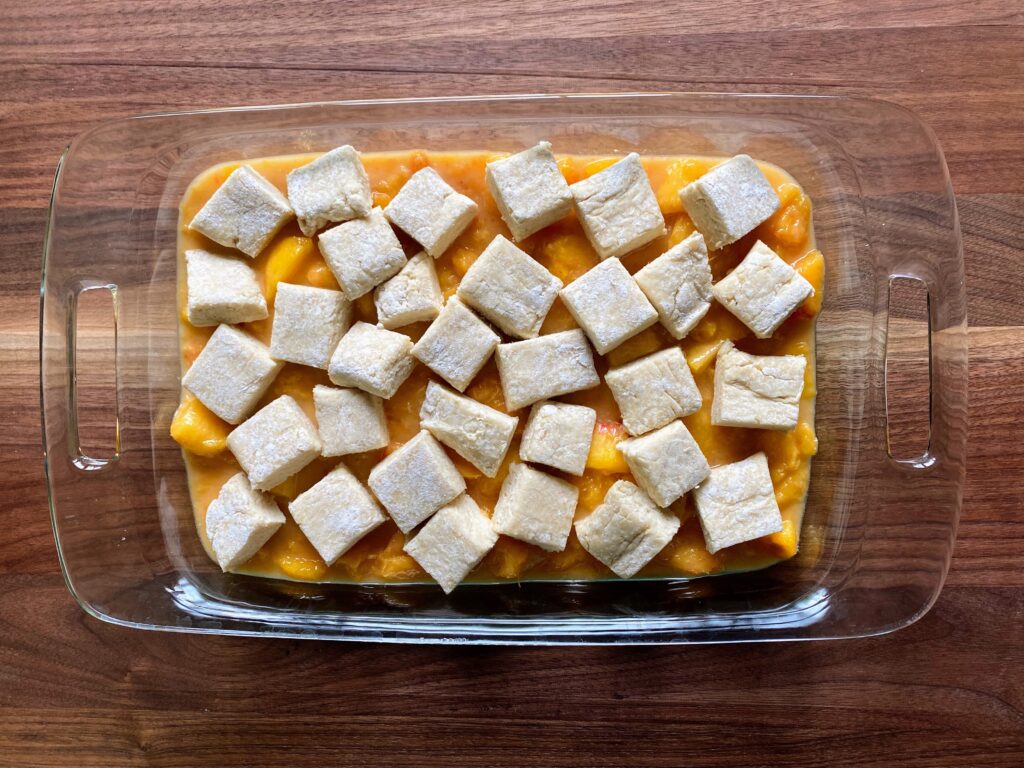 You'll take just a bit of time to macerate the fruit, chill the dough, create a peach mortar (yes sticking with the construction theme), and add a combination of pectin and cornstarch to thicken the fruit filling. After peeling and dicing the peaches, mixing the sugar and salt in right away will allow some of the juices to be released from the fruit.
However, we aren't going to throw away the juices that are released, we will incorporate a bit of pectin in and use that to help thicken the fruit filling. A peach mortar is nothing more than taking about a cup of the macerated peaches and crushing them with a fork. Now, you filling will have distinct chunks of peaches – almost a custard of peaches and the stabilized juices as well.
Finally, taking some time to chill the scone top will keep them from spreading too quickly once they're in the oven, keeping a beautifully cobbled top to the cobbler.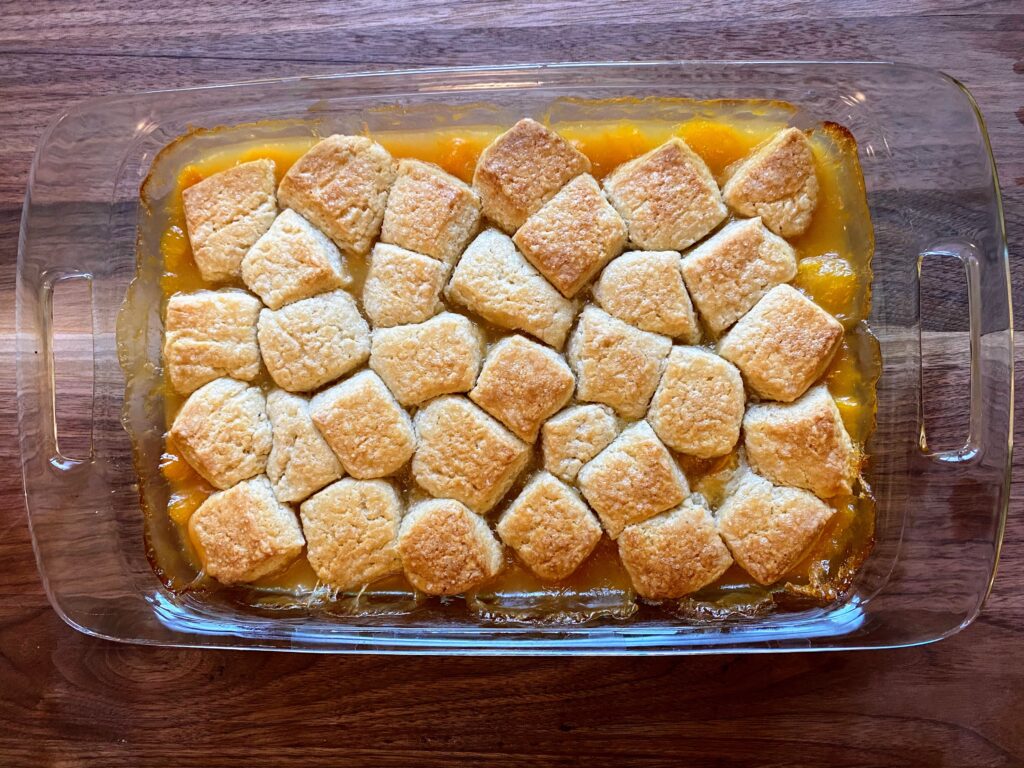 Ingredients:
Fruit Filling
3lbs of un-pitted ripe peaches
2-3 Tbsp. of lemon juice
⅔ cups sugar
4 Tbsp. of cornstarch
2 tsp. fruit pectin
⅛ tsp. Salt
Buttermilk Scone Topping
2 cups flour, plus more for the working surface
1 tsp. baking soda
½ cup sugar
½ cup unsalted butter, frozen and grated
1 tsp. vanilla extract
1 tsp. salt
1 cup buttermilk, or buttermilk substitute (1 Tbsp. of vinegar with ⅔ c. whole milk + ⅓ c. sour cream) with 1 Tbsp. reserved for brushing the scones prior to baking
1 Tbsp. coarse sugar and a pinch of salt to top scones prior to baking
Directions
Add the prepared fruit, skins and pits removed and cut into large pieces, along with sugar, lemon juice, and salt to a large bowl. Gently stir to incorporate and allow to sit and macerate for up to 1 hour.
Begin the scone dough by mixing all dry ingredients in a large bowl. In the bowl, use a grater to grate the butter. Cold ingredients are ideal here, and a baking hack to keep you butter from melting if you have "hot hands" is keeping a good coating of flour on the butter. Rolling the butter stick in flour, grate about 1 Tbsp. of butter at a time, tossing the grated butter gently into the dry mixture as you go. Once all of the butter has been grated, work the butter into the dough by pressing it into your thumbs and fingers and rubbing forward. The dough will be shaggy, like a pie dough with chunks of butter nearly all worked in.
Make a well in the mixture and pour the buttermilk and vanilla. With a fork, make hashtags though the well, slowly incorporating the dry ingredients into the wet. Scrape around the outside of the bowl, and the hashtag again. Do not over-mix the dough. It's okay if there are wet and dry pockets.
On a floured working surface, dump the dough out and gently incorporate into a single, more incorporated dough. Using your hands, press evenly until you have roughly a 2 inch tall rectangle. Fold ⅓ of the dough rectangle toward the middle, gently press, and fold the opposite ⅓ on top. Gently press out until ½ inches tall. Put into the refrigerator for the remainder of the 1 hour macerating time for the fruit.
As the end of the hour nears, heat your oven up to 400 Fahrenheit.
Remove ½ c. of liquid from the peaches. In a small saucepan over medium heat add 2 tsp. of pectin to the liquid. Heat until small bubbles form, stirring often, and the mixture begins to thicken. Turn off heat, but leave the pan on the burner.
Make your peach mortar by scooping out 1 c. of peaches and mash with a fork.
Add the cornstarch to the remaining peaches, then add in peach mortar, and the pectin juice mixture, gently mix to incorporate and pour it all In a 9 by 13 pan.
Take the scone dough out, and cut into 1 inch cubes. Place on top of the fruit filling and brush each with reserved buttermilk/cream and sprinkle with sugar.
Bake at 400 for 40-45 minutes.