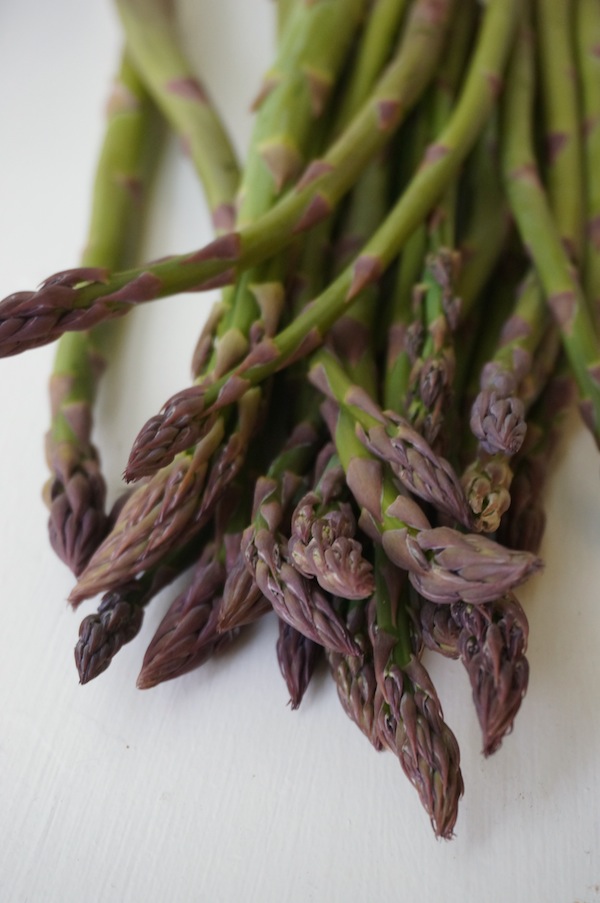 As one of the top superfoods, asparagus is always one of the smartest choices for greens to chomp down on enjoyably at the dinner table.
Asparagus shares lineage with onions and garlic, as well as the bloom-ready tulips and daffodils of springtime and lilies of summer months. The crop known for its tastily-topped spears brings with each bite not only antioxidants like lutein and carotene but also a rich supply of folate.  Among its many health benefits, folate ensures that babies develop well in the womb, so this nutrient is especially important for pregnant women.
Iron, copper and potassium are a few minerals found in asparagus. Iron's efforts ensure that the cells in our bodies get enough respiration, while copper plays a part in producing healthy red blood cells. Potassium positively influences heart rates and blood pressure by lessening the effects of sodium.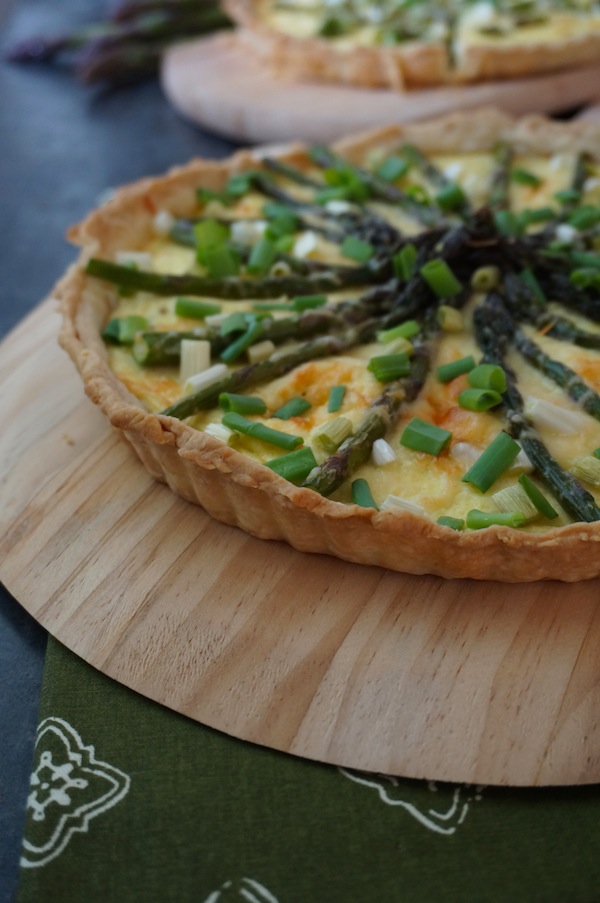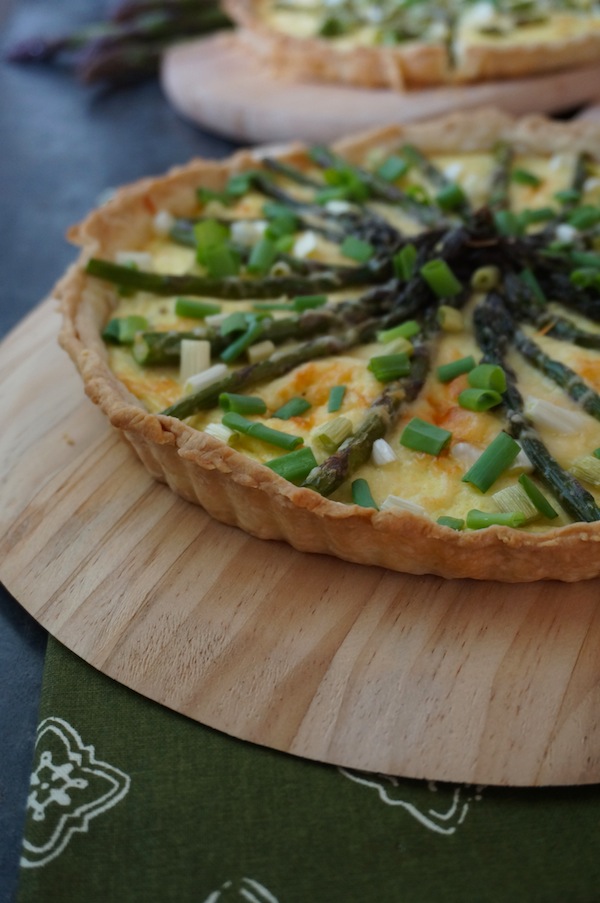 Time and Dedication
Some might not realize how long asparagus has been developing before you bring it into your home and let it mingle with your meals.
"An asparagus planting is usually not harvested for the first 3 years after the crowns are planted, allowing the crown to develop a strong fibrous root system," explains the Michigan Asparagus Advisory Board.
That Unmistakable Smell
And some know from experience that eating asparagus can send nostrils in an upward twist a few hours after you've devoured the vegetable. This line from a character named Eugene in the 2003 film Elf says it all, as a publishing team is brainstorming a new children's book idea: "What about this: a tribe of asparagus children, but they're self-conscious about the way their pee smells."
Retired Berks County urologist Dr. Harlan Kutscher notes that an amino acid called asparagine may be partially behind the stink.  While the exact cause is still debated today, some also say a sulfur compound found in asparagus is the stench-rich culprit.
Keeping It Fresh
One way to keep asparagus lasting longer in your fridge is to sit the stalks in a few inches of fresh water in an upright container. The asparagus will stay firm and flavorful if you take this easy approach instead of letting them rest on their sides, dry, in the refrigerator.
So Easy To Enjoy
It's easy to roast freshly-picked asparagus in just a few minutes at your stove. You can leave the stalks whole or cut them into bite-size pieces. Pour some light olive oil into the pan, and once the stove warms up to around medium heat, begin turning the asparagus to better distribute the heat.
After a few minutes, being sure not to overcook the asparagus, remove the pan from the stove and scoop the stalks or cut pieces onto a plate. Sprinkle pink salt or parmesan cheese lightly overtop of them. Next, find the closest fork. And feel good knowing you are eating such a smart food.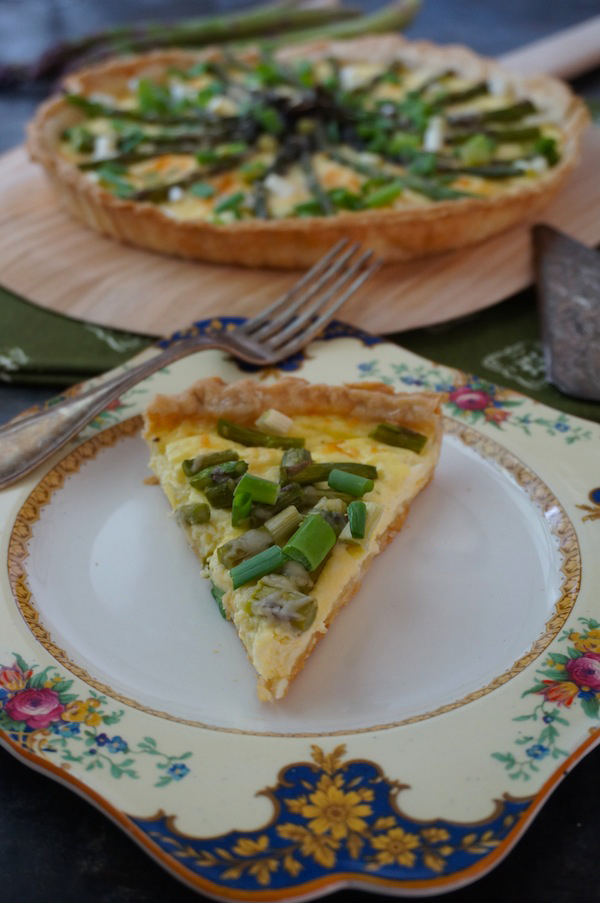 Print
All in the Name of Asparagus
Asparagus & Spring Onion Quiche Recipe Type : Breakfast, Lunch, Dinner Cuisine: Traditional Author: Rachel's Farm Table
Author:
Prep Time:

15 mins

Cook Time:

40 mins

Total Time:

55 mins
CRUST

2 1/2 cups

flour

1 teaspoon

salt

2/3 cup

butter

8

–

19

tablespoons cold water
QUICHE FILLING

8

eggs

1 cup

milk

1 cup

plain Greek Yogurt, such as Fiddle Head Dairy's yogurt

1 teaspoon

fresh thyme

1 tablespoon

fresh parsley, chopped

1 cup

shredded cheddar or gruyere cheese
Freshly cracked black pepper
QUICHE TOPPING

1

lb. asparagus

1 tablespoon

olive oil

2

cloves garlic, minced

6

–

8

green onions

1/2 cup

shredded Parmesan cheese
Instructions
Makes two 11-inch quiches
Crust instructions:
Preheat oven to 400 degrees F.
Stir flour and salt together in a medium bowl. Cut in butter using a pastry blender.
Slowly add in water one tablespoon at a time over the flour mixture, gently stirring with a fork with each addition until it reaches the desired moistness. Form into a ball.
On a lightly floured surface, roll out dough into about a 13-inch diameter circle.
Transfer pie crust to an 11-inch tart pan so that the edge reaches just above the tart pan.
Trim crust as needed. Prick the crust with a fork, cover with aluminum foil and bake in pre-heated 400 degree oven for 10 minutes. Remove from oven and fill with quiche filling (see below).
Filling Instructions
In a medium bowl, whisk together eggs, milk and plain yogurt. Add thyme, parsley, cheese and pepper. Divide among the two prepared pie crusts.
Bake (without topping) in pre-heated 400 degree oven for 12-15 minutes until the quiche has set.
Meanwhile, wash asparagus. Trim off ends and discard. Cut in half so that you are left with two 3-inch sections of the stalks (spears and stalk). In a large saute pan over medium heat, saute asparagus with oil and minced garlic just until bright green and becoming soft. Slice green onions and set aside.
Remove quiches from oven and arrange asparagus spears/stalks in a pinwheel fashion. Top with remaining green onions and parmesan cheese. Bake an additional 12-15 minutes until the cheese is golden brown and a fork comes out clean.
Serve hot or cold for breakfast, lunch or dinner!
—
Article written by Jennifer Hetrick and coordinated by VanDuzer Design & Marketing for Weaver's Orchard Farm Market and may also be syndicated on Fig: West Chester and Rachel's Farm Table.
SaveSave