If you are trying to stay healthy this winter and include many salads in your weekly menu, may I suggest including a broccoli salad to mix things up? That way you can stay on track with incorporating lots of veggies, but also treat your palate to some variety.
There are a few things I love about this broccoli salad in particular.
1. It uses the whole head of broccoli: stalk, leaves and all!
Many broccoli salad recipe instructions say to just use the florets. But you want to know a frugal secret? You can use the whole stalk of broccoli (just chop off the last inch or so, which tends to be too tough). And if you are lucky enough to have purchased broccoli with a few delicate leaves attached, keep those too.
Simply dice the stalk, shred the leaves, and add them to the bowl along with the florets. There's so much flavor in this recipe that it's easy to get away with adding the stalks. It gives you a more plentiful salad, which is frugal, and it also reduces waste. (But that's a topic for another blog article; take a look at this one for ideas on how to incorporate much more that is quite edible but usually goes to waste!)
2. Its texture is anything but boring!
With crunchy broccoli, nutty sunflower seeds, crispy bacon and chewy super-sweet golden raisins, there's a lot of texture variety in each bite.
3. It's zippy!
Those red onions are a flavor powerhouse! They add interest and zest to the recipe. (Just make sure everybody around you eats some of this salad, too!)
4. It's lightened-up.
Since there is so much broccoli in this recipe–especially if you are using the stalks–this recipe already receives high ratings for health. But if you use turkey bacon, you reduce the fat content significantly. You can also opt for a lower-fat dressing variety.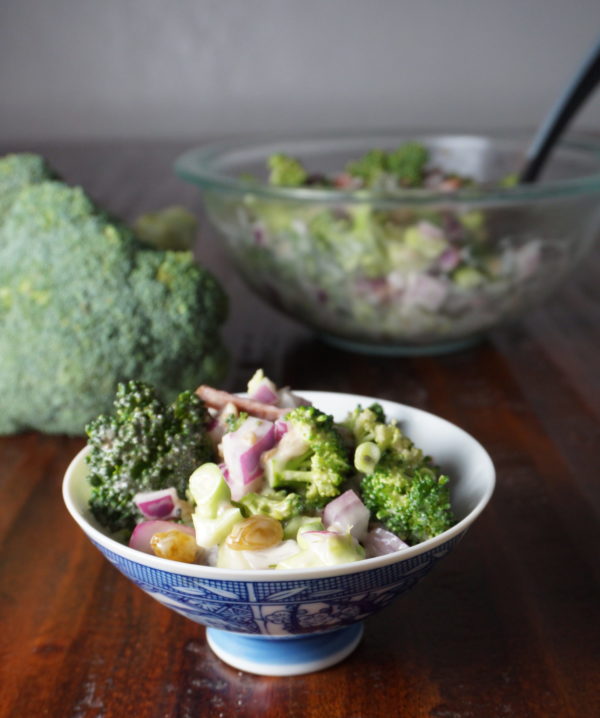 Print
Lightened-up Broccoli Salad
Author:
Prep Time:

20 mins

Total Time:

20 mins

Yield:

8

1

x
1

head of broccoli, including stalk and leaves
Half a red onion, diced

1/2 cup

golden raisins

1/4 cup

sunflower seeds

4

slices cooked turkey bacon, chopped

1 cup

creamy dressing, such as Weaver's Orchard Garden Ranch dressing
salt & pepper
Instructions
Chop the broccoli into small florets. Dice the stalk. Shred the leaves.
Mix broccoli, onion, raisins, sunflower seeds and bacon in a large bowl. Season with salt and pepper. Top with salad dressing. Mix all ingredients together.
Refrigerate for at least one hour, then serve.
We are getting so close to the local growing season. Before we know it, the first asparagus will appear and we'll know that it's spring. In the meantime, stay strong and healthy with flavorful choices like this salad.