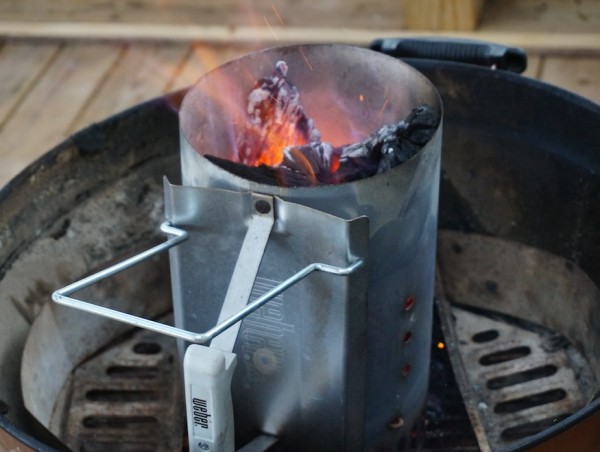 The pleasant scent of natural oak charcoal smoke wafted through Weaver's Orchard's garden center area last Wednesday, June 5, 2013, as Ed Deren and his family prepared a mini feast for the 50+ people who gathered to learn Ed's grilling tips, tricks and recipes. On the menu for the grilling class was turkey burgers made with avocado, free-range Lone Star Farm beef burgers and herb-basted Delmonico steaks, corn on the cob and flat breads topped with tomato and gourmet cheeses.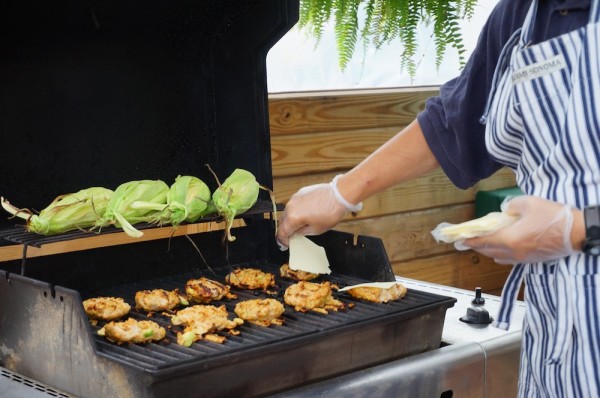 Ed began his demonstration with his turkey burger recipe, which used free-range ground turkey found in our market mixed with sliced avocados to add some extra fat to the very lean meat. "The key to making your own burgers without having them fall apart is to wait until they are thoroughly cooked on the bottom so that you only have to flip it once," Ed explained. How do you know when it's ready? With burgers, the best way is just to see what they look like when you flip them. Until you learn that right "look," you can try taking a peak at the underside to make sure it looks half-way done. See the pictures and recipe for reference.
Print
Grilled Turkey Burger
1

package lean ground turkey
Smoked Paprika
Onion and garlic powder
Salt and Pepper to taste
One full avocado mixed in with turkey meat
Instructions
Place small thumb print in center of each burger
Prepare grill to medium high temperature, cook each burger four minutes per side, if flare ups start, move burger, try to only flip burger once
Add desired cheese last minute of cooking
NEVER press a burger down with spatula, this will push all the good juices out of the burger!
Print
Grilled Holiday Sliders
1

package ground beef
One half packet onion soup mix in ground beef
Instructions
Dimple center of each burger
Prepare grill to medium high temperature cook each burger four minutes per side, if flare ups start move burger, try to only flip burger once
Add desired cheese last minute of cooking
NEVER press a burger down with spatula, this will push all the good juices out of the burger!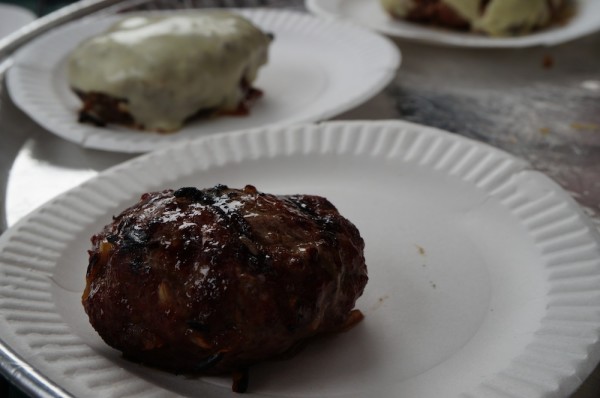 While the burgers were cooking, Ed demonstrated how to grill corn on the cob. "Peel back all but about 5 of the husks. Remove the silk. Take one of the removed husks and use it to tie closed the ends of the remaining husks. Soak them in water for about an hour, and then grill them for about 10-15 minutes on the top rack turning occasionally," Ed explained.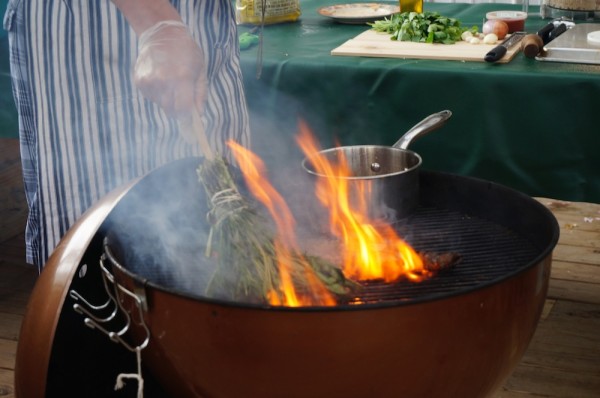 Then he moved on to the much-anticipated steak, using two Lone Star Farm steaks: Delmonico and New York Strip Steaks, available at our market. But Ed's seasoning and basting technique was quite exquisite and delicious. Prior to grilling the steak, he rubbed it with the seasoning mixture and then placed it on the grill. The total cooking time for a medium rare steak was about 8 minutes, cooked in 2 minute intervals. After the first two minutes, he basted it and rotated it 45 degrees. After the next 2 minutes, he flipped and basted it, then rotated and basted again after another 2 minutes. Just be sure to keep an eye on the flames and don't burn your hands if you attempt this at home.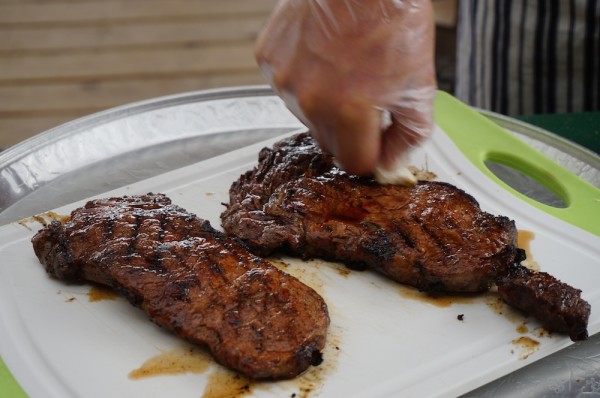 Print
Steak Outside the Box Seasoning
Basting mixture

1 cup

sea salt

1 ¼ cups

extra virgin olive oil

2 tablespoons

minced onion

2 tablespoons

fresh ground pepper

10 tablespoons

unsalted butter

2 teaspoons

kosher salt

2 tablespoons

garlic powder

1 tablespoon

soy sauce

2 teaspoons

fresh pepper

1 teaspoon

cayenne pepper

1 tablespoons

granulated sugar

1 teaspoon

red pepper

1 tablespoon

smoked paprika

2 tablespoons

crushed garlic

½ cup

beef broth

1 teaspoon

onion powder

1 tablespoons

fresh thyme
Instructions
BASTING MIXTURE:Place all ingredients in 2 quart sauce pan and bring to simmer. Let simmer 5 minutes and remove from heat. Let cool and store in refrigerator 2 days before using.
COOKING THE STEAK:
Allow steak to sit at room temperature for 20 minutes/ make sure steak is dry before adding seasoning.
Prepare grill to cook at highest temperature.
Sprinkle each side of the steak with seasoning creating a meat paste.
Place basting sauce on indirect heat for 10 minutes to warm.
Grill steak to desired wellness/ about 8 minutes for medium.
Add one handful apple wood to coals, let smoke for 1 minute.
Place steak on grill and brush top with basting brush, let grill for 45-60 seconds per side.
Turn steak and baste only top of steak, if flare up starts move steak, do not fear the flame just move meat.
Continue until you reach preferred wellness, use meat thermometer.
Remove steak to basting board and let rest for 5-10 minutes, the cooking process is still ongoing.
On clean board prepare baste, two table spoons olive oil, minced shallots, basil and parsley chopped one pinch sea salt.
Slice steak and rub through basting board.
Serve and enjoy!
Basting Brush
Combine rosemary, thyme and sage use butchers twine to secure herbs to the end of a wooden spoon.
After the steak cooked, he rubbed it with a fresh clove of garlic to give it an extra punch of flavor.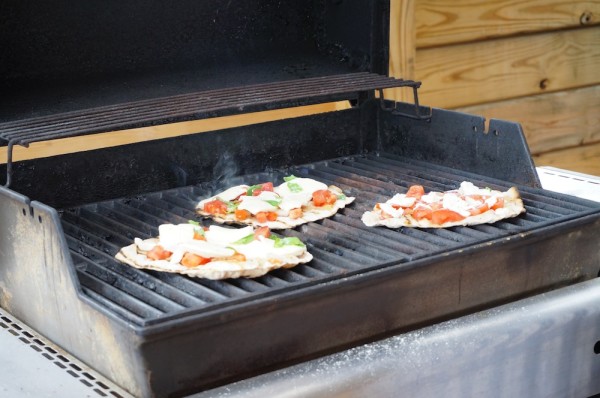 Next, he showed us the flat bread dough he had made, rolled it out and crisped it up on the grill. Then he added the toppings: a tomato salad mixture topped with DiBruno Brothers fresh mozzarella on the one flat bread and fresh goat cheese and finished with sliced basil.
Print
Grilled Flat Bread
Our favorite toppings: Goat cheese, marinated tomatoes, fresh mozzarella, and basil. If you desire melted cheese, place flat bread on cookie sheet and place back on grill for 2 minutes to melt cheese.
2 1/2 teaspoons

active dry yeast

1 cups

all-purpose flour plus more for dusting

2 1/4 cups

whole wheat flour

¼ cup

wheat germ

1 tablespoons

dried rosemary ( substitute garlic, red pepper your choice)

1 teaspoon

dried thyme

4 tablespoons

ground flaxseed

3 tablespoons

olive oil

2 tablespoons

kosher salt

One cup

warm water
Note: when using food processor, use plastic dough blade
Instructions
Add one cup wheat flour to food processor with all dry ingredients pulse all ingredients together.
Slowly add water to mixture until it becomes smooth mixture, should be creamy. Blend together about one minute.
Add remaining 1 ¼ cups flour to mixture. The mixture will start to firm into a ball, slowly add olive oil to mixture.
Pulse mixture until a ball is formed.
At this time you may need to add more water or flour to find right blend.
After ball is formed cover with towel and let rise for 30-45 minutes.
Lightly flour clean dry surface with all-purpose flour.
Break small piece of dough and roll to gold ball size.
Roll ball into round bread about 8 inches in diameter.
Repeat steps 7-9 until 12-20 flat breads are made.
GRILLING THE FLATBREAD:
Prepare grill to medium high temperature.
Lay flat bread on grill about 30-45 seconds, flip bread when small bubbles start to form.
Turn bread and grill another 30-45 seconds, remove from grill and place on cooling rack.
Allow to cool and enjoy!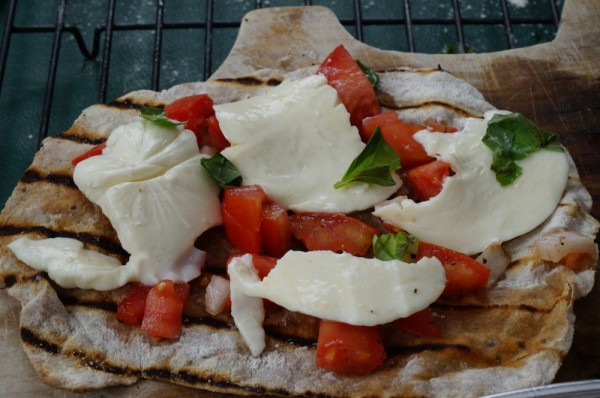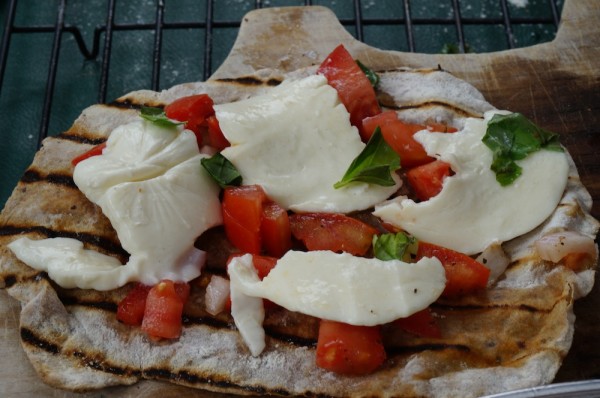 SaveSave