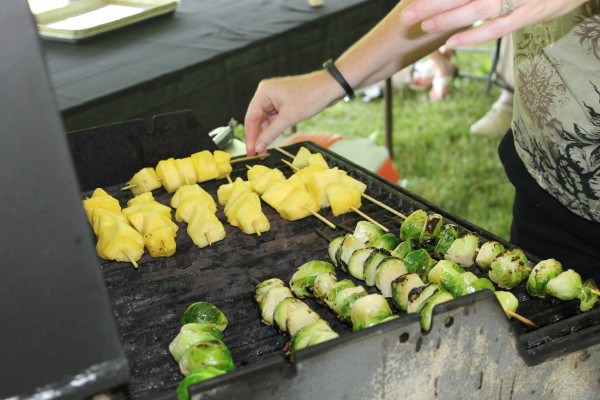 On June 23, Ed and Kathleen Deren shared their grilling know-how with cooking class attendees.  Ed, who also teaches fourth grade at Robeson Elementary, has taught several grilling classes at Weaver's over the years, and, as usual, this year's recipes were grilled perfection.
Print
Pork Kabobs with Apple & Sweet Shallot Glaze
Place all the wooden skewers in water for 60 minutes before cooking. Add one tablespoon liquid smoke to water. Prepare shallot glaze to be used at the end of the meal.
Ingredients for Shallot Glaze:

2 tablespoons

aged pinot vinegar

2 tablespoons

olive oil

1/2 cup

apple cider

2

shallots chopped fine

1

clove garlic

1/3 cup

apple cider (reserved)
Ingredients for Pork Marinade:

1

pound pork loin, cut into inch cubes

2

Fuji or other firm apples, cut into

1

–

2

inch pieces

1 cup

low sodium soy sauce

1/4 cup

vegetable oil
One full shallot, chopped fine

1

clove garlic, crushed
Before grilling: A dusting of smoked paprika
Instructions
Shallot Glaze: Combine all ingredients except 1/3 cup apple cider in medium size pan at medium high heat 5-8 minutes until reduced. Add 1/3 cup apple cider and return to boil for 30 seconds. Remove from heat. Let rest to be added at end to pork.
Marinade:
Place all ingredients, including pork, in a sealed bag for 12-24 hours.
To Make Kabobs:
Remove pork from marinade. Alternate pork and apple on moist skewers.
Lightly dust kabobs with some smoked paprika.
Cook on a medium grill 10-12 minutes, moving to avoid flare ups.
Remove from grill and let rest 5 minutes.
Lightly drizzle shallot glaze over kabobs and serve.
Print
Teriyaki Vegetable Kabobs
Portabella mushrooms
Sweet peppers, yellow and red
Summer squash
Zucchini
Ingredients for Vegetable Marinade:

1/2 cup

teriyaki sauce

1 teaspoon

ground black pepper

1/4 cup

olive oil

1 teaspoon

garlic powder

1 teaspoon

onion powder
Instructions
Cut all vegetables into one inch pieces.
Combine all marinade ingredients. Add vegetables to marinade and place into gallon Ziplockl bag. Refrigerate over night.
Cook over a medium heat and turn frequently to avoid burning. Cook 5-8 minutes or longer to preference.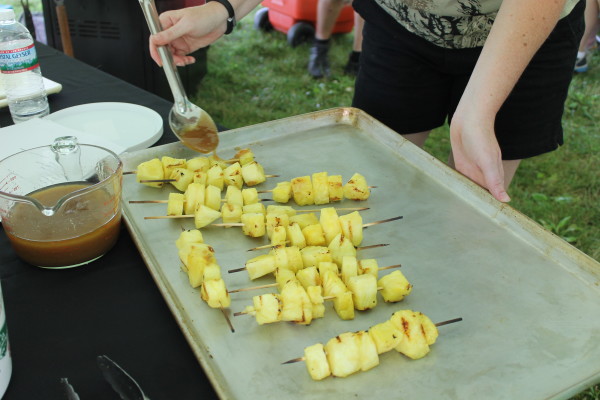 Want even more recipes? Check out these inspirations from 2015 cooking class presenters Lucas Ho and Susan Edelman.