Summertime is in full swing here at Weaver's Orchard! Sometimes the pace of life can be rather frantic, but there's just something about the warm summer days and birds singing in the morning that beckons us outside.
With my kiddos' increased activity level, cooking for my four little farmers during the summer months can keep me pretty busy. Some days it feels as if all I do is wash their clothes and feed them and holler at them to stop walking across my kitchen floor with muddy bare feet!
As my boys grew, I quickly realized breakfast cereal was no longer holding them over until lunch, so I had to get creative. Over the winter months, we made baked oatmeal, but I just don't want to turn on my oven when it's hot and sticky outside.
Right now, our chickens are blessing us with an overabundance of semi-free-range eggs—but I think I served up so many eggs for breakfast that the kids have all rebelled against eating plain eggs.
So, in this recipe, the eggs and oatmeal give you enough protein and whole grains to get your day going right!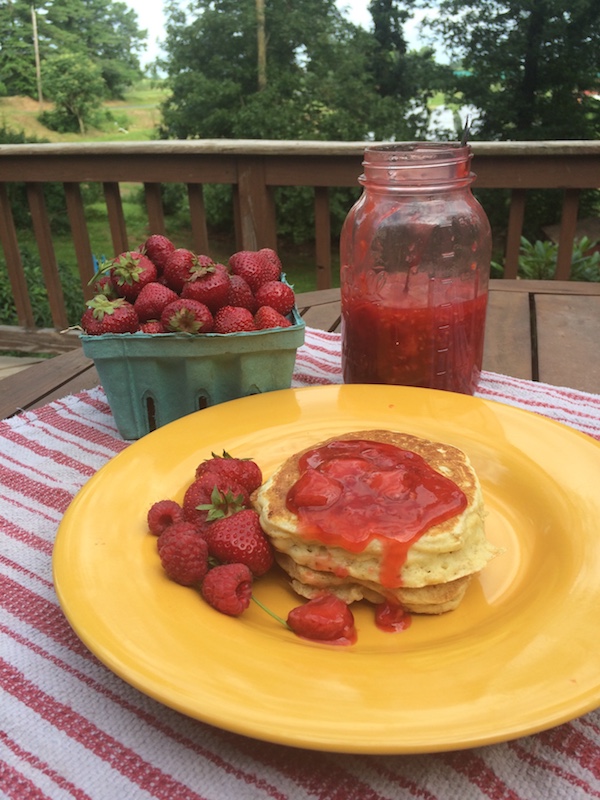 Over the years, I've tweaked this recipe, which was originally given to us by a family friend. It now accommodates some of our food sensitivities:
Print
Gluten Free Pancakes
1 ½ cups

Bob's Red mill 1 to 1 Gluten free Flour (or use regular flour but only use

1 cup

).

1 cup

gluten free oats

¼ cup

butter, melted

4

–

5

eggs

1 ½ cups

whole milk

2 tsp

Braggs Apple Cider Vinegar

1 tsp

Aluminum Free Baking Powder

½ tsp

Baking Soda

½ tsp

salt
Instructions
(If you follow these instructions in the proper order, I promise you these pancakes will be fluffier and tastier than even regular ones!)
Add 2 tsp apple cider vinegar to milk, stir, and let stand to the side. Beat the eggs and slowly add the melted butter when it's partially cooled. Add the milk and mix some more. Add the oats, flour, baking powder, baking soda, salt. Mix until thoroughly combined. Allow mixture to sit on the counter for 5-10 minutes. You'll see a little bit of bubbling. (Realistically, some mornings I don't have time to let them sit, but they'll get extra fluffy if you do).
I love using a cast iron griddle for these, but whatever type of pan you're using, make sure it's good and hot so that when you drip a little bit of water on it—it bubbles and dances across the pan. The key to making these pancakes is not to flip them too soon. I wait until I see little bubbles forming on the sides and towards the center before flipping.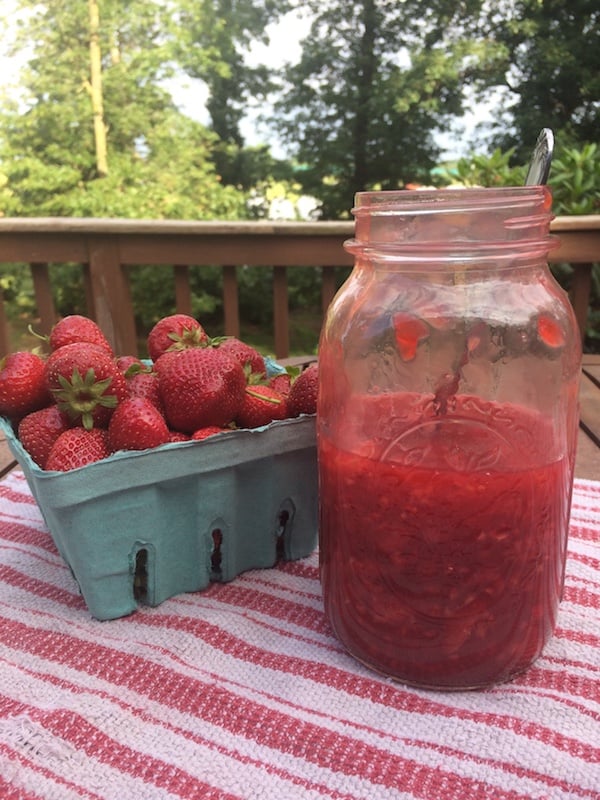 No pancake is complete without a good quality syrup, and while we love maple, one of our kids is allergic to it, so we've come up with this tasty modification. I'm not sure you'll want to go back to traditional syrup once you've tried this!
Print
Delicious Multi-Berry Fruit Syrup
½ cup

sugar

3

T corn starch

2 cups

water

2 cups

sliced fresh strawberries and raspberries

2

T lemon juice

1 tsp

vanilla
Instructions
Combine sugar and cornstarch in a saucepan and bring to a boil, stirring constantly.
When mixture begins to boil, turn heat down, add the strawberries and raspberries and cook on low to medium heat, stirring constantly until the fruit is soft.
Add vanilla and lemon juice (to preserve freshness).
Other fruit options for this syrup: blueberries, peaches and cherries in the same amounts as listed in the recipe for strawberries and raspberries. (Our family has tried multiple combinations of fruits and we love them all!) The kids especially love adding the fruit they've picked themselves.
It's satisfying to feed your family good foods that will give them energy for a busy day ahead. I hope you and yours can get out and enjoy this gorgeous weather, and I hope these recipes give you a great start to your days—no matter what adventures you have planned.
Hope to see you in the Raspberry Patch!
SaveSave
SaveSave