With Valentine's Day right around the corner, many of you are thinking of giving something sweet to your sweetie. But what should you give? What about something chocolate? What about something homemade?
I have just the answer, an answer that works with almost any other question– such as, What is the meaning of life? What is my purpose? What should I make for my Valentine?
The answer is always, cake, cake and more cake.
(You don't like my silly answers? Then stop asking me silly questions!)
Whereas a whole cake says, "We're having a party!!!" A cake for two says, "Let's stay in tonight!"
Weaver's Orchard farm market features a healthy gluten-free corner where you'll find gluten-free flours. Search the market for coconut oils and applesauce, which also help round out this recipe!
Gluten-Free Vegan Chocolate Cake for Two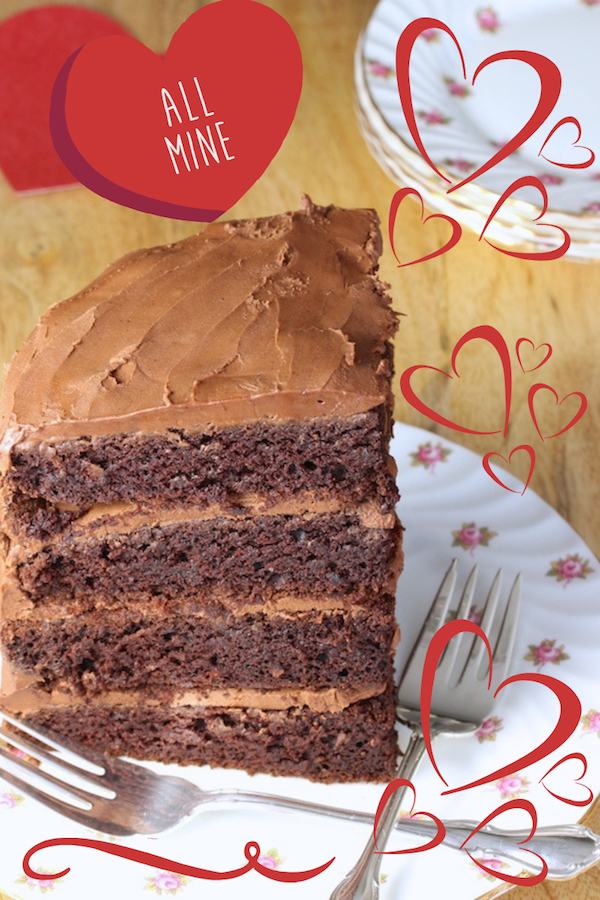 Cake Ingredients:
3/4 cup gluten-free all-purpose flour blend
1/2 cup brown sugar
1/4 cup cocoa powder
3/4 teaspoon baking soda
1/4 teaspoon salt
1/2 cup soy milk
1 teaspoon vanilla
1/4 cup grape seed oil
1 tablespoon applesauce
1/2 tablespoon white vinegar
1 flax egg (1 tablespoon ground flax plus 2 1/2 tablespoons water
Frosting Ingredients:
2/3 cup vegan chocolate chips
1/2 cup full-fat coconut milk from a can (mixed well)
1 tablespoon coconut oil
1 to 1 1/2 cups powdered sugar
Instructions and Assembly:
Preheat the oven to 350 degrees F.
Grease one 8-inch round cake pan and line the bottom with a cut-to-fit circle of parchment paper.
Sift the gluten-free flour and cocoa powder into a mixing bowl.
Add the sugar, baking soda and salt and mix together.
Prepare the flax egg by mixing the ground flax with the water and allow to sit for one minute.
Add the soy milk, vanilla, oil, white vinegar and applesauce and stir until combined.
Mix in the flax egg.
Place the batter in the cake pan and bake for 30 minutes or until a toothpick inserted into the middle of the cake comes out clean.
Allow cake to cool completely before frosting.
Don't worry if the cake is rather flat. This is desirable, as the finished product will be four layers and quite tall enough!
For the frosting, add the coconut milk and coconut oil to a pot on the stove and heat to just simmering.
Remove coconut mixture from stove and pour the hot liquid over the chocolate chips in a bowl, allowing chips to melt.
Whisk until smooth.
Add 1 cup of powdered sugar and whisk again until incorporated. Add more sugar if you desire a thicker consistency.
Place the frosting into the refrigerator to firm up for about an hour before frosting the cake.
For assembly, cut the cake layer into four even quadrants.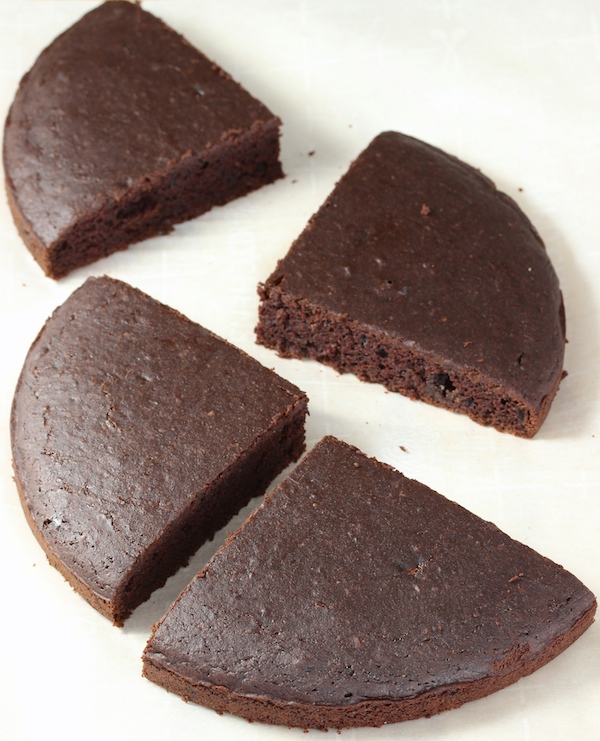 Stack and frost accordingly, creating a four-layer, two-person-sized cake.
Note: If you would like to make a regular, round two-layer cake, double the recipe and use 7" cake tins for baking.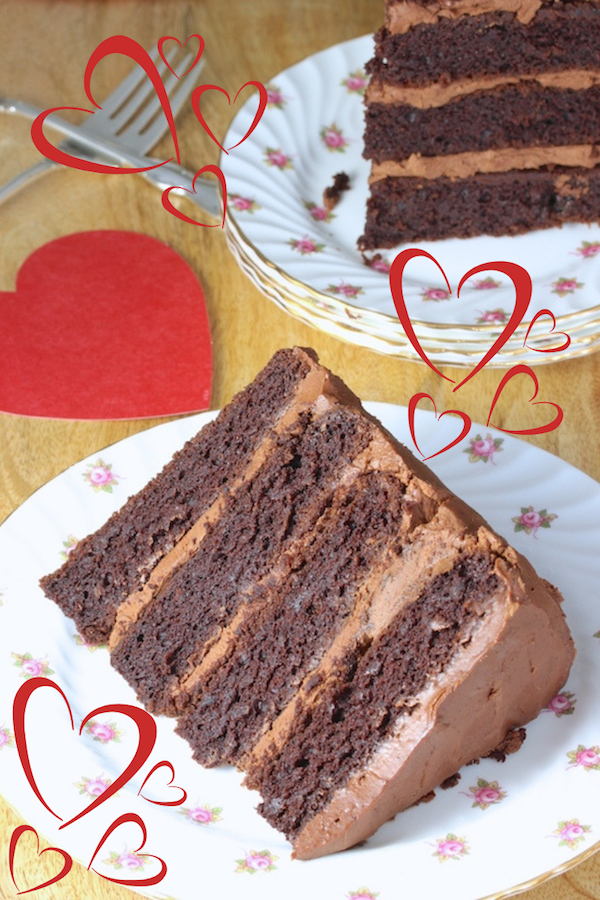 This recipe was adapted from posts by Loving It Vegan and Food Network Kitchen. Thanks to those blogs for inspiration!
And enjoy your Valentine's Day.