It's no coincidence that the line at bakeries in France forms in such a way that the most beautiful tarts and pastries are the ones you stare at when you've only come to buy a baguette! My husband's favorite French pastry is a "tartelette." It's a mini pie (tart) with a crunchy, sometimes nutty crust and a thin, creamy filing and then a generous topping of glazed fresh fruit.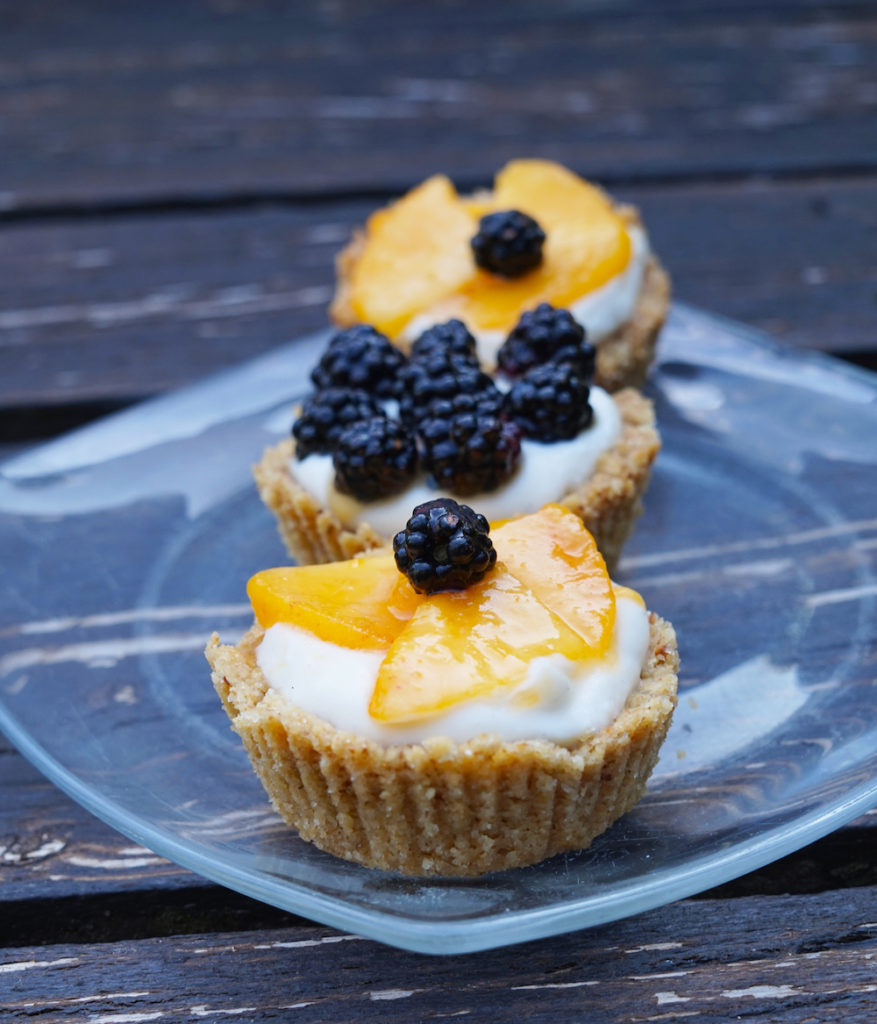 This recipe is inspired by the tartelettes at our favorite bakery in France, and blends together elements of a favorite nut-crust fruit tart recipe I saved years ago.
The crust calls for oats and walnuts in addition to sugar, butter and flour. Walnuts are the most traditionally French nut to use, but hazelnuts and pecans also work well. I love the crunch and depth the nuts add to this recipe. The oats also help it to be a more flaky crust. Both the walnuts and oats add some redeeming qualities to the recipe by increasing the protein and fiber content. I tried one version of this as a gluten-free tart with just oats, and while the flavor was great, the crust was extremely flaky and fell apart.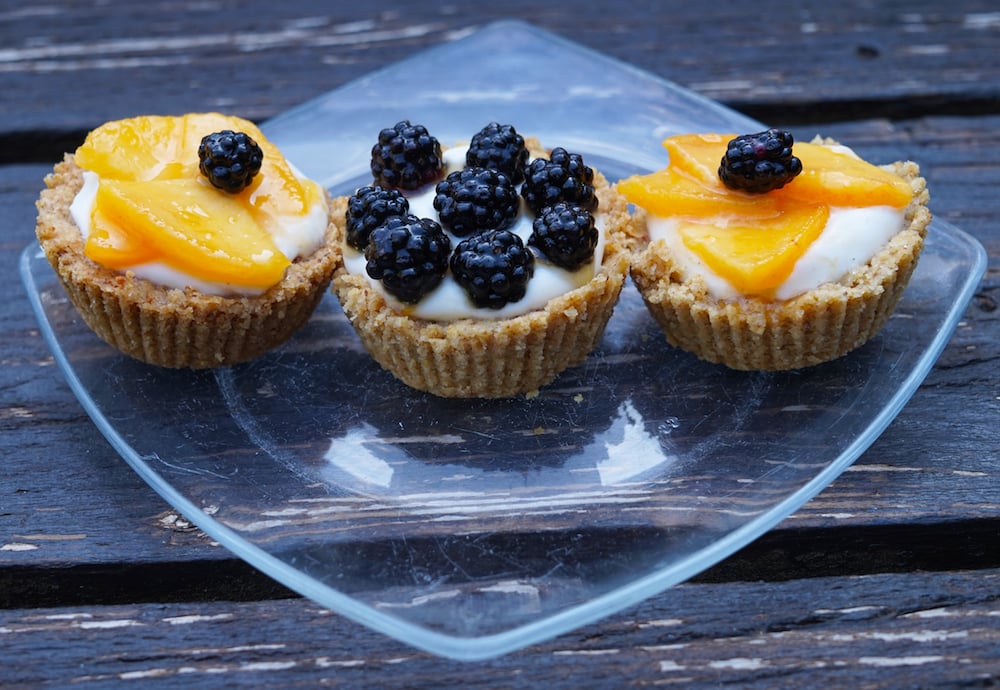 The filling is just a little bit creamy. I'm pretty sure our local baker uses ricotta, but you could substitute cream cheese or Mascarpone cheese to suit your tastes.
Since I'm currently in France and not able to pop over to Weaver's to
pick blackberries
, I had to use the next best thing – wild blackberries! They are smaller than the cultivated blackberries, but still very sweet and delicious.
Choose either
peaches
or blackberries for this tart recipe, or really any
locally grown fresh fruit that's in season
! I can imagine that a fresh blueberry tart or sweet cherry tart could be equally delicious. We usually buy the fresh red raspberry tarts.
Right now both peaches and blackberries are in season at Weaver's Orchard. You can find them in the market and in pick-your-own.
Find the recipe below. You can make it full size or make these mini tarts in a muffin tin.
Print
French Blackberry-Peach Mini Tarts
French Blackberry-Peach Mini Tarts Author: Weaver's Orchard Prep time: 30 mins Cook time: 20 mins Total time: 50 mins Serves: 12 servings
Nut crust

1/2 cup

pecans

1/2 cup

sugar

3/4 cup

flour

3/4 cup

oats

4 oz

melted butter
Creamy filling:

3/4 cup

heavy cream

1/4 cup

powdered sugar

1 tsp

vanilla extract

3/4 cup

ricotta cheese (or cream cheese or mascarpone)
Fruit topping
Fruit of your choice, washed, dried and sliced or whole

1/2 cups

apricot preserves +

1 TBSP

water
Instructions
Heat oven to 350. Grind nuts and oats in food processor until they are thd consistency of sawdust. Add sugar and pulse to combine. Add the flour and pulse thoroughly. Add the melted butter and mix until thoroughly combined.
Press into a 15-inch tart pan or a muffin tin lined with 12 paper muffin cups and pat evenly on the bottom and up the sides. Bake 15-20 minutes, watching carefully so that the nuts don't burn. Crust should be golden brown. Remove and let cool completely.
In a food processor or stand mixer, whip the cream with the vanilla and confectioner's sugar. Once stiff peaks form, add the ricotta. Transfer to the cooled crust(s), spreading evenly.
Combine 1/2 cup apricot preserves and 1 tablespoon water. Dip sliced or whole fruit in the preserves and arrange decoratively on top of the cold tart. Refrigerate 30 minutes before serving.