After recently purchasing a box of assorted free-range steaks, roasts and ground beef, I have embarked on an adventure to learn to prepare cuts of meat I've never cooked before. On Monday, between the summer-like temperatures outside and the fact that the first of Weaver's Orchard's asparagus had just been harvested, it seemed like the perfect time to grill some of our steaks! We made New York Strip Steak and asparagus according to the recipe below, and it was absolutely delicious. The beef we purchased is from Lone Star Farm and is available at Weaver's Orchard in individual cuts or in free-range meat bundle specials. Lone Star's cattle are raised on pasture and finished on a diet of locally grown hay and whole corn silage grown at their farm. Their animals are so healthy that they never even need antibiotics or artificial growth hormones!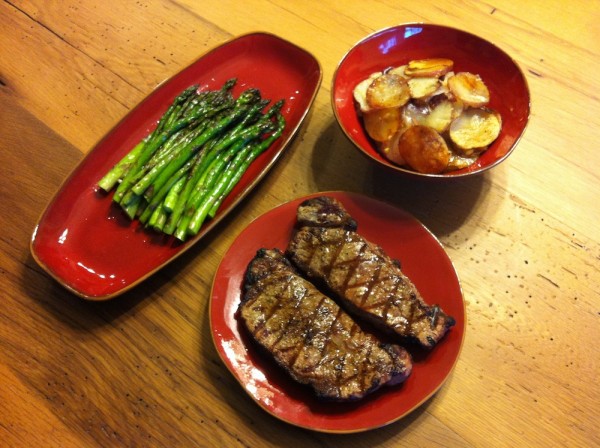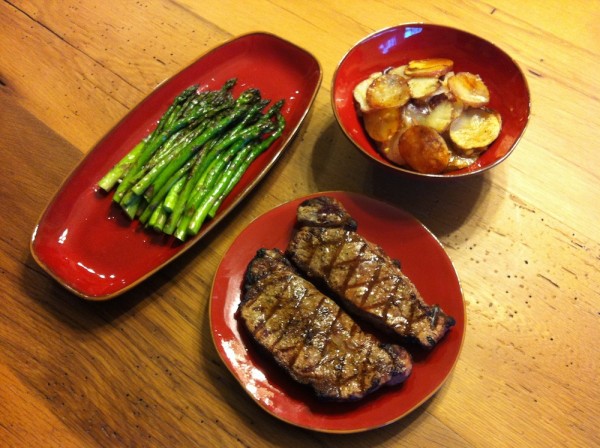 Print
Restaurant-Style Steak Rub
Author:
Category:

Steak Rub
• 1/4 cup coarse sea salt
• 1 Tbsp. dried basil
• 1 Tbsp. coarsely ground black pepper
• 2-1/4 tsp. garlic powder
• 2-1/4 tsp. onion powder
• 1/8 tsp. cayenne pepper
Instructions
Mix all ingredients together.Sprinkle the steak rub on the steak (a little bit goes a long way). Grill according to directions for the specific cut of meat you are cooking.
Print
Grilling New York Strip Steak
From Grillingcompanion.com
Author:
Cook Time:

8 mins

Total Time:

8 mins
Instructions
Take steak out of the fridge, rub with steak rub and allow it to sit for about 45 minutes until it has reached room temperature.
Preheat the grill to high. (Make sure the grill is clean!)
Make sure that the grill is hot enough. If it's hot enough, you won't be able to hold your hand more than 2 inches away from the grill for longer than 5 seconds.
Place the steak on the grill with tongs, being careful not to pierce the steak.
After 2 minutes, rotate 90 degrees (to give it grill marks).
In another 2 minutes, flip the steak again. (Only flip it over once!)
After 2 more minutes, rotate the steak 90 degrees again and grill for another 2 minutes.
Remove from the grill and allow the steak to rest for about 5 minutes before serving.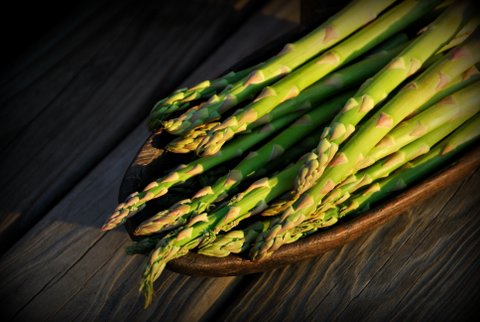 Photo by Meg Bull
Print
Grilled Asparagus
About

24

medium asparagus (

1

to

1 ½

pounds), trimmed

2 tablespoons

extra virgin olive oil
Kosher salt
Lemon juice from one lemon
Zest from

one

lemon
Instructions
Soak eight wooden skewers in warm water for about 10 minutes. (Skewers should be at least 6 inches long.)
Oil a grill rack and set it 5 to 6 inches over the coals. Heat the grill.
Combine oil and lemon juice in a jar and shake well.
Gather four bunches of asparagus and spread each bunch out flat. Thread two skewers crosswise through each bunch (it should basically look like an asparagus xylophone). Brush asparagus with oil and lemon juice and season with kosher salt and lemon zest.
Grill asparagus over glowing coals until tender, 3 to 5 minutes on each side.
If you can't grill asparagus outside, use a grill pan and cook asparagus over medium high heat.
Print
Grilled Potatoes
This is a family favorite recipe, originally shared at a cook-out by my sister-in-law.
10

medium red potatoes, sliced thinly

2

small onions, sliced thinly

2 Tbsp

. butter, cubed

2

cloves garlic, minced

1/4 cup

shredded cheddar cheese
Freshly ground black pepper

1

–

2

pieces of non-stick (or greased) aluminum foil
Instructions
Arrange sliced potatoes, sliced onions and minced garlic on a sheet of greased or non-stick aluminum foil.
Sprinkle cheddar cheese, butter and black pepper on top of potatoes and onions.
Close up aluminum foil packets and grill on low heat (or move to the top rack if the grill is hot) for about 20 minutes until potatoes are lightly crispy on the bottom.