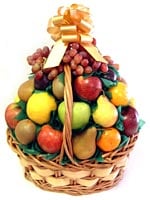 At Weaver's Orchard, uniquely built fruit baskets – along with locally grown apples that often ship across the U.S. – are a winning palate-ready opportunity for gift-giving in the winter months.
Twelve different fruit basket arrangements gather eye-attention from those who frequent Weaver's Orchard, explains farm market manager Dwayne Musser.
And while this dozen is standard in style, "we customize many of them by adding gourmet items such as jams and preserves, honey, cheese and crackers, muffins and cookies, fudge, snack mixes, etc.," he says.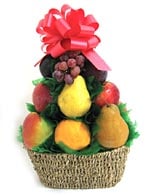 "Our baskets are carefully created and assembled with the best fruit of the season. They are a real work of art," Musser adds. "You won't go to any chain store and find the kind of care and quality that we put into our fruit baskets."
Grapefruit, navel oranges, tangerines and clementines, several kinds of pears, a variety of apples, seedless grapes, kiwi and bananas are some of the fruits often making their way into gift baskets at Weaver's Orchard in December.
Muffins, cookies and gourmet breads are also often joining the blend in fruit baskets crafted one-at-a-time by Weaver's staff.
"They are a very practical and healthy gift for individuals, families, and offices," Musser says about the often willow and wood reed woven baskets of fruit. "And that's not only for the holidays, but for birthdays, thank-you expressions, sympathy, get well, and so many other reasons."
Musser reiterates that arranging fruit in baskets truly is an art.
"Because we take such pride in our baskets, it takes a lot of practice and skill to achieve the creative aspect that is required to build a basket that will stay together well without being taped to hold it together," he says. "We often add some tape for those who are handling the basket later, but the goal is to craft it in such a way that it holds itself together."
Weaver's delivers fruit baskets within a 15-mile radius of the orchard in order to better ensure that the food will arrive in good time and without bruises or bumps that often result from larger-scale shipping.
"Fruit baskets are the kind of gift that when given portrays real thoughtfulness and love," Musser reflects. "You cannot just go to Wal-Mart and pick up the kind of fruit basket that we customize with specialty items with your friend in mind that says 'you are so worth it.'"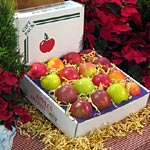 Thankfully, Weaver's apples ship to all states in the U.S. but two of them, so the apple-everything lure of this Berks County farm can stretch to loved ones who live outside of Southeastern Pennsylvania.
"Our apples are packed in special foam-filled protective boxes for those who want to share a bit of Berks County with their family and friends around the country," Musser says. "We carefully hand-pack each piece in a special foam cell that totally surrounds the fruit and pads the apples trip from our farm to their home."
Pink Lady®, Fuji, Crispin, Golden Delicious, Jonagold, Gala and Cameo apples are the most common varieties Weaver's ships at this time of year.
"Sometimes people have specific varieties of apples that they remember from when they were a kid, or from when they used to live in this area, ones they cannot get where they live now," he says. And these are often what those outside of the area order for shipping.
For those who receive or bring home pears in their fruit baskets, this salad recipe brings pears to light well in a rich recipe.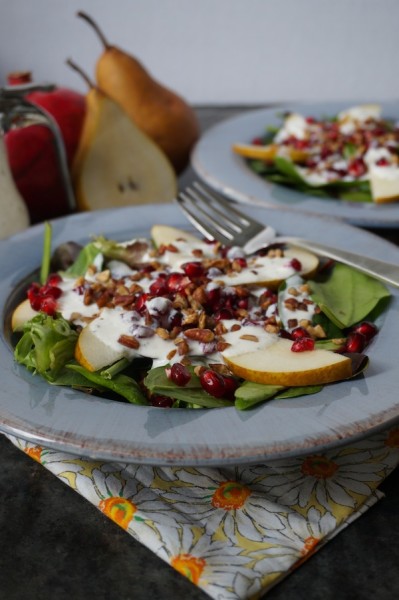 Print
Pomegranate Pear Creamy Chevre Salad
SALAD INGREDIENTS:

1

bag spring mix

1

pomegranate, peeled

1

Bosc or Asian pear
A splash of pecans
CREAMY GOAT CHEESE DRESSING INGREDIENTS:

¼ cup

low fat milk

1 tablespoon

freshly squeezed lemon juice

1/4 cup

plain goat's milk cheese

1/4 cup

nonfat Greek yogurt

1 teaspoon

fresh or dried thyme

2 teaspoons

dried parsley

1 teaspoon

garlic powder or

one

minced garlic clove
Pinch of salt and dash of pepper
Instructions
In a medium bowl, combine milk and lemon juice, and stir until combined.
Add goat cheese and whisk until there are no more clumps.
Add Greek yogurt and stir until smooth.
Add remaining ingredients and stir until combined.
Serve over salad.
Refrigerate unused portion and use within 7 to 10 days.
And if you still need more ideas for ways to use up some fruit, try this recipe for apple pomegranate pancakes: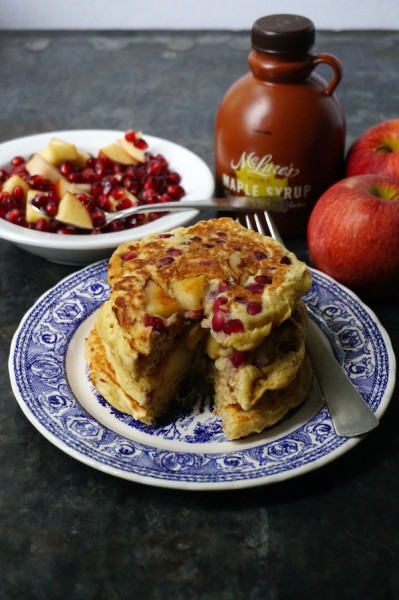 Print
Pomegranate Apple Oatmeal Pancakes
2

sweet-tart apples like Cameo or Pink Lady®

1

pomegranate

1 1/2 cups

flour

1 cup

rolled oats

2 tablespoons

sugar

2 teaspoons

baking powder

1/2 teaspoon

baking soda

1/2 teaspoon

salt

2

beaten eggs

2 cups

milk, soured with 2 tablespoons apple cider vinegar
Butter (as needed)
Instructions
Peel and chop apple. Peel pomegranate. Set aside
Combine dry ingredients together in a large bowl. Sour the milk with vinegar and add to pancake batter. Add beaten eggs. Stir just until combined – batter can still be lumpy.
Turn stove on to medium heat and melt butter. Drop pancakes onto pan and add fruit on top.
Once the batter becomes bubbly, flip the pancakes. Cook until golden brown.
Serve with maple syrup and additional fresh fruit.