Shopping at a local market is relaxing for me. And with the market expansion at Weaver's Orchard farm market, I feel free to stay and shop longer. I enjoy trying new things, unusual local vegetables, unique prepared goods and hard-to-find groceries. My aim is to see what looks good that day and plan my dinner menu accordingly. There is no rush if I stand there planning while other shoppers hurry around me if they want.
On a recent run to the market, for example, the cucumbers caught my eye first. I knew I was making pesto over pasta that night, because I had great loads of fresh basil in my garden. I thought a cold cucumber salad would offset the pasta dish perfectly. My mother-in-law used to make a cucumber salad with dill and, although I no longer have the recipe, I could improvise. As I made my way to pick up a red onion, I noticed a little package of pea shoots in the cool case display.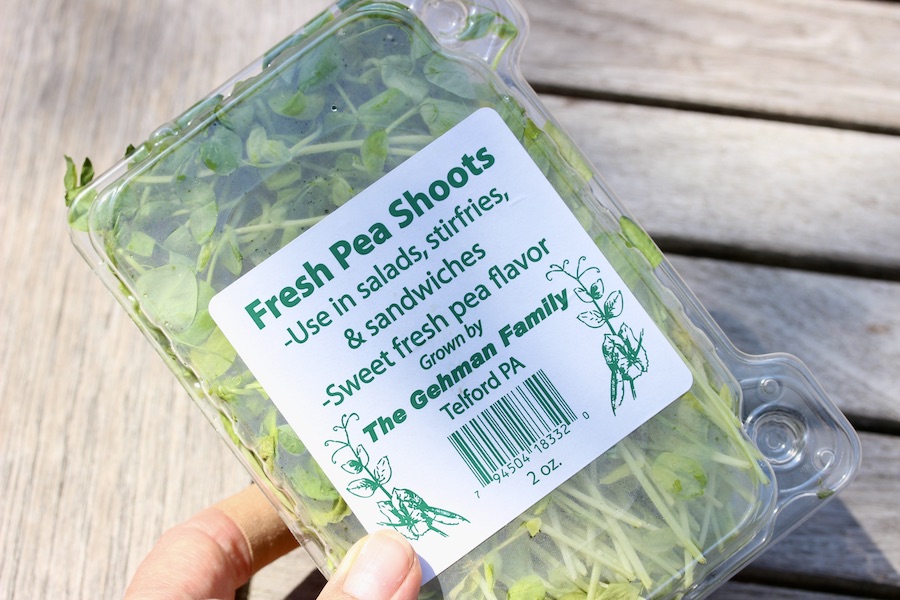 The pea shoots are grown by The Gehman Family in Telford, Pennsylvania, and the package says, "Use in salads, stir fries, and sandwiches." It also describes the shoots as having a sweet fresh pea flavor. I thought they would introduce a unique taste and texture to the cucumber salad recipe. I was happy with the result.
I made the following salad, and the pea shoots are optional. Note that you can also add chopped, fresh tomatoes, making this salad perfect for tomato season too.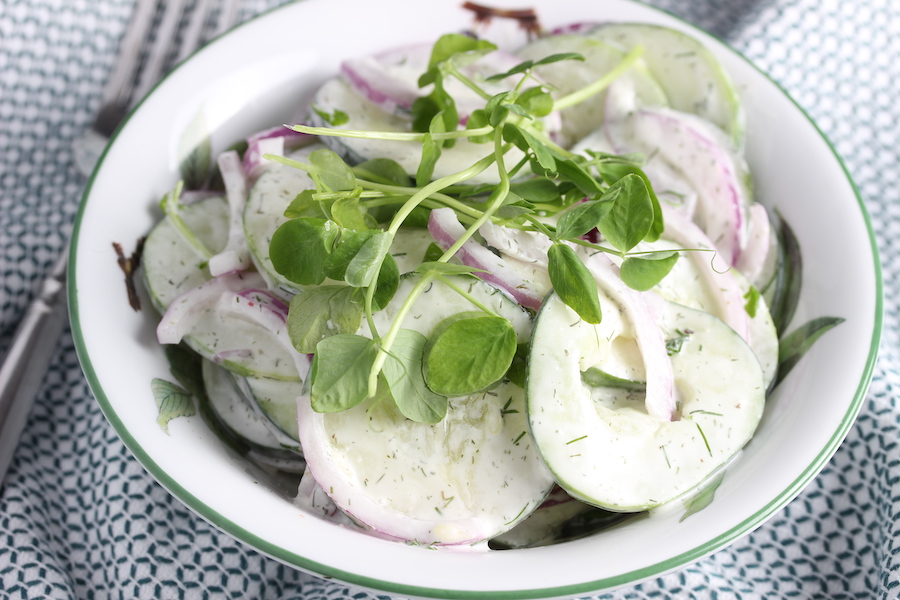 Creamy Cucumber Dill Salad with Pea Shoots
Ingredients
3 cups thinly sliced peeled cucumbers
1 cup thinly sliced red onion
1 tablespoon minced fresh dill
1 tablespoon chopped, fresh pea shoots plus more (un-chopped) for garnish
¼ cup sour cream (See note)
¼ cup mayonnaise (See note)
1 tablespoon fresh lemon juice
1 teaspoon granulated sugar
½ teaspoon salt
¼ teaspoon garlic powder
Cracked pepper to taste
Note: I use vegan sour cream and vegan mayonnaise.
Instructions
In a medium mixing bowl stir together sour cream, vinegar, dill, sugar, salt, and garlic powder.
Add cucumbers and red onion; toss to coat.
Cover and refrigerate 2 or more hours.
Optional: Add chopped, fresh tomatoes just before serving.
Optional: In a pinch, substitute a prepared ranch dressing for the last seven ingredients.