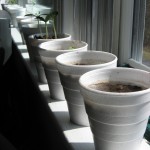 A friend of mine says that if you visit Vermont in July, you have to lock your car, not because people will steal things but because they will fill your car with zucchini.  She promises she isn't joking.
When I started gardening this year, I was worried because only one of the zucchini seedlings I planted actually survived.  A relative told me, "That's probably all you'll need."  She was right.  In July, I returned home from a four-day vacation to find a zucchini practically the size of a tuba.  It was time to figure out how to serve zucchini for days on end without making people so tired of it they started to gag.
This is just one of the lessons I learned in my first summer of gardening. I also learned what grubs look like (and still hold my stomach and shiver when I picture one).  I learned to compost, and life felt peaceful and complete whenever I could pick a cucumber from my garden, peel it, eat it fresh, and return the scraps to the compost pile.  It made me look for other ways that life comes full circle like this.
I realized also that birds love unripe cantaloupe much more than I do, and though my fence effectively kept deer, rabbits and skunks at bay, I hadn't planned on winged consumers.
I learned that just because it's from a garden, that doesn't guarantee it's going to taste delicious, and I gained new appreciation for farmers and pro gardeners who have spent time learning the best varieties to plant.  (I chose tomato plants without realizing how small the fruit would be.)
But most of all, I learned how to hide zucchini.  For the first few weeks, I sauteed and savored.  After that, though, I made and froze at least seven loaves of zucchini bread.  Then it was time to pull out the secret, tried and true recipes.  Here are two, in case you ever find yourself needing to disguise this delicious but productive squash.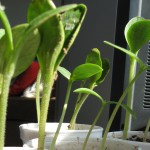 * * *
There are many variations of stuffed zucchini; this recipe from Cooks.com uses simple ingredients and easy steps.
* * *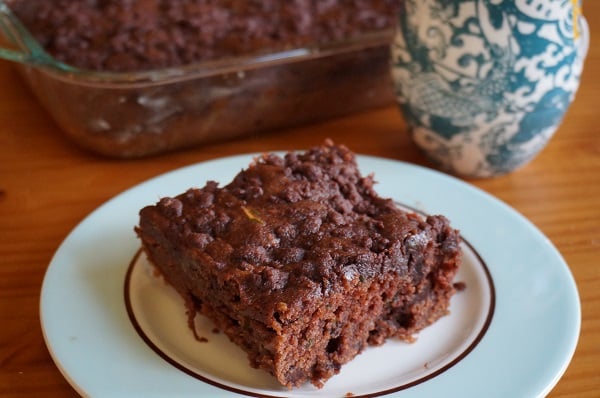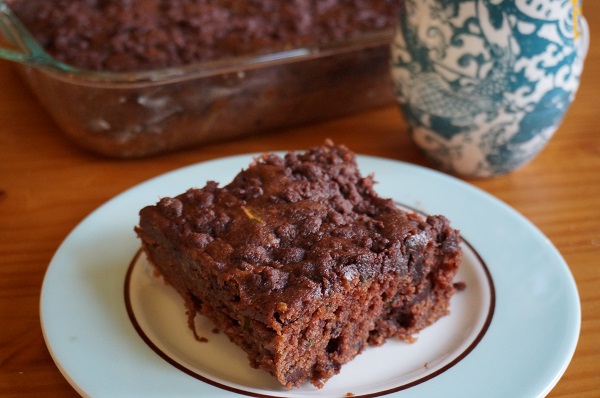 Print
Chocolate Chip Zucchini Cake
This recipe from my mother-in-law is one I couldn't find anywhere online. It is unique because of its tasty crumb topping.
1/2 cup

butter

1/2 cup

oil

1 3/4 cups

sugar

2

eggs

1 teaspoon

vanilla

1/2 cup

sour milk (add a little lemon juice to sour it)

3/4 teaspoon

salt

1/2 teaspoon

baking powder

1 teaspoon

baking soda

1/2 teaspoon

cinnamon

4 tablespoons

cocoa

2 1/2 cups

flour

2

generous cups grated zucchini

3/4 cup

chocolate chips (mix some into the batter and then sprinkle some on top)
For crumb topping, mix together:

1/4 cup

softened butter

1/2 cup

brown sugar

1/3 cup

flour

2

–

3

tablespoons cocoa
Instructions
Mix the wet and dry ingredients separately, then blend them. Bake at 325 in a greased and floured 9 x 13 inch pan for 40-45 minutes. After the cake has baked for about 20 minutes, sprinkle the crumb topping over the cake and continue baking.