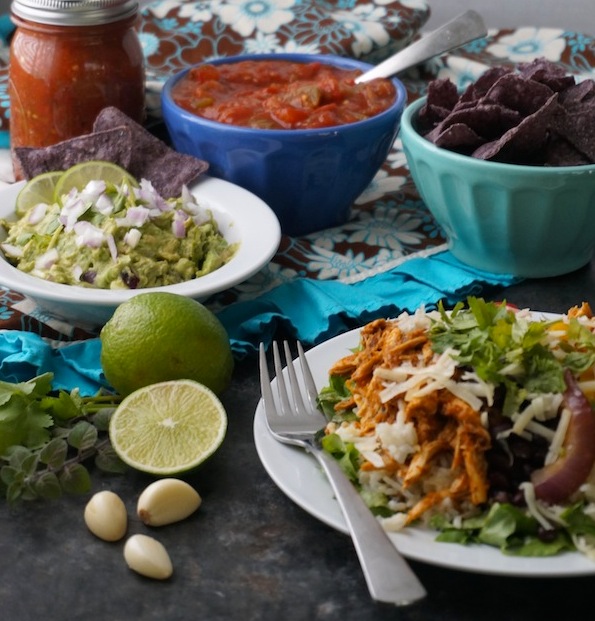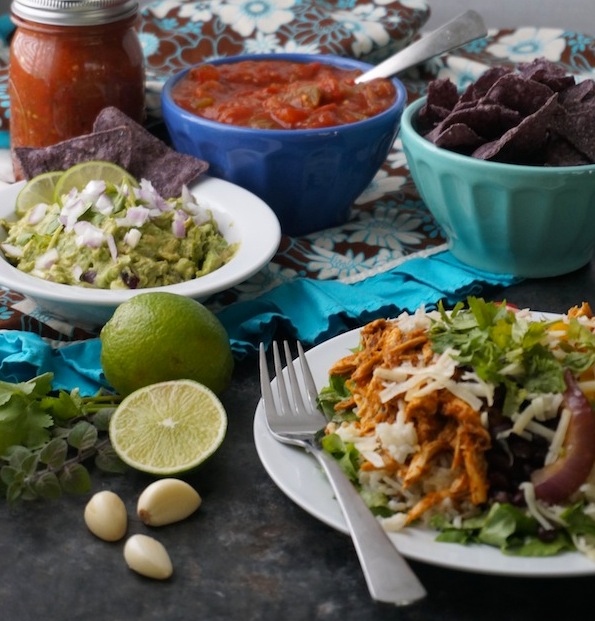 What's the difference between a fajita and a burrito?  In terms of how much my husband and I enjoy them, there is no difference whatsoever.  Whenever there is Mexican food in our house, there is joy.
Both fajitas and burritos are versatile meals.  If you are lucky enough to have tortillas in your fridge, a world of dinner possibilities awaits you.  Though both Tex-Mex meals are tasty and versatile, there is a key difference between them.  "Fajita" means "small strip" because the Spanish word for belt, strip or sash is "faja."  In American Spanish, "fajita" came to refer to skirt steak—a perfect description for the long, flat belt-like cut of beef.  Fajitas can be any kind of "small strip"—skirt steak, small strips of chicken or pork.  Shrimp is, well, shrimpy enough that it can go into a fajita whole.  The small strips can also be vegetables: sliced onions, strips of bell peppers or squash, or thin-sliced Portobello mushrooms.  If you're slicing things into thin strips, you're capturing the spirit of the fajita.
And, if you feel shy about experimenting with different ingredients for your fajita, it may help to know that, according to the Oxford English Dictionary, fajitas as we know them weren't even around until 1971, when the first fajita recipe appeared in a Tex-Mex cookbook.  Before that, "fajita" just referred to skirt steak, not the amazing party of deliciousness that you can stuff inside a tortilla.  So you can experiment with your fajitas, knowing that you are not breaking any long-standing traditions!
If you're slicing things into strips, you're making a fajita.  Pinning down exactly what "burrito" refers to, and how it got its name, is trickier.  Any guesses about what the word "burrito" means?  Yup…burro (donkey) + "ito" = "little donkey." Some sources suggest that the bean, meat and tortilla wraps earned their name because of the bedrolls and packs donkeys would carry.  If this is the case, then I'd suggest that making a good burrito means packing in as many fresh veggies and as much local, humanely-raised meat as you can.
And now that we've sorted out the difference between fajitas and burritos, let's fire up the stove and make some fajitas!  With chicken, lots of veggies, homemade salsa and a filling of brown rice, this is a filling yet healthy meal.  Try the salsa with Weaver's homegrown tomatoes!  The first tomatoes of the season are available in our market.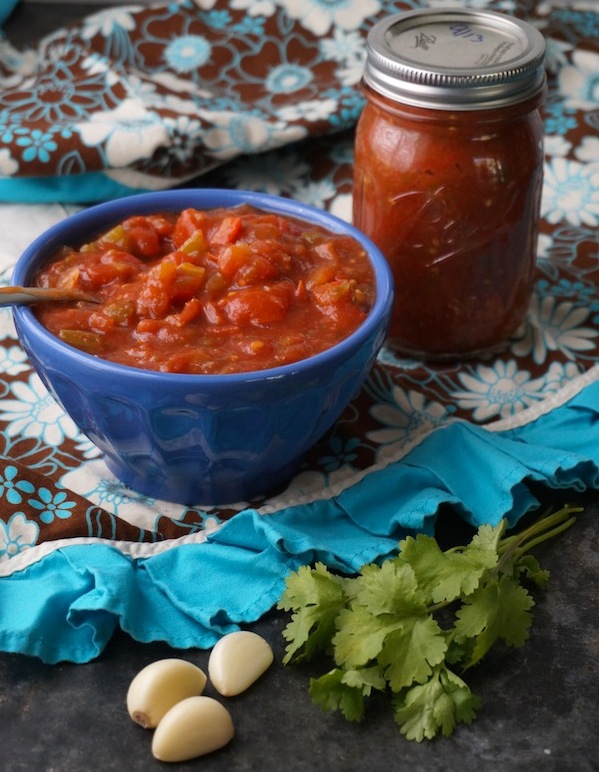 Enjoy this recipe that debuted at last year's cooking class by Kendra Musser. This is a favorite recipe among the Weaver family and staff!
Print
Chipotle Chicken Fajitas with Homemade Salsa
This marinade is somewhat similar to what Chipotle restaurants use. Yum!
Author:
Category:

Main Dish

Cuisine:

Mexican, Tex-Mex
MARINADE:

1

chipotle pepper in adobo sauce

1/2 tsp

. freshly ground black pepper

1 tsp

. cumin powder

1 tbsp

fresh oregano, chopped

3

cloves garlic

1 tsp

salt

1/2

red onion, quartered (omit if using cooked chicken)

2 tbsp

olive oil
Additional oil, water or salsa to thin mixture
FAJITAS:

1 1/2

lbs chicken breasts or shredded chicken from one whole cooked chicken

3

green peppers

1

large red onion

1

block Conebella Farm or September Farm's Cheddar Cheese

1

jar homemade or Weaver's Orchard salsa
Wraps, black beans and rice as desired
Instructions
TO MAKE THE FAJITAS:
Place all marinade ingredients in food processor or blender. Blend until smooth.
If starting with raw chicken, poke with a fork. Marinade in mixture for one hour, or up to overnight.
Grill chicken on a grill, or use a grill pan until chicken is no longer pink.
(If using shredded cooked chicken, omit the onion and marinade in mixture. Reheat in a sauté pan.)
Slice peppers and onions lengthwise and sauté in olive oil until slightly tender.
FILL FAJITAS WITH YOUR FAVORITE TOPPINGS:
Chipotle chicken mixture
Peppers and onions
Homemade salsa (see recipe below)
Lettuce
Brown rice
Black beans
Cheddar cheese
Sour cream
Guacamole
Print
Homemade Salsa for Canning
14 cups

of chopped tomatoes (peeled or unpeeled depending on your preference)

3 cups

chopped onion

½

c. Jalapeño peppers (hot peppers)

1

green pepper- chopped

1

yellow pepper – chopped

3

T. Salt

1

T. Chili Powder

1

T. Garlic Powder

1 ½ tsp

. Cumin

1 cup

Tomato Sauce
*5 T. Cornstarch
*½ cup Vinegar
*1 small handful of Cilantro
Instructions
Cook all ingredients except the last three for about 15 minutes (until slightly soft but there are still chunks of tomatoes).
Blend the cornstarch, vinegar and cilantro in the blender and add them to the cooked ingredients and cook for a few minutes (until a bit thickened).
Put into canning jars and process in the canner for 15-20 minutes.
Tip: for a thicker sauce, allow the tomato juice to cool completely and skim off the excess water, but be sure you have an extra so you have a full two gallons of tomato juice for the sauce after skimming the water.
Over the years, I've simplified my chicken recipe as follows:
Print
Easy Oven-Baked Mexican Chicken
Author:
Prep Time:

5 mins

Cook Time:

20 mins

Total Time:

25 mins

Yield:

3

-

4

servings

1

x
2

Chicken breasts, cut into several 1-inch thick slices

1 tsp

chili powder

1/4 tsp

chipotle chili powder

1/2 tsp

cumin

1 tsp

oregano

1 tsp

garlic powder

1/2 tsp

salt
Olive oil
Instructions
Preheat oven to 400 degrees.
Spread parchment paper on a baking sheet.
Drizzle olive oil over the parchment paper, then arrange the chicken on the baking sheet.
Mix together the spice and then sprinkle half of them on top of the chicken. Turn the chicken over a few times to coat with olive oil and sprinkle the remaining spices over the chicken.
Bake approximately 20 minutes at 400 degrees until a thermometer reads 165 degrees or juices run clear. Dice and add to fajita filling.