Have you picked blueberries recently at Weaver's Orchard? This pick-your-own season has been absolutely amazing! Find out more about picking blueberries, and make plans to come out and pick!
A delightful twist on the classic blueberry lemon pairing, this Blueberry Lime Cake is sure to be a new favorite! This delectable treat combines the sweetness of juicy blueberries with a zesty hint of lime, creating a harmonious balance that's perfect for any occasion. Moist, tender, and bursting with natural goodness, this cake is a great way to enjoy the flavors of summer.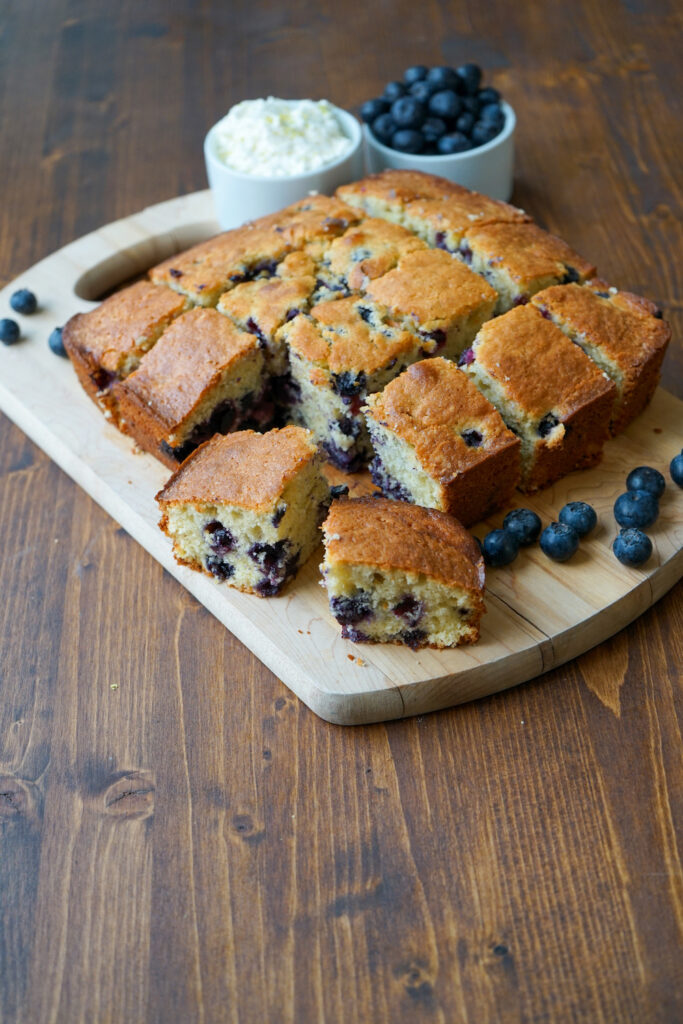 This is a great cake to make and freeze for later use! I plan to bake some quick breads, cakes and muffins to give my kids as a morning snack. When we start our homeschool year, I want to have a number of easy goodies available to make morning snack time extra special. Since we have quite a haul of blueberries already, I will definitely be making this cake and freezing some!
Want to know the best way to freeze berries? Check out this video of how to freeze blueberries!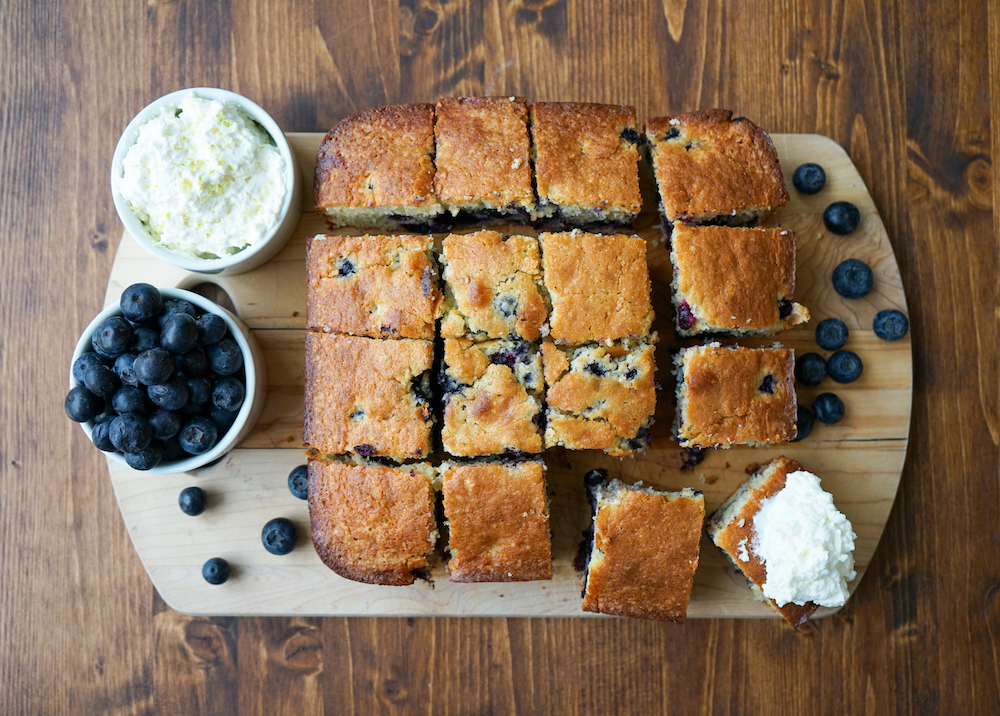 So save this recipe and try it for the next time you need a great blueberry dessert recipe!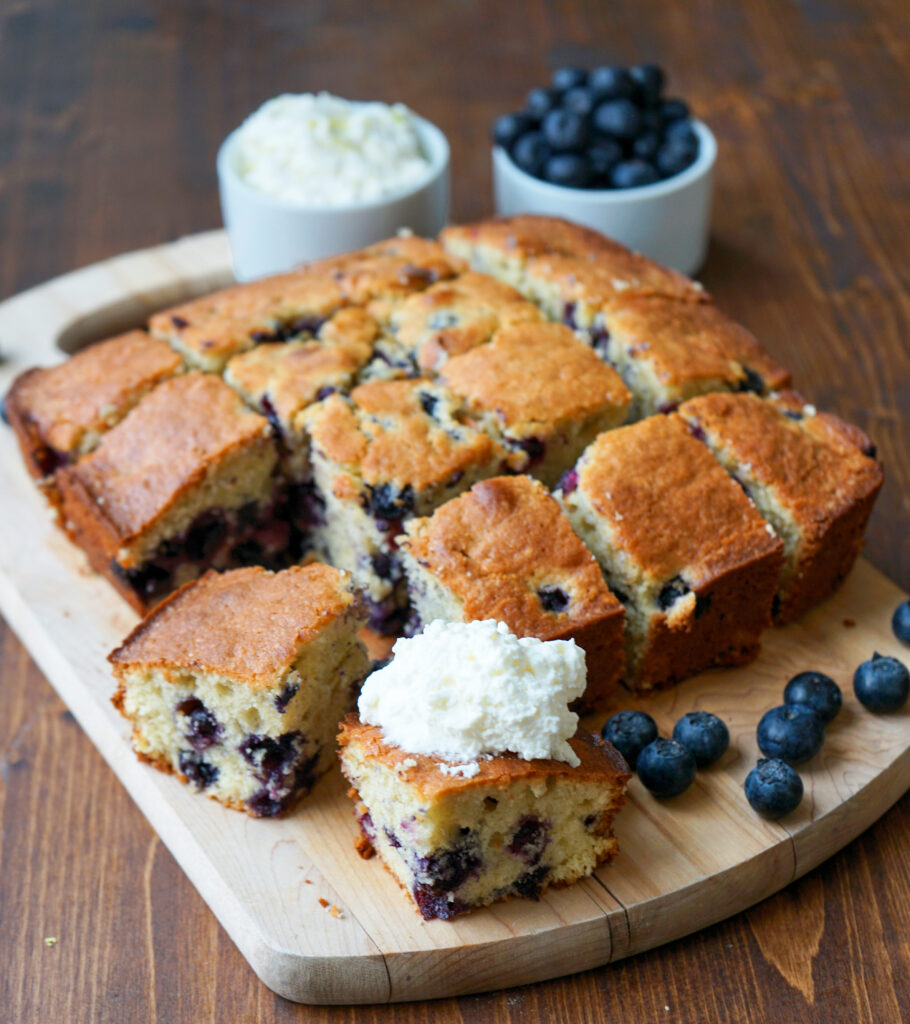 Print
Blueberry Lime Cake
1/2 cup

(

1

stick) unsalted butter, melted

1 1/3 cups

all-purpose flour

1 1/4 teaspoons

baking powder

1/4 teaspoon

salt

1 cup

plus 3 tablespoons granulated sugar

2 teaspoons

lime zest

1 teaspoon

vanilla extract

3

large eggs, at room temperature

1/3 cup

heavy cream

2 cups

fresh blueberries, about

1 pint

blueberries
Instructions
Preheat the oven to 350. Position a rack in the center of the oven. Grease and dust with flour an 8-by 8-inch square pan.
In a medium bowl, whisk the flour, baking powder and salt together. Set aside.
In a large bowl, combine the sugar, lime zest and vanilla extract together until the sugar is moist and fragrant. Whisk in the eggs until blended, then whisk in the cream.
Combine the dry ingredients in another medium bowl. Add the dry ingredients to the wet ingredients and stir with a whisk until the batter is smooth. Fold in the melted butter. Stir until the batter is smooth and thick.
Spread about 1/3 of the batter on the bottom of the prepared baking pan. Fold in all but a handful of the blueberries to the remaining batter left in the bowl. Add remaining 2/3 of the batter, then the remaining handful of blueberries.

Place the baking dish on a cookie tray to allow for more even baking. Bake 50 to 60 minutes at 350, or until a knife inserted into the center of the cake comes out clean. Once baked, transfer the cake in the pan, to a wire rack to cool for 5 minutes. Remove the cake from the pan and place right side up on the rack. Cool completely before serving.

Serve with lime zest whipped cream.