The first major crop of the local produce season is a paintbrush.  Can't you imagine holding a stalk of asparagus in your hand, dipping it into a palette, and brushing it across a canvas?
The first major crop of the local produce season comes with a whoosh of color.  White snow has melted into bright grass, crocuses and daffodils and tulips and fruit trees bloom, the sky deepens its blue.  Maybe asparagus hoists itself from the ground and sneaks away at night to paint the landscapes we wake up to.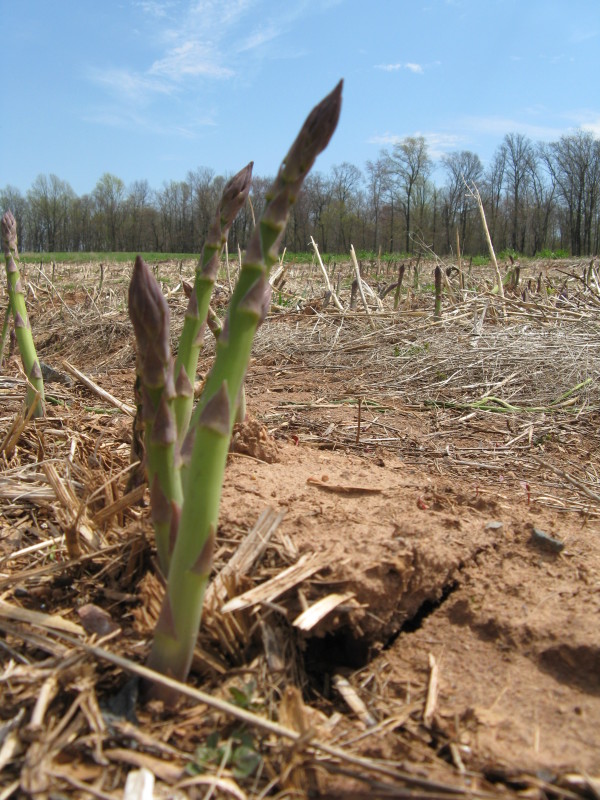 I am willing to believe that the first major crop of the local produce season is that magical.
Whatever your whimsies, if you love this vegetable, you are certainly working it into as many recipes as possible during its fleeting season.  No doubt you have several favorite recipes lined up and waiting, ready for the first asparagus harvest, but if you're looking for new favorites, we've curated 59 asparagus recipes on our Pinterest board Asparagus A-Ripens in April!
This week, inspired by a Cooking Light recipe, I experimented with a new recipe for this spring vegetable: Asparagus and Sun Dried Tomato White Pizza.  Energized while the sun shone into my kitchen, I decided to make my own sun dried tomatoes for this dish.  On sunny summer days I might let sun dried tomatoes live up to their name and bake on the back patio.  Until then, I'll be dehydrating them in my toaster oven.
To make sun dried tomatoes in your toaster oven, select very ripe plum tomatoes and slice them lengthwise as uniformly as possible.  (Otherwise, some parts scorch while others stay too moist.)  Bake on the lowest heat possible for at least 1 hour.  I used the "warm" setting on my toaster oven.  My toaster oven only runs for 30 minutes at a time, but that required me to check on the tomatoes at intervals.
At first I used parchment paper: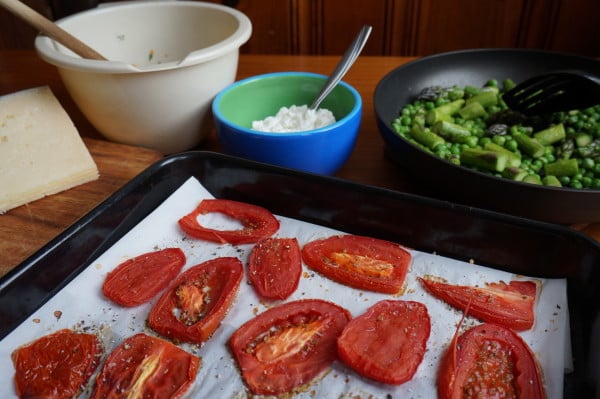 But since this method doesn't allow enough air circulation to let the tomatoes dehydrate evenly, I tried again with a wire rack inside the same pan, placing my even more uniformly sliced tomatoes on it.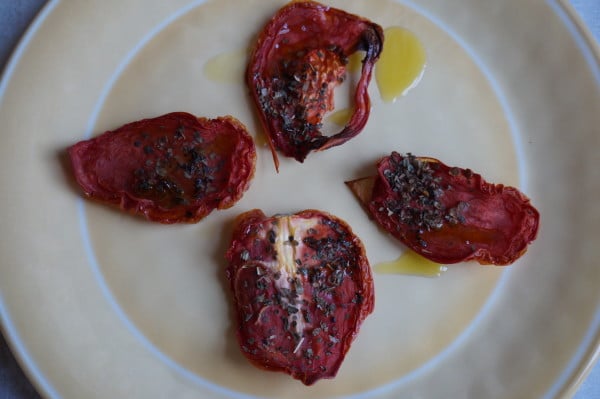 Soon, they were ready to top the pizza.  I'd made pizza dough earlier that morning.  A basic pizza dough recipe has just a few ingredients and is easy to learn by heart.  The key is to make sure that as you knead the dough, it is neither sticky nor stiff.  Too much flour and the finished product's consistency becomes more like a cracker than a pizza crust.  The dough should be smooth and elastic.  Once you've mastered a basic dough recipe like the one below, take it up a notch and make restaurant-quality pizza dough with this Artisan Pizza Dough recipe from last summer's cooking classes.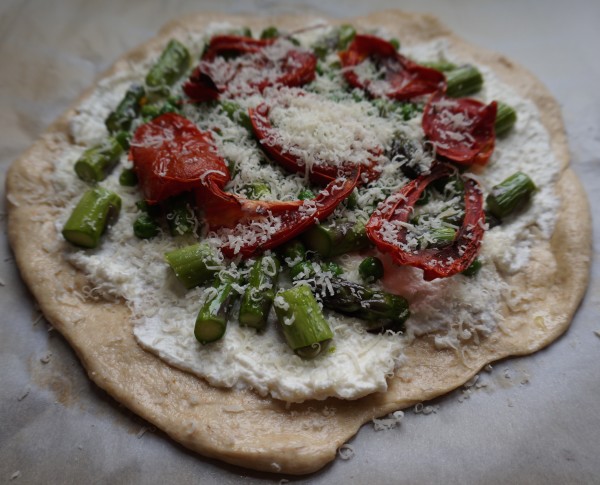 In addition to the delicate asparagus and sweet sun dried tomatoes, watercress gremolata lends its flavor to this meal.  Gremolata is an herb mixture like a pesto or chimichurri, classically made with parsley, lemon zest and garlic.
Instead of parsley, I opted for watercress.  Leafy and peppery, this member of the mustard family appears at Weaver's for a short time each spring.  It's been named the top powerhouse vegetable and packs in heaps of vitamin A, C and folate with very few calories per cup.  It's amazing with lemon and garlic, so sprinkle it atop the ricotta cheese and then load the pizza with sauteed peas and asparagus and dried tomatoes.
The result is colorful, matching the colorful spring landscape, and the flavors are as delicate as the blooms of spring.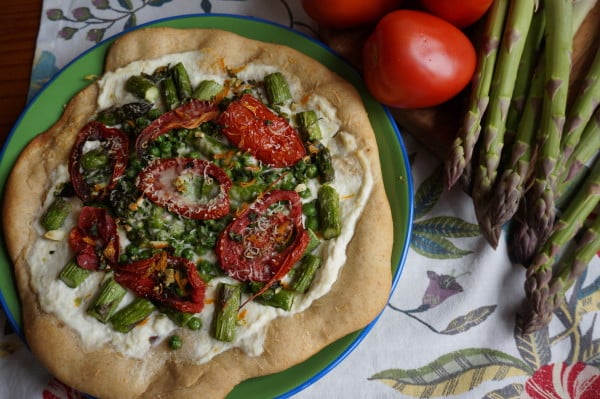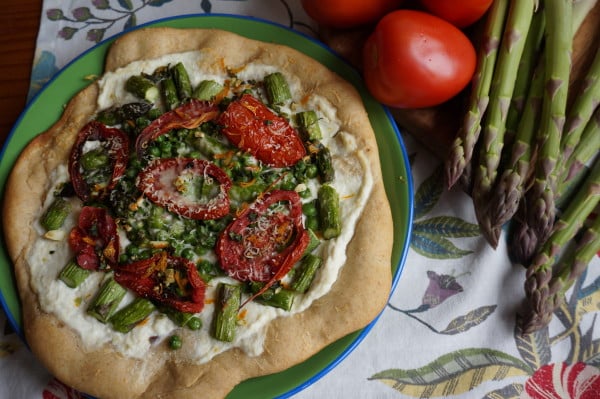 Print
Asparagus and Sun Dried Tomato Pizza
Makes 3 medium pizzas. Total time: 2 hours. Active prep time: 30-40 minutes.
Author:
Cook Time:

10 mins

Total Time:

10 mins

Yield:

3

pizzas

1

x
DOUGH:

2

packets active dry yeast

1 teaspoon

sugar

1 1/4 cups

warm water

1/2 teaspoon

salt

2 cups

all purpose flour

1 cup

whole wheat flour
olive oil
CHEESE:

1 1/4 cup

ricotta
WATERCRESS GREMOLATA:

1/4 cup

watercress, minced

1 tablespoon

lemon zest, minced

4

cloves garlic, minced
TOPPING:

1

–

2

teaspoons olive oil, plus more for topping

9

asparagus stalks, cut into

1

-inch pieces

1 cup

frozen peas, thawed

9

sun dried tomatoes
salt and pepper to taste
Instructions
DOUGH:
Combine yeast, water and sugar in a large mixing bowl. Add all-purpose flour, whole wheat flour and salt and mix until well combined. Knead 8-10 minutes. Let rise for 1 1/2 hours in a well-oiled bowl, and begin to preheat the oven to 450F about halfway through this time. Divide the dough into 3 balls. Roll out on a lightly floured counter and transfer to baking stones
CHEESE:
For each pizza, spread 1/3 of the cheese on top of the rolled out dough.
WATERCRESS GREMOLATA:
Mix together minced ingredients and sprinkle 1/3 of gremolata on top of cheese on each pizza.
TOPPING:
Saute asparagus and peas in olive oil about two minutes, until softened. Add 1/3 of topping to each pizza. Use a spatula to press peas into cheese. Add sun dried tomatoes and top everything with a sprinkling of freshly grated Parmesan cheese. Bake 10-12 minutes, until crust is golden.
If desired, top baked pizza with olive oil and salt.