Have you ever wondered how Linda Hertzler (a.k.a. "Miss Linda") finds the stories she reads at Read 'n' Pick story time? Are there plenty of children's books about, say, raspberries?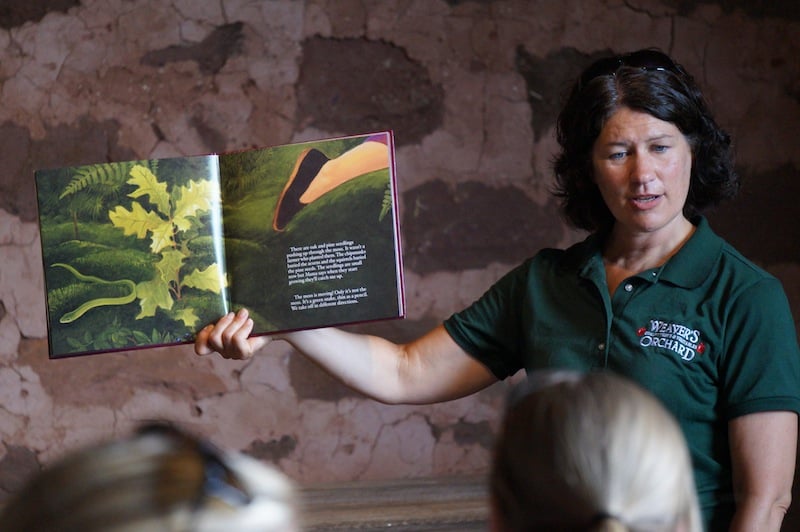 Actually, finding children's books about fruit isn't easy. Linda spends hours looking for preschool and early elementary school books about fruit. And Elizabeth Weaver, wife of production manager Justin Weaver and mother of four, scours the internet too. It is a challenge, says Linda. But over the years, Weaver's has built up a good library. The one fruit they haven't been able to find a book about? Plums!
Linda always tells the kids that if they'd like to write and illustrate books about fruit when they grow up, they should! And then those books will become new Read 'n' Pick Story Time favorites.
Though Linda and Elizabeth have been able to build the Weaver's Orchard story time library, kids might hear some of the same stories if they come each week for several years. But that just means they are a tradition! With books as beautiful and timeless as Blueberries for Sal by Robert McCloskey, no one minds hearing the same story once again each year. Kids will surely look back and remember their mornings at the orchard and the stories they heard.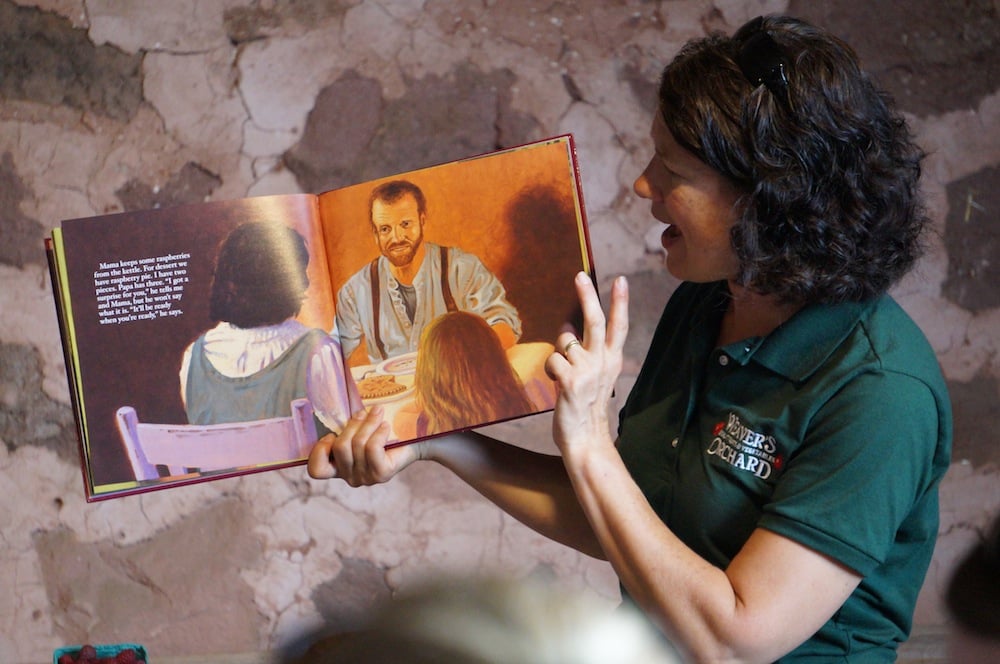 Already, many of the kids who started coming to the first Read 'n' Pick Story Time sessions back in 2008 will be teenagers now, remembering their days as wiggling elementary school kids listening to stories.
Janell Weaver (now Gutierrez), daughter of Weaver's Orchard president Ed Weaver, started Read 'n' Pick Story Time in 2008 with just a small group of kids. Sarah Cancel Miller, Elizabeth Weaver's sister-in-law, continued it. Ed Weaver saw that this would be a program many kids and parents would enjoy, so he approached Linda Hertzler about heading it up as it expanded. With her knowledge of the orchard, where she has worked for seven years, and her 17 years as a preschool teacher, Linda seemed like the perfect person to take the lead on story time.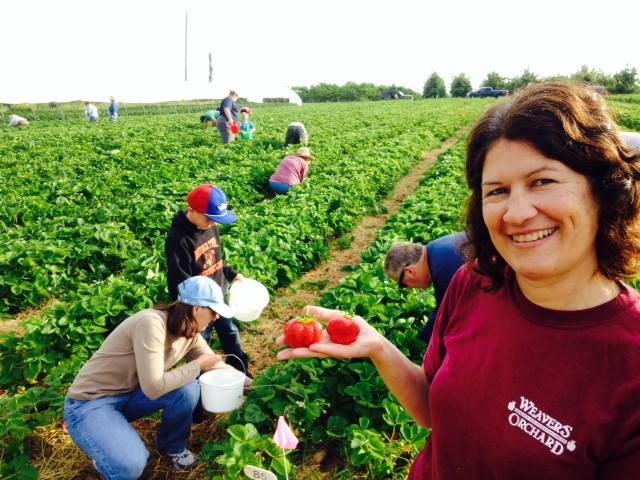 Now Read 'n' Pick Story Time has grown to four sessions per week: Mondays and Wednesdays at 9:45 and 10:30. [2017 Update: There are now six weekly sessions: Monday and Wednesday 9:30, 10:30 and 11:30. Pricing is still the same.] Kids and parents (or another accompanying adult) gather in the stone barn behind the farm market to hear a story and learn how to pick the fruit of the day. Then, they head out to the orchard to pick a container of fruit. The $5 admission fee includes picking that container of fruit to take home!
Though she has now led story time for many years, Linda never gets tired of seeing the kids running into the barn. She looks out into the seats and sees "precious faces, waiting for a story." She loves to see how excited the kids are about coming to the farm.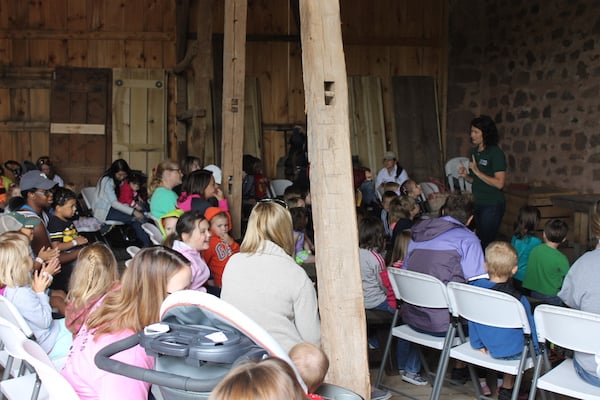 In fact, Linda has an extensive list of what she enjoys about leading Read 'n' Pick Story Time! She loves witnessing:
The sense of accomplishment among the kids. Their faces glow, she says, as they come over to show her or the other Weaver's staff what they picked.
Kids and parents, or kids and grandparents, working together as they pick.
People discovering new facts about agriculture. Whether it's learning about IPM or hearing about kiwiberries for the first time, story time at the farm is a learning experience for both kids and parents and Linda loves witnessing this first-hand! (Though Linda will describe kiwiberries, those are not yet a featured story time fruit. Children's book authors of the world, take note: We definitely need a story about kiwiberries!)
The kids' perseverance! After hearing a story, the kids walk out to go pick fruit. Linda encourages them that it's worth the hike. The kids do get tired, and she can see that. But at the end, they are always delighted that they did it. Their perseverance leads to a sense of accomplishment. And it even leads to a reward because if the hike is far, they get to enjoy a hay ride back!
The kids' enjoyment of the working farm. They LOVE to see the farm equipment, says Linda. If they see a skid loader roll by with a huge bucket of dirt or a tractor hauling fresh-picked crates of peaches, it makes their day!
Generations connecting. Linda loves to see grandparents bringing kids. Some grandparents bring their grandkids as part of childcare – they were watching the kids anyway – but for others, they were looking for something special to do and wanted to bring the kids. Linda loves seeing old and young alike enjoying the orchard.
Kids' and parents' excitement about using the fruit they pick. Three-quarters of Read 'n' Pick Story Time attendees come every week. That means that from week to week, Linda gets to ask the kids, parents and grandparents, "Well, what did you do with those strawberries (or blackberries, or peaches…)?" And sometimes the answer is, "We ate them before we got home!" or other times, "We made strawberry shortcake!"
Linda stresses that it's important for kids to know where their food comes from. Many parents say their kids will not eat fruit, but once the kids get to pick fruit for themselves, all of that changes! Linda has seen and heard about this over and over!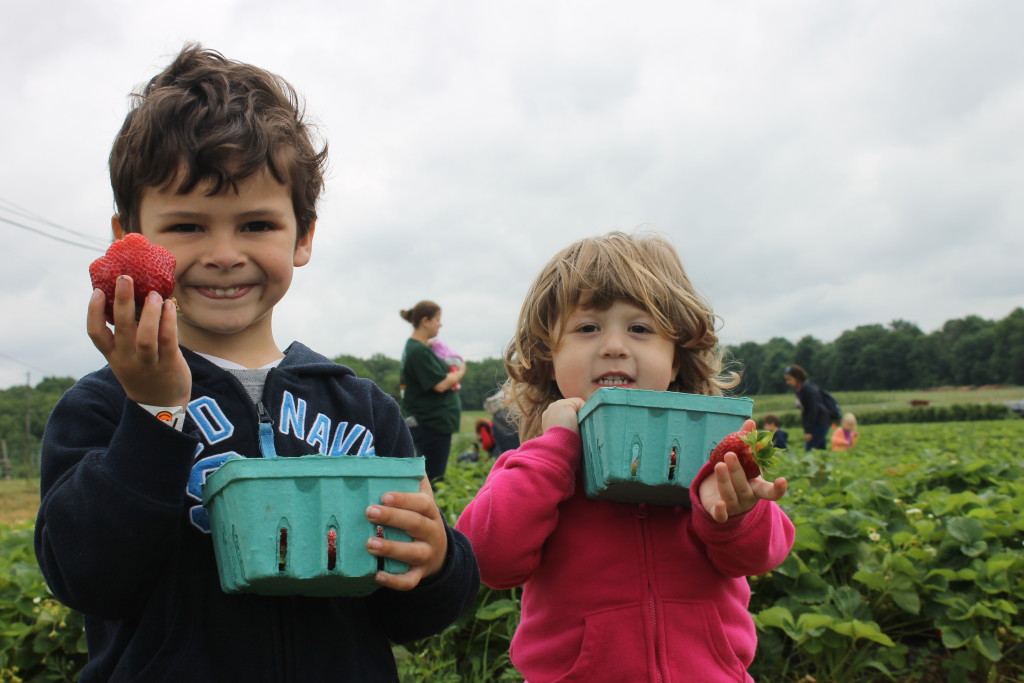 Whether kids are reluctant to eat fruit or think of all types of fruit as a delicacy, they are sure to benefit from Miss Linda's fun and kid-friendly instructions about how to pick the featured fruit of the week. "What color is a ripe strawberry?" she'll ask during the strawberry weeks. Or, she'll remind kids that ripe raspberries should easily slip off the plant.
If you've come to Read 'n' Pick Story Time in the past, no doubt you are looking forward to this year's lineup. If you're hearing about our story time for the first time, we hope you'll come and bring the kids to hear a story and pick fruit this summer!