On Italian food blogs, many writers share fond memories of their grandmothers making Torta di Mele, a classic homemade apple dessert that is somewhere between a cake, a pudding, and a pie.
Though I have Italian heritage, I don't have such memories. After all, it was my grandfather, not my grandma, who had the Italian roots. So I have no memories of my grandmother baking Torta di Mele, and I have no memories of my grandfather at all–only some pictures–since he passed away when I was very young.
Memories or not, it's important to acknowledge one's roots. I try to learn what I can about my ancestors' immigration story and reflect on it in light of what immigrant communities experience today.
Exploring history through food provides sensory connections. When I cook, I repeat processes that perhaps my great great grandmothers used.
Okay, they didn't have active dry yeast to make the torta, and they probably went to the henhouse or their neighbors' farm for their eggs, rather than the local food market, but they still would have sliced the apples, soaked the raisins, beat the eggs, and arranged the fruit in their favorite pattern.
They may have made this recipe differently than I did. As I mentioned, there are many different versions of this dessert. This version was pie-like because it uses so many apples. It was cake-like because the apples are mixed into the batter. And it was pudding-like because the dough is so soft.
Torta di mele can also be made with yogurt, with powdered sugar on top, and with baking powder instead of yeast.
However, "a few things are true of all authentic torta di mela recipes," says a blogger on Food52. "While our apple crisps, pies and cobblers are heavily seasoned with cinnamon, nutmeg and cardamom, no spices are used in the torta di mela. Only freshly squeezed lemon juice and lemon zest give the cake a light, delicate taste, and not-too-much sugar lets the natural sweetness of the apples come through."
Cooking Notes
I hadn't noted the lack of spices as I followed the recipe, and I certainly didn't miss them when I tasted it–it is bursting with flavor. Apples, raisins and lemon give this a robust, zesty flavor.
So, whatever you do, skip the spices to keep it authentic. Here are some other notes:
The batter should be sticky, not stiff. The consistency of the cake will be very soft.
For a classic version, peel the apples on top of the torta. Or for a twist, keep the skins on if you like their brightness.
Experiment with new ways to arrange the apples on top. Some bakers let the apples sink into the dough more, so they are partially hidden.
Be careful the top doesn't get too crisp. Cover it with aluminum foil if it needs to bake longer but the top is browning.
Torta di Mele freezes well!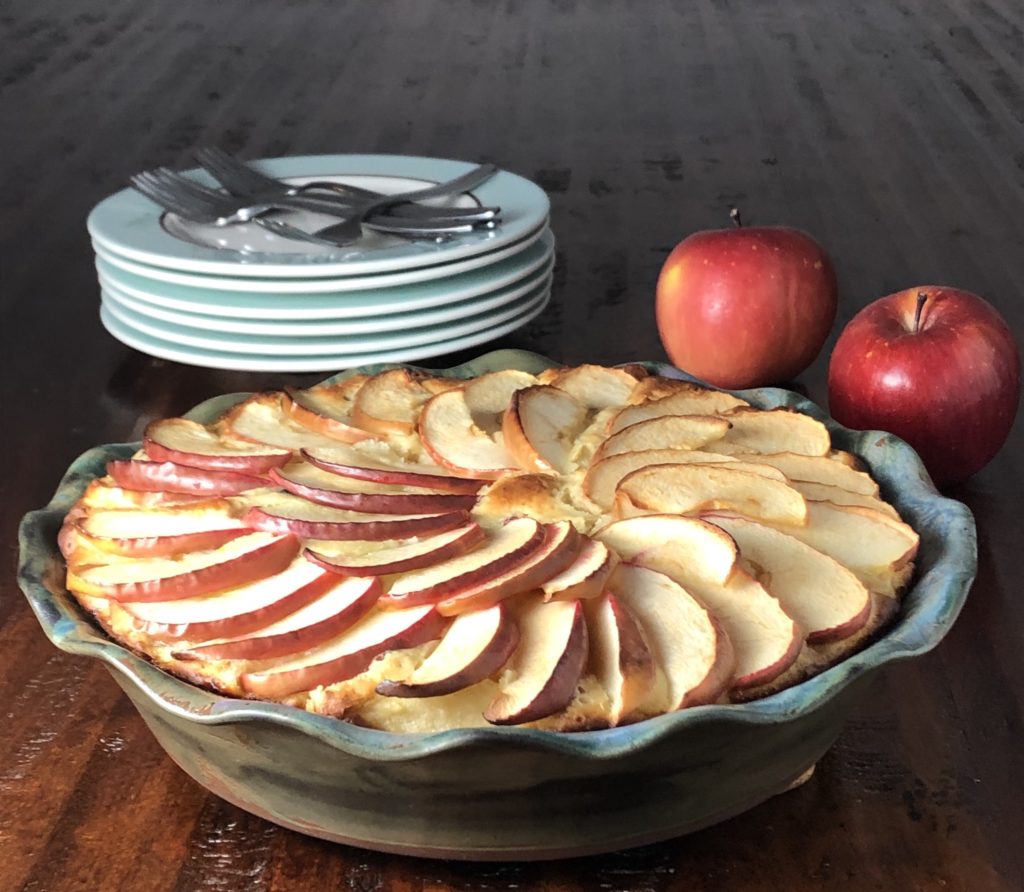 Print
Torta di Mele: Italian Apple Pie
Adapted from The Fine Art of Italian Cooking
1/2 cup

raisins

4 tablespoons

salted butter, melted

4

–

5

medium-sized Fuji apples, divided
Juice and grated zest of one small lemon

1 1/2 cups

all-purpose flour

2

packages active dry yeast

1/4 cup

lukewarm water

2/3 cup

granulated sugar

2

eggs
Instructions
Soak the raisins for 20 minutes in lukewarm water.
Peel, core, and slice two of the apples. Sprinkle with lemon juice and set aside. Leave the remainder of the apples unpeeled; core, slice, sprinkle with lemon juice and set aside.
In a large bowl, place 1 cup of flour. Make a well in the center. In a small bowl or measuring cup, dissolve the yeast into 1/4 cup water. Pour it into the flour and stir. Add sugar, melted butter, grated lemon zest and eggs. Mix well. Sprinkle with remaining flour. Mix well. Dough should be homogenous and fairly soft and sticky. Add more flour if you want it to be slightly less sticky.
Add the soaked raisins and the peeled apples and mix well.
Grease a 12-inch pie pan or springform pan. Add the dough and form it to the shape of the pan. Arrange the unpeeled apple slices on top.
Cover with a dish towel and let the dough rise until doubled, about an hour.
Meanwhile, preheat the oven to 400F.
Once the dough has risen, bake for 35-40 minutes until golden brown.
Let cool for half an hour, then remove from mold or pan and serve.