Lucas Ho, Chef at Tel Hai Camp and Retreat, taught this week's cooking class on June 16.  Lucas shared three delicious and deceptively simple recipes: strawberry-raspberry caramel sauce, Belgian waffles, and pan-fried chicken.  These three complement each other well.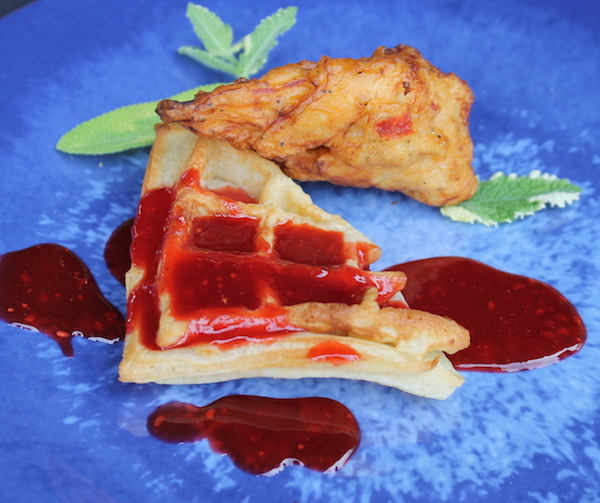 Strawberry-Raspberry Caramel Sauce
Author:
Lucas Ho, Tel Hai Camp
Ingredients
½ cup water
1 cup sugar
¼ cup honey
1 cup strawberries
1 cup raspberries
a pinch of salt
Instructions
In a small sauce pan, combine the sugar with water. Place it over a medium heat and simmer for 15-20 minutes or until it turns into a light amber color. Gently stir the syrup every 5 minutes.
Once the syrup has turned into the light amber color, add the strawberries, raspberries and honey to the pot. Simmer the mixture for another 5 minutes. Gently stir the mixture every minute.
Remove the pot from the heat.
Add a pinch of salt.
Using a stick blender, puree the mixture.
Allow it to cool before storing away.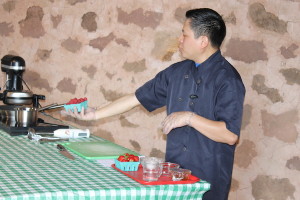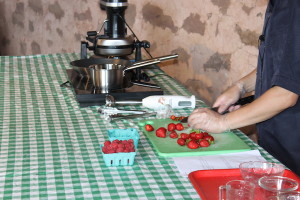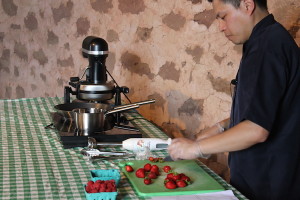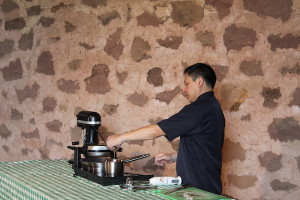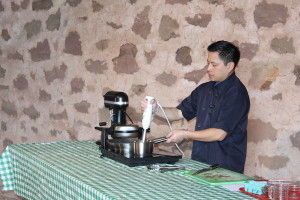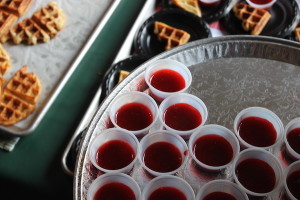 Belgian Waffles
Author:
Lucas Ho, Tel Hai Camp
Ingredients
1½ cups warm water
1 packet (or 2¼ teaspoons) dry active yeast
½ cup sugar
3 cups bread flour, sifted
3 large eggs
½ cup heavy cream
1 cup milk
8 tablespoons butter, melted
1 tablespoon vanilla extract
a pinch of salt
Instructions
Dissolve the yeast in the warm water with a pinch of sugar.
In a mixing bowl separate the yolks from the egg whites. Beat the egg whites until stiff peaks form.
Reserve the yolks.
In a mixer, combine the sugar and bread flour. Slowly stir in the yolks, the yeast/water mixture, melted butter and vanilla to the dry ingredients. Stir until the mixture is smooth.
Gently fold in the egg whites. Allow the batter to stand for 1 hour before making waffles.
Pan Fried Chicken Tenders
Author:
Lucas Ho, Tel Hai Camp
Start this the night before and let it marinate, then follow the steps for an easy, delicious batter and fry until golden brown.
Ingredients
2 pounds chicken tenders
1 tablespoon vegetable dip mix
1 tablespoon onion powder
1 tablespoon garlic powder
1 teaspoon paprika
1 teaspoon salt
1 teaspoon pepper
½ cup buttermilk
½ cup flour
½ cup corn starch
1 egg
2 cups vegetable oil, for frying
Instructions
In a large bowl, combine all the seasonings and stir well to mix.
Add the chicken tenders to the seasonings mixture.
Add the buttermilk to the chicken and mix well. Marinate overnight.
Add the flour, cornstarch and egg to the marinated chicken, this will form a batter. Mix well.
In a cast iron or frying pan add the oil, place over heat and bring the temperature up to 375 degrees.
In small batches, fry the bettered chicken for 5-7 minutes or until golden brown.