It all started this morning when I decided to wear the white shirt. We all know a white shirt is a bold choice, but not because it will stand out fashion-wise. In that case, white shirts are ordinary, because they match with everything. No one will remember you especially because of your white shirt. UNLESS…
…you spill something red on it. Am I right?
I woke up. I put on the white shirt. I planned my appetizer menu, practice for the upcoming holiday weekend, which included a white beans recipe. So far, so good. But then, a thought popped into my head, the white shirt working its black magic.
"What this recipe needs," I thought, "is something red."
Did someone say pimentos?
Oh sure, those little jars of pimentos in the grocery store are cute. And sure, pimentos are flavorful peppers often reserved for stuffing green olives. But I struggled with the screw cap. I rummaged around my kitchen drawer for my jar opener. I clamped the tool around the lid, and voila! Red pimentos on my white shirt. Red pimentos on my floor. Red pimentos everywhere.
Listen, I am still very happy with the pimentos in this recipe. I love how it mixes with the flavors from the onions, garlic and fresh thyme leaves. Smokey White Bean Spread is especially good served warm on a sturdy cracker. I tried out my batch on a new line of crackers Weaver's Orchard Farm Market carries, the 1732 Sunflower and Pumpkin Seed bakery crackers. (Find them on the shelf at the deli counter.)
While I was at the market, I also picked up the 1732 Cinnamon Honey bakery crackers, which I enjoyed with a cup of tea later in the day. (After I changed my shirt.)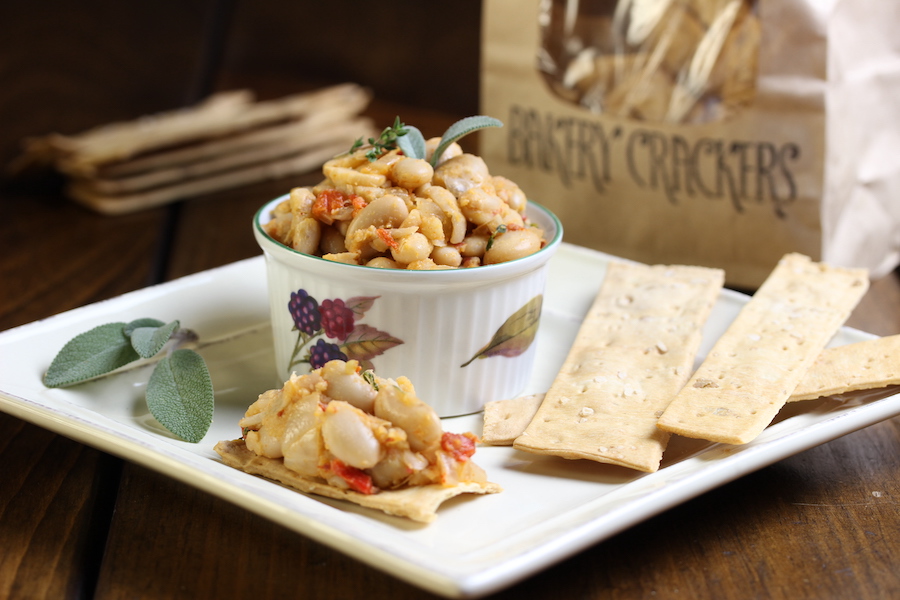 Print
Smokey White Bean Spread on Crackers
Cook Time:

15 mins

Total Time:

15 mins
1

(15-ounce) can Cannellini or Great Northern beans, rinsed and drained

1 tablespoon

olive oil

2 tablespoons

sweet, white onion, finely chopped

2 tablespoons

diced pimentos (from a jar)

1/2

 teaspoon smoked paprika

½ teaspoon

garlic powder

1/4

 teaspoon red pepper (chili) flakes (optional)

1/4

 teaspoon salt

1

 teaspoon fresh thyme leaves
Crackers for serving
Instructions
Heat olive oil in a pan over medium heat. Add the chopped onion and cook until soft, about three minutes.
Stir in the pimentos, paprika, beans, thyme, chili and salt. Cook for another 8-10 minutes, stirring occasionally.
Mash the mixture with a potato masher roughly until only half the beans remain whole.
Serve warm with crackers. You may prepare the crackers for guests, or serve the beans in a small crock to keep them warm and allow guests to prepare their own crackers.