Freeze blueberries after picking and spinach when you can find it on sale, and you're well on your way to a frugal, in-season treat.  During mid-July and August, when plums are at their best, select plums with bold colors ranging from green to red or purple based on variety. Fruit should be plump and somewhat firm, but should give slightly with gentle pressure.  If the plums are not yet ripe, store them in a paper bag at room temperature until they ripen. Refrigerate once ripe.
This smoothie is sweet and delicious, yet the spinach balances the natural fruit sugars and brings even more nutrients.  Plums pack in the nutritional power too–they're free of fat, saturated fat and sodium and a good source of vitamin C.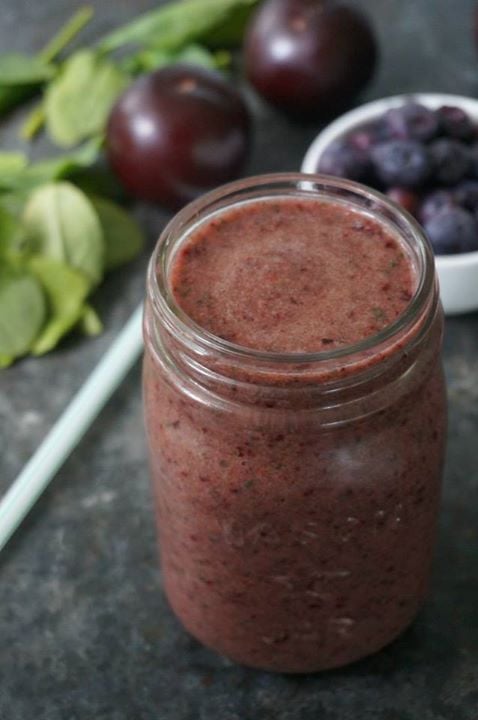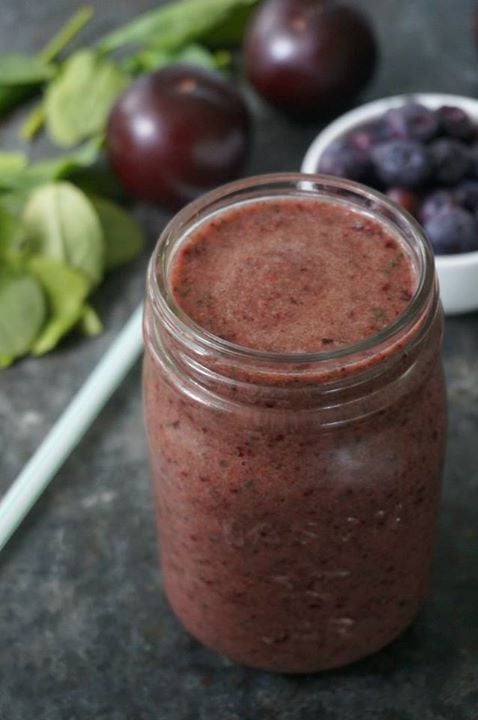 Print
Skinny Blueberry Plum Smoothie
Makes one eight-once serving.
2

–

3

very small plums

½ cup

blueberries (pre-frozen)

½ cup

spinach (pre-frozen)

1

ripe pear or banana

½ cup

water or apple cider

1 tablespoon

raw honey
Instructions
Slice plums to remove pits.
Add all ingredients to blender and puree until smooth. Taste and adjust the amount of honey based on the tartness of plums.