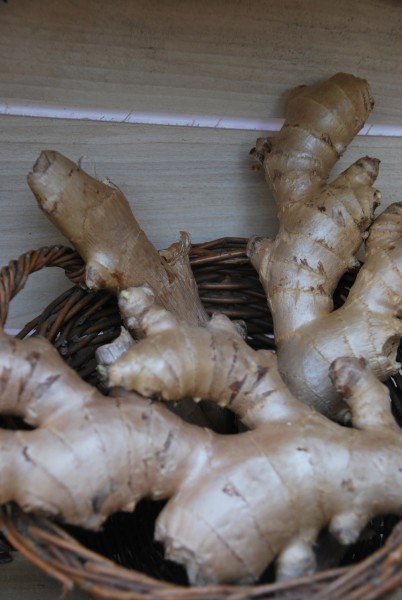 Summer is the time to pick orchard-fresh fruits and garden-crisp vegetables. It's the time to soak up sun and splash in water. It's not the time to spend all afternoon cooped up in the kitchen. Weavers offers several ways to simplify dinner preparations without skimping on taste or nutrition.  If you're looking for side dishes to complement your grilled meats, the deli offers a variety of delicious salads. (My favorites are deli cole slaw, broccoli salad and creamy cucumber salad.)  And of course, summer corn is irresistible.  So maybe the boiling kettle will raise the kitchen temperature a bit—but corn on the cob needs to cook for only 3-5 minutes. And the joy of biting into those sweet, succulent kernels far outweighs the discomfort of a little more heat.  Plus, if you're lucky enough to have a grill with a burner on the side, you can let the steam boil off into the evening air, far away from your kitchen!
Here are two more ideas for simple summer dinners.
Ginger Chicken Stir-fry and Asian Chicken Salad are tasty one-dish meals that are also low in calories.  What could be better than that? Weaver's Fresh Vegetable Stir Fry provides the main ingredients for the first meal. By adding a few extras, you can enhance the flavors of the veggies and balance the meal with protein and whole grains. Use low-sodium soy sauce if you want to reduce the salt content.  If you've never used fresh ginger, here are some tips. And if you'd like to save time and energy, make the stir-fry one night, but cook 2 pounds of chicken. (When you fry the chicken, double the amount of oil, soy sauce, wine and ginger, and put the extra chicken in the fridge to serve cold with Asian salad tomorrow or the next night.)
Print
Ginger Chicken Stir Fry
1 cup

brown rice (

1 cup

uncooked=

3 cups

cooked rice)

1

pound boneless chicken breast
For sautéing chicken:

1 tablespoon

olive oil

1 tablespoon

soy sauce

1 tablespoon

white wine

1 tablespoon

finely grated fresh ginger (or

¼ teaspoon

ground)
For stir-frying veggies:

1 tablespoon

olive oil

1 teaspoon

minced garlic

1 ½ teaspoons

finely grated fresh ginger (

1/8 teaspoon

ground)

2 tablespoons

soy sauce

1 tablespoon

white wine

¼ cup

chicken broth

1/2 cup

cashews
Soy sauce as condiment
Instructions
Cut 1 pound boneless chicken breast into bite-sized pieces.  Sauté chicken in a large frying pan or wok with olive oil, soy sauce, white wine and finely grated ginger. Remove chicken when browned and fully cooked (5-10 min).
Add to the frying pan: oil, minced garlic and ginger.  Pour fresh veggie mixture into the pan and stir-fry.
Start cooking the brown rice. Boil 2 ½ cups water in a saucepan. Add 1 cup brown rice. Reduce heat, cover and simmer 40-50 minutes.
Mix together: soy sauce, white wine and chicken broth. When veggies are crisp-tender, add cooked chicken and 1/2 cup cashews to vegetable mix. Pour soy sauce mixture over all and stir-fry for 1-2 more minutes, till flavors blend. Depending on the quantity of vegetables in the mixture, you may need to add a little water, or more soy sauce or broth.
Serve with brown rice and extra soy sauce
Print
Asian Chicken Salad
The Ginger-Garlic Dressing is mildly spicy. If this salad isn't hearty enough to satisfy your family's appetite, serve it with a loaf of whole grain bread and some savory brown rice. Just cook the rice according to above directions, but replace the water with chicken broth, and add 1 Tbsp butter, 1 tsp garlic and 1 Tbsp onion while it's cooking. And add more ginger if you like!
Two packages of Weaver's Spring Mix

1

small can of mandarin oranges, drained

½ cup

toasted, sliced almonds

1

lb boneless chicken breast, cooked according to above directions
GINGER-GARLIC DRESSING:

2 tablespoons

soy sauce

2 tablespoons

rice wine vinegar

1 1/2 teaspoons

grated fresh ginger

1

minced garlic clove
Add

1/4 cup

olive oil
Instructions
Pour dressing into your favorite bottle. (I like to save decorative bottles with lids or corks to use for my own dressings.)
To serve, mix lettuces, oranges, almonds and chicken together. Serve the dressing on the side.