I'm gonna be keeping it simple today with what I hope will become a new go-to side dish for you and your family.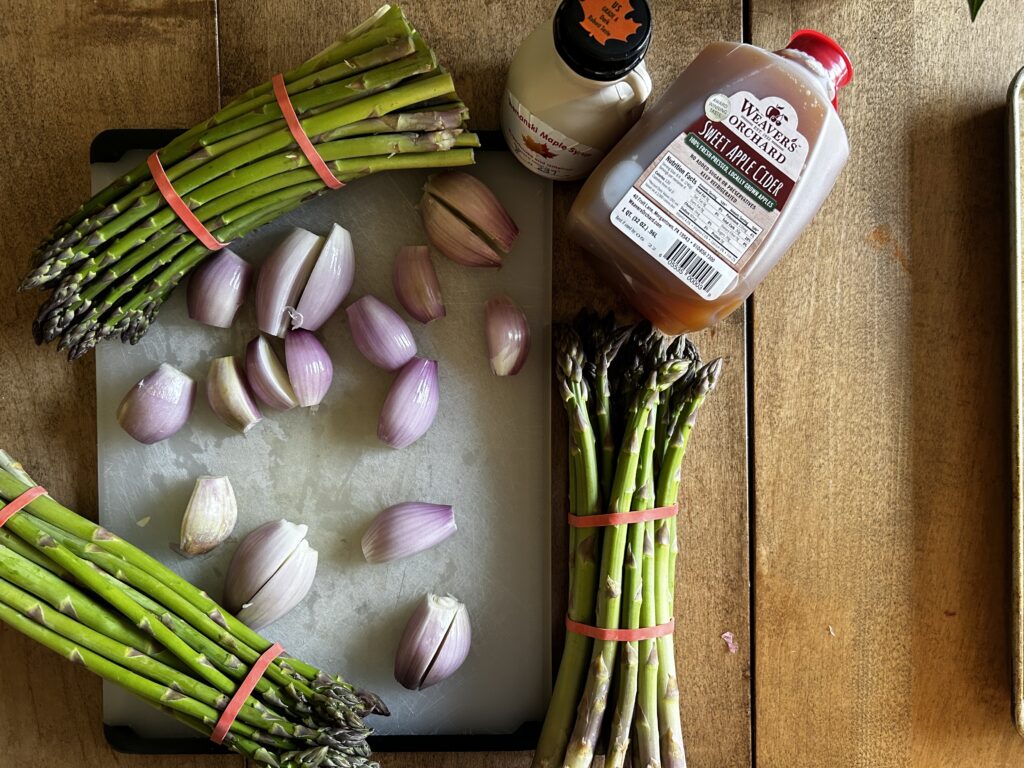 Full of fresh, seasonal flavor, this dish strikes a balance between luxury and simplicity. The bones of the dish are built using farm fresh asparagus and shallots, roasted to perfection.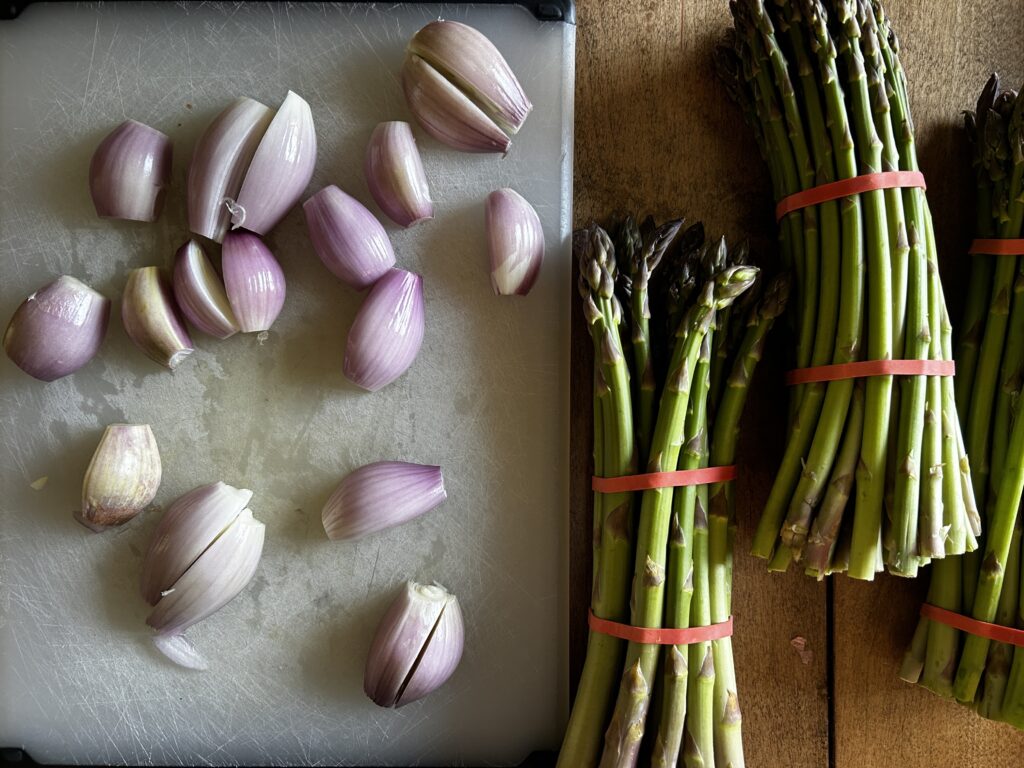 Dress it up with a homemade apple cider glaze and top it with almonds, pistachios and maybe even some crumbled goat cheese and you've got yourself a killer side or Meatless Monday main dish! The crisp snap of fresh asparagus married with tender caramelized shallots comes together in a true celebration of spring.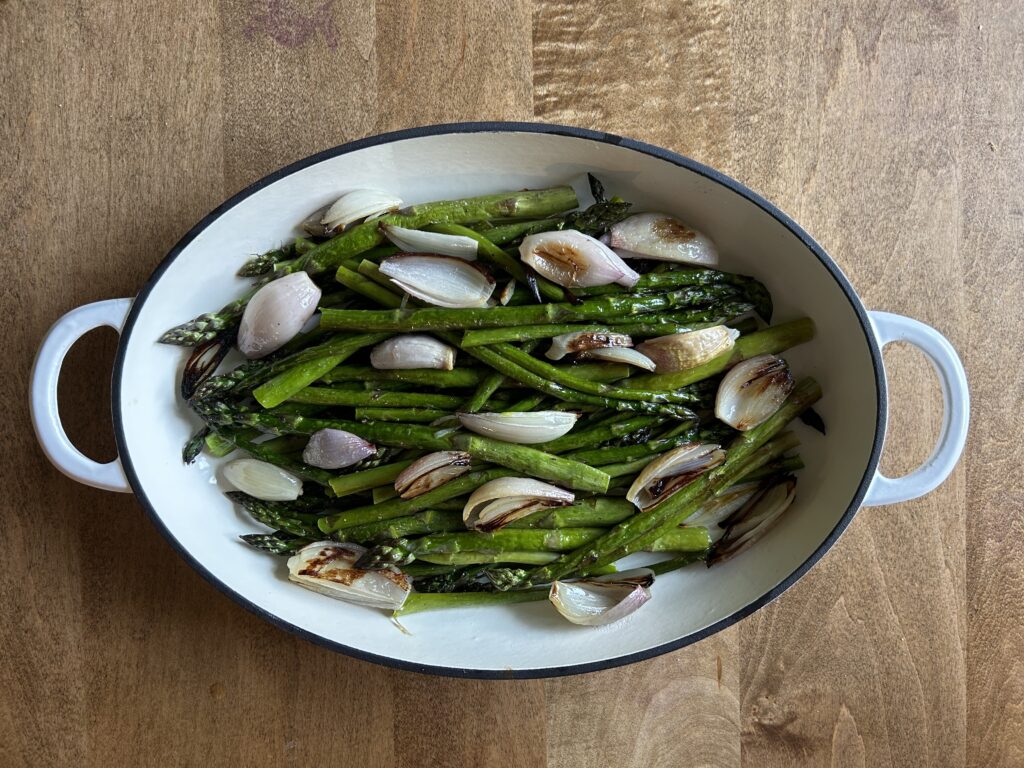 Print
Roasted Asparagus and Shallots with an Apple Cider Glaze
Primary Ingredients:
2

pounds fresh asparagus, cleaned with the ends trimmed

5

–

7

shallots peeled and halved

¼ cup

+

2 Tbsp

. extra virgin olive oil

1 tsp

. Kosher salt, plus extra for sprinkling

½

–

1

tsp. dried thyme
Freshly ground black pepper, to taste
Slivered almonds, chopped pistachios – optional for garnish
Apple Cider Glaze:
1

c. apple cider

1/4

c. maple syrup

2 Tbsp

. butter *omit for vegan/lactose free option

2 Tbsp

. Dijon mustard
Crushed red pepper flakes, to taste
Instructions
Directions:
1.      Preheat the oven to 400 degrees F.
2.      Rinse and clean the asparagus in cold water. Trim off the bottom ends.
3.      Cut the shallots just above the root and separate the bulbs. Remove the outer skin. Cut in half, lengthwise. Note, if an individual bulb is thinner than your pinky finger, leave it whole, otherwise it will cook much faster than the rest and may burn, resulting in a bitter flavor.
4.      Place the asparagus and shallots on a baking sheet, drizzle with olive oil and toss to coat completely. Spread out the asparagus and shallots, arranged cut side down, in a single layer and sprinkle liberally with salt, pepper and thyme.  Roast the asparagus for 20-25 minutes, until tender but still crisp. The shallots may need more time to get soft and caramelized.
5.      As the vegetables cook, prepare the glaze by combining the apple cider, maple syrup, Dijon mustard, and red pepper flakes.
6.      Over medium high heat, bring up to a simmer.
7.      Reduce the heat to medium-low, stirring often, allowing the liquid to simmer until it makes a thickened glaze. This will take roughly 8 minutes. Remove from heat when the glaze reaches the correct consistency.
8.      Add butter to the glaze if using and stir to incorporate.
9.      Plate the asparagus and shallots on a serving platter along with any juices left over from cooking. Drizzle with the apple cider glaze, olive oil, and top with finishing salt to taste and chopped nuts such as almonds or pistachios.