I have an excellent scone recipe. The kind of recipe that makes you not want to try other similar recipes because…. how could it be improved? I had saved it from a British website, translated the measurements into American ones and incorporated tips from my British friends.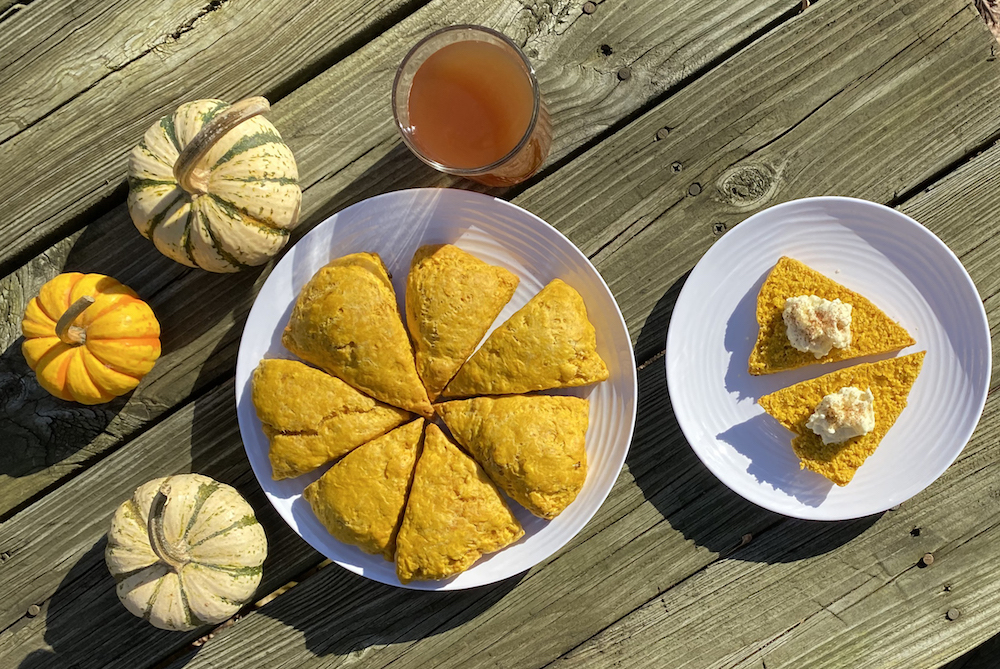 But then I got a craving for pumpkin scones and tried a different recipe. I was sorely disappointed. It was dense – not light and fluffy like a scone should be. So I never made pumpkin scones again.
Until one day, I had that pesky craving again. This time, I decided to use my favorite recipe and just use pumpkin instead of yogurt and add fall spices. They turned out awesome!
Now, British scones and American scones differ on a few notes.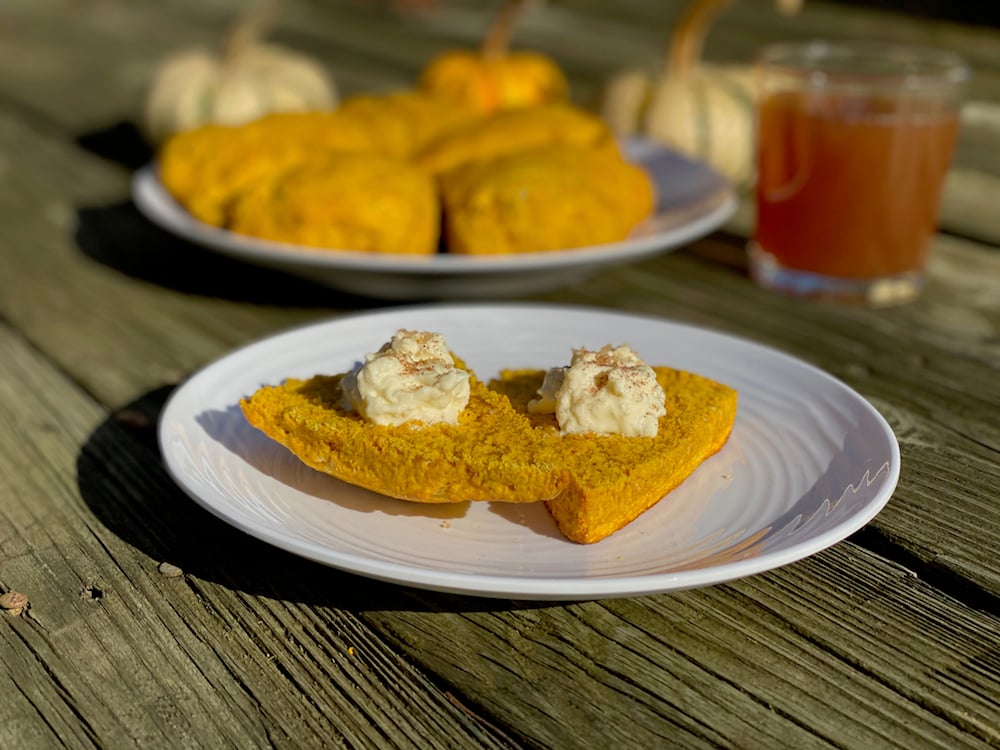 First, British scones are round, and American scones are triangular and slightly rounded in the back, like a slice of pizza. I had to know why American scones and British scones were different shapes, so I did some digging. Even my friends in South Africa said their scones were always round.
It turns out that before modern baking sheets, cooks would bake scones as one round lump and then cut them like a slice of pie once they were baked. With the invention of baking pans and modern ovens, American cooks continued to slice theirs like pie – before they baked them, thus resulting in triangular-shaped scones.
British bakers kept to the tradition of making their scones round, and either formed or cut them into round biscuits before baking them. I generally stick with the American method, because I find that I have to work the dough less, which yields a fluffier scone, because you don't over-work the dough.
American scones are usually drizzled with icing, while British scones are not. They are left plain to be topped with clotted cream — a delicious condensed cream that is similar in consistency to whipped butter, though it has a slightly caramelized crust. You can
make your own clotted cream
in your oven or Instant Pot. If you're short on time, whipped butter is a close second. All you need to make whipped pumpkin butter is some room temperature butter and a little milk or cream. Whip it with a whisk or a fork, then sprinkle with a little cane sugar, cinnamon and nutmeg.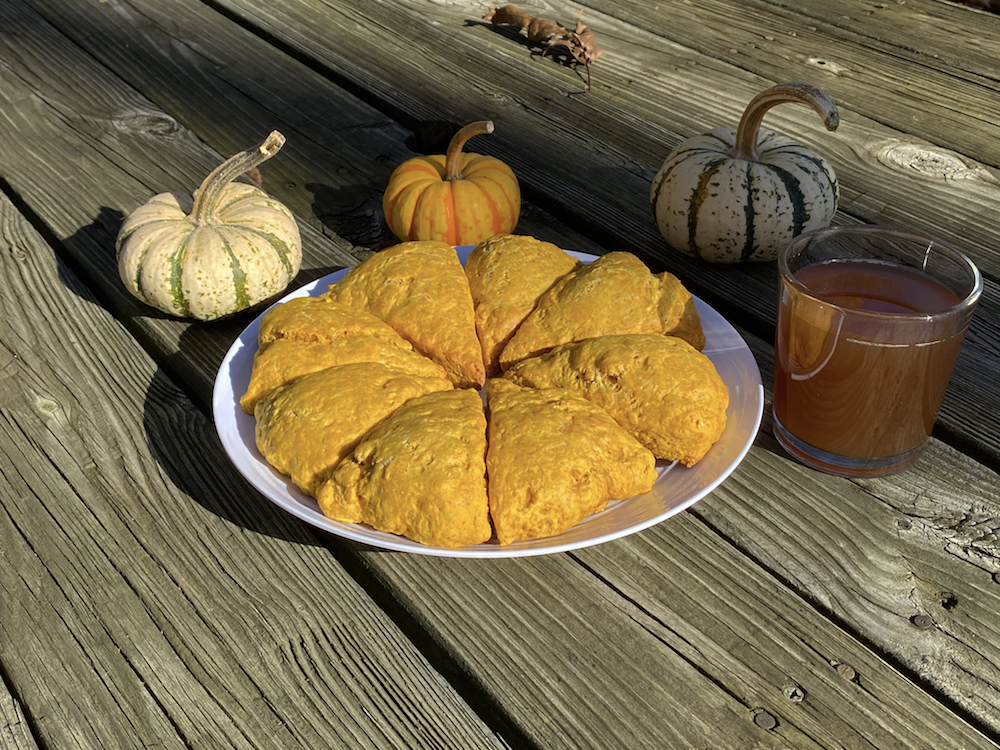 Print
Pumpkin Scones with Whipped Pumpkin Spice Butter
Author:
Prep Time:

15 mins

Cook Time:

10 mins

Total Time:

25 mins

Yield:

8

servings

1

x
Category:

Breakfast

Cuisine:

English
2¼ cups

all-purpose flour

4 tsp

. baking powder

¾ tsp

. salt

⅓ cup

cold butter, diced

¼ cup

brown sugar

1 tsp

. pumpkin pie spice

⅔ cup

pumpkin puree

¼ cup

milk

1 tsp

. vanilla extract
Plus:
extra flour for dusting surface

1 tbsp

milk to brush on before baking
Instructions
Pre-heat oven to 400 and place your baking sheets in the oven to pre-heat as well.
Mix together the dry ingredients in a food processor for a few seconds. Add the butter and mix about 30 seconds until the butter is evenly spread out throughout the flour mixture.
Mix together the pumpkin, vanilla and milk.
Add to flour mixture in the food processor. Mix JUST until combined.
Turn it out on a lightly floured surface. Form into a ball and then press out into a disk about 1½ – 2 in thick. Cut into 8 equal parts (as if you are slicing a pie)
Lightly dust each slice with flour and transfer to the pre-heated baking sheet. Brush with milk. Bake 10-12 minutes at 400 degrees.
Serve with whipped pumpkin butter.
If you have any leftovers, be sure to store them in an air-tight container and serve them toasted.
Print
Whipped Pumpkin Spice Butter
Author:
Prep Time:

2 mins

Total Time:

2 mins

Yield:

8

servings

1

x
1/2 cup

butter, room temperature

1/4 cup

cream, half and half or milk

1 tsp

cane sugar

1/4 tsp

cinnamon
dash of nutmeg
Instructions
Whip together the butter and milk/cream with a whisk or a fork until it is fluffy.
Add the cinnamon and blend together. Top with cane sugar and nutmeg.
Spread generously on scones.